Just what is sous-vide exactly? French for "under vacuum", sous-vide is a cooking technique that has ingredients sealed in an airtight plastic bag followed by gentle cooking in a heated water bath. This maintains the integrity of the food and prevents the loss of moisture, resulting in juicer textures and more intense colours and flavours.
At Table 66, the sous-vide technique is used in preparing many of the dishes. The casual restaurant ensconced at a refurbished shophouse building along Tras Street (near Tanjong Pagar MRT Station) charms diners with a menu of modern European cuisine with a tinge of Japanese flavour.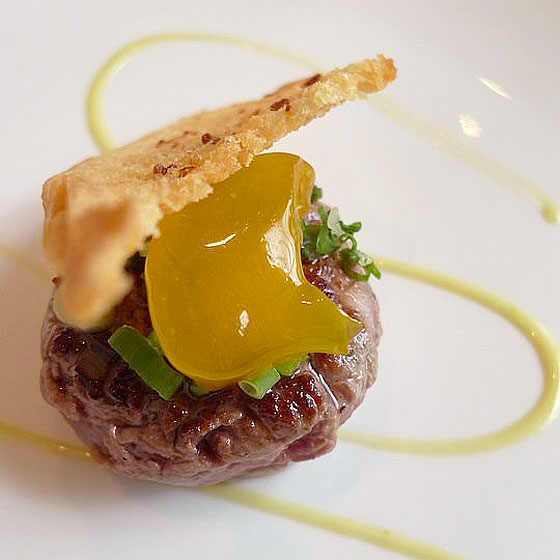 Seared beef tartare
(sampling portion depicted)
S$18++
Rating:





The seared beef tartare – a popular item amongst patrons – offers a first taste of the unique cooking method. Not a fan of raw meat? You would be pleased to know that the finely minced beef is lightly seared on the sides. It is arranged cylindrically on the plate, topped with a truffle miso infused egg yolk. The latter is done sous-vide style, with a semi-solid, almost jelly-like consistency. Chopped green onions and artistic squiggles of light wasabi mayonnaise add the final dash of detail.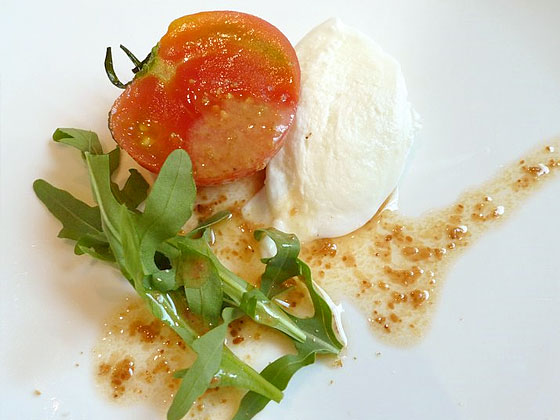 Confit of Momotaro tomatoes
(sampling portion depicted)
S$14++
Rating:





The Confit of Momotaro tomatoes puts a contemporary spin on the classic Insalata Caprese Italian salad. This refreshing starter features sweet and luscious basil-infused Momotaro tomatoes paired with buffalo mozzarella and baby arugula dressed with white sesame vinaigrette.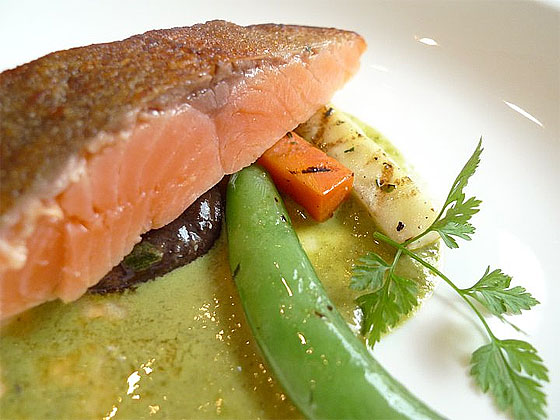 Petuna ocean trout
(sampling portion depicted)
S$30++
Rating:





For main courses, fish lovers can hook up with the Petuna ocean trout. The fish is poached in citrus oil – sous-vide style, of course – then finished in a pan to give it a crispy skin. Served on a bed of grilled vegetables, the accompanying chive sauce lends flavour. But if I were you, I would enjoy the taste of the ocean trout by itself in all its sous-vide tenderness.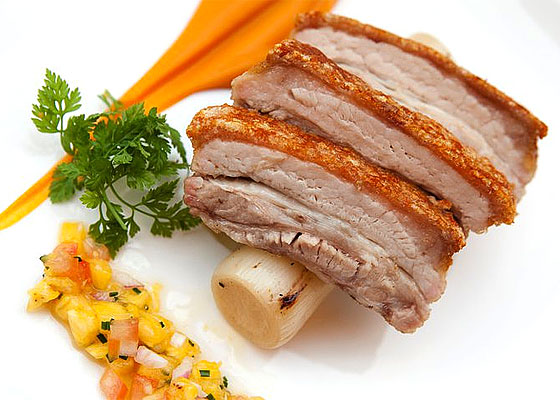 Pork belly
(sampling portion depicted)
S$28++
Rating:





Infused with osmanthus and sous-vided before being pan fried, the pork belly boasts a crispy skin that cracks and breaks. The tangy pineapple salsa and mashed sweet potato provide a balance to the pork's rich fatty flavours. Despite the sous-vide process, the meat itself is somewhat tough and chewy to my disappointment.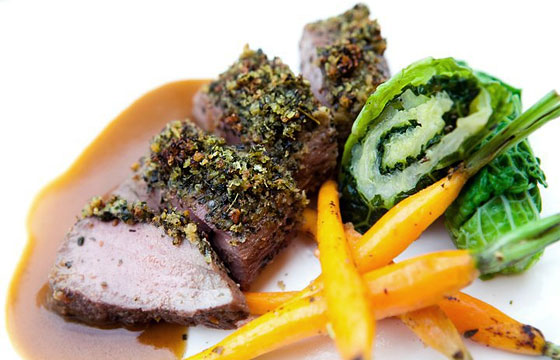 Lamb loin
S$34++
Rating:





Also from the meat department, the lamb loin arrives with cabbage and baby carrots on the side. Moist and very succulent, the herb crusted meat reclines on a Japanese curry jus that provides an interesting twist.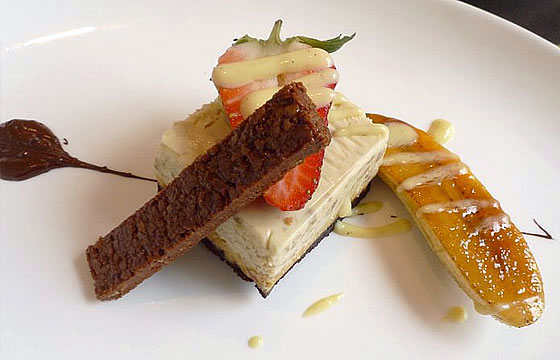 Peanut butter & banana mousse praline
S$12++
Rating:





The desserts are uniformly excellent. You can't go wrong with the peanut butter and banana mousse cake, served with chocolate feuilletine crust, caramelised banana, crème anglaise (a sweet cream). It is simply made of all things good!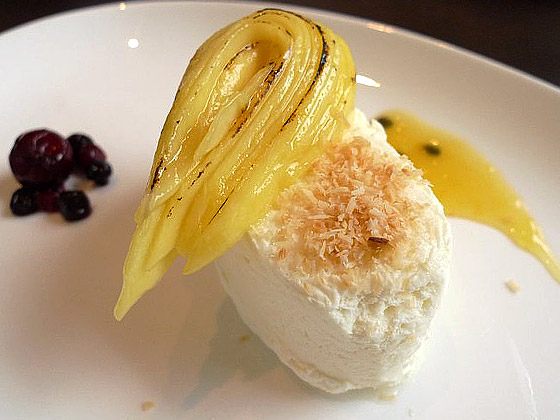 Coconut parfait
S$10++
Rating:





If you fancy more tropical flavours, sink your teeth in the coconut parfait, crowned with flambé mangoes.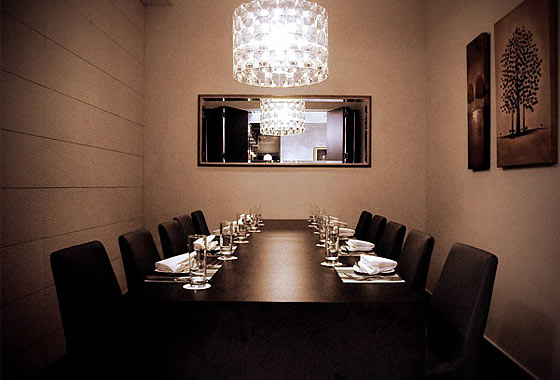 The private dining room seats ten people, with no table charge or minimum order required.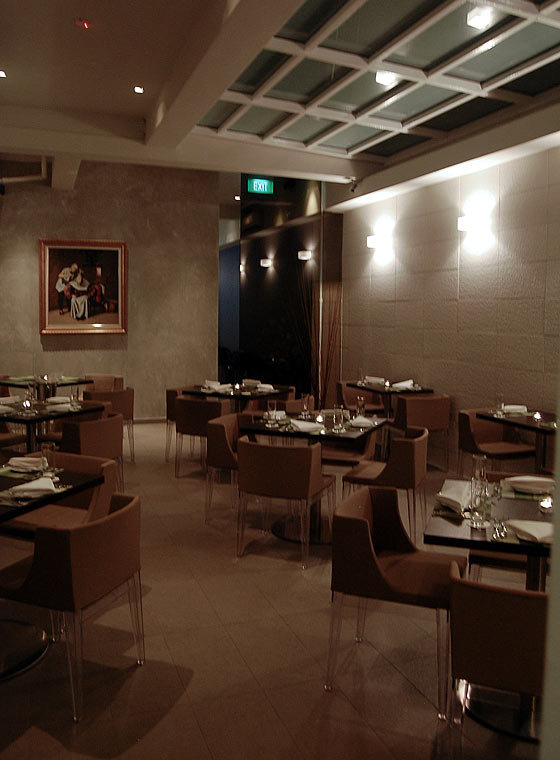 Earthy hues, modern paintings and cushy chairs with transparent acrylic legs are part of the casual elegance about Table 66. The ambience here is highly dependent on the time of the day. Come here at lunchtime, the large skylight keeps the dining area bathed in natural light. In the evening, the soft, subdued lighting makes for a relaxed and intimate dining experience.
Sous-vide Cooking at Home
If you would like to try out sous-vide cooking at home, check out this video on how my favourite Youtube chef, Chef John of foodwishes.com, does it. No special equipment needed.
Have Your Say!
Other than sous-vide cooking, what other unique food preparation techniques have you encountered? Share with us in the comments!