Guest-contributed restaurant review by Joyce Ler.
Restaurant Ember at one of Singapore's pioneer boutique hotels, Hotel 1929, has achieved a cult following for its set lunch offerings. Set lunches tend to gravitate towards lesser known dishes, giving the impression that restaurants are clearing out their refrigerators. Not Ember, which has come up with the winning formula of offering their star courses and packaging them in a sweet set, at an equally sweet deal of S$39.50++ per person.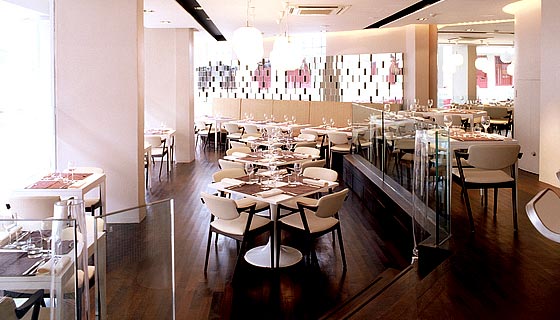 Photo by Hotel 1929
3-course set lunch
S$39.50++
The restaurant maintains a minimalist yet posh design with the use of a modern, elegant colour palette of dark chocolate brown and white. Like the current trend of branded bags that opt for classy subtlety over outlandish monograms, Ember chooses to focus on their cooking and let their dishes do the talking.
The expansive choices for each of the three courses will stump you. Warning: This wide array of selection may cause some internal dilemma and conflict as you go about wondering what you would finally order.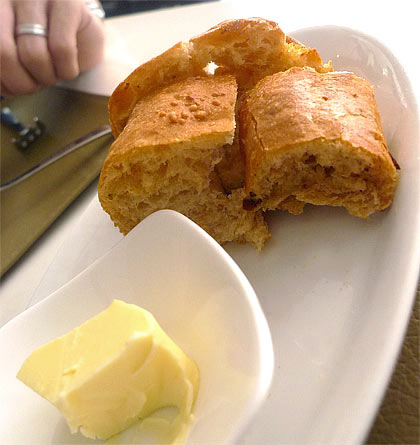 Curb your hunger pangs with the complimentary warm sun-dried tomato bread, which has been lauded by many as being soft and fragrant.
Starters
For starters, you can opt for those that have won over many fans, namely the homemade crispy tofu with foie gras-Mirin sauce and white truffle oil or pan roasted scallop with Parma ham, citrus and tarragon vinaigrette.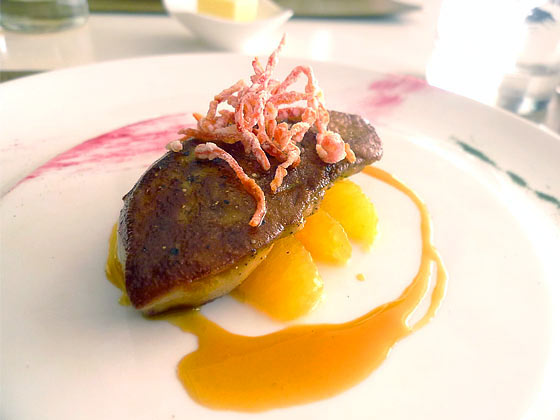 Pan seared foie gras with fresh orange segments, orange and passion fruit reduction
Top up S$6++ to set lunch
If ethics don't get in the way, go for the foie gras. Just by topping up S$6++, you get to enjoy a well-made one that would cost much more outside of the set lunches. The pan seared foie gras with fresh orange segments, orange and passion fruit reduction is a flirty play of sweet and savoury all at the same time. The caramelized and crusty browned exterior, coupled with the soft and tender interior gives a melt-in-your-mouth sensation. The orange and passion fruit packs a zesty punch that cuts through the fats, providing a nice balance to the dish.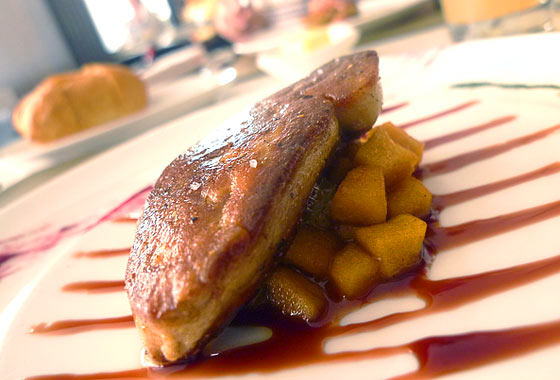 Foie gras with caramelized apples and clove, port and raspberry glaze
Top up S$6++ to set lunch
The same high standard applies to the foie gras with caramelized apples and clove, port and raspberry glaze. I personally think that matching foie gras with citrus keeps the dish refreshing on the palate.
Mains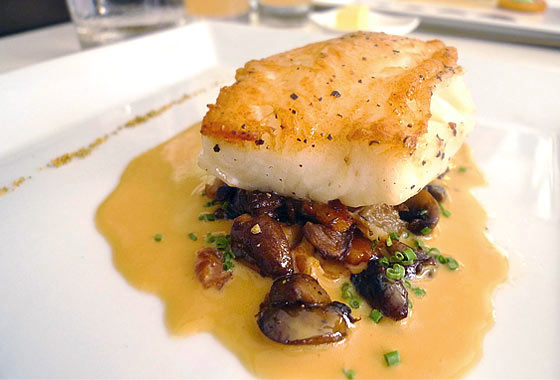 Chilean sea bass
The Chilean sea bass, a prime recommendation of the restaurant, is pan seared to perfection. The flesh is so tender it can be cut like a hot knife through butter. The sea bass is sweet and fresh on its own but when complimented with the mushroom and smoked bacon ragout and truffle Yuzu butter sauce, it adds a layer of richness that evolves the entire dish to another dimension.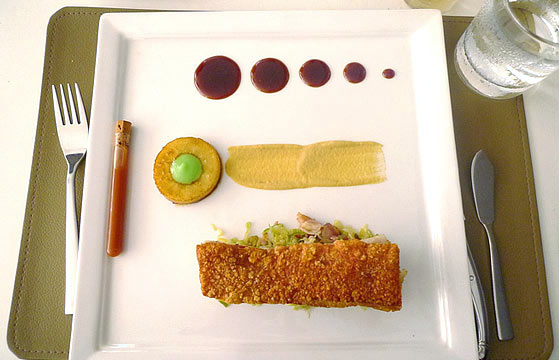 Pork belly with Savoy cabbage
The pork belly with Savoy cabbage is artfully plated. The apple puree and spiced Calvados sauce come in a little test tube that you can drizzle over the pork belly for full-on flavour or be used as a dip.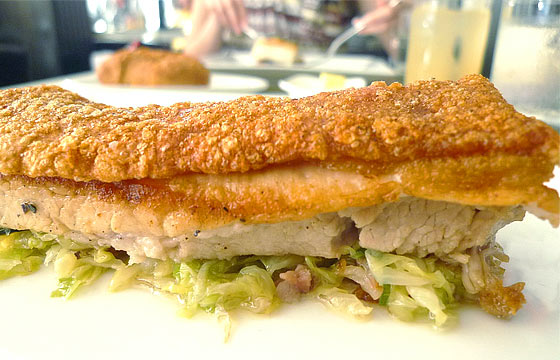 The crackling skin is a sharp contrast to the soft fats and tender interior. Take one bite to taste its original flavour, and do try another that is coupled with the fresh greens to enjoy the various textures.
By that time, you are already filled to the brim. But who can say no to desserts?
Desserts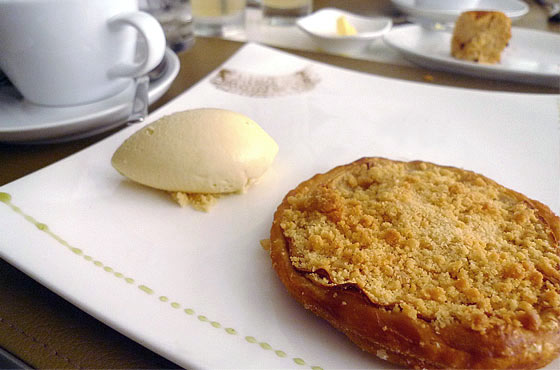 Crispy caramelized pear tart
The crispy caramelized pear tart is fabulous in its buttered, fruity and sweet glory, while the dollop of homemade Bailey's ice cream adds icing on the cake.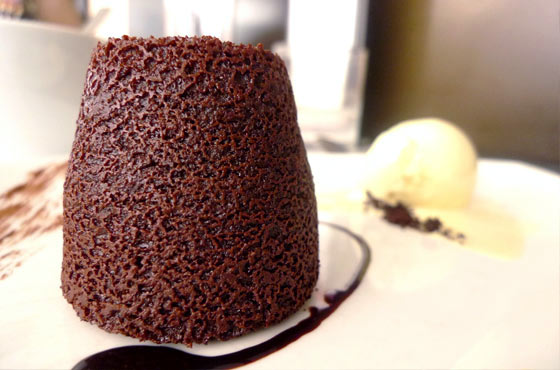 Warm Valrhona chocolate cake with vanilla bean ice cream
We can't resist the warm Valrhona chocolate cake with vanilla bean ice cream, an overdone but lovely dessert that is derived from the easy formula of hot chocolate and cold ice cream. Three words sum it up – rich, dark and sinful.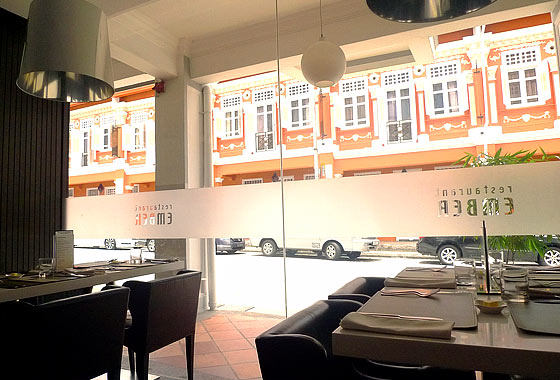 Everyone recognizes a good deal and here at Ember, there is no shrinking of dish sizes or cutbacks to make up for the reasonable prices. All dishes are well-proportioned to leave you truly satisfied. Another key difference between Ember's set lunches and that of other restaurants is the fact that you are simply spoilt for choice for every course, from appetizers all the way to desserts. This is probably a good sales tactic, since you will be tempted to go back and sample the other equally attractive offerings you have yet to try. I know I will!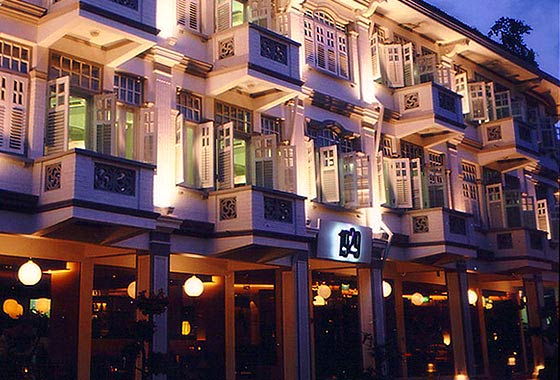 Photo by Hotel 1929
Restaurant Ember
Hotel 1929
50 Keong Saik Road
Singapore 089154
Tel: +65 6347 1928
Opening hours:
Mon-Fri: 11:30am-2:30pm, 6:30pm-10:30pm
Sat: 6:30-10:30pm
Closed on Sundays

Joyce Ler derives joy in discovering the new and niche and rambles about almost anything under the sun on her blog, www.wildrocketing.blogspot.com. She seeks the little things in life, appreciates timeless aesthetics and usually over-indulges in food and retail therapy.