Colour me impressed: The Chihuly Lounge at the luxurious The Ritz-Carlton, Millenia Singapore has Christmasified their popular weekend tea buffet, and it's made up of all things sweet and good!
The moment you walk into the tea lounge you are greeted by the sight of the dessert station. And what a fabulous spread! In place of the usual macarons and bite-sized sandwiches, you get a whole new array of Christmas goodies!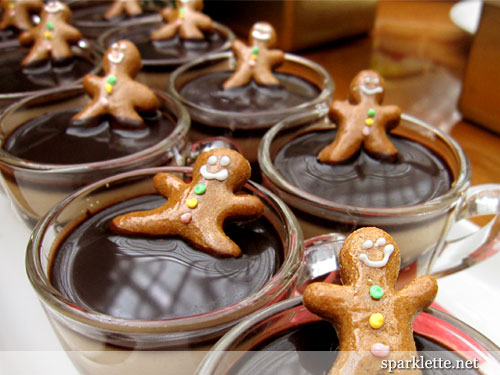 Weekend Afternoon Tea Buffet (Christmas edition)
S$46++
Buffet rating:





Buffet hours: 2:30 – 5pm
The first thing that catches the eyes are these tiramisu desserts in shot glasses. They have little gingerbread man biscuits (and they were SMILING!) that would totally win your heart!
Once we have settled down comfortably into our plush seats at a low coffee table, the waitress hands us the drinks menu. There are different types of tea (Earl Grey, English Breakfast, etc) and coffee (regular, mocha, cappuccino, etc). These are all part of the buffet unless you're going for pricier stuff like the Blue Mountain coffee.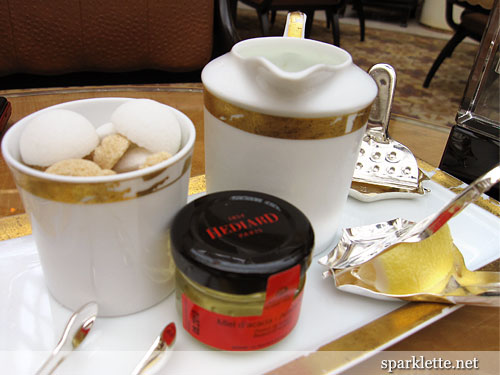 The tea and coffee are served with an elaborate spread of gold-tinged porcelain ware and silverware. There's both white and brown sugar (in perfect semi-spherical shapes), milk, lemon and a little tub of honey.
At one end of the buffet line is the dessert station while at the other you'll find the appetisers and finger food. We start from the appetisers before slowly working our way to the desserts. Gotta save the best for last, right?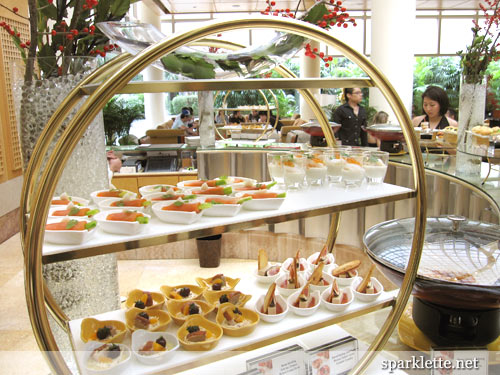 The appetisers come in neat petite sizes, so there's room in the tummy to sample everything!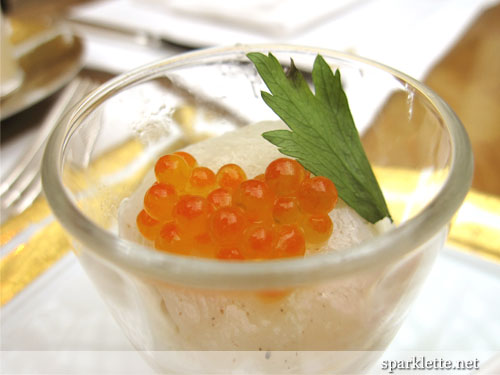 Seared scallop, cauliflower mousse, salmon caviar, coriander dressing
The seared scallop is extremely satisfying, with a full-sized scallop topped with salmon caviar.
You would also find offerings that range from the more ostentatious foie gras mousse…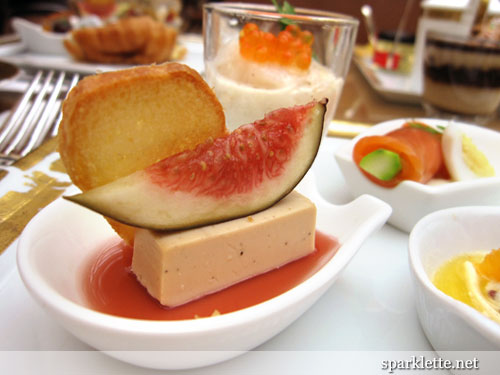 Foie gras mousse, fresh figs, port sauce, brioche crisp
… to the more down-to-earth roast duck.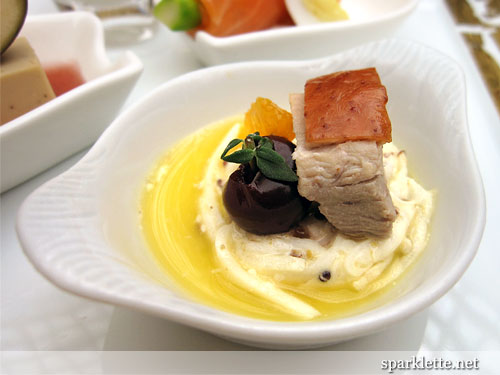 Roast duckling, celeriac, chemes, walnut orange syrup
Dining here is certainly a feast for the eyes. Even something like roast duck can look so visually appealing!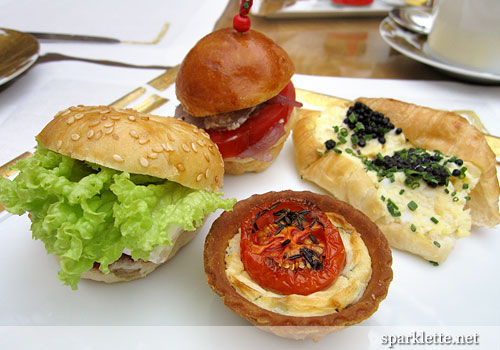 There are also the bread items, all in miniature sizes. Go easy on these, because they can really fill you up quickly.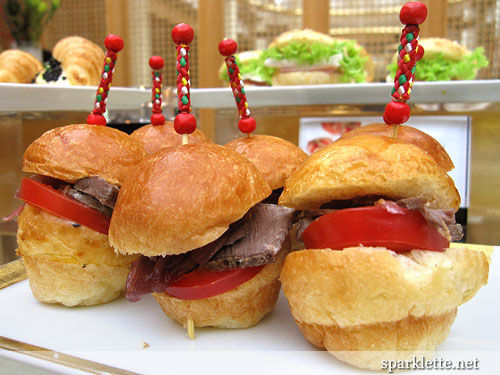 Mini burger
Cute mini burgers!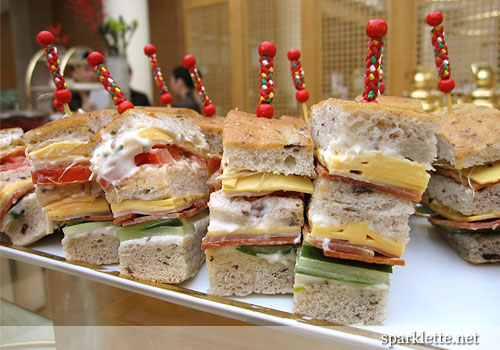 Mini brioche, roast beef, caramelised onions and horseradish cream
Even something as basic as toothpicks look great with that colourful weaving!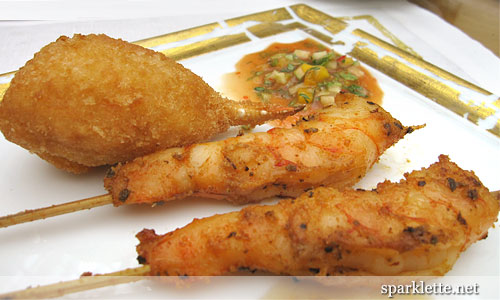 Crab claw and spiced smoked roasted prawns on the skewer
The deep-fried crab claws and roasted prawns come with their own individual spicy dips which are delicious and go very well with the food.
Even though the appetisers are good, my mind is really on the desserts!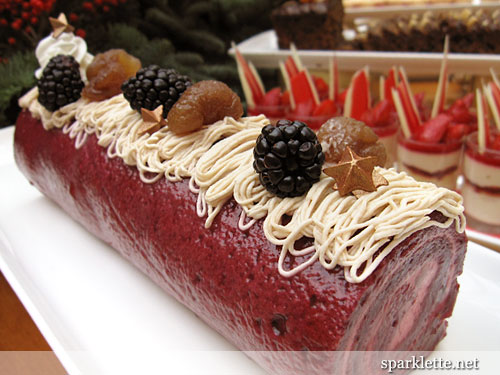 Raspberry log cake
If you find the usual chocolate log cake to be too rich or sore throat-inducing, there are various fruity alternatives such as the raspberry log cake. It looks pretty grand!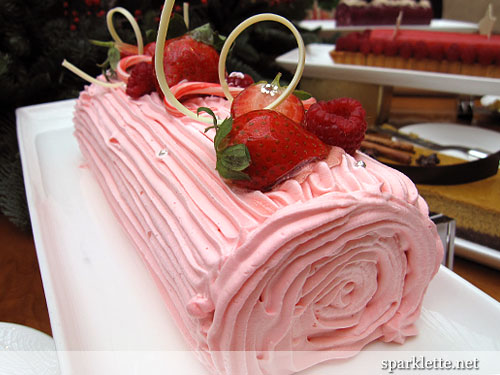 Lychee log cake with strawberry mousse
This baby pink log cake not only looks gorgeous, it tastes divine too! There's lychee in it, and the layer of strawberry cream is actually mousse! If you can't get enough of it at the buffet, you can also buy the whole cake home for $55.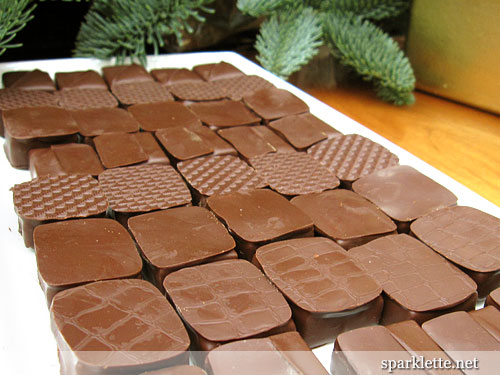 Chocolates
Chocolates! No Christmas should go without them. And these are the richest!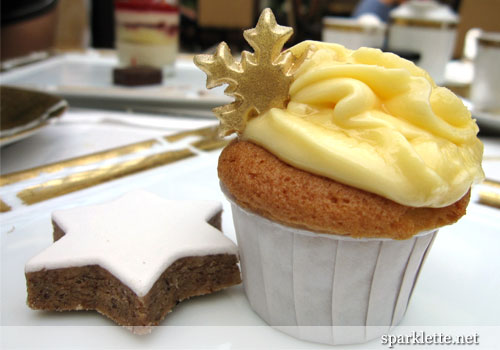 Star-shaped cookie and snowflake cupcake
A star-shaped cookie for Santa? I love the Christmasy touch given to the cupcake in the form of a gold snowflake white chocolate crisp. The icing is extremely sugary and diabetes-inducing though.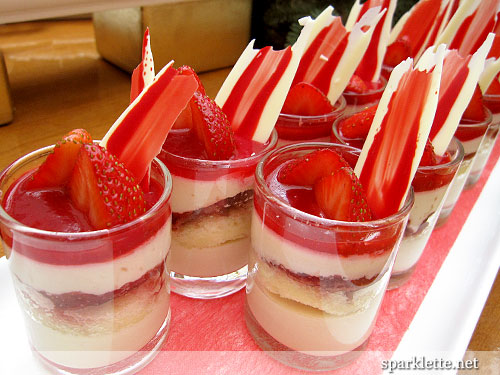 Strawberry dessert shots
Strawberry dessert shots for the girls. How pretty!
There's also a chocolate fondue fountain somewhere in the room but I really don't have room in my bellyful of goodies for more.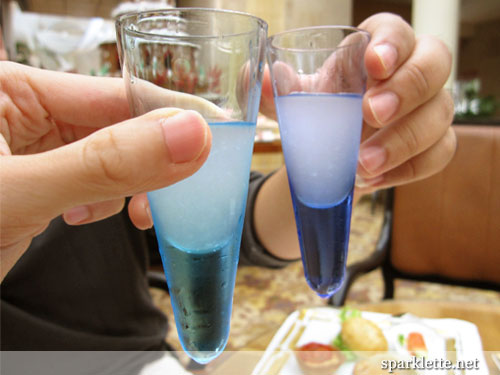 During the buffet, a waiter would move from table to table to make vodka shots for diners. Our lychee vodka comes in coloured glasses. Clink!
Despite being in a 5 (or is it 6) star hotel, the mood is comfortable and relaxed. To further enhance the festive atmosphere, a live jazz band plays Christmas songs in the background. With the music, the quaint little delights and the soothing ambience, it sure is a great way to chill out on a weekend afternoon.
Chihuly Lounge
The Ritz-Carlton, Millenia Singapore
7 Raffles Avenue
Singapore 039799
Tel: +65 6434 5283 |
Website
Service:





Bus services: 36, 56, 75, 77, 97, 106, 111, 133, 171, 195, 857, 960, 70X, 107X, 162X, 961C
Nearest MRT: City Hall