The Ritz-Carlton, Millenia Singapore Chihuly Lounge has long been a hit amongst afternoon high tea lovers. From time to time, the luxury hotel introduces special editions during festive occasions, such as the Christmas afternoon tea.
From 2 March to 26 May 2013, you can enjoy a range of delectable and cheesy delights at the Spring weekend afternoon tea.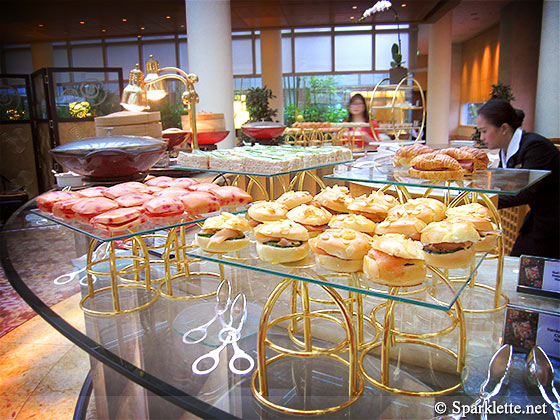 Spring Weekend Afternoon Tea Buffet
S$52++ per adult; S$26++ per child (6-12 years of age)
Buffet rating:





Buffet hours: 2:30pm – 5pm on weekends from 2 March to 26 May 2013
Sandwiches
Amongst the sandwiches, you can pick from options like smoked chicken mayonnaise with tomato in a beetroot focaccia, beef pastrami with pickled gherkin in a mini croissant, cucumber and cream cheese mini sandwiches and smoked salmon with cucumber in an almond ring.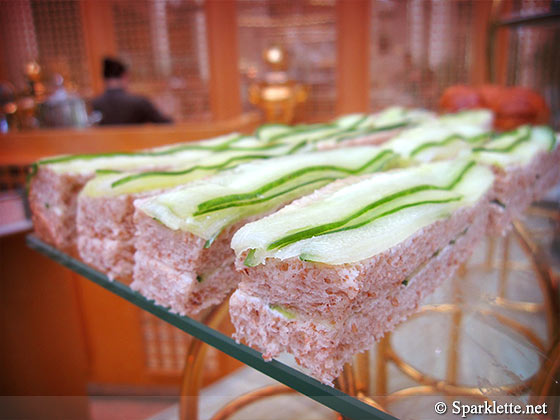 Cucumber and cream cheese sandwiches

Smoked salmon with cucumber in an almond ring

Smoked chicken mayonnaise with tomato in a beetroot focaccia
Looks sure can be deceiving, for the nondescript smoked chicken mayonnaise with tomato in a beetroot focaccia turns out to be a personal favourite with its combination of savoury-sweet.
Canapes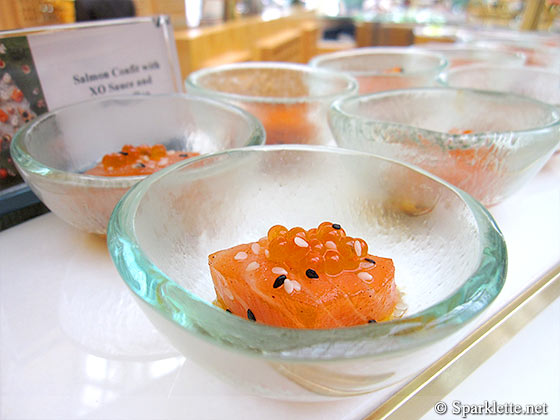 Salmon confit with XO sauce and salmon roe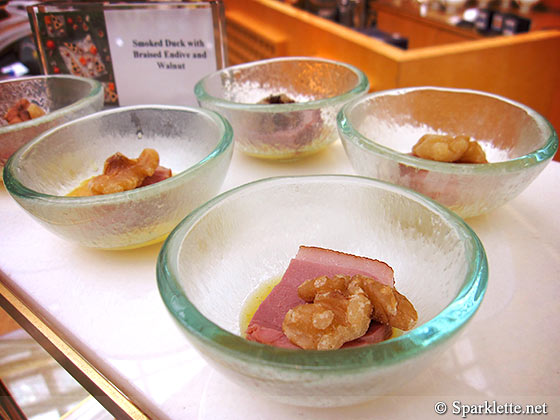 Smoked duck with braised endives and walnuts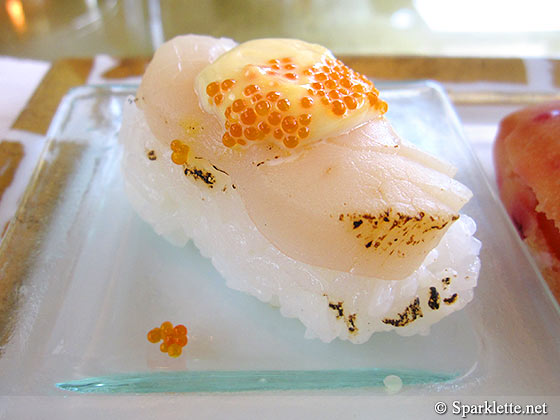 Scallop sushi with Japanese mayonnaise and tobiko
Amidst the canapes, I cannot resist helping myself to repeat servings of the scallop sushi. The plump bivalve is sliced and topped with Japanese mayonnaise and tobiko (flying fish roe), ultimately yielding to a meaty interior.
Savoury
Savoury options include oven baked bacon wrapped potato with honey mustard, glazed wagyu beef ball with smoked garlic and Asian favourites like panko prawn with wasabi mayonnaise, steamed scallop siew mai, steamed vegetarian soon kueh.

Panko prawn with wasabi mayonnaise
As expected, the panko prawns are a joy to bite on with their light breaded texture, fleshy interior, paired with the accompanying wasabi mayonnaise.
Cheeses & Desserts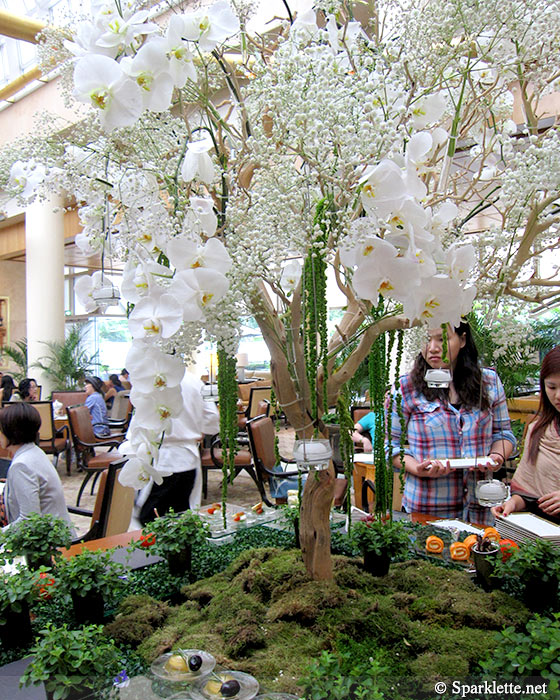 Moving on to the cheese and dessert station, this is the first thing that you will see upon stepping into Chihuly Lounge.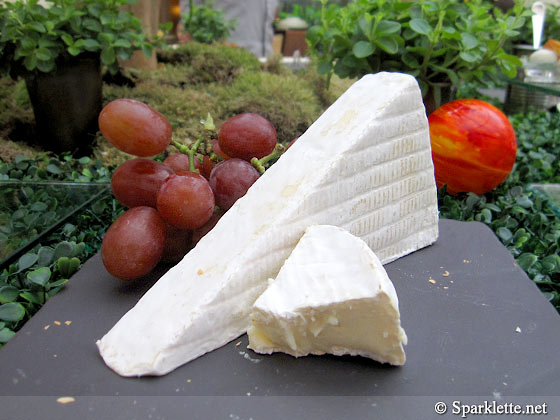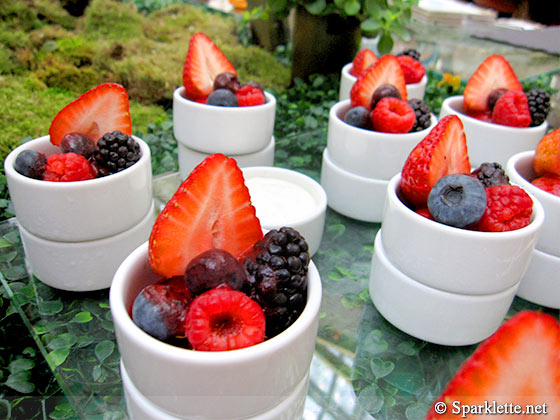 Fontainebleau with berry compote
What would get the Japanese tourists squealing in delighted cries of "kawaii neh"?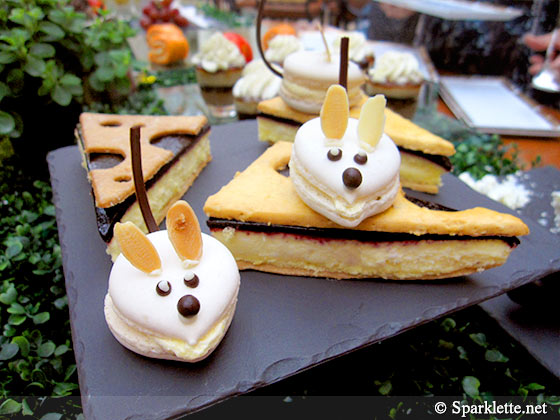 That would be the adorable mouse-shaped macarons, set on a blueberry cheese tart.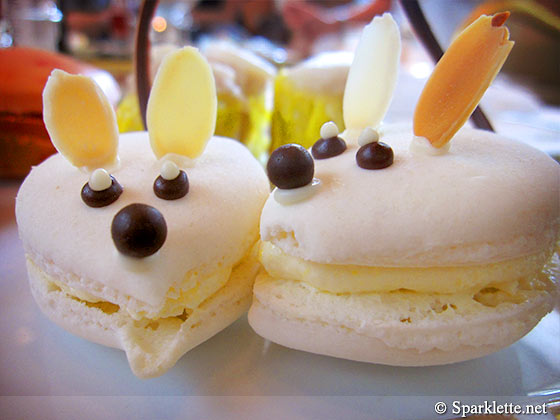 These parmesan macarons sure are a crowd favourite. Each time they are replenished, they get wiped out within minutes (while the blueberry cheese tarts remain behind).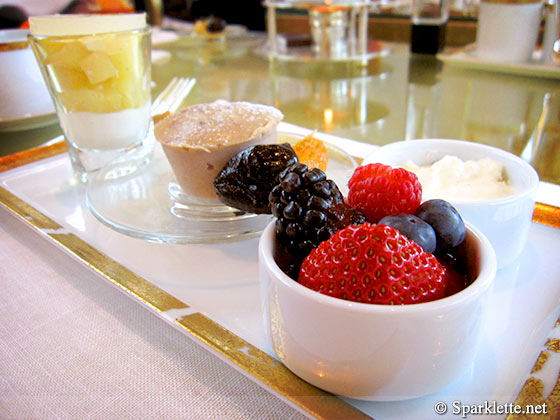 Fret not if you don't manage to get yourself a mousey macaron. The other cheese-incorporated desserts fare very well too!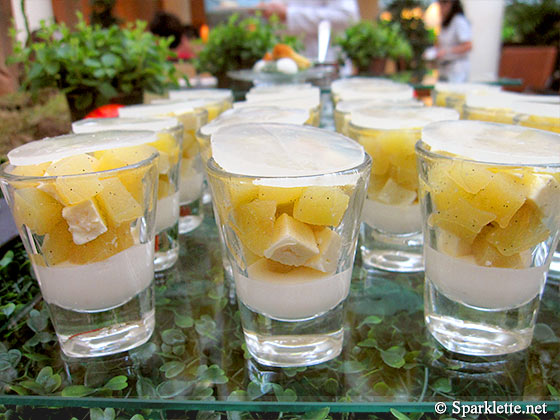 Baked apple with extra virgin olive oil, feta cheese almond mousse and lemon jelly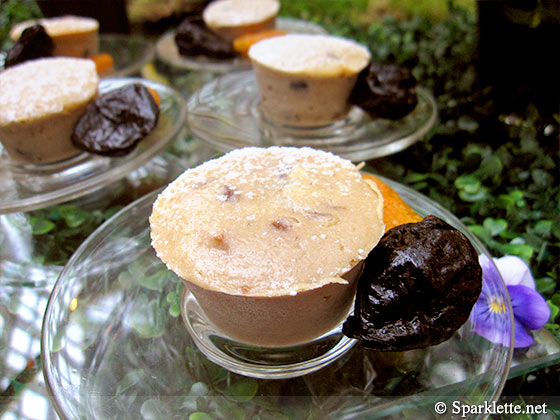 Baked vanilla camembert cheese cake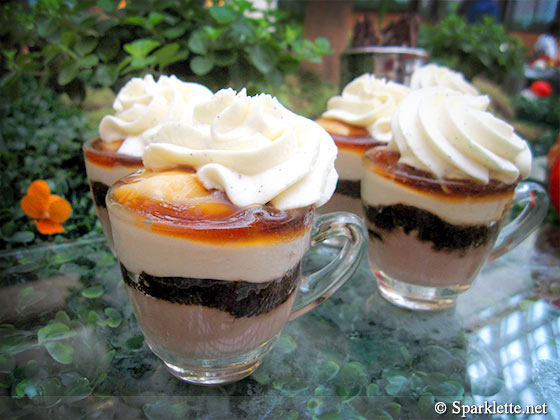 Coffee and soft Guanaja mascarpone cream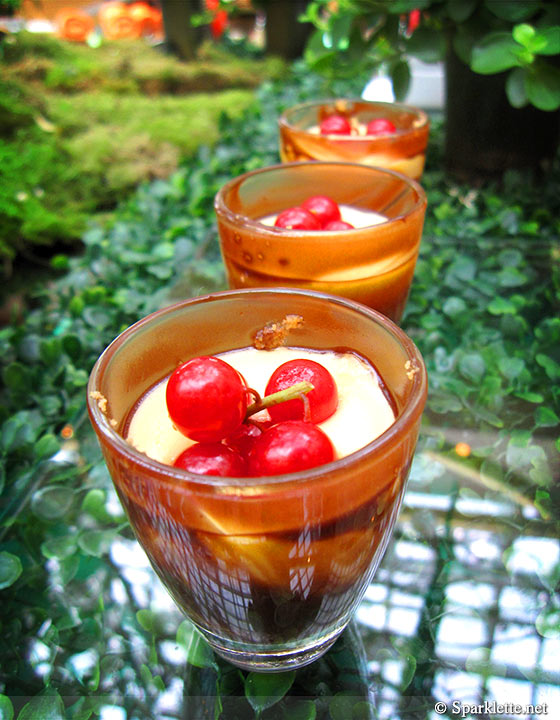 Honey cheese mousse with apricot rosemary jelly
Live station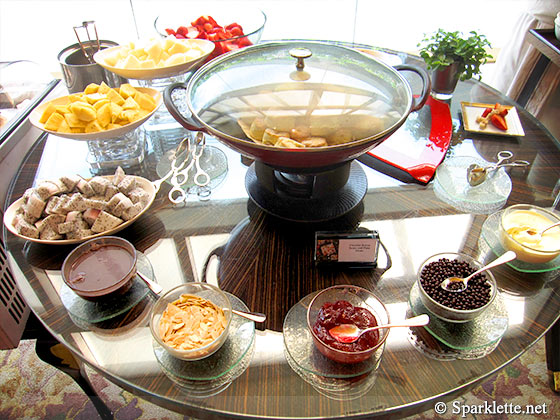 At the live station, you can help yourself to cheddar raisin scones, plain scones, sorbet and ice cream with assorted toppings.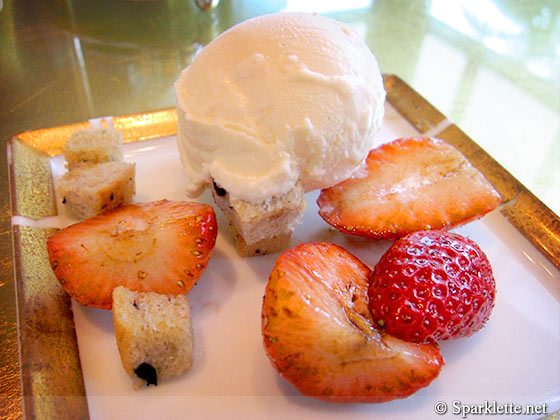 Strawberry balsamic salad with mascarpone sorbet
Tea
Complement the meal with aromatic coffee or a selection of fine teas. The range of over thirty blends of loose leaf teas from the Ronnefeldt tea collection features citrus-flavoured teas such as Morning Star and Roibosh lemon, flavoured black teas such as Wild Cherries and Rose Tea with Petals, and fruit-infused Raspberry Royal and Strawberries with Yoghurt teas.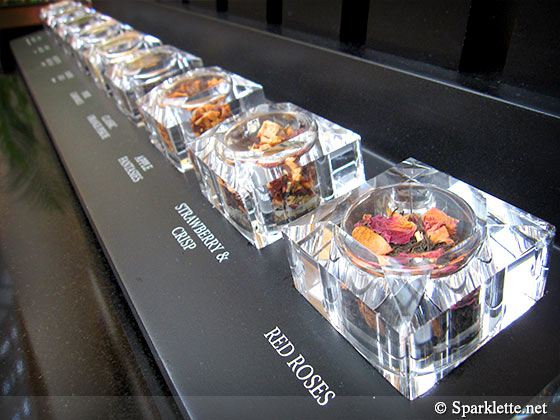 To complete the experience, the tea is served on elegant chic Bernardaud porcelain teaware imported from France.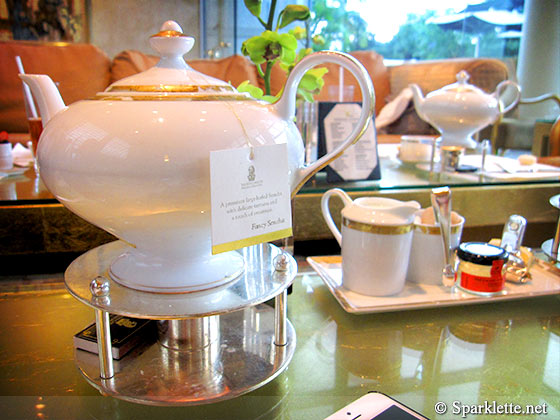 There is absolutely no question that the afternoon tea at The Ritz-Carlton, Millenia Singapore Chihuly Lounge is truly a remarkable dining experience. True to its fame, the high tea buffet lives up to expectations on all fronts, from ambience and service to presentation and quality of food served.
Have Your Say!
Where can you enjoy the best afternoon tea in Singapore? Share all your thoughts via Facebook or Twitter or by leaving a comment!
Chihuly Lounge
The Ritz-Carlton, Millenia Singapore
7 Raffles Avenue
Singapore 039799
Tel: +65 6434 5283 |
Website
Service: