Nestled in the scenic Marina Bay area, San-Sui Sumiyaki & Bar is popular amongst those looking to kick back and enjoy the waterfront view over drinks and snacks. On weekdays, the crowd here is made up mostly of working professionals from the Central Business District.
The restaurant has both alfresco and indoor dining areas, as well as an inviting lounge area suitable for pre- or post-meal drinks.
Besides offering a wide range of wines and Japanese alcohols, a good range of sumiyaki (traditional charcoal grilled) items, sushi and other a la carte items are also served. Sparklette shows you San-Sui's specialties along with the Japanese-inspired cocktails.
Starters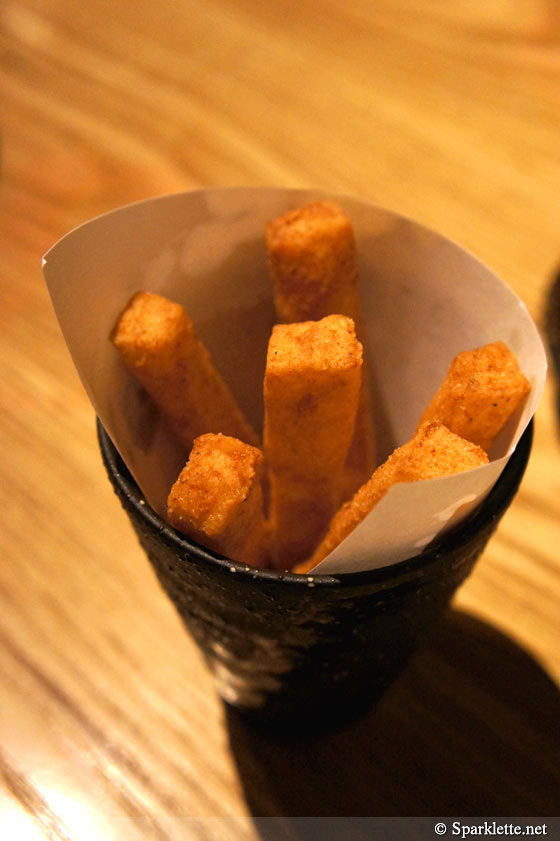 Nagaimo Karaage
(deep-fried Japanese long yam)
S$19++





Crispy on the outside whilst soft on the inside, these sticks of deep-fried Japanese long yam are simply addictive!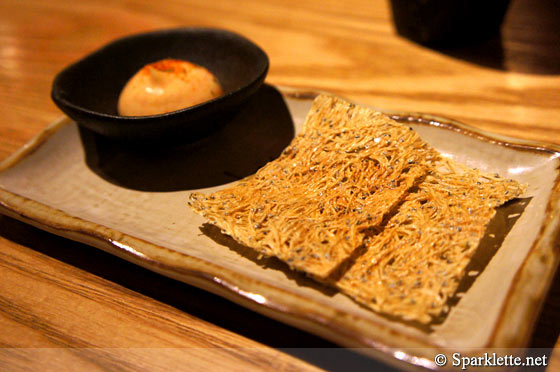 Tatami Iwashi
(baby sardines)
S$15++





Just like its namesake, the thin, flat slices of dried baby sardines – served looking like mini tatami mats – are simply delectable when paired with the flavourful dip.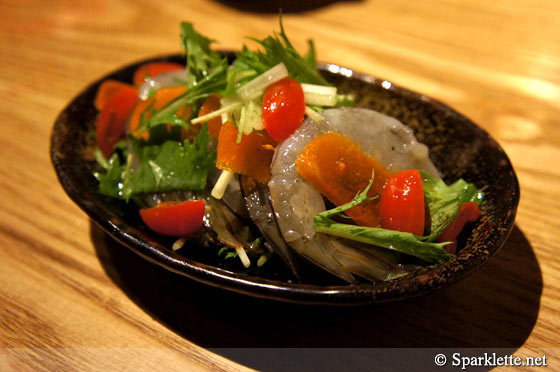 Ebi To Karasumi Ae
(sashimi prawn)
S$16++





With its fresh sashimi prawns, rich black truffle oil dressing and slices of savoury mullet roe, the Ebi To Karasumi Ae salad is a must-order.
Sumiyaki
Prepared by a team of specialist chefs, the sumiyaki dishes are grilled over imported smokeless binchotan (white charcoal) that burns well at high temperatures, resulting in a distinctive aroma.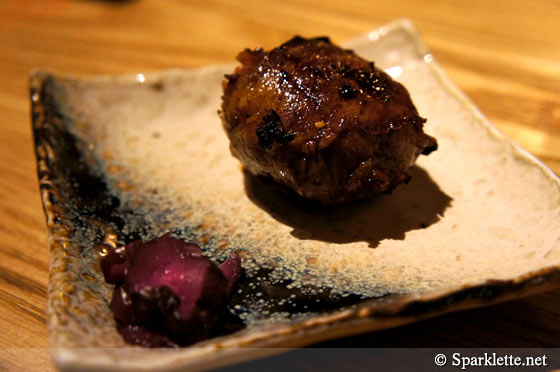 Buta Niku Maki Onigiri
(grilled Kurobuta pork rice ball)
S$9++ for 2 onigiri





For the Buta Niku Maki Onigiri (grilled Kurobuta pork rice ball), the fragrant chunks of rice wrapped in scrumptious, slightly burnt pork slices are sure to make you hunger for more.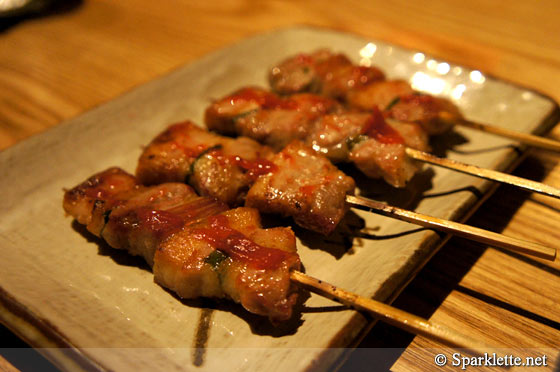 Buta Ume Shiso
(pork with plum sauce)
S$6++ per skewer





This simple dish of fatty pork belly is made interesting with the slightly sour plum sauce on top and shiso leaves in between.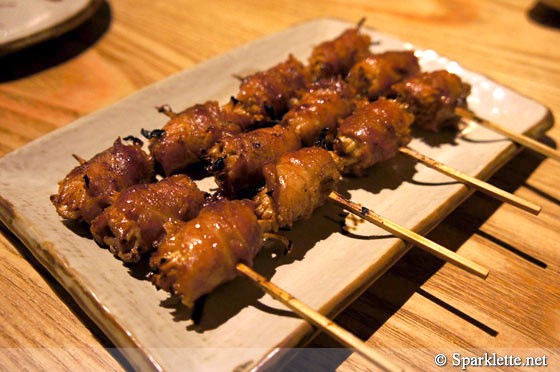 Buta Enoki Maki
(pork roll with Enoki mushrooms)
S$6++ per skewer





Do try the Buta Enoki Maki (pork roll with Enoki mushrooms) which has a unique chewy texture – thanks to the golden mushroom centre – and goes well with shiso pepper. The Enoki mushrooms have a nice smoky taste from charcoal.
Mains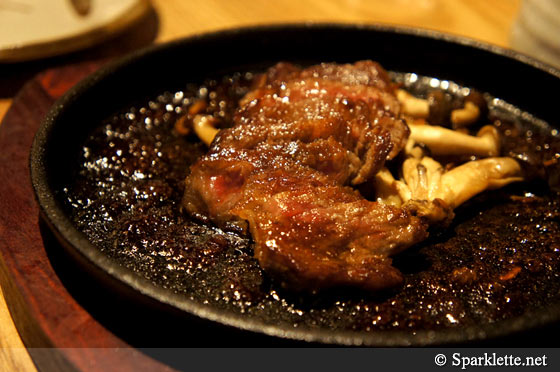 Teppan Wagyu Suteeki
S$30++





Another must-order is this dish of juicy and tender pan-grilled grade 9 marbling Teppan Wagyu Suteeki, served with assorted mushrooms and fresh burdock, plus a savoury sauce to highlight the sweetness of the meat.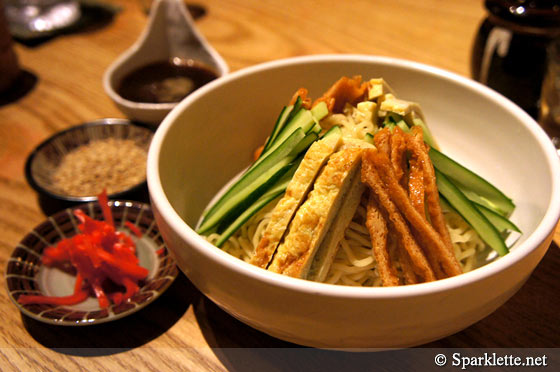 Hiyashi ramen
S$20++





This well-presented cold vegetarian ramen shines through with its delicate condiments and wasabi-sesame oil-soy sauce mix, making it a good choice if you want something light and soothing. I especially fancy the aburaage (deep fried tofu skin) topping that gives the ramen extra sweetness and texture.
Cocktails
Superb for an evening out are the Japanese-inspired cocktails – a range of seven concoctions made with sake, shochu or umeshu.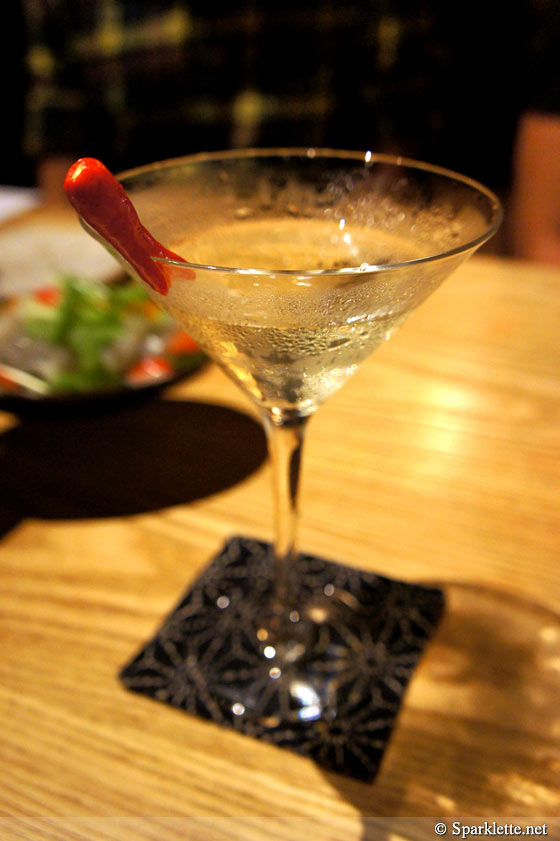 Chilitini
S$18++





If you're feeling slightly sleepy after a long day or you're simply in an adventurous mood, order the Chilitini; its light taste with an underlying spiciness is sure to perk you up.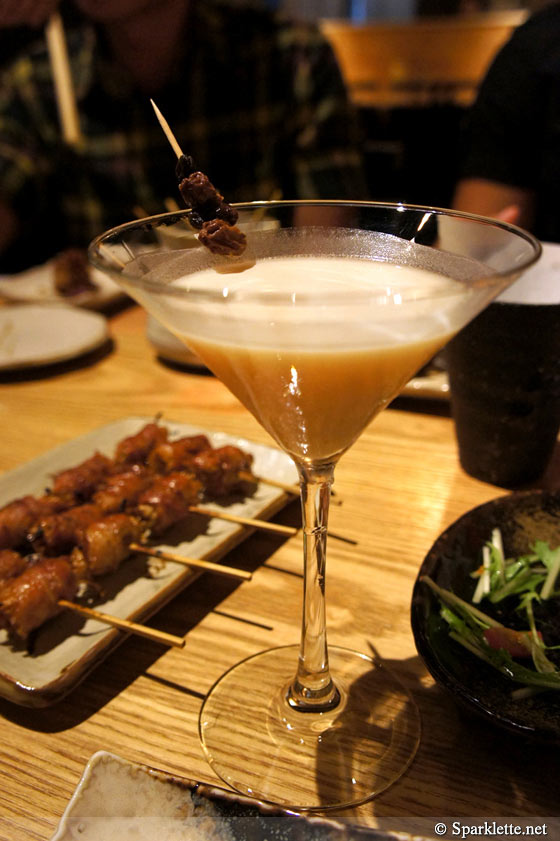 R&R
S$18++





The R&R, a sweet, raisin-infused shoyu and rum cocktail paired with alcoholic raisins is sure to curb any rum and raisin cravings you have.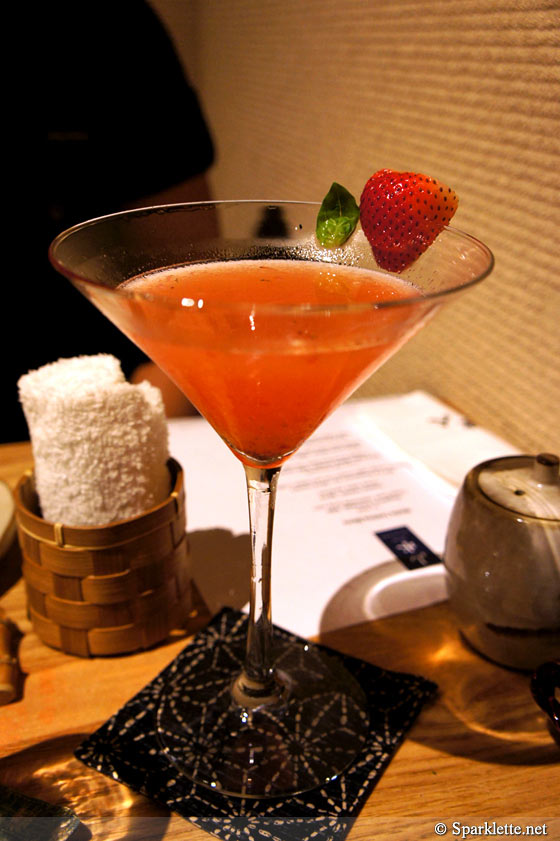 My Sweet Basil
S$18++





My Sweet Basil – a blend of vodka, umeshu strawberries and basil – is a good choice for those who prefer their drinks light and fruity, without an alcoholic aftertaste.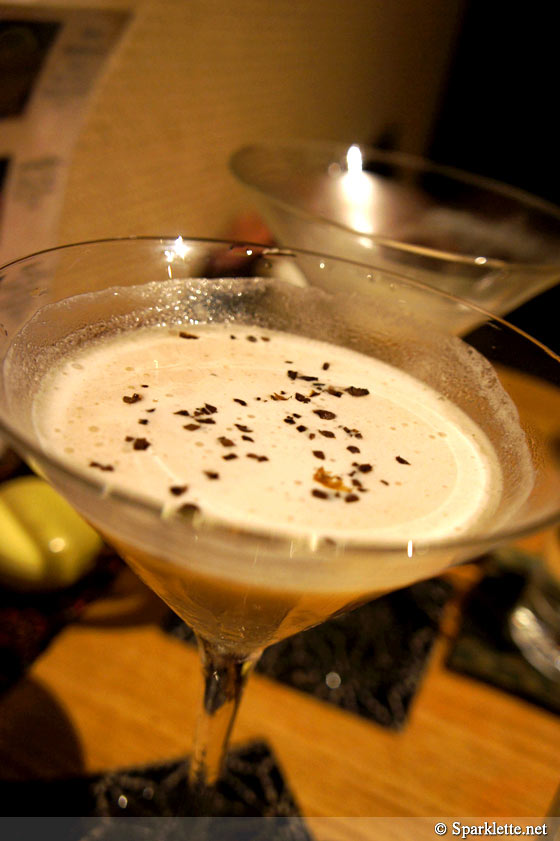 Kohitini
S$16++





Made with vodka, coffee-infused shochu and cream, the Kohitini is sure to satisfy those who like a hint of coffee with their tipple.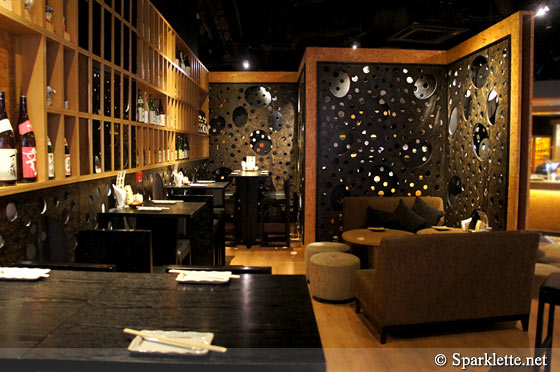 Amidst the increasingly busy city life, San-Sui – its name meaning "Mountain-Water" in Japanese – remains true to the restaurant's credo of offering the finest fares from both Mother Earth and the ocean. It is an ideal place to chill and take in the sights, whilst enjoying a good meal.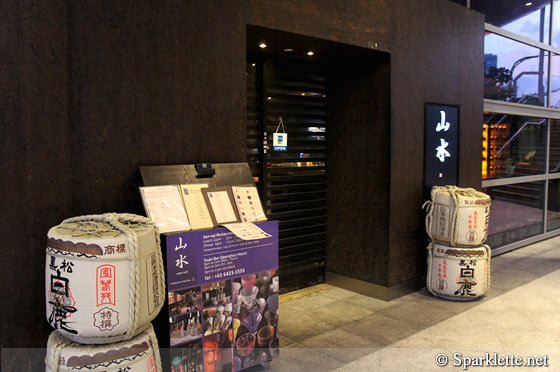 Have Your Say!
What is your favourite Japanese restaurant? Share with us in the comments!
San-Sui Sumiyaki & Bar
One Fullerton
One Fullerton Road #01-05
Singapore 049213
Tel: +65 6423 1555 |
Website
Opening hours:
Lunch: 12pm – 3pm (Monday – Friday)
Dinner: 6pm – 10:30pm (Monday – Sunday)