Launched slightly over a year ago, Scoop of Art is situated at the Marine Parade Community Club building. Some people travel across Singapore just to experience the unique concept of Scoop of Art, a café where you can not only enjoy quality desserts but at the same time create wonderful memories with your loved ones through art.
It is a good idea to grab some books from the Marine Parade library next door and head over to Scoop of Art for some gelato while immersing yourself in the artistic ambience.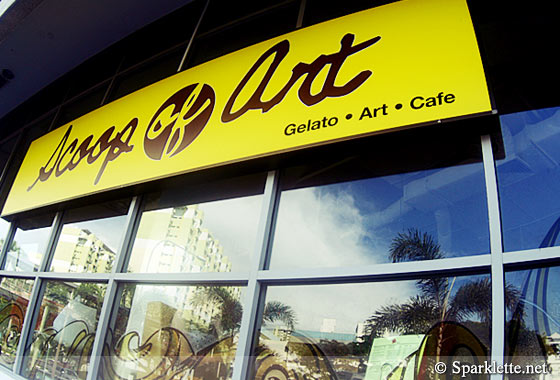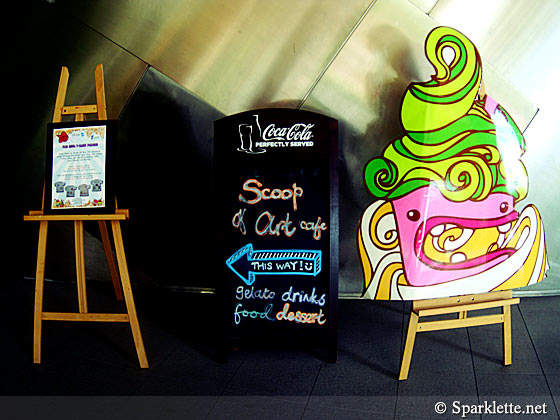 With the spacious interior, you can enjoy your gelato and art with minimal disturbance.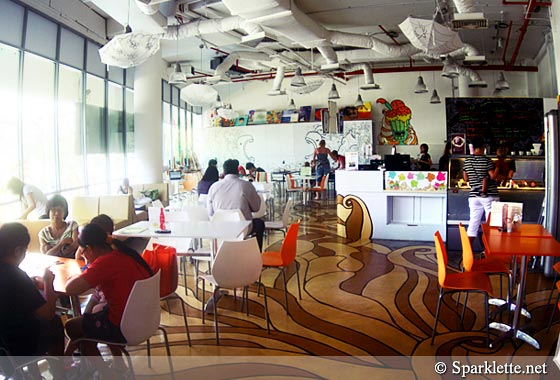 Other than gelati, you can also get brownies (S$3.80), crumbles (S$3.50), banana cakes (S$1.80), waffles (S$3.50-6.80), pastas, sandwiches, pies and more. Drinks include a variety of coffee (S$3.20-3.90), hot and cold chocolate (S$3.50), juices (S$2.80) and smoothies (S$4.50).
Gelato Flavours
The gelati here are made in frequent batches with no preservative and artificial colouring. Fresh fruits, nuts and quality ingredients are used without adding any flavour enhancer. This is definitely a much healthier choice compared to ice cream!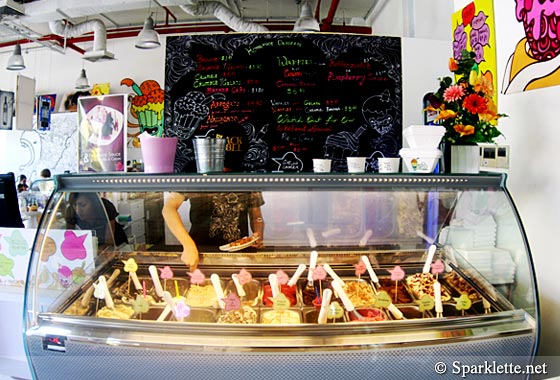 To date, Scoop of Art has concocted an impressive number of 60 flavours, although only 18 flavours are produced each day. Don't be too disappointed if your favourite flavour isn't available; other flavours are still worth a try.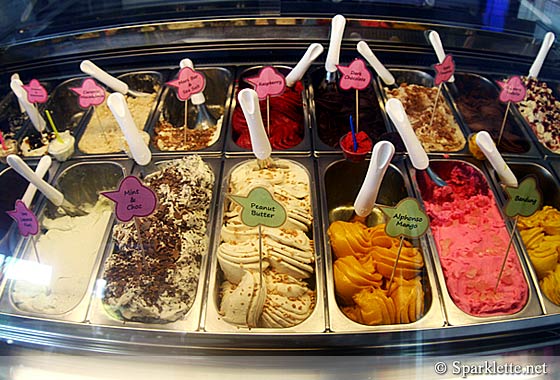 Drawn to the vibrant display of gelati, I have a hard time deciding which flavours to go for. A couple of the staff recommendations are the Mars bar & sea salt and mango sorbet.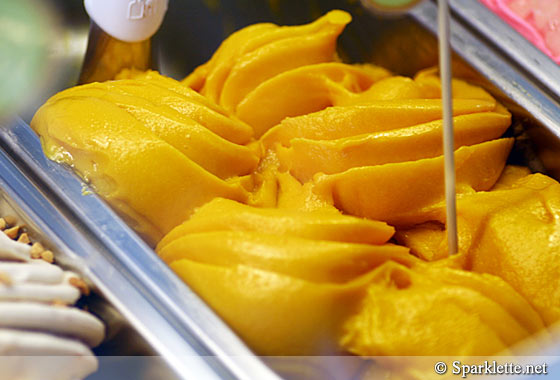 Alphonso mango sorbet gelato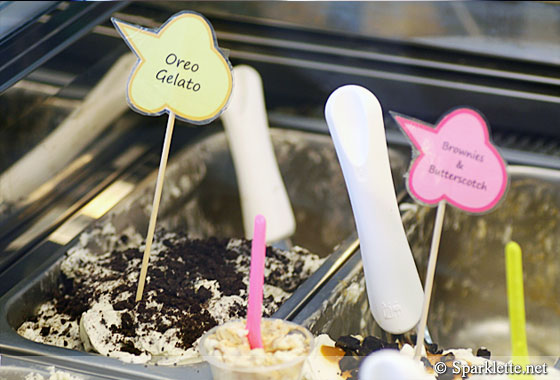 Oreo gelato
Among children, the popular picks are Oreo and Milo, although some regular customers have gone beyond the conventional flavours to try the more unusual ones.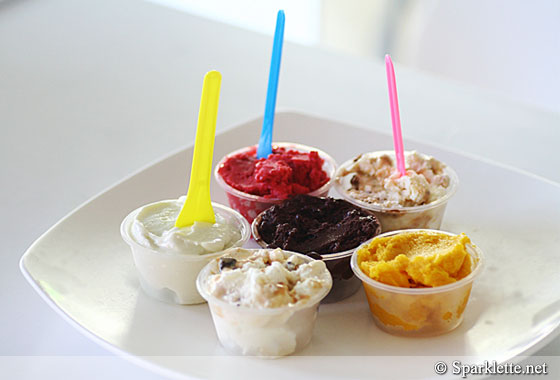 Clockwise starting from top: Raspberry sorbet, Mars bar and sea salt, Alphonso mango sorbet, brownies and butterscotch, Ume yoghurt, and dark chocolate (centre)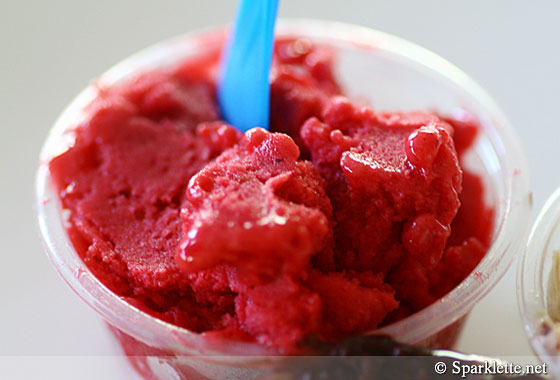 Raspberry sorbet
S$3.80 / 4.80 / 5.80 for small / medium / large cups





One healthful choice is the raspberry sorbet. The café has 2.5 kilograms of fresh raspberries in their kitchen waiting to be churned into sorbets! The density and flavour is definitely not compromised. As each spoonful of raspberry goodness melts in my mouth, the sensation is simply divine!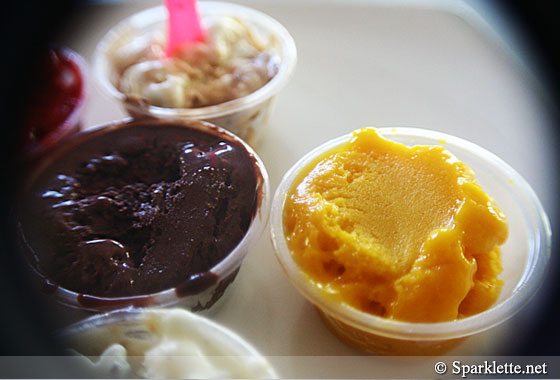 Dark chocolate and Alphonso mango sorbet
S$3.80 / 4.80 / 5.80 for small / medium / large cups
The mango sorbet – another healthful choice – is made with quality Alphonso mangos imported from India. It is chock-full of mango richness with perfectly smooth consistency.






The dark chocolate gelato would cater to those who don't like their desserts to be too sweet. Made with quality high-grade cocoa, it is one satisfying dessert to savour.






Made using Japanese plums, the Ume yoghurt gelato is pretty sour for my liking, although one can't deny that it is a unique and healthful flavour.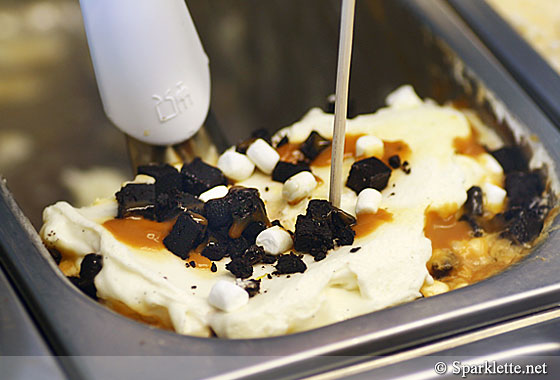 The brownies and butterscotch gelato is one of my favourites.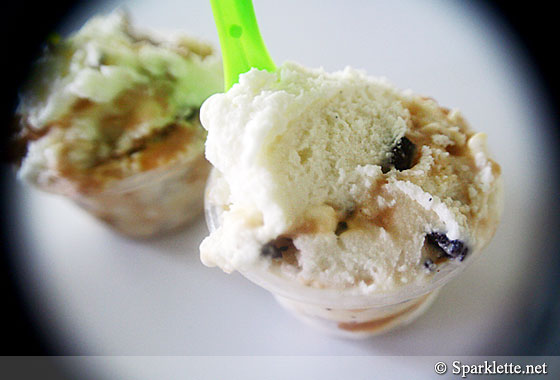 Brownies & butterscotch
S$3.80 / 4.80 / 5.80 for small / medium / large cups





The brownies are made from scratch with high-grade cocoa, drizzled with handmade caramel sauce and topped with marshmallow bits. This flavour was first introduced during Easter and is now here to stay due to popular demand.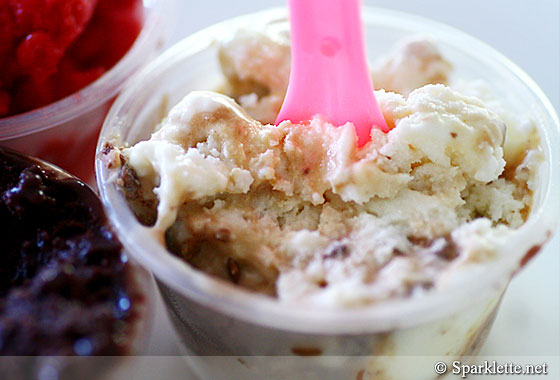 Mars bar & sea salt
S$3.80 / 4.80 / 5.80 for small / medium / large cups





My top pick is the perfect marriage of Mars bar and sea salt. The generous amount of crunchy Mars bar bits in the icy bliss shows there is no scrimping of ingredients. I literally lick the cup till the very last drop!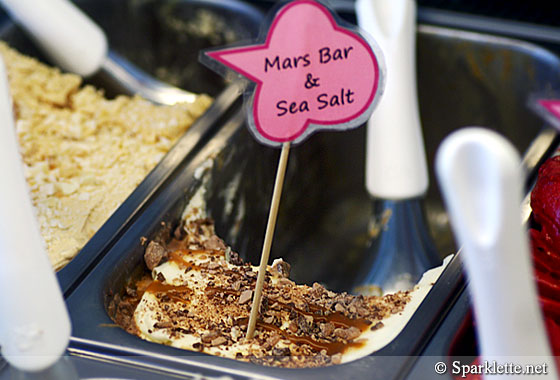 You can tell how popular this flavour is just by looking at the amount left in the tub.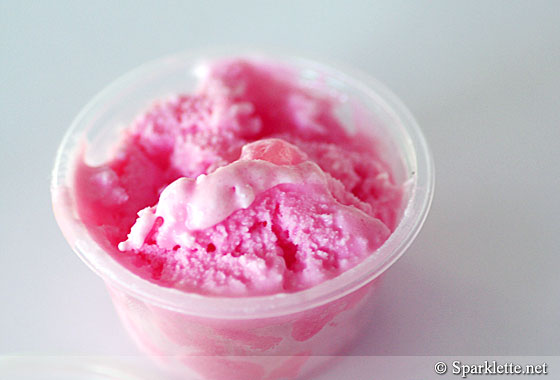 Bandung (rose syrup) with palm seed bits
S$3.20 / 4.20 / 5.20 for small / medium / large cups





The bandung (rose syrup) comes with chunky atap chee (palm seed bits) that are a little tough to chew. Personally I'd prefer my palm seeds to be real soft. But the gelato itself does have a light and mild flavour which I enjoy.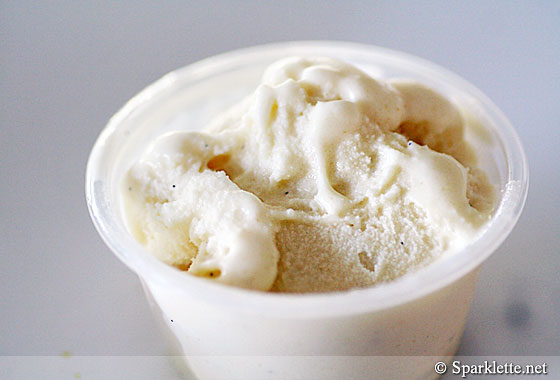 Vanilla
S$3.20 / 4.20 / 5.20 for small / medium / large cups





I spot some vanilla bean specks in the vanilla gelato, which certainly beats the run-of-the-mill vanilla ice cream that uses bottled vanilla extract. The gelato is rich and creamy, and less fattening compared to ordinary vanilla ice cream.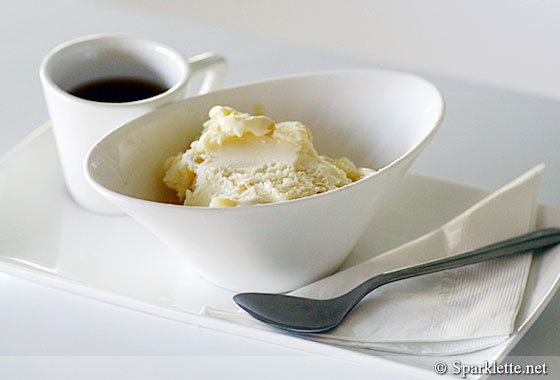 Haliagato
S$5.90





The Haliagato is the Singapore version of affogato. It includes a scoop of ginger gelato drenched in a shot of hot tea.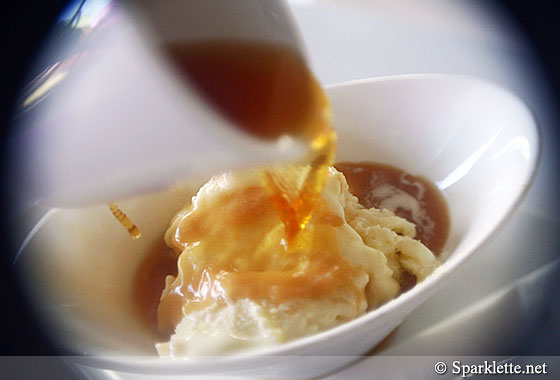 The pairing of ginger and tea is excellent. I have never been a fan of ginger, but in this case it isn't that pungent and is in fact quite delightful once you get used to the taste.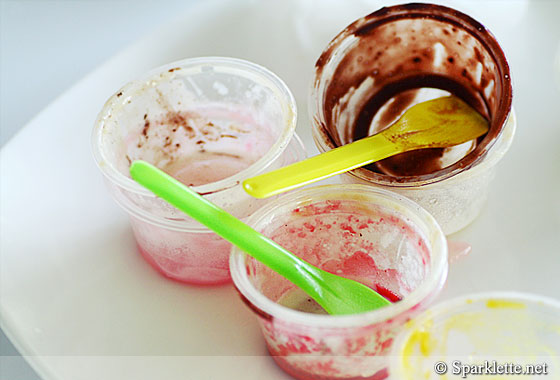 This has been a great experience and I'll definitely be returning to try more flavours. With so many to choose from, you'd certainly find something that will get you hooked!
Arts and Crafts
For those that appreciate art and enjoy getting their hands dirty, you can create a piece of art at Scoop of Art.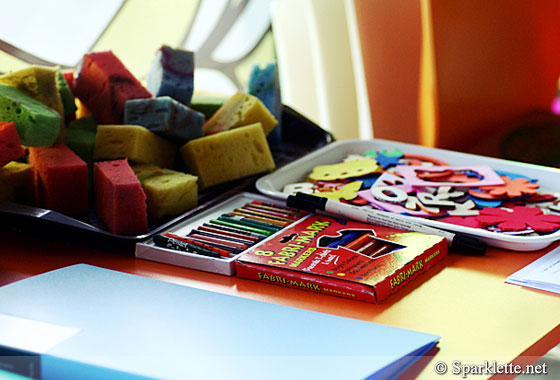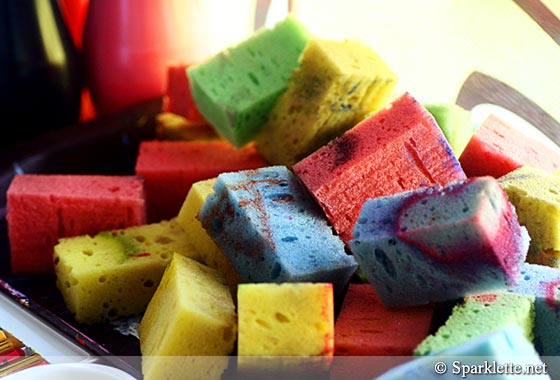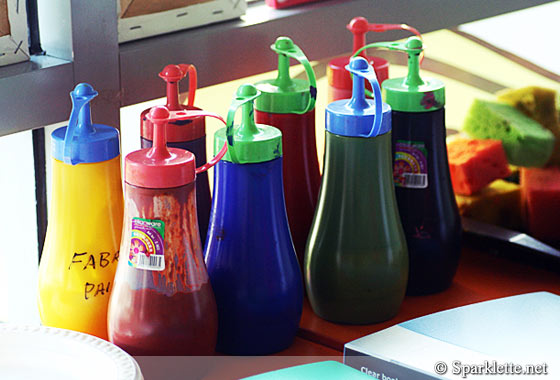 Whether or not you're artistically trained, with the wide array of tools available, such as stencils for the newbies, you can still walk out of Scoop of Art with your very own masterpiece!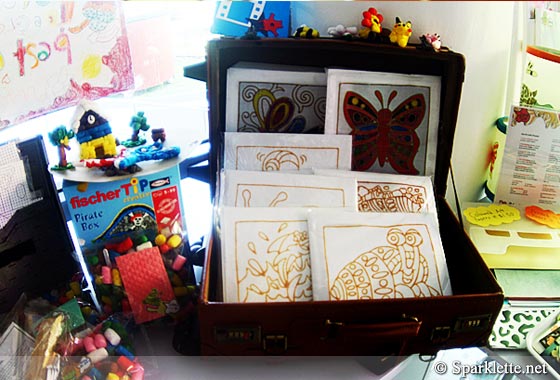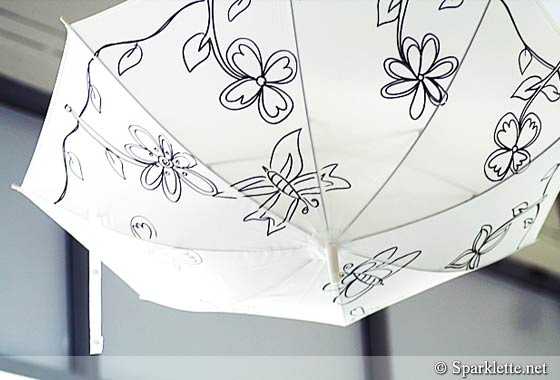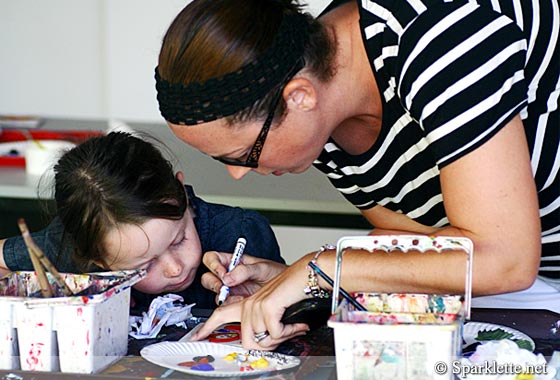 It is heartening to watch the bonding moments as parent and child create art together.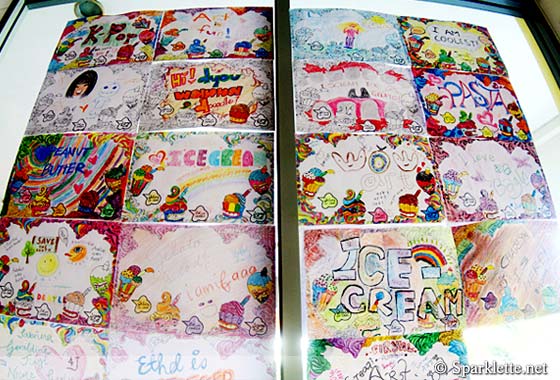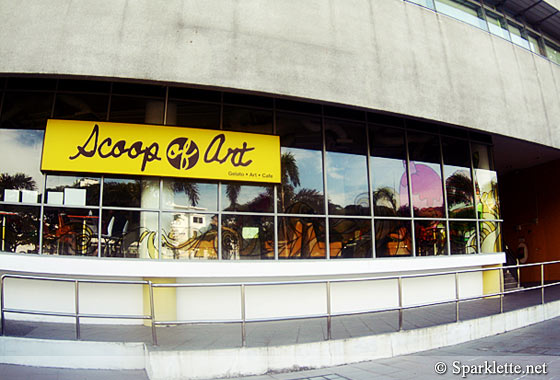 Have Your Say!
Do you prefer gelato or ice cream? What is your favourite gelato joint in Singapore? Share with us in the comments!