Fancy dining Japanese this holiday? You may wanna consider tetsu. The chic Japanese restaurant at Tanglin Mall is running a special 8-course festive set for both Christmas and new year's eve.
Unlike many places that jack up the prices during this period, Tetsu is offering their festive set at a very attractive price. What's more, the dishes included are the crowd favourites from the restaurant!
Christmas & New Year menu
S$58++
Availability: December 15, 2008 – January 2, 2009
we first got to know of Tetsu back in October and loved the food and the ambience. This time round, we found ourselves enjoying the festive set thoroughly.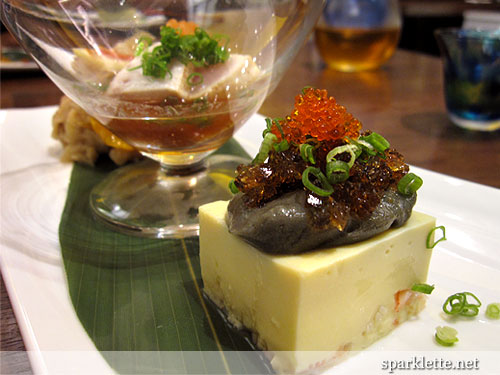 Kani tofu
Rating:





The first three items (swordfish tataki, kani tofu and sake namazuke) on the menu are presented on a single long platter. While we're already familiar with most of the food here, the kani tofu carries a little twist. It has this grey creamy substance which we found was… Blended century egg! Talk about surprises! And it actually tastes good!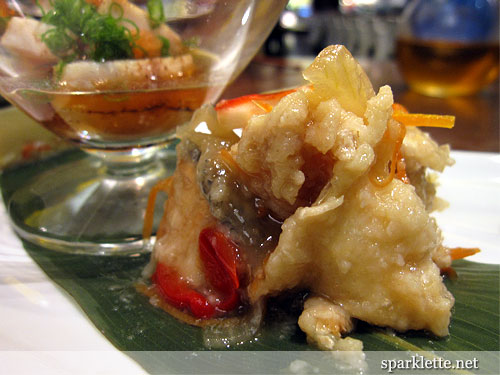 Sake Namazuke (Salmon with vinegar)
Rating:





The sake namazuke (salmon with vinegar) is new to us. Among the trio, this one is my favourite and really opens up the appetite for the rest of the meal.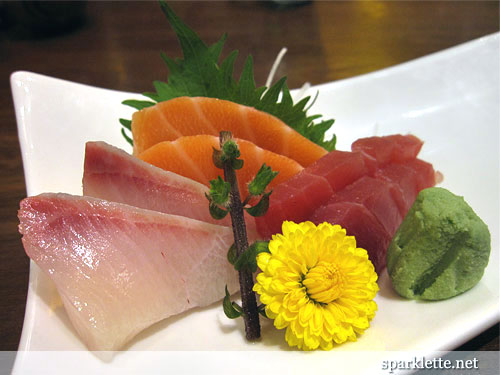 Sashimi Moriwases
Rating:





Sashimi! The little floral presentation reminds me of dozo's artful plating. This is the first of three successive main courses.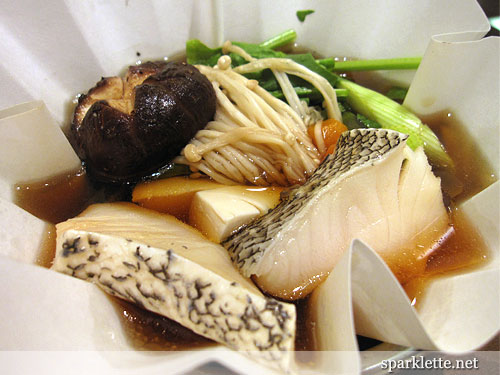 Gindara Sukiyaki (Codfish in Japanese steamboat)
Rating:





The second main course would be the gindara sukiyaki. As you can see, you get two ample-sized codfish slices in the paper pot. While the soup isn't as flavourful as the crab sukiyaki we had before, the codfish more than makes it up!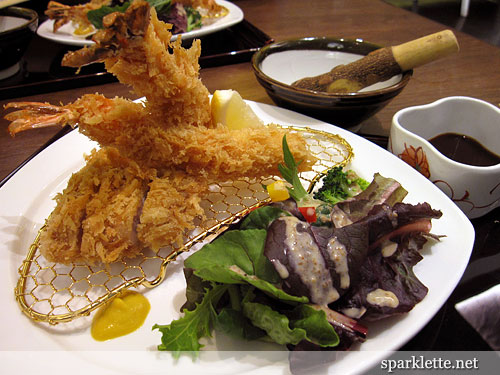 Rosu Katsu with Ebi Katsu (Pork loin with breaded shrimp)
Rating:





Finally, the last main course is the best-selling pork loin katsu. It is extremely tender this time round. You get a small serving of it as well as the breaded shrimp. The shrimp is covered in the lightest breading you can imagine!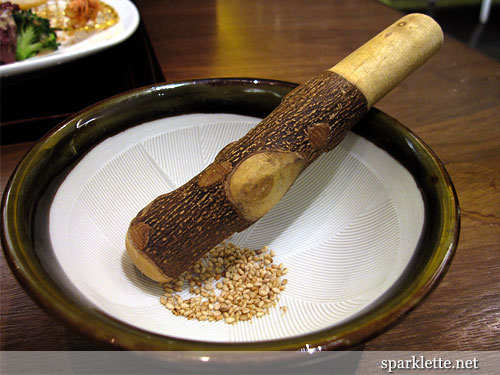 Served along with the tonkatsu is this mortar and pestle set. We used it to grind the roasted sesame seeds for mixing with our dark sauce.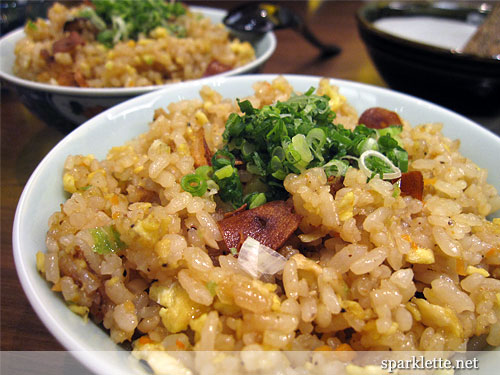 Garlic fried rice
Rating:





By the time we got to this part of the meal, we were really full! But nothing would stop us from trying the fragrant garlic fried rice.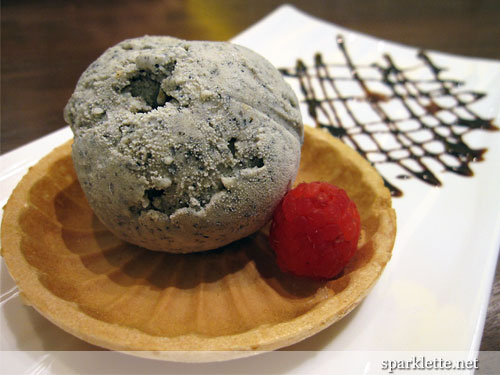 Goma (Black sesame) ice cream
Rating:





And of course, the awesome black sesame ice cream that's made in-house. I liked it so much previously that I had to ask for two servings of it!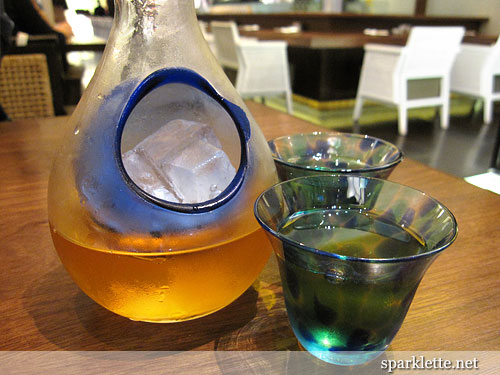 Plum wine
Rating:





As for the drinks we tried out the plum wine. But with every two festive sets ordered you can pop a bottle of piper heidsieck champagne at just $68 (slashed from the usual $138).
To summarise, here's what you get for this $58 set menu:
– swordfish tataki
– kani tofu
– sake namazuke (salmon with vinegar)
– sashimi moriwases
– gindara sukiyaki (codfish in steamboat)
– rosu katsu with ebi katsu (pork loin with breaded shrimp)
– garlic fried rice
– goma (black sesame) ice cream
Tetsu
Tanglin Mall
163 Tanglin Road #03-18
Singapore 247933
Tel: +65 6836 3112
www.tetsu.com.sg
Opening hours: 11:30am – 3pm (lunch), 6-10pm (dinner)