Have you noticed that in recent years, people have taken quite a liking to handmade pau (Chinese buns)? Very often I would see long queues forming at hawker stalls selling such handmade pau and eager customers buying them by the dozen.
There's good reason for such brisk business. A pau that is lovingly made by hand tends to taste better than one made by a machine. Its skin may be thinner, its portion more generous, the recipe for its char siew (sweet barbecued pork) filling more perfected.
Many of these pau come in bite-sized portions no bigger than ping pong balls. So you have to eat 4 or 5 of it at a time to feel anything inside your tummy. Some people like it in such a cute size, but for me I still prefer a regular-sized pau. So I was very happy when I was introduced to Hua Ji Bao Dang (华记包档) at Bukit Merah View Market & Food Centre.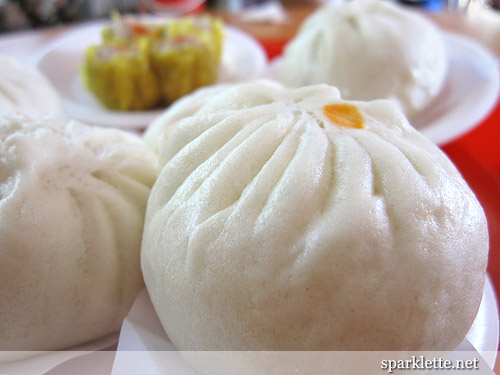 Char siew pau (Buns with sweet barbecued pork filling)
S$0.80
Rating:





The best-selling char siew pau comes in a good-sized portion (similar to the ones sold by major pau makers) and is served piping hot from the steamer. Once you sink your teeth into a soft fluffy bun, you would taste an extremely fragrant, juicy and delightfully sweet filling!
Unlike many common char siew pau out there, the meat here is minced and so very tender – you won't feel the rough lumpy chunks. No wonder these buns sell out so quickly!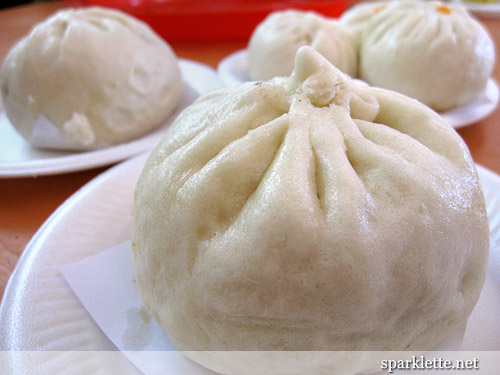 Big pau
S$1.50
Rating:





The char siew pau really is the true star here because the big pau simply pales in comparison. Its meat filling is much less fragrant and tastes more of salt than anything else.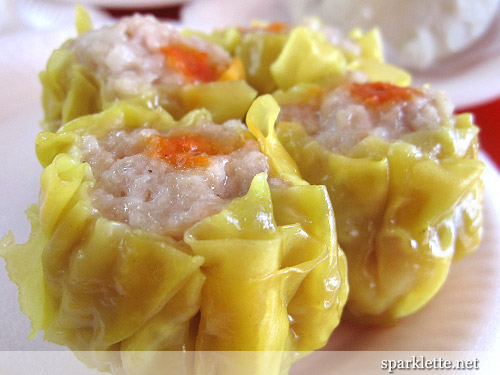 Siew Mai (steamed prawn dumpling)
S$0.60
Rating:





For some variety, we also ordered a plate of siew mai (steamed prawn dumplings). Each one has a firm and moist texture, and contains a generous amount of ingredients.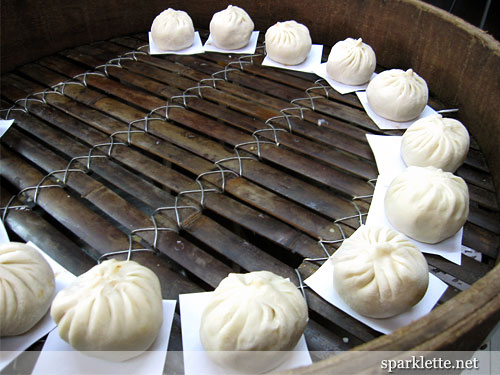 All the pau would be sold out before noon and the sellers can just close shop for the day! Ain't that nice?
Well, not really. pau making is hard work. At a time when most of us are still away in dreamland, the sellers already have to do their preparation work to open for business at 6am each day.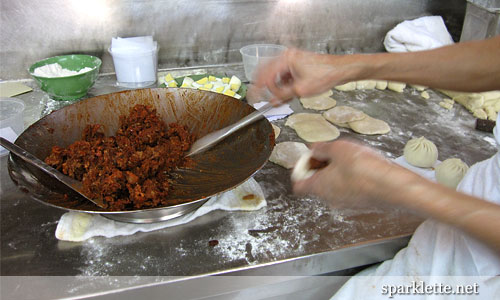 At the back of the stall, you can see the elderly uncle working diligently, his skillful hands moving rapidly to prepare the dough, put in the filling and steam the pau.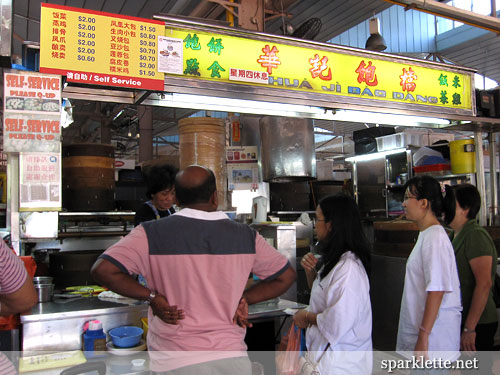 The stall is prominently located at the front row of the food centre so you won't miss it. It's actually two stall units combined into one. From the queue you know that the business here is good. To avoid disappointment, do go there early!
Hua Ji Bao Dang 华记包档
Bukit Merah View Market & Food Centre
Blk 115 Bukit Merah View #01-535
Singapore 151115
Bus services: 14, 33, 51, 93, 100, 195, 197
Nearest MRT: Tiong Bahru
Opening hours: 6am – 11am (Closed on Thursdays)