tetsu, one of our favourite Japanese restaurants recently ramped up their menu with some brand new items. While our all-time favourites like the delicious dragon roll and the delightful kushi-style (skewer) tempura have been retained, we are delighted with many of the new dishes!
Whether you prefer the raw taste of sashimi, the soupy sukiyaki (steamboat) or the meatier tonkatsu, there is certainly no shortage of dishes to pick from. But it wouldn't be Tetsu if they didn't throw in a few surprises along the way.
Here's one brand new dish that I find particularly exciting. Can you tell what it is? Let's venture a few guesses before looking at the answer!
(hint: it's a kind of fish.)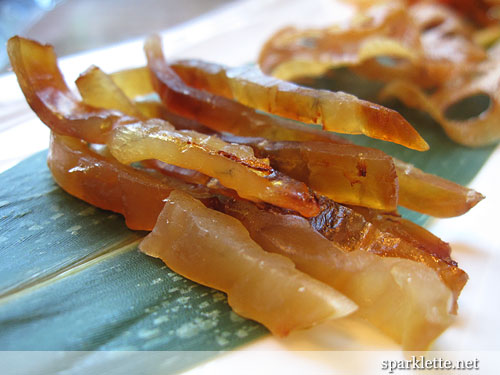 Fugu Mirin Boshi (dried puffer fish)
S$10++
Rating:





Why, it's the puffer fish! Did you get it? If you wanna get a taste of this exotic fish, this is one of the few restaurants in Singapore where you can find it.
For someone having puffer fish for the first time, I do feel a mixture of worry and tingling excitement. You hear stories of puffer fish food poisoning, so eating this is kind of like a mini adventure in its own right.
The fish is dried and cut in longish strips. It tastes wonderful (and rather unexpectedly so too!), sort of like a less stiff and dry version of bak kwa (sweetened barbecued pork). This is one of those novelty foods that actually tastes good!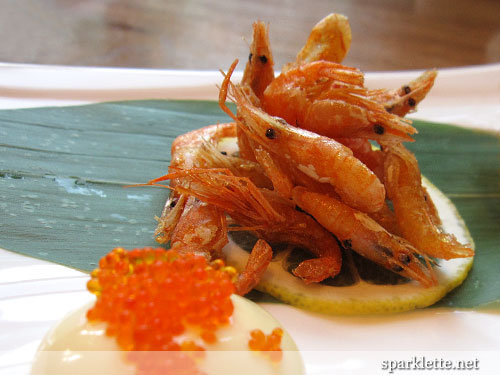 Kawa Ebi Karaage (deep-fried river shrimps)
S$8++
Rating:





These teeny shrimps make a fun crunchy snack. In Japan, they are also sold in the form of packet-sized titbits for people to munch on! Personally I'm not a huge fan of tiny, dry shrimps. I prefer them to be plump and juicy, so that you can get the full-on prawn flavour!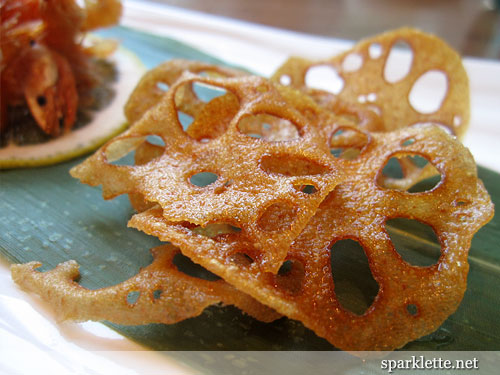 Renkon chips (deep-fried lotus root)
S$4++
Rating:





Another "snack" that I do love are the renkon chips. These are lotus roots, skilfully sliced and fried at a precise temperature so that each chip is perfectly thin, crispy and fragrant. The experience can be likened to eating potato crisps. I enjoy it!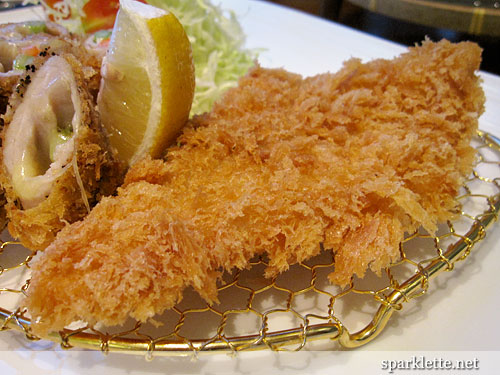 Fish Hire (breaded fish fillet)
S$14.50++
Rating:





The breaded pork loin, pork fillet and shrimp have long established themselves as crowd favourites. Now, the restaurant has introduced yet another option – breaded fish fillet. Covered in the same trademark light breading, the fish is swimmingly good! I award bonus points for the absence of fishy stench too.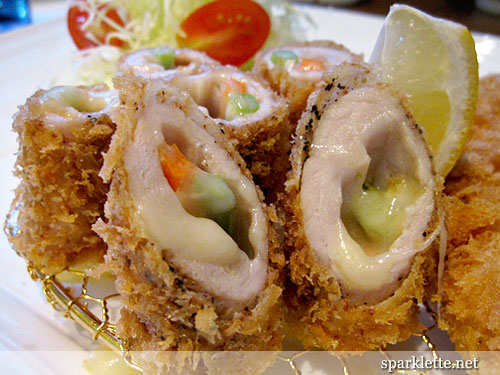 Cheese Katsu roll (breaded pork roll with cheese, carrot & asparagus)
S$16.50++
Rating:





The unusual marriage of pork, melted cheese, carrot and asparagus form the basis for these colourful rolls. This is one of the few items that I find less impressive. The cheese doesn't seem to add much. On the whole, I feel that the mishmash combination of ingredients just does not gel.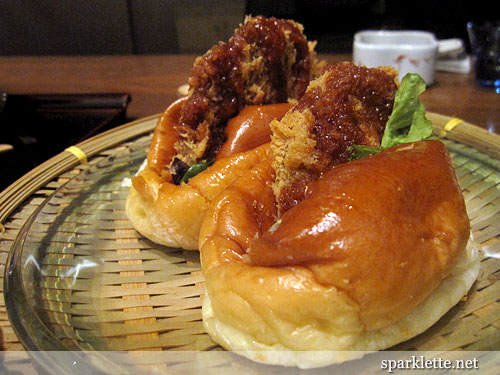 Hire Katsu Sando (breaded pork loin sandwich)
S$5.80 each++
Rating:





One thing that I certainly haven't expected to find on the menu is a burger. And this breaded pork loin sandwich has already won over many fans, in particular the busy corporate types who can only find time for takeouts.
Each burger comes with a full slab of juicy pork loin that is simply bursting with flavour! It has none of that minced meat crap too. What you would find is a tender cut of pork that is deep-fried in a breading made from a secret recipe. It's simply mouthwatering!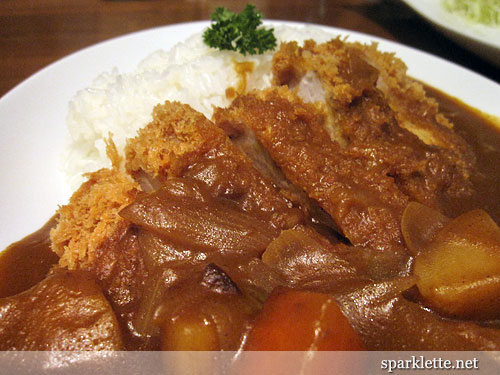 Katsu curry rice (with breaded pork, chicken or shrimp)
S$16.50++
Rating:





I have wondered for a long time why there is no curry on the menu. Now that they have finally introduced it, I can only assume that chef ken has been busy perfecting his curry recipe. Buy online for sale prices Best Halloween Costumes 2018 at Halloweeneo.com – shop Halloween costume ideas 2018 for kids, adults, pets – the ultimate selection of new design Halloween costume ideas 2018 for cheapest prices – visit Halloweeneo online store for 50 000+ costumes!
Perfected, it is. I am very fussy about my curry; it has to be rich, gravy-like and flavoursome. The curry here fits the criteria – slide-down-the-throat smooth, fragrant, with a slight hint of sweetness too.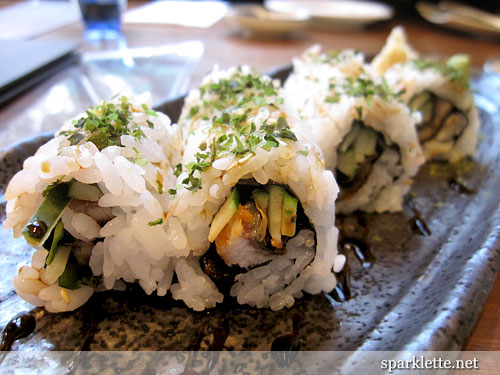 Unagi (freshwater eel) Maki
S$8++
Rating:





Mmm… unagi (said in the tone of rachel from friends)! It comes in the form of maki sushi rolls, beautifully presented, with the rice lightly laced with vinegar. I love this almost as much as I love the dragon roll. The dark sweet sauce makes it taste heavenly!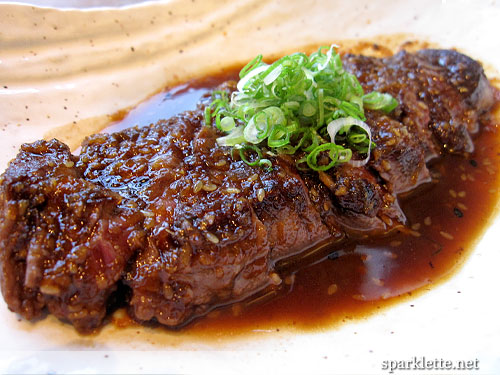 Yaki Niku (beef tenderloin)
S$16++
Rating:





The best dish of all has to be the succulent prime beef tenderloin. Painstakingly hand-grilled to perfection, this is the tenderest and juiciest beef you would find, soaked in the most amazing yaki niku sauce. If I could pick just one dish to have at Tetsu, this would be it.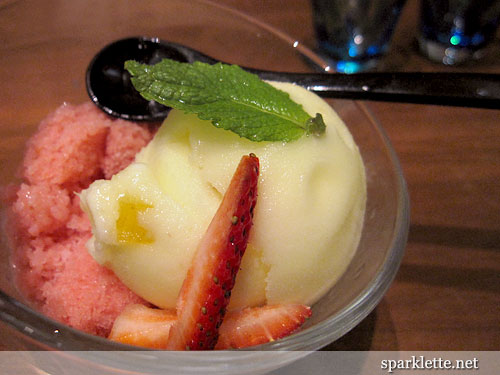 Yuzu ice cream on strawberry sherbet
S$5.80++
Rating:





A new addition to the desserts menu is the yuzu ice cream on strawberry sherbet. The ice cream flavour is mostly sour, with a tinge of tangerine, grapefruit and pine. Hmm… I prefer my desserts to be sweet though.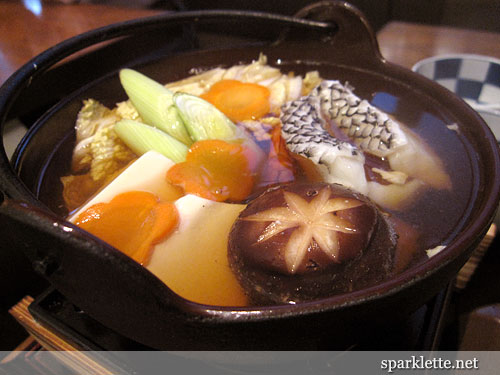 Gindara Sukiyaki (codfish in steamboat)
Rating:





Besides trying out the new menu, jason, the manager, also brought us some familiar dishes. The codfish steamboat is an old favourite that warms you from within. And it comes with the plump and juicy prawns that I love!
As always, ken loves to work his creative juices and concoct some complimentary dishes for his customers. Most of the time these are not available on the menu.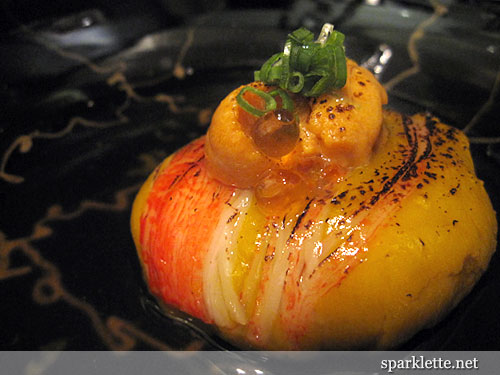 Pumpkin with sea urchin, crab stick, scallop & salmon roe
Not on menu
Rating:





This attractive-looking dish is made up of a really filling pumpkin base, topped with sea urchin and salmon roe. The round base is covered with red and white crab stick, with a full scallop at its centre. Nice!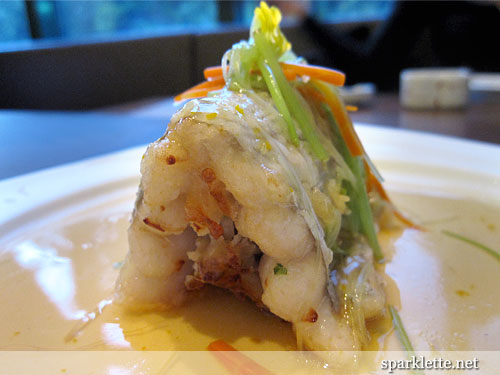 Steamed silverfish
Not on menu
Rating:





Cutely presented in the shape of a house is the steamed silverfish. It is lightly-flavoured and yummy. I would consider it to be more of a Chinese menu item.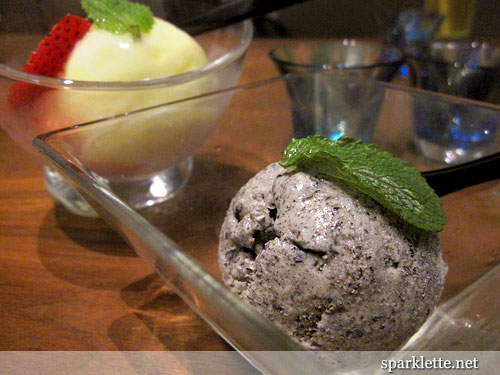 Goma (black sesame) ice cream
Not on menu
Rating:





Of course, every visit to Tetsu should end with a yummy scoop of black sesame ice cream! That's my favourite dessert here and I must have it every single time :)
Tetsu
Tanglin Mall
163 Tanglin Road #03-18
Singapore 247933
Tel: +65 6836 3112
www.tetsu.com.sg
Opening hours: 11:30am – 3pm (lunch), 6-10pm (dinner)