Tinge of Blue is a café and bar that is not easily discovered, hidden away at SAFRA Mount Faber in Singapore. It strikes an appealingly casual chord with its location right by the club swimming pool. Comfortable and laid-back are two words that come to mind when you first visit this restaurant.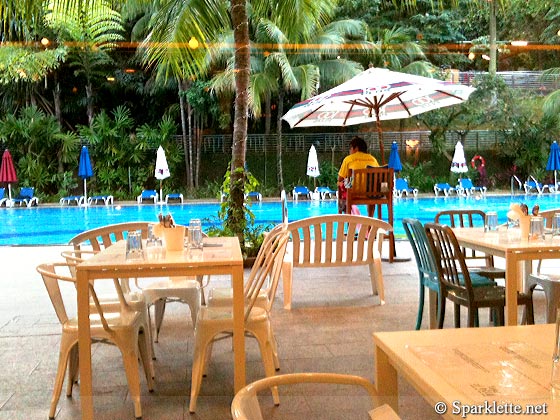 By day, full-length windows flood the premises with natural light, while evenings are transformed into a relaxed dining experience. I don't have the luxury of living right by a pool, so being able to dine by one is the next best thing. The fact that not many people are aware of this place yet is perhaps a bonus as there isn't really a crowd.
Prices are moderate, and there is also a nice drinks list to kick the evening up a notch.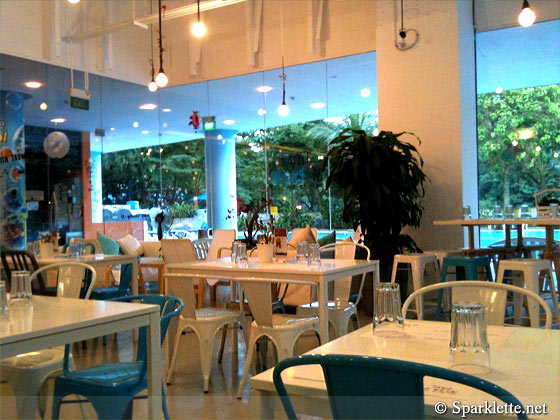 The menu rounds up all the usual suspects – pastas, pizzas, steaks and burgers – of a western establishment. Hungry and feeling like pasta, that's exactly what we go for.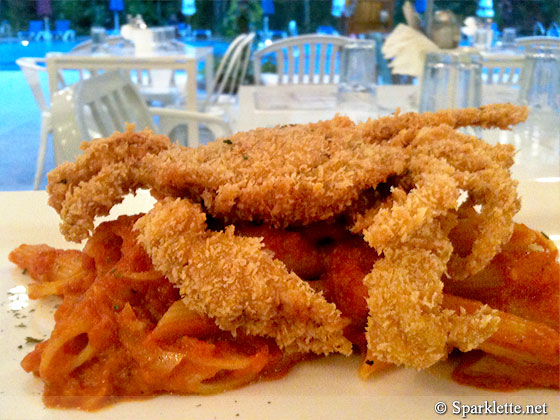 Penne pasta with soft shell crab
S$18.90++





When it comes to pastas, if you're a soft shell crab fan, this is definitely the place to indulge. The crispy crustacean is served whole with penne pasta and dressed in a zesty tomato sauce.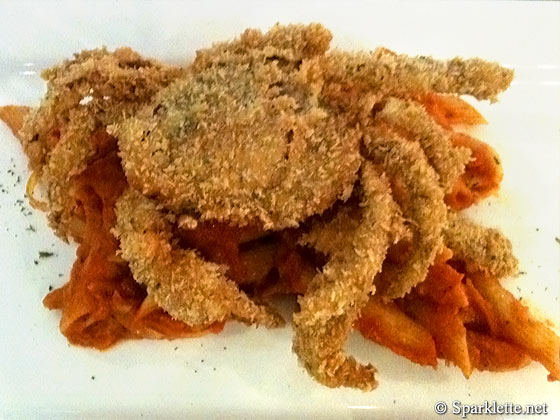 The crab is ample-sized and large enough to satiate any craving. But remember the Law of Diminishing Returns. The more you eat, the more it seems ordinary. By the last mouthfuls, my taste buds have become a little tired of the sauce.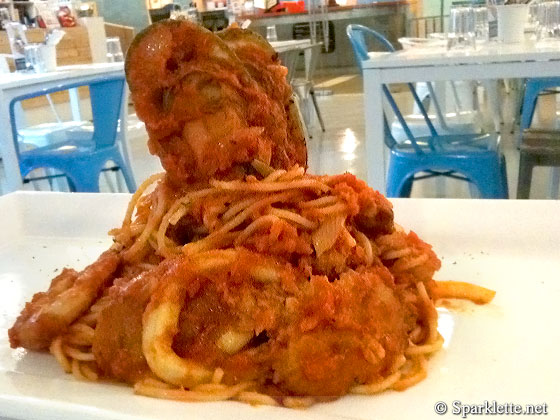 Seafood spaghetti in tomato sauce
S$19.50++





Continuing in the seafood vein, since we're dining by the sea, or pool, whatever, the seafood spaghetti in tomato sauce is a good choice. It is crowned with a pair of mussels, tucked with a few calamari rings and a prawn, and finished with a tangy tomato sauce. For the price, you will be expecting more ingredients. This we find somewhat lacking, though I do dig the pasta.
As part of the American Express SELECTS programme, cardholders get a 10% discount on the food bill. If you are dining here before 29 January 2012, you can make payment with your American Express card and have a chance of entering the weekly Volkswagen car giveaway! Just remember to remind the staff about your card privileges. I forgot about the 10% discount, and so did they.
Overall, I'm a big fan of the poolside ambience at Tinge of Blue and love the fact that it is tucked away from the city. Service is as relaxed as the ambience, professional but personable. The next time I'll be back for the drinks!
Have Your Say!
Are there any hidden find in Singapore that you would like to share? Share all your thoughts via Facebook or Twitter or by leaving a comment!
Tinge of Blue
SAFRA Mount Faber
2 Telok Blangah Way #01-04
Singapore 098803
Tel: +65 6337 2088 |
Website
Service:





Opening hours:
Monday to Saturday: 11am – 10pm
Sunday: 9am – 9pm
Saturday & Sunday brunch till 3pm