Yong kee famous fishball noodle at ABC Market is famous for a good reason. With a history stretching 24 years, the hardworking husband-and-wife team running the stall sure have perfected their recipe for their bestselling fishball noodle.
Don't let this humble dish fool you – it packs a punch! The secret lies in the handmade fishballs. A chat with the lady boss revealed that her husband travels to a factory in old airport road everyday to make fresh batches of fishballs.
These fishballs are made from fresh fish. True to her word, you wouldn't get the kind of flour-taste in those frozen fish or sotong (calamari) balls from the supermarket. You can really taste the freshness of the fish, without the slightest hint of the fishy stench. The texture is firm and springy too!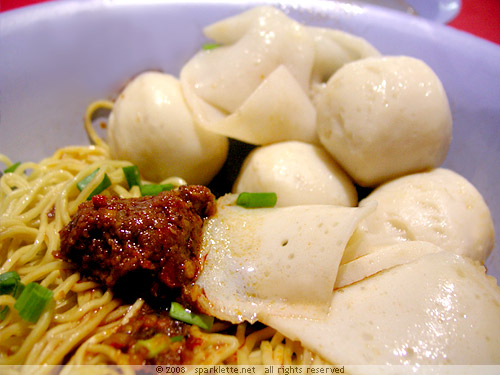 Fishball Noodle
S$3/4
Rating:





Each bowl comes at the price of 3 dollars, or 4 for a bigger portion. For the noodle, you have the option of thin noodles or mee pok (flat noodle), dry or soupy. My Mom and I prefer the dry version, where we can add in a lot of chilli sauce (also handmade). The process of mixing chilli sauce by tossing and turning the noodles with our chopsticks is strangely satisfying!
If the mixture gets too dry or spicy, you can seek relief from the bowl of soup that comes with the noodle! As the soup is made from the fishball stock, it is extremely flavourful and sweet with the fishball taste.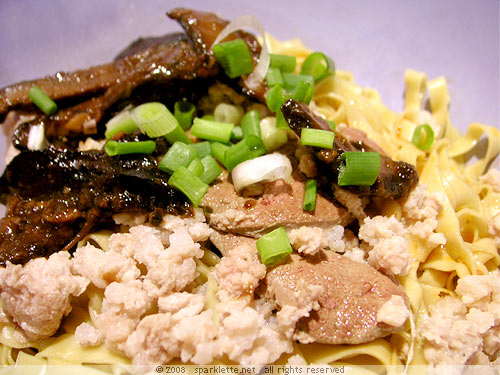 Bak Chor Mee (Minced pork noodle)
S$3/4
Rating:





Want more options? Go for the similarly-priced bak chor mee (minced pork noodle). This tastes very different from the fishball noodle. The lady boss assured us that no frozen meat is used, and even showed us the mushrooms used in the dish. They're huge all right! So what you get here are really the top-notch ingredients!
Despite being just one of the dozen or so stalls selling noodles at ABC Market (situated right beside another fishball noodle stall, no less!), yong kee never fails to garner a steady flow of customers.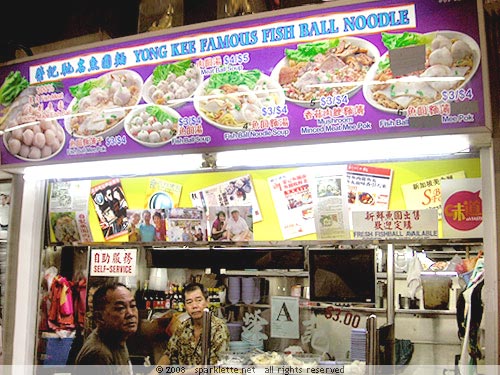 When you first visit this stall, the first thing that strikes you would be the brightly lit stall front. It's purple, just like the bowls they use. Press clippings, media features and photos of celebrities that have previously patronised the stall are displayed prominently.
This is one stall that's hard to miss. And there's no reason why anyone should.
Yong Kee Famous Fishball Noodle
ABC Brickworks Market & Food Centre
6 Jalan Bukit Merah #01-121
Singapore 150006
Bus services: 123, 14, 147, 153, 196, 197, 198, 855, 961
Nearest MRT: Redhill
Opening hours: 7am – 2am (Daily)