Recently, I had the best laksa of my life at Depot Road Zhen Shan Mei, situated at Alexandra Village Food Centre. I swear this is not one of those one-liners written simply to grab everyone's attention; I honestly think it's that good!
Most of the time the laksa you buy at hawker centres comes in a plastic bowl. But the one here is served in a claypot that not only keeps the laksa piping hot, but at the same time also seals in the moisture and fragrance of the gravy.
Some people are skeptical as to whether this really is the original claypot laksa from Depot Road. Word has it that the original owners sold their namesake and recipe to its present owners (a young Chinese couple). So basically the laksa here should taste as good as the original. I certainly am hooked!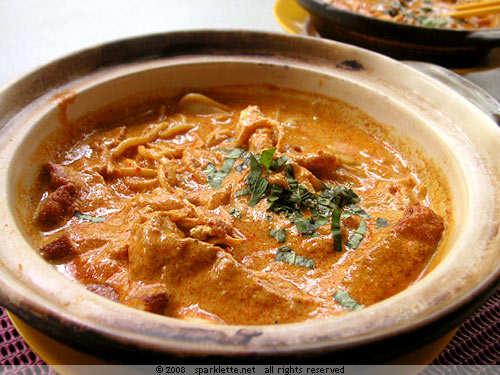 Claypot Laksa
S$3.50/4.50/5.50
Rating:





The claypots come in three sizes – small, medium, large. Because the laksa gravy is so thick and filling, the small portion is already more than enough for me. And mind you, "small" is actually quite big.
When ordering, you would be asked whether you want hum (cockles) as well. Personally I don't like the stench of it but I know many people love it.
The gravy here is surely one of the thickest and richest laksa gravies you would find. It is robust with savoury flavours, thanks to the coconut milk, chicken shreds and prawns. On its own, the gravy is already pretty spicy, so exercise caution when adding in more chilli sauce.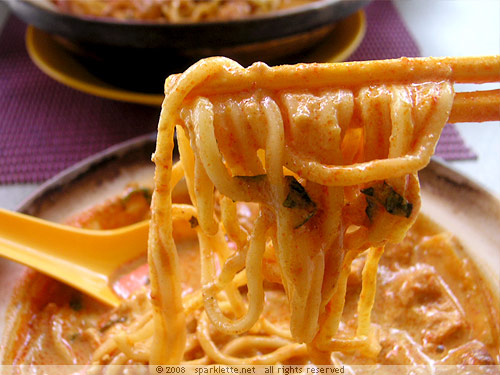 Even the otherwise ordinary noodle tastes extra delicious when layered with the gravy!
Being more health-conscious lately, I had told myself that I would finish just half the pot for this review. I ended up slurping down every last mouthful of the gravy. Though calorific, the gravy sure is hard to resist!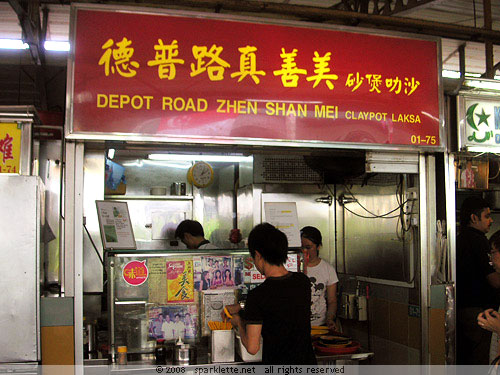 On weekdays, most of the the people patronising the food centre are workers from the nearby office buildings. To my surprise, there's a pretty long queue of eager customers even on a Sunday afternoon! That speaks volumes about its popularity, don't you think? I queued 15 minutes before I got my reward of laksa goodness.
And trust me, it was well worth the wait.
Update: With the revamp of Alexandra Village Food Centre, the stall has relocated to the neighbouring Block 119.
Depot Road Zhen Shan Mei Claypot Laksa
Alexandra Village
119 Bukit Merah Lane 1 #01-75
Singapore 150119
Tel: +65 9088 9203
Bus services: 14, 33, 51, 93, 100, 195, 197
Nearest MRT: Queenstown
Opening hours: 8:30am – 3:30pm (Closed on Mondays)