Catmasutra 4: An Interview with Paul Koh
If you love cats, you've got to love the cat-inspired art of local painting duo, paulMysh. I have been a fond admirer ever since visiting their catmasutra exhibition at utterly art a year ago. They translate their love for cats into beautiful and quirky works of art, featuring their very own cats, angel and halo.
And now, the couple is back to present catmasutra 4!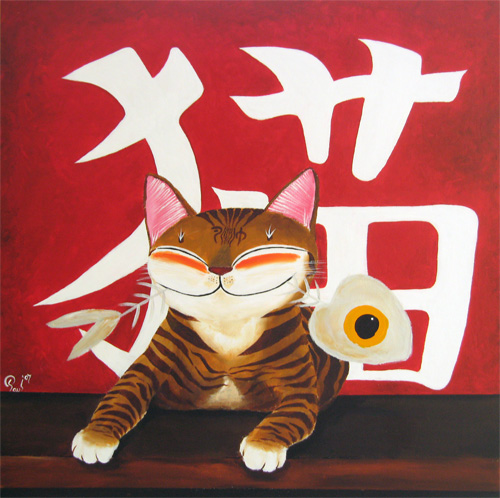 To learn more about catmasutra and paulMysh's little darling kitties, I asked paul, one half of this talented duo if I could conduct an interview with him. He very kindly obliged!
---
Veron: From your wonderful paintings of kitty art, it is obvious that you are a cat lover! So tell us – just what makes you love cats so much?
Paul: Simply because I grew up with cats! My earliest memory is of a litter of kittens in the old round rattan chair where my grandma used to sit. Since then, there is always a resident or master cat in our home.
Of course, these cats were not house cats – they were free to roam wherever and whenever. They were independent individualists, and freedom was their modus operandi.
And the way they relaxed and stretched on lazy afternoons and evenings… It was all about making time your best friend based on an uncanny understanding of the more important things in life! (laughs)
Perhaps my Catmasutra paintings are about capturing all those traits I believed, as a child, the cat has and which I hold dear. Wherever they are, cats seem capable of being happy and free-spirited!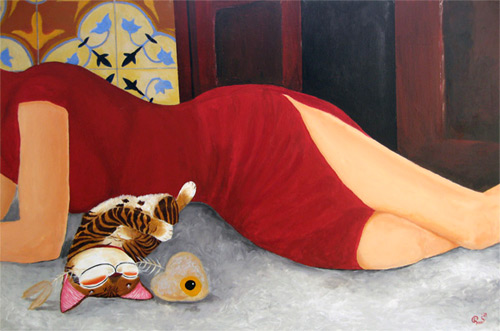 Veron: How long does it take for you to complete a painting?
Paul: It ranges from 3 days to a week! It gets faster if I'm able to work on my paintings full-time and of course, once you find the inspiration, then everything flows.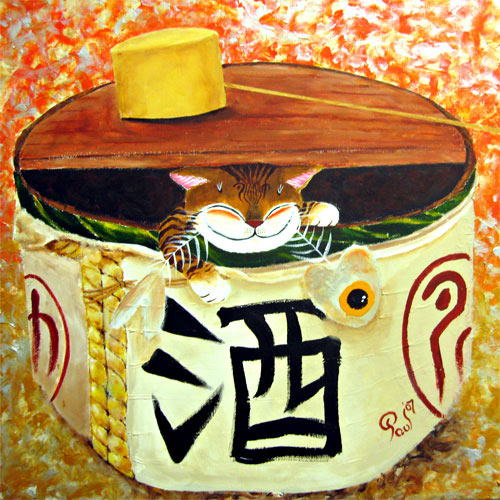 Veron: Spoken like a true artist! You have done numerous cat paintings over the years. To date, which has been the most memorable work?
Paul: This is a very tough question as many pieces are dear to me, memorable in their own way. There is a always a great sense of fulfillment when you put your signature signaling the completion of a little bit of yourself.
Honestly, it's a bittersweet feeling when the paintings get sold. It's fantastic, of course, that people appreciate your work and buy them – that really encourages you and sustains you as an artist; the sad part is of course, when they get sold, you're really selling something that you have become very attached to.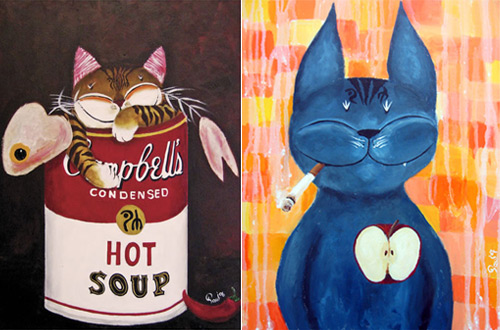 Veron: Any favourite paintings that you're particularly attached to?
Paul: My favourites include Core of Apple (2005), Absolute Bliss (2004), Sunflowers (2004), Portrait of a Cat (2005), Hot Soup (2006) (above, left), Got Light? (2007) (above, right), Art of Levitation (2006), Drunk.Punch.Love (2006), Colorado (2006), Once Upon a Kopitiam (2007) (below)…
Okay I am gonna stop. I guess in a way, there is a little of yourself in these pieces which makes them special.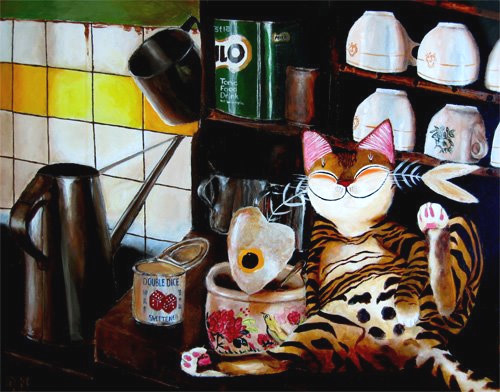 Veron: I adore "Art of Levitation" and "Once Upon a Kopitiam" (above) too! The Absolut bottle and kopi (coffee) cups get my attention every time. Now, what's the toughest painting you have ever done?
Paul: Well, "toughest" is probably not the right word as I enjoy painting even the "toughest" paintings, and sometimes there are challenges even in the "simplest" piece!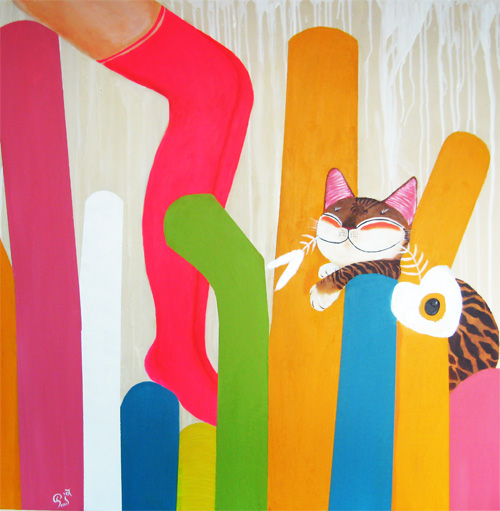 Veron: You are really creative with your subjects, from using everyday objects such as white men's shirts to spoofing famous paintings (such as Monet's waterlily garden in Serenading Monet and your take on Andy Warhol's Campbell Soup series) to whimsical pieces like "Popsicles" (above)! Where do you get your inspiration for your paintings?
Paul: I get my inspiration from everywhere, magazines, movies, art, design, illustration, popular culture, etc. There are a myriad of energies all around us, so we can tap into these energies, distill them and re-energise them in a way that works for ourselves.
In essence, there's beauty and freshness everywhere once we choose to see it!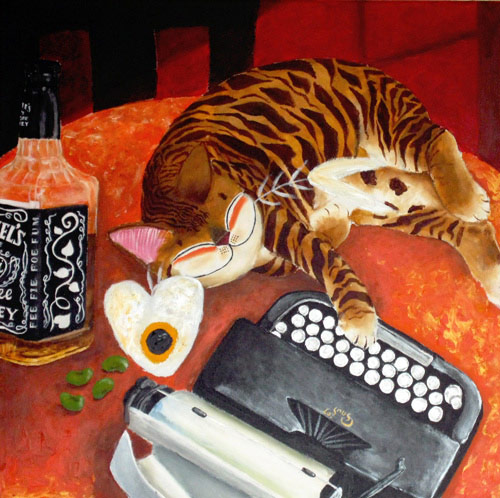 Veron: I notice many of your paintings depict alcoholic drinks. I have seen Jack Daniel's (above), Absolut Vodka, Hoegaarden, and even sake! Angel has been shown to puff on a cigarette too. My, what naughty cats you have!
Paul: Haha, well there's a little of the owner in the cats as well. As it would be, the owner takes on some characteristics of the cats, and vice-versa. Angel is a naughty devil in disguise, being very curious and playful but very manja (coquettish)! Halo is Angel's conscience, being happy just to sit, relax, meditate, and sleep of course.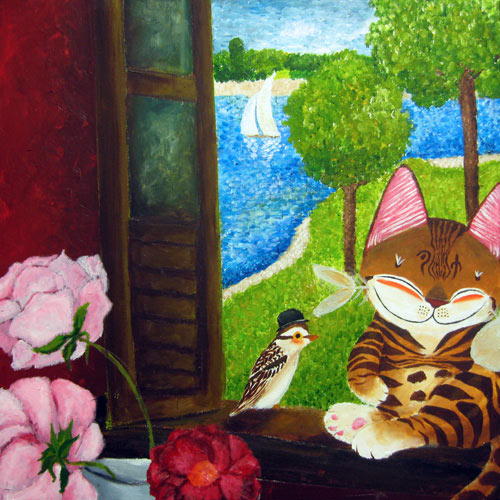 Veron: Angel and Halo sure are adorable! I love the way you always paint them with the happy eyes-wide-shut and ear-to-ear grin on their cute kitty faces. Would they ever have any other expression?
Paul: I don't see Angel and Halo having another look, as the "eyes-wide-shut" and "ear-to-ear" grin is the essence of the Catmasutra series. For me, Catmasutra is about telling a happy story, a reminder to see the positive side of things, and even possibly the magic in between.
I take stuff that we commonly come into contact with and present a moment in a story that is personal and yet universal. I'm fascinated with the flow of energy that vibrates in between, that blurs the line between reality and myth, between the power of everyday and the power of imagination.
I conceptualise Catmasutra as part of this in-between world and the "eyes-wide-shut" and "ear-to-ear" grins of the cats are representative of this energy – that in spite of life's imperfections, there is always a positive side, good enough for a smiley face any time! It's almost like the graphic novel/movie "V for Vendetta" with the mask taking on an important symbolic value.
Specifically, Catmasutra translates to this particular childlike innocence cum devil-may-care bravado, reinforced with a deep sense of self-belief and unpretentiousness.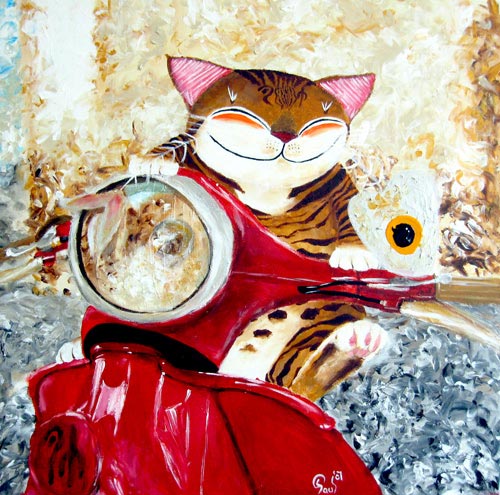 Veron: Do you ever use props in your paintings, like the "The Red Scooter" (above) and kopi cups in "Once Upon a Kopitiam" and "Break Time" (below)?
Paul: Yep, if I can find them! I bought the kopi cup and saucer some time ago. Others are mainly from photographs.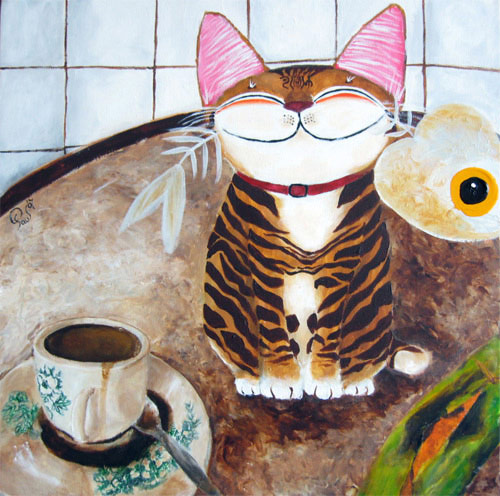 Veron: Other than using such props and various objects, I notice that once in a while you do feature people as "guest stars" in your paintings. Have you ever featured yourself?
Paul: (laughs) Sometimes I put in a cameo appearance in my paintings. If you look at "Core of Apple" (below, left) and "Dancers" (below, right) in Catmasutra 3 exhibition, that is the Catmasutra version of myself!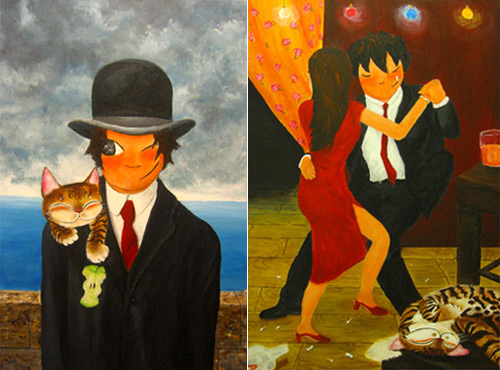 Veron: I heard that dogmasutra is in the works too. Dog lovers would definitely be looking forward to this one! Who would be the stars this time?
Paul: Dogs are different from cats as we all know. They have different strengths and weaknesses. I don't envision having a particular breed of dogs in this series, but different dogs to portray different strengths and whims.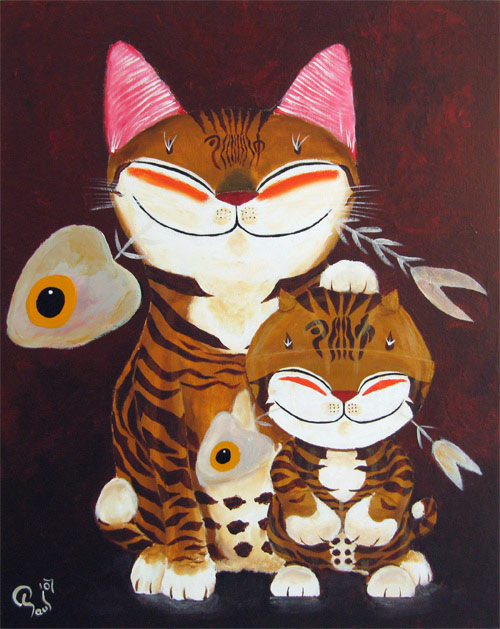 ---
So there you go! This is just a sneak peek into the talent behind catmasutra. Be sure to pop by the exhibition and admire the kitty art! I guarantee those adorable kitty faces and bright cheery colours would put a smile on your face.
All pieces showcased at the gallery would be on sale. Who knows? You may even bring home a piece of catmasutra!
Catmasutra 3
Venue:
Utterly Art
229A South Bridge Road (opposite Sri Mariamman Temple)
Level 2 Singapore 058778
Tel: +65 6226 2605
Date: December 13 – 23, 2007
Opening hours: 11am – 8pm (Mondays to Sundays)
Opening reception: 7pm, December 13, 2007
Admission is free