Calling all cat lovers and/or art lovers! Local husband-and-wife team of artists, paulMysh (paul and michelle) has an ongoing exhibition at utterly art. It's catmasutra! So called because all the paintings feature cats as a theme. Very adorable and very colourful!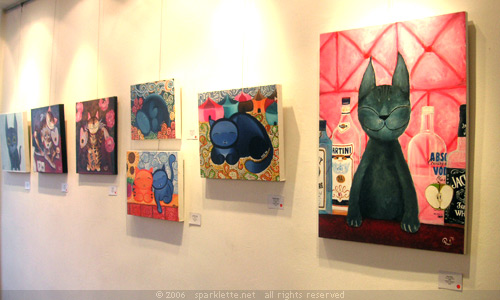 This is the third year running of catmasutra. I only heard about it recently, which is a real shame because I wouldn't have missed catmasutra 1 and 2 for the world if I had known about those!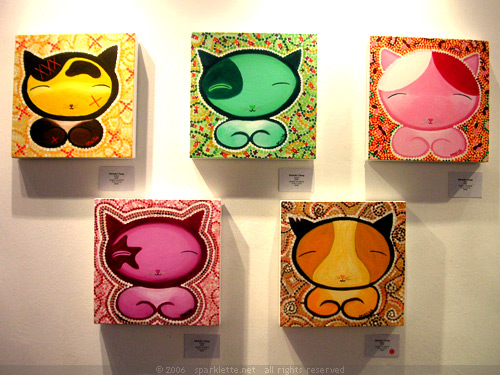 The cat models used in the paintings are actually paul and michelle's own cats – halo and angel. Now, these two kitties must obviously be very playful since they inspire paintings such as "art of levitation", which has angel getting high on alcohol.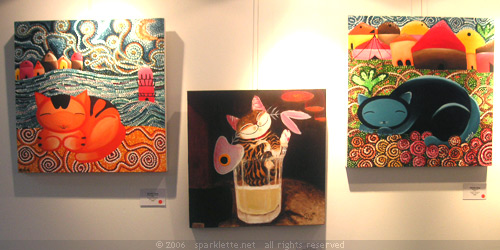 Not to be outdone, halo, the greedy cat who's always seen with a fish bone in his mouth, gets high on Hoegaarden, in "night out in the garden" (above, centre). Good choice! That's my favourite beer too! I had two last night!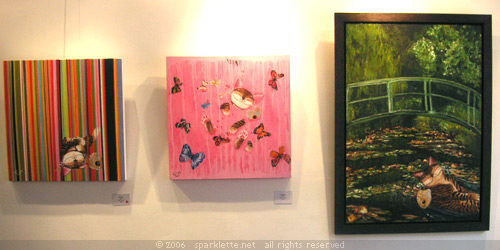 He gets even more drunk in "drunk.punch.love" (above, centre)! Man, the life of a cat is good! I'm one of those people that get infected by laughter easily. So when I saw the wide, ear-to-ear smiles of these cats, I couldn't help but smile along too! They looked so adorable!
Well those were my favourite paintings. A few other personal favourites include "cat's sutra" and "hot soup". look here for more.
Better still, head down to the gallery at utterly art! It's located on a second level shophouse along South bridge road, opposite sri mariamman temple. It's a neat little place with a bunch of friendly people. The catmasutra exhibition is on until Christmas eve!
Catmasutra 3
Venue:
Utterly Art
229A South Bridge Road (opposite Sri Mariamman Temple)
Level 2 Singapore 058778
Tel: +65 6226 2605
Date: December 14 – 24, 2006
Opening hours: 11am – 8pm (Mondays to Sundays)
Admission is free