I have divided this blog entry into four parts that correspond to the four museum stops we made:
First stop: Civil Defence Heritage Gallery
Second stop: Singapore Philatelic Museum
Third stop: Singapore Art Museum
Fourth stop: Museum of Shanghai Toys
---
interNational Museum day is held on May 18 every year. I have always been the kind of girl that loves museums. I have previously visited the raffles museum of diversity research and the Asian Civilisations Museum.
This year, the national heritage board has rolled out a series of tours to about thirty museums around Singapore. And on Sunday, a friend and I went on our very own museum trail!
---

First stop: Civil Defence Heritage Gallery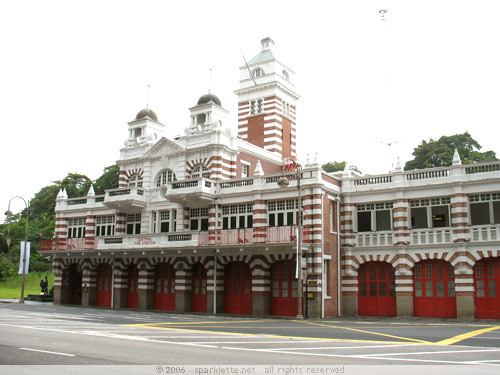 On our way to the Singapore Philatelic Museum, we passed by this familiar red and white landmark. It is the $3 million civil defence heritage gallery housed in the central fire station, which is the oldest existing fire station in Singapore – it was built in 1909! Both of us had not been aware of this gallery before.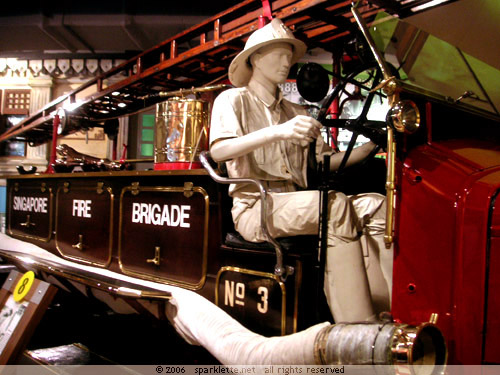 The two-storey gallery showcases the development of firefighting in Singapore since the 19th century. It was very interesting to see the gradual evolvement of the old system with old fire engines and red metal buckets to what we have today.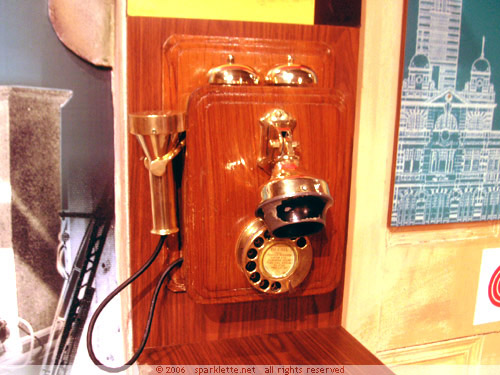 Mounted on the wall was a vintage phone that still used the rotary dial. It rang at one point, and when we picked up the receiver that resembled a torchlight, a female voice on the other end shouted "FIREEEEE". Hilarious!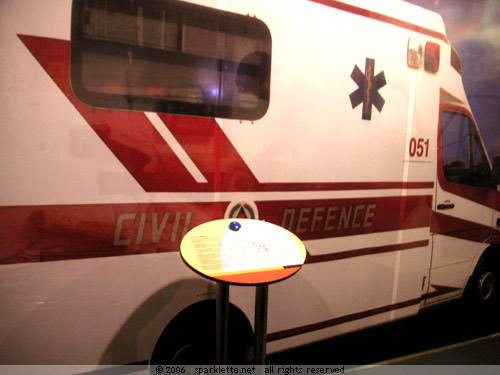 There was also some insight into modern firefighting. Every exhibit was interactive. For example in this civil defence ambulance (above), you could push the blue button to reveal the interior (below). It caught us by surprise when the two human figures suddenly appeared before us!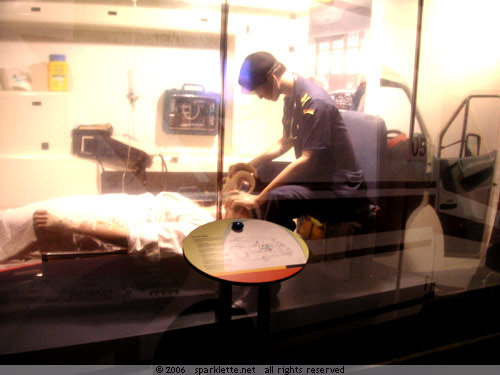 A small brightly coloured booth attracted our attention. It had tiny blue stools that we could sit on to do pencil shading. Being the kids that we were, we sat. And we shaded.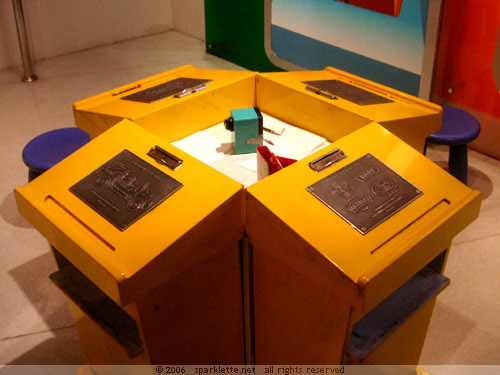 Each side of the booth had a metal plate, stenciled with a different image that ranged from logos and fire engines, to the central fire station itself. I chose the central fire station as it looked the most striking to me.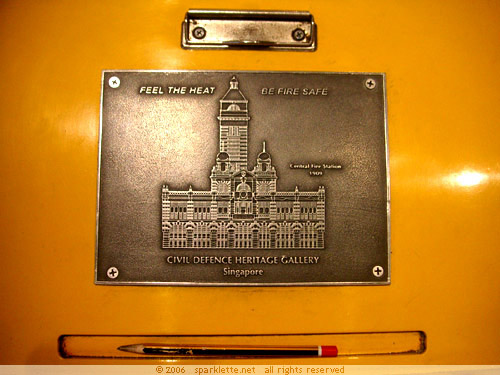 With multiple fine lines in this image, I had to shade lightly over and over again and wait patiently for the fine details to show up nicely. Here's the finished product!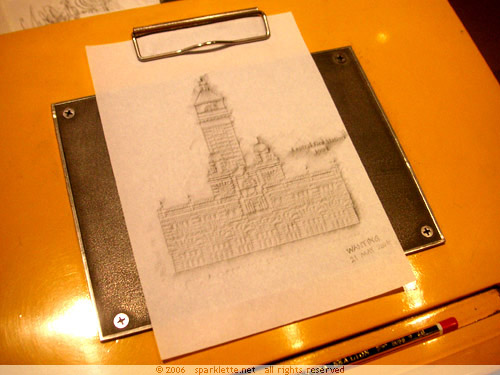 Happy with the results, we proceeded to leave the gallery, but not before trying on a little firefighter uniform and helmet. They were meant for kids, yet somehow fit me quite easily (!!!). I also bought a little red fireman helmet at the souvenir shop; it would make a good hat for one of my stuffed animals.
---

Second stop: Singapore Philatelic Museum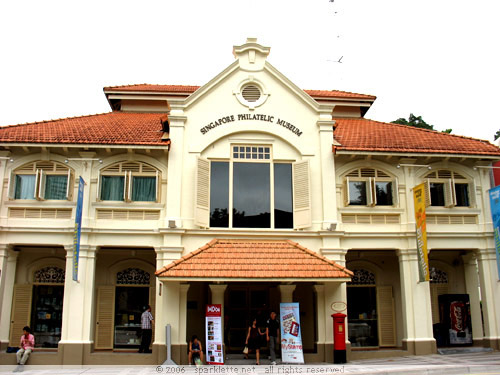 The Singapore Philatelic Museum lies just a few footsteps away. That was one crowded place! Eager stamp collectors, curious sight-seers and tantrum-throwing children thronged the building. This wasn't my maiden visit to the museum. Years ago, I was there with my Mom on its opening day.
For many years I was an avid stamp collector. My stamp collection was first started by my dad, which explains why we have so many rare stamps from decades ago. I remember both of us cutting the corners out of used envelopes, soaking the stamps in water, waiting for them to dry before finally arranging them nicely in albums. My Mom on the other hand collects brand new stamps in the form of first day covers and miniature sheets.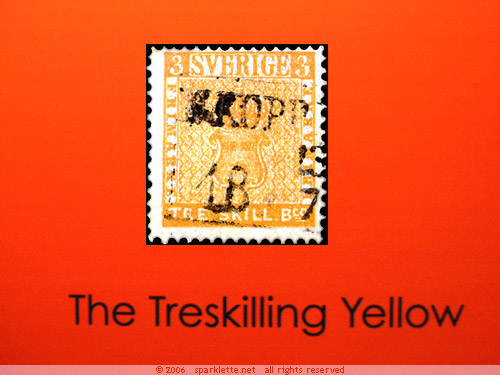 Of course, none of our stamp collections consist of anything really valuable such as the treskilling yellow. This swedish stamp was issued in 1855 and sold for 1.35 million US dollars on November 8, 1996, making it the world's most valuable stamp. The reason why it is so valued is that it is actually meant to be green, but was printed yellow by mistake.
I find it hard to fathom that something this small (and made out of paper) can be worth that much. Yet it is also quite amazing to know that this is the only one of its kind to ever exist!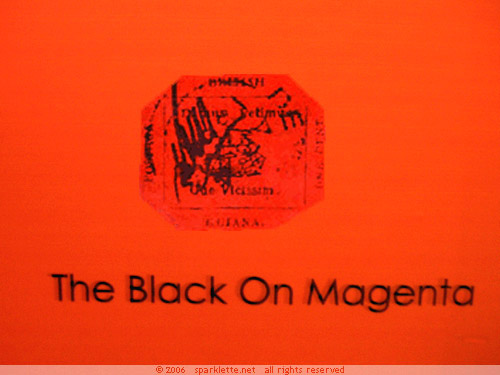 Another extremely rare stamp is the black on magenta of British guiana. This one-cent stamp, issued in 1956, has been subjected to numerous forgery attempts.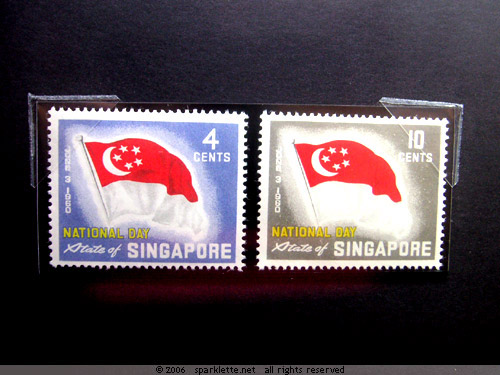 These two stamps, released in 1960, are the first stamps to have the words "State of Singapore" printed on them. A significant milestone for our nation!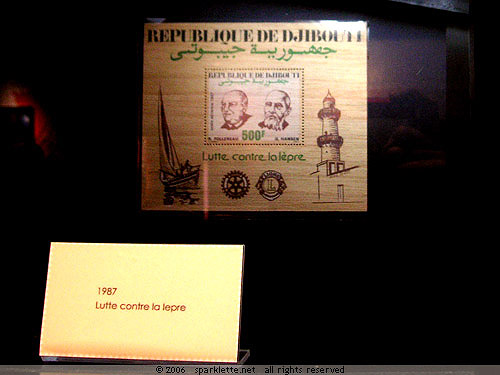 Deviating from regular paper stamps, many countries have issued some rather unusual and unique forms of stamps. In the fight against leprosy, djibouti (an East African nation I have never heard of) issued a stamp printed on wood veneer! This wooden stamp was named "Luffe contre la lepre", or "The Fight Against Leprosy".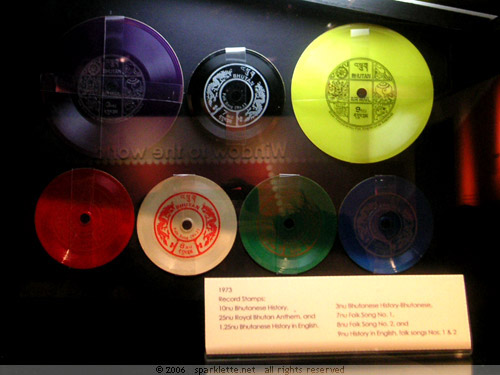 "talking stamps" like the ones above are small phonograph records that play native folk songs on record players. I wonder how they can actually be attached to envelopes! These stamps were released in 1973 by bhutan, an Asian nation in the himalayan mountains. Sounds like a place I might actually visit some day!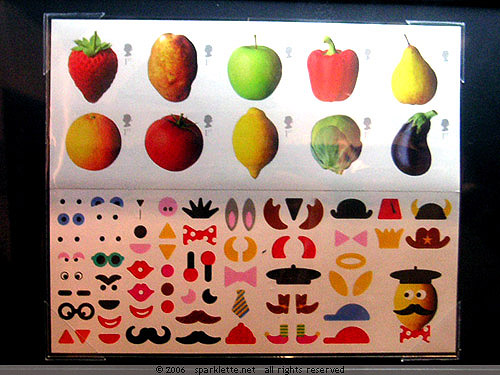 The colourful stamps above were issued by the united kingdom royal mail in 2003. What makes these stamps unique is that they can be easily customised by the sender. People can paste tiny stickers onto the stamps to form little fruity and veggie figures with faces and legs. Cute!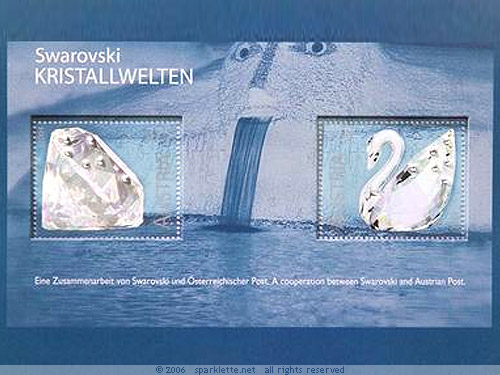 And finally, my favourite stamps of the day – Swarovski crystals encrusted stamps! So beautiful, I would kill to have those!! (hey I just realised they can be found on ebay!) suddenly I feel the urge to revive my stamp collection. A good place to start would be the museum gift shop where used stamps are sold at 20 cents apiece.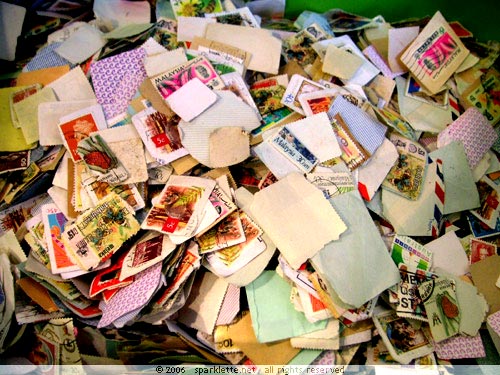 The unique stamps as described were all issued by foreign countries. That's not to say that we don't have any of our own. In 2004, singpost issued stamps made from felt to commemorate the 100-year anniversary of FIFA. In addition, we also have our very own fruit-scented stamps!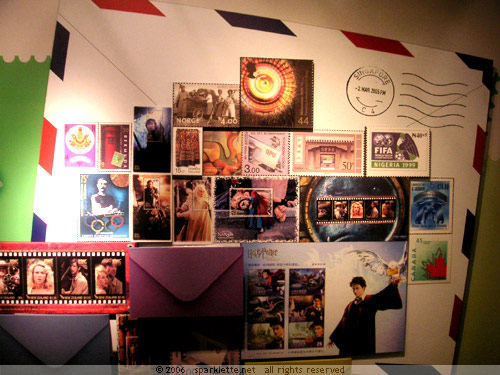 I also like this beautiful stamp motif that fills up one wall. It is an image composite of stamps from various movies such as king kong, Harry potter and Lord of the Rings. Very nicely done.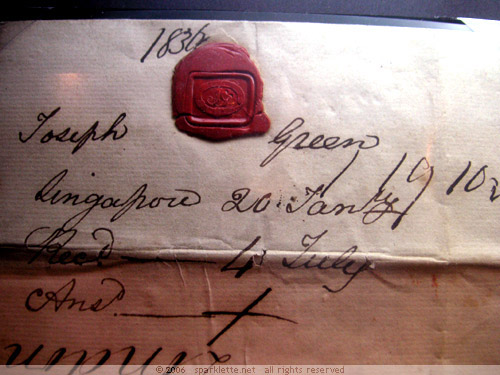 The museum gift shop sold red wax seals reminiscent of what English people used to sign off their letters in the past. How do people use it? Firstly, the red wax is burned and melted onto the paper, and then stamped with a signature or an initial like the one above. I would have bought it but I'm really more of the email type.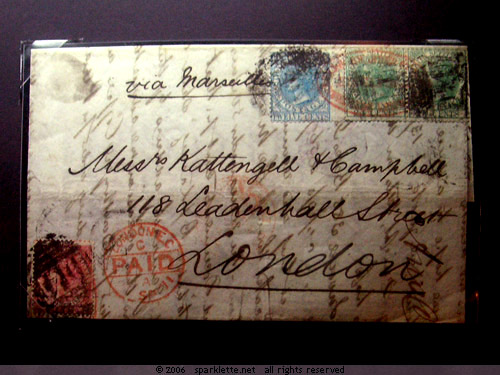 On a separate note, I really like the aged cursive writing. Why don't people write like that these days?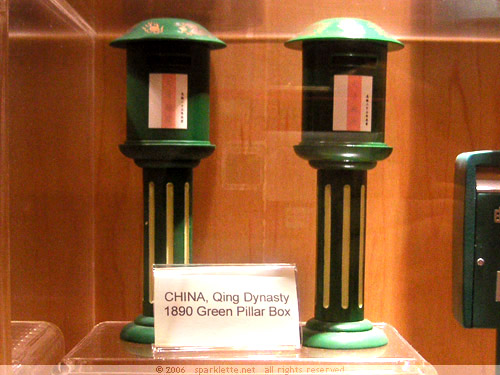 Over the years and different continents, different variations of postboxes have sprung up. The green pillar box was used in China during the qing dynasty.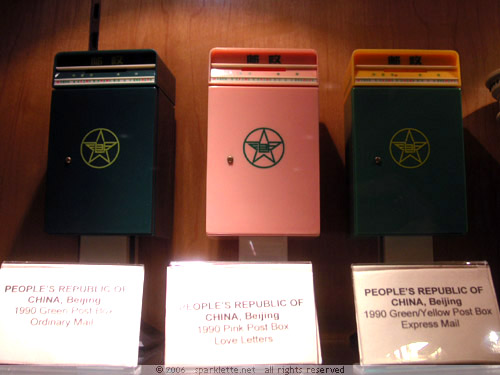 In more recent times, pink postboxes were spotted in beijing. They were coloured pink as they had a more specific purpose – to collect love letters! How cute!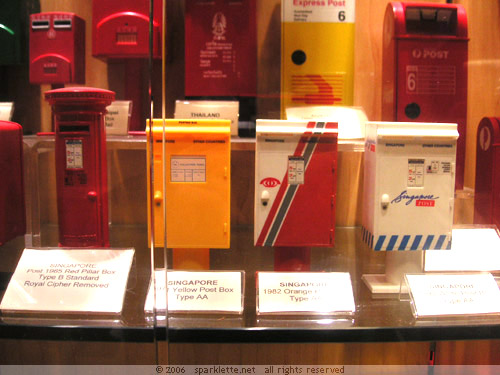 Something more relevant to us would be the postboxes above. After the red pillar box that was first seen in 1965, the postboxes here have changed in colours with the shape remaining the same over the years.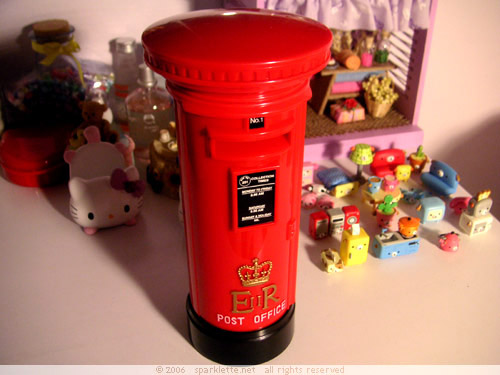 Personally I prefer the red pillar box any day. In fact, I like it so much I even bought one from the museum gift shop – in the form of a safety bank! It is now standing proudly on my bedside cabinet.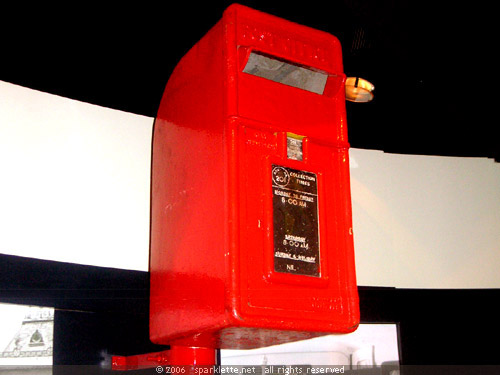 The lamp posting box, as its name suggests, is usually mounted to street lamps. Used circa 1949, people would stop at the lamp posting box to scribble a quick note to someone, with the light from the lamp at night. That somehow paints me a very romantic image of a soldier in the 40's or 50's that has been sent to a faraway country. He stops by the postbox, hurriedly pens a quick "i miss you" to his lover at home before rushing back to his camp.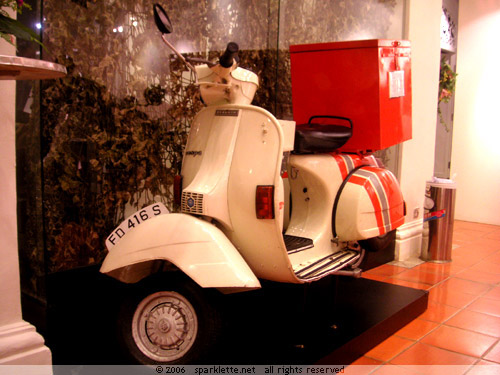 Okay back to slightly more recent times. Does this vespa scooter look familiar to anyone? This had been the vehicle of choice for postmen for decades up until some years back.
After learning so much more about stamps and Singapore's philatelic history, we scoot off to our next location…
---

Third stop: Singapore Art Museum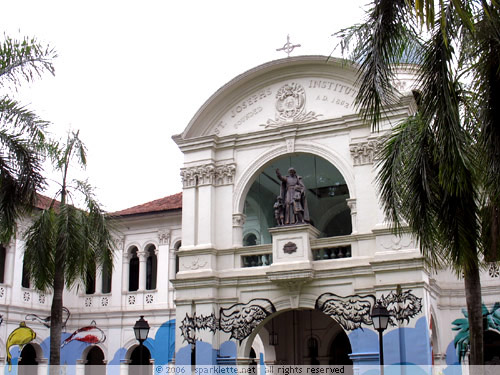 From now until July, there is the [email protected] exhibition at the Singapore art museum. It showcases the irony of love through a varied medium of artistic expression.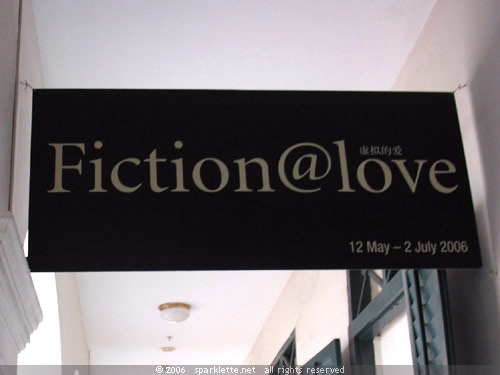 It was pretty tough getting pictures of the exhibits as the security was tight.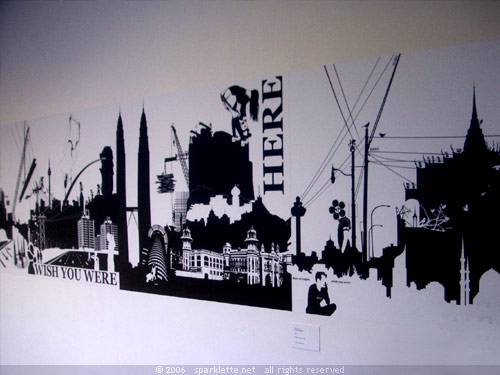 This long black and white mural is made up of caricatures of famous Asian landmarks, such as the petronas twin towers, Tokyo tower and Changi Airport. The words "wish you were here" are sprinkled over the motif, signifying a sense of loneliness. To a certain extent I find I can identify with the artist's sentiments when I go travelling.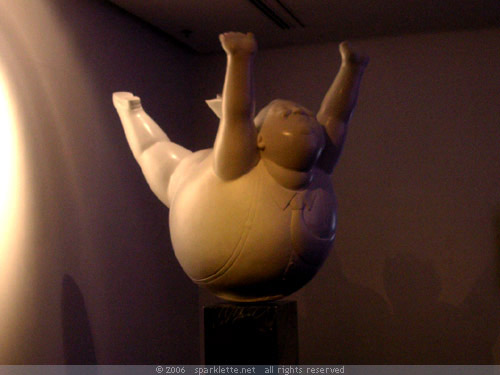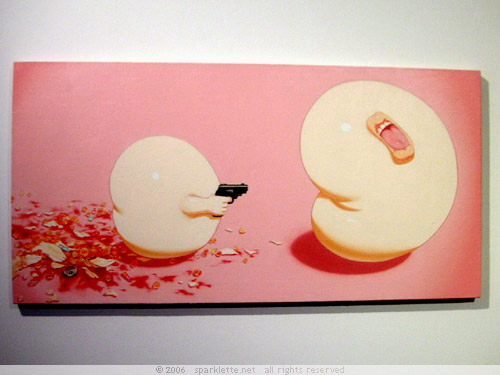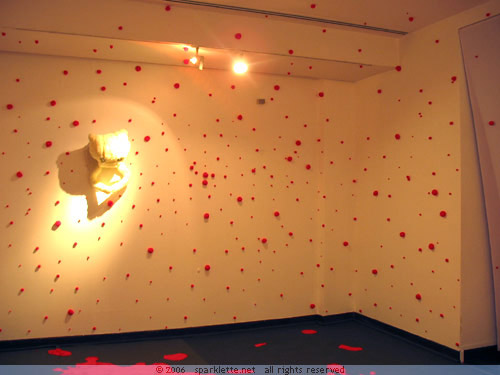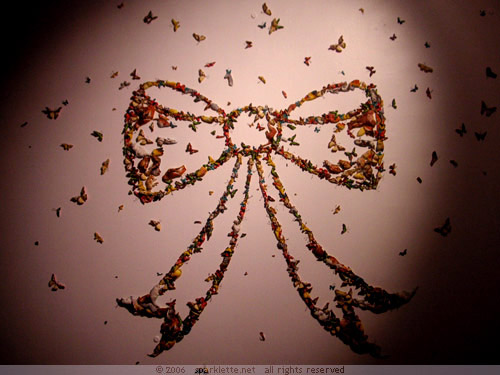 Another exhibit that appealed to me was this giant ribbon made completely out of padded butterflies.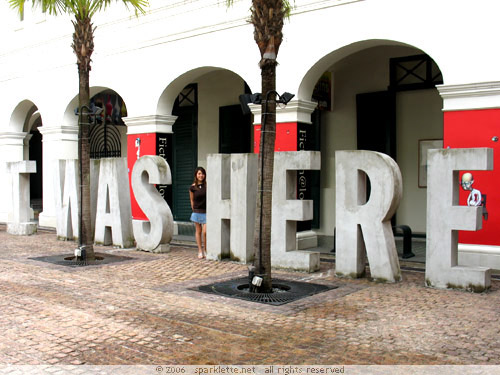 Made my footprint at the Singapore art museum, before hopping onto the shuttle bus to our final destination.
---

Fourth stop: Museum of Shanghai Toys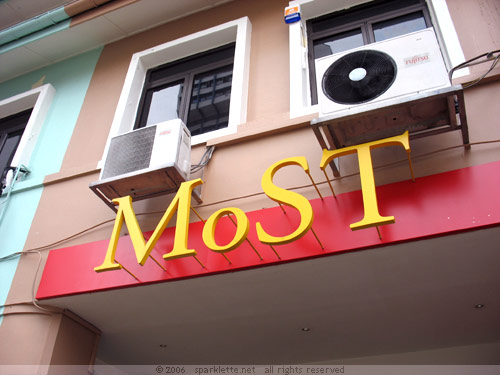 The museum of Shanghai toys is hidden away within – of all places – Little India! It is a privately owned museum that spans three storeys. I have never heard of this museum before then. It is Singapore's first toy museum, and I certainly hope there would be more toy museums to come.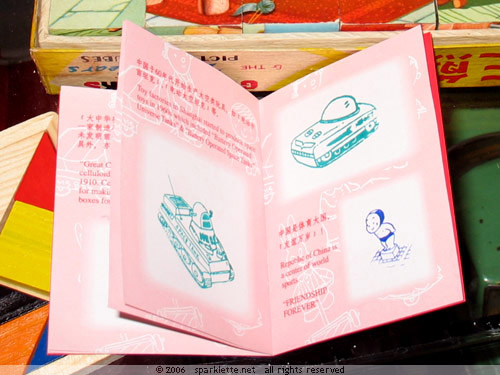 Once inside the museum, we were greeted by the museum mascot, a friendly teddy bear dressed in green. We proceeded to purchase our admission tickets and a small passport. This passport has many empty spaces within where we would have to follow clues and stamp with the different rubber ink stamps found amidst the exhibits.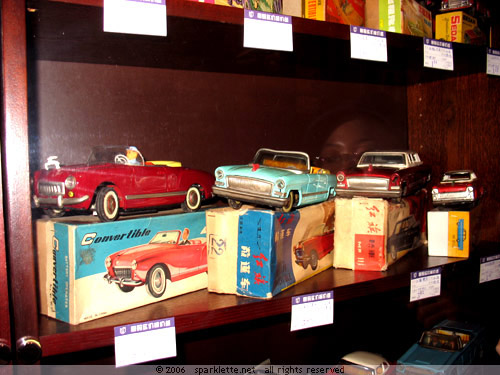 Toy cars with red flags.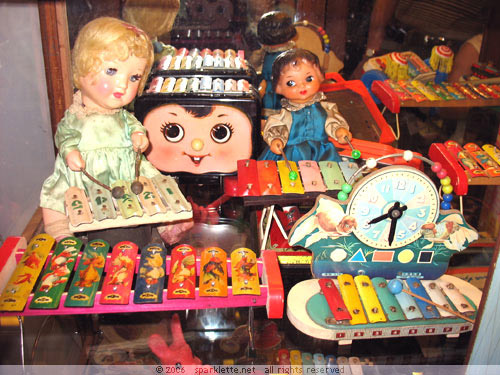 The Shanghai toys dated from 1910s to 1970s. Most look very colourful. I especially like these miniature figurines of snow white and the seven dwarfs.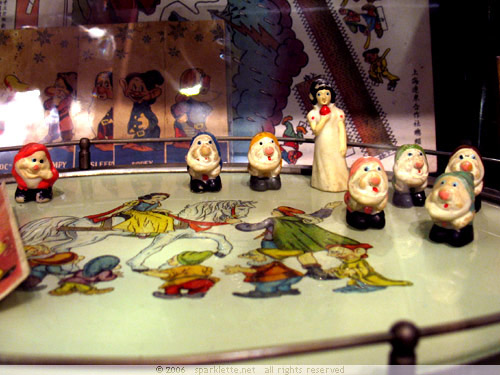 Other toys just look downright creepy.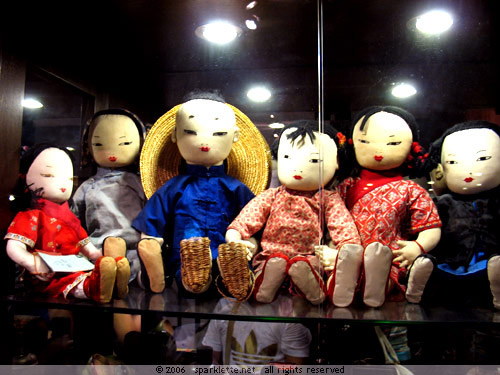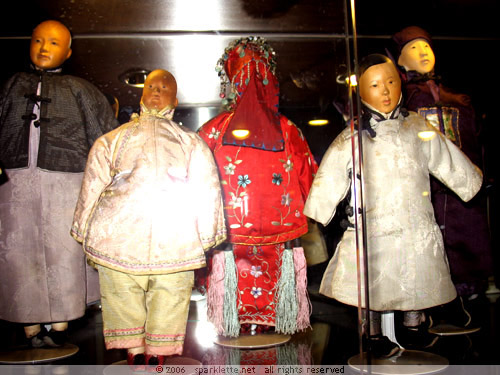 Did Shanghainese kids really play with these? The Chinese bride toy is reminiscent of the local horror movie, the maid, shown last year. It scores full marks on the creep factor.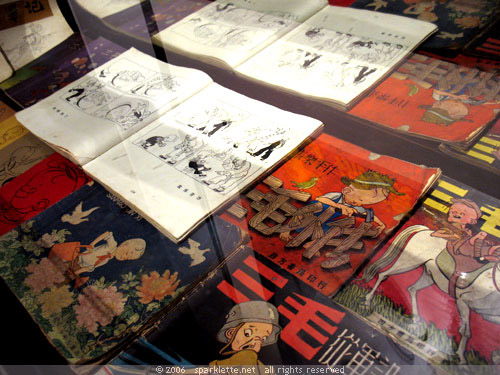 The san mao comics were my mom's choice read when she was a child. I have never gotten my hand on a copy before, but I remember my Mom saying she likes them a lot.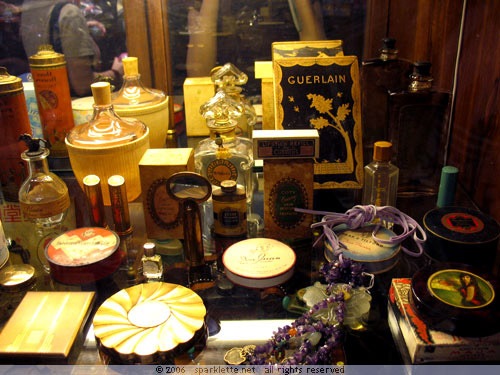 A collection of Chinese cosmetics used in the past goes on exhibition as well. It is definitely refreshing to see a French label, guerlain, appearing on old Chinese cosmetics.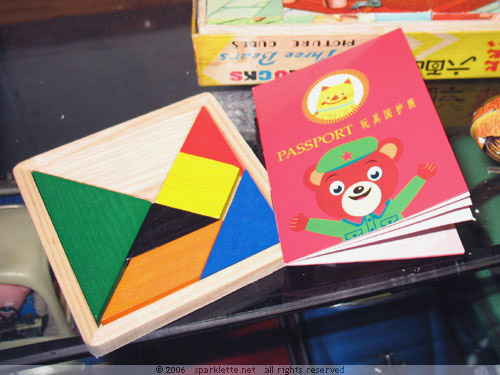 At the end of our toy journey, we managed to stamp our entire passport correctly and were rewarded with an iq puzzle toy. It would definitely help me remember this trip to the museum of Shanghai toys in the future.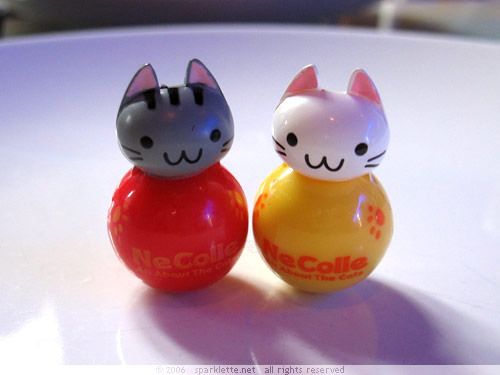 We bought some toys from the toy shop at the museum. For a museum that showcases toys of yester-years, they did have modern capsule machines as well!
---
So that marks the end of our museum trail. Given more time, I would have loved to go to a few other museums. After all, there are thirty over museums in Singapore and each one tells a unique story.