Students, the N.E.mation! Animation Competition is Back!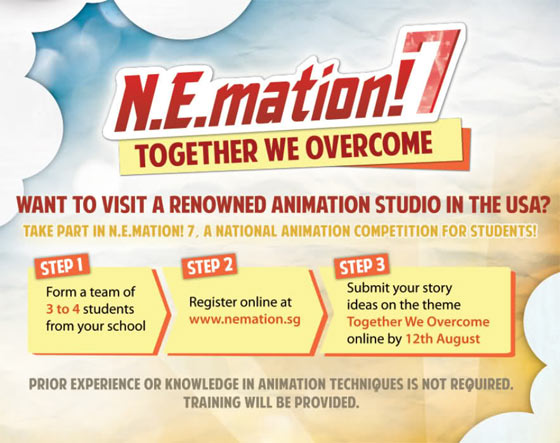 N.E.mation! is a digital animation competition organised for students in Singapore to express their thoughts on Total Defence and creativity in animation. This competition has sent winning teams on fully sponsored trips to renowned animation studios in the U.S.A., worth more than S$15,000.
And now, N.E.mation! is back for its 7th season!
Registration is easy:
Form a team of 3 to 4 students from your school.
Register online at nemation.sg.
Submit your story ideas on the theme Together We Overcome online by 14 August, 2012.
For a chance to win that coveted trip to the United States and numerous other attractive prizes, be sure to take part in this fun and exciting contest. Gather up your schoolmates and join now!