Singapore HeritageFest 2007 (Part 1): Household Things
For a period of 12 days (from 18 to 29 July), the Singapore HeritageFest 2007 is taking place at various venues across the island! Over the weekend, I specially made a trip down to Suntec City Mall to check out the anchor exhibition. It was totally worthwhile – I got to see, touch and feel history!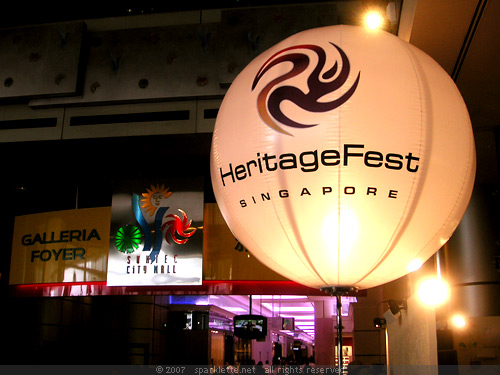 Event: Singapore HeritageFest 2007
Date: July 18-29, 2007
Venue: Anchor exhibition at Suntec City Mall and outreach events at various places
Because the exhibits are so awesome and there are so many of them, I have decided to dedicate two blog posts to them! This post has the theme "household things" so it would have stuff like antiques and old furniture. Part 2 has the different theme of "childhood memories".
And for now, here's Part 1: household things!
---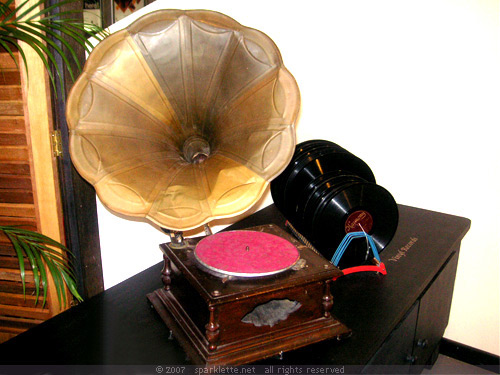 I really dug this gramophone (some call it "phonograph"). That gorgeous brass horn and the black vinyl records just reek of nostalgia!
Here's a timeline on how music media has evolved through the years, from a gramophone to an ipod! (I shot this picture of a poster at the exhibition.)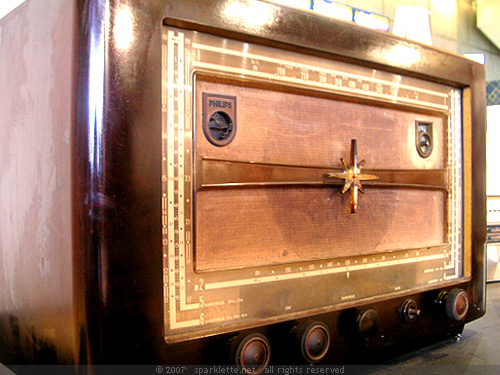 From far, I had thought that this large brown wooden box was a television set. It sure was big enough to be one. Then I noticed it had no screen and it was actually a really, really old radio! I can almost hear the old opera songs blaring out from it with crackling noises!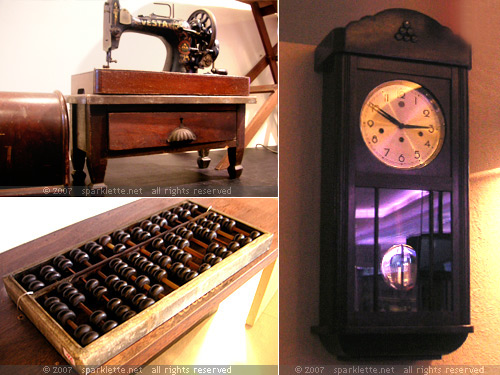 More old antiques! Clockwise from top left: sewing machine, old grandfather clock and abacus. When I was little I took abacus classes to learn how to do lightning-fast mental calculations like a China whiz kid!
In the photo below, can you tell what these two machines are for? Courtesy of the popular local sitcom Phua Chu Kang, I think most people can identify that the green machine on the right is a shaved ice machine for making ice kacang (a shaved ice dessert native to Singapore and Malaysia).
But what's the one on the left? Make a guess before scrolling down to find out!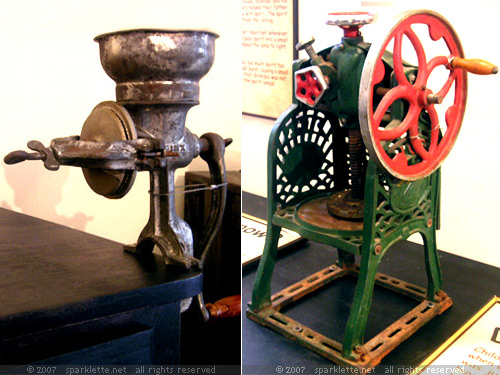 It's a… Meat grinder! Eek! I have never seen one being used before and I sure wouldn't want to get my finger caught in there!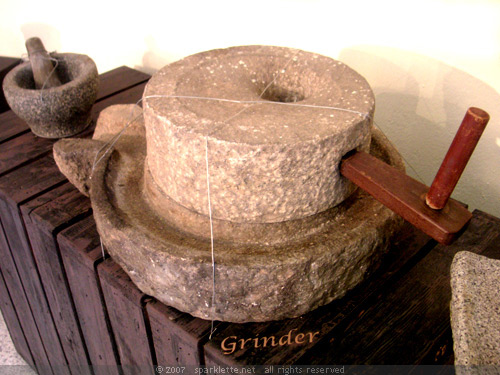 This is another grinder, one that is made out of granite. The Malay term for it is "batu giling" and it was used at a time when flour wasn't available. By pouring rice grain and water into the hole at the top and turning the brown handle round and round, it would churn out a batter used for making kueh (asian cakes and pastries)!
Here's a more detailed article with diagrams on how this thing works!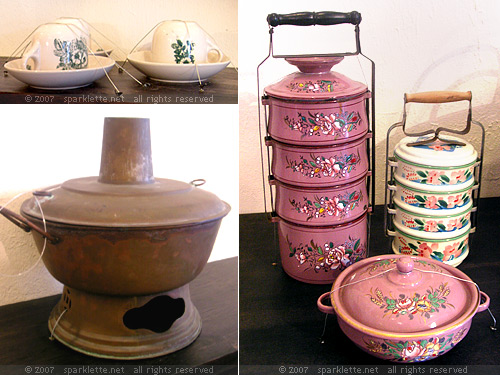 Clockwise from top left: coffee cups that are still used at Ya Kun and many kopitiam (coffee shops) today, tiffin carriers (tiffin is an old English word for a light lunch), and an extremely old and overused steamboat. It looked as though whatever food that went in there would come out black.
By the way, doesn't that light-coloured tiffin carrier look like this particular STAMP postbox?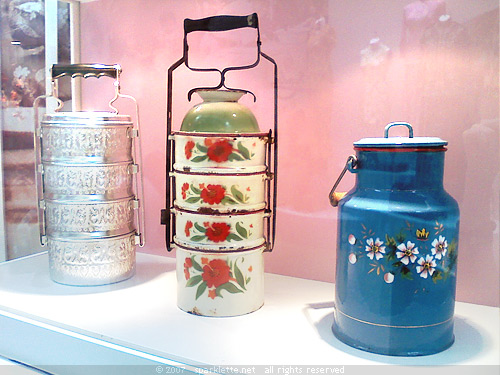 More tiffin carriers! I grew up at a time when tiffin carriers are no longer being used. But I love the way they look, with those colourful floral designs and different layers for different types of food!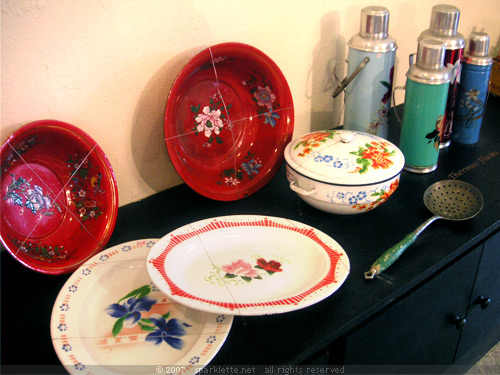 Enamelware and thermos flasks.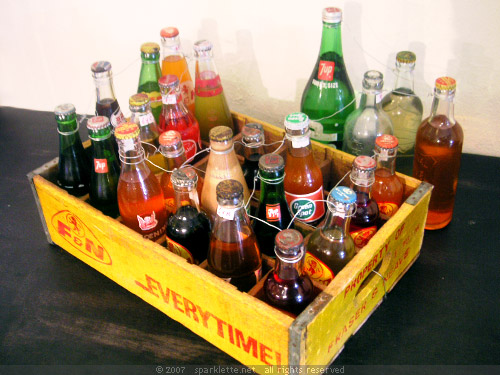 Colourful F&N soft drinks in glass bottles. If my memory serves me correctly, I think they can still be commonly seen in Bangkok.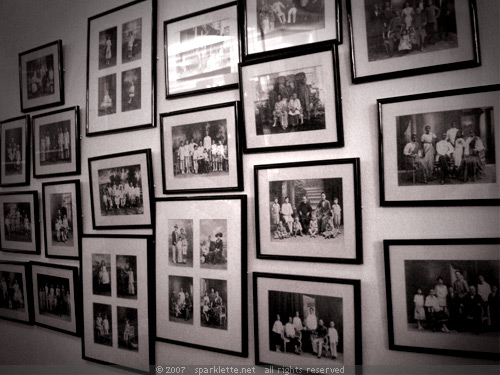 In these old photos of family portraits, one thing I noticed was that the people rarely smiled, ever. Most of them looked rather solemn.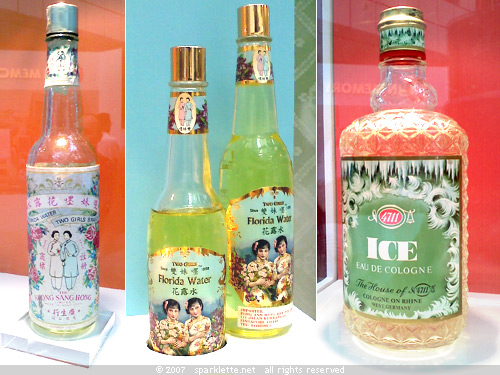 Ah! I love these! Don't the bottles and the coloured liquids look pretty? Decades ago, people used perfumes and colognes in the form of scented water called "florida water" (is that a brand or something?). This is a 19th century formula that blends floral essential oils in a water-alcohol base.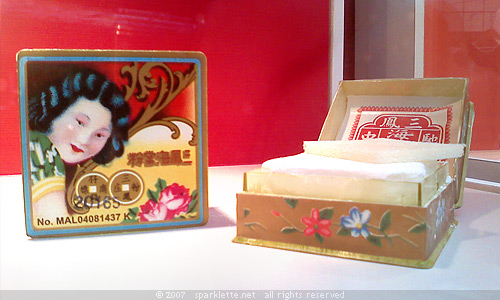 Cosmetics and powder of the yesteryears.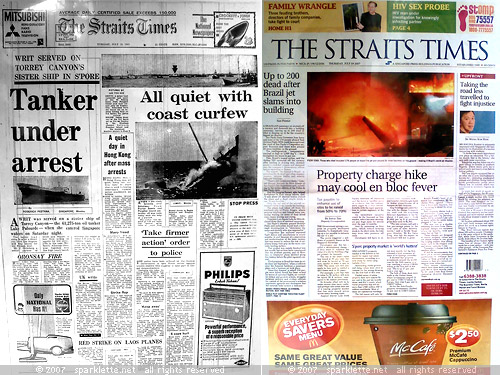 On the left is an old copy of the Straits Times from the year 1863. Compare that with the newspaper of today! Personally I really like the old-style font of the big "the Straits Times" on the header of the newspaper. Very classic. the New York times still uses it today.
---
So that's it for now! Here's Part 2: childhood memories! I think it would bring back fond memories to many of you. Enjoy reading! Better still, drop by Suntec City Mall and check it out yourself. The exhibition takes place in two different locations within the mall and ends this Sunday.