Grand Mercure Roxy Hotel offers a nostalgic and colourful buffet spread at the [email protected] Buffet Restaurant. Nestled at the very heart of the Katong heritage district in the east of Singapore, the restaurant majors in Peranakan, Chinese and local cuisines.
A little birdie told me that the Singapore President S.R. Nathan stops by the hotel regularly for one of the desserts. Care to venture a guess as to which dessert this is? I promise I'll give you the answer by the end of this post! Here's a hint: It is creamy.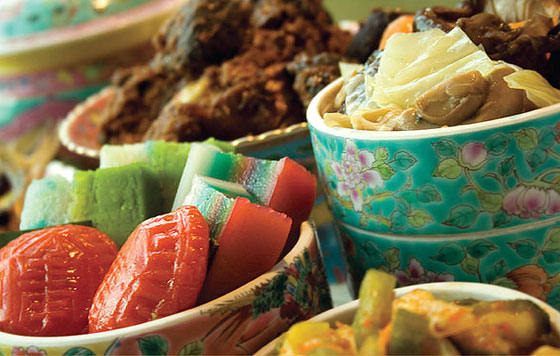 Regular buffet
Lunch: S$36++/adult, S$20++/child, S$28nett senior citizen
Dinner: S$40++/adult, S$22++/child, S$30nett senior citizen
Brunch: S$44++/adult, S$24++/child, S$38nett senior citizen
Mother's Day Peranakan buffet (until May 15, 2011)
Lunch: S$40++/adult, S$20++/child, S$32nett senior citizen
Dinner: S$43++/adult, S$23++/child, S$35nett senior citizen
Brunch: S$48++/adult, S$24++/child, S$38nett senior citizen
* Senior citizens aged 55 years and above
Rating:





Ambience
Located just across the street from Parkway Parade shopping centre, the 10 year old Grand Mercure Roxy Hotel may not look like much from the outside. The restaurant interior, however, exudes a casual ambience with decidedly homey touches.
Vintage furnishings such as multi-coloured tiffin carriers, oil lamps, and wooden furniture add an old school elegance. (If you are keen to learn more about Peranakan culture, you can visit the Peranakan Museum in Singapore.)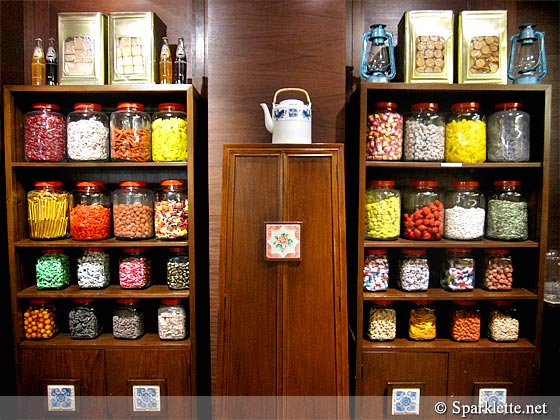 I am especially intrigued by these wooden cabinets. They are filled with so many jars of sweets and tins of biscuits from my childhood years, they are like a window to the past! Not only do the sweets add an interesting touch of detail to the décor, they are great for snacking too. Recognise any of these?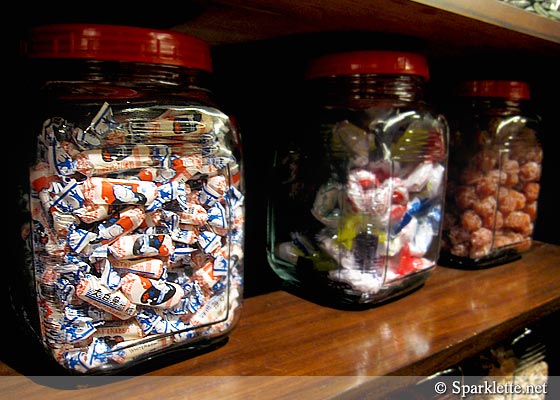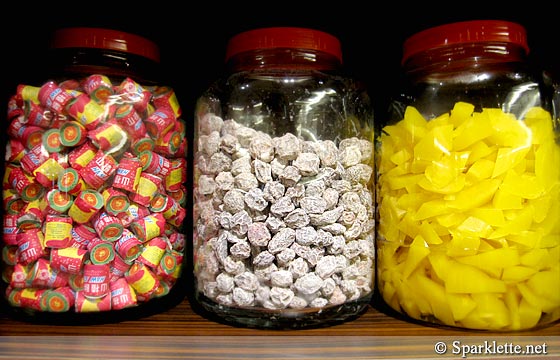 Does anyone remember those haw flakes? It's been a long time since I've seen them. They are little flat discs of dark pink candies stacked on top of one another in a paper wrapper.
Buffet
The buffet spread comprises a line-up of Peranakan and other local flavours. During the Mother's Day period (ending May 15, 2011), the theme is predominantly Peranakan and highlights more dishes from the Nonyas.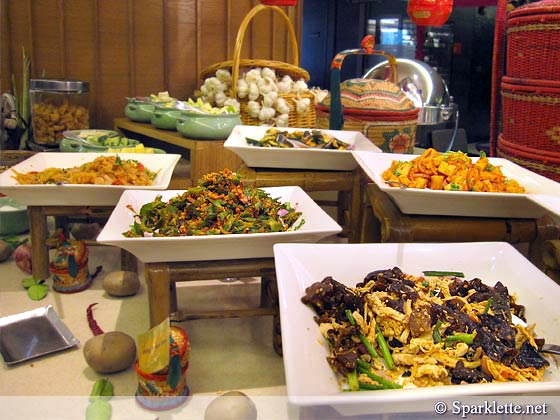 Appetisers include jellyfish kerabu, honeydew and prawn salad, and achar.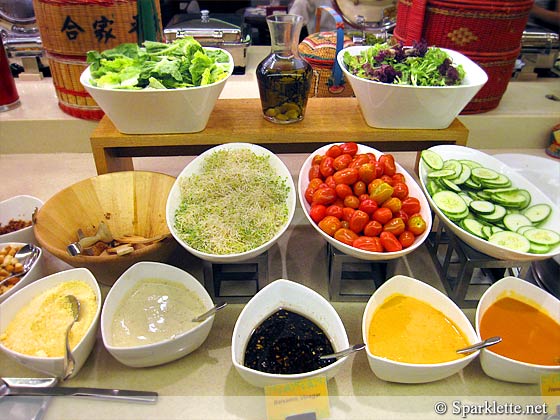 Salads also make excellent starters. You can toss up vegetables like Romaine lettuce, Mesclun salad and cherry tomatoes with Caesar, Thousand Island and balsamic vinaigrette dressings. The condiments include black raisins, croutons, Parmesan cheese and roasted peanuts.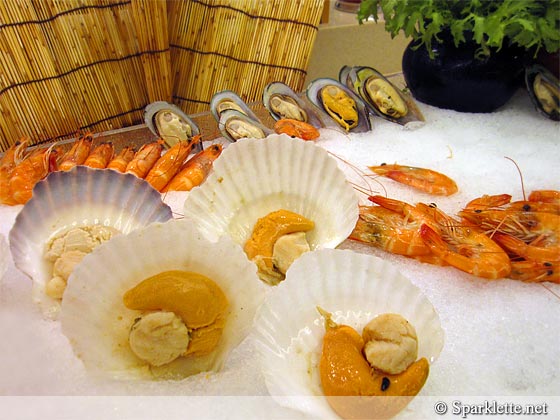 The chilled seafood section has a selection of scallops, mussels and prawns. The display of small quantities at a time does not look very appealing, although this is probably done to preserve the freshness of the seafood.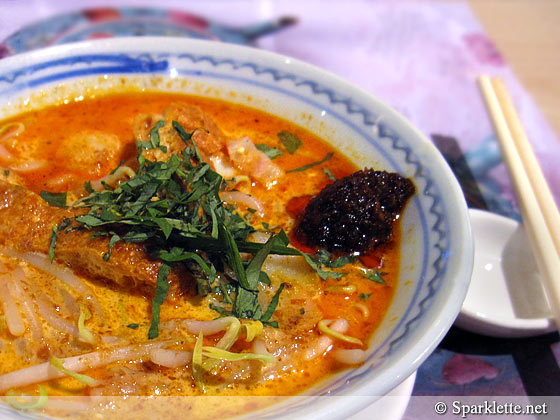 At the live cooking station, the staff are on hand to make you piping hot bowls of laksa and mee siam. The laksa boasts a thick and rich, slightly sweet coconut milk gravy. It is so tasty that I can't help but drink it like soup, stopping only after feeling a tinge of guilt for my heart.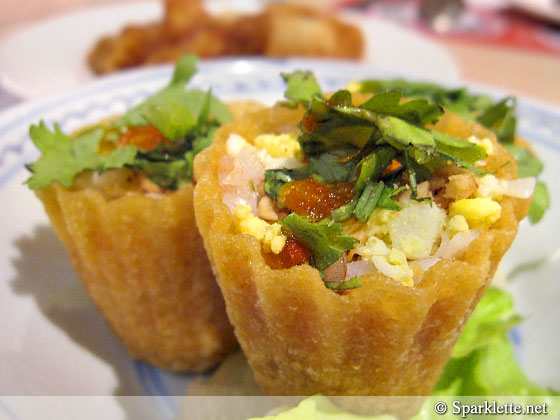 If you feel like getting your hands dirty, create some kueh pie tee.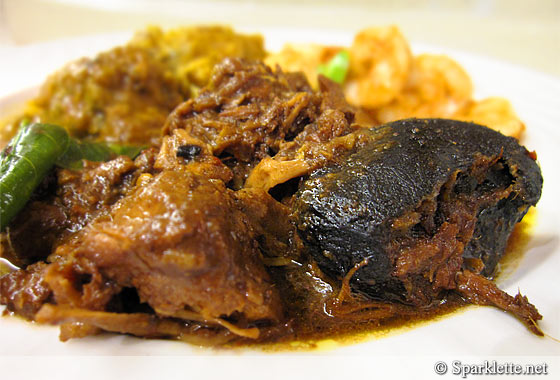 Buah keluak is one of the signature delicacies of the Peranakan community. Those black nuts are something of an acquired taste, but if you are at all inclined, this is definitely the place to give it a try. While it is usually cooked with chicken, the [email protected] version uses pork, braised to marvellous tenderness that will leave you wanting more.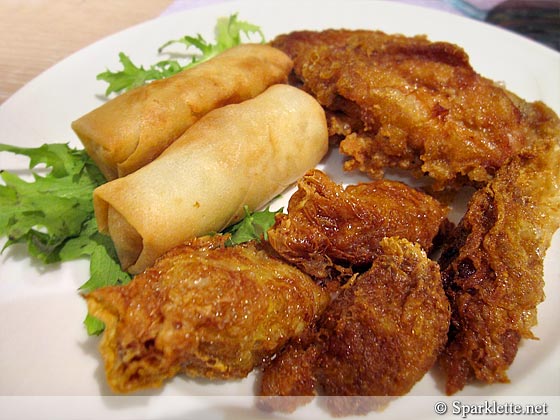 Help yourself to the various deep-fried goodies like chicken wings, spring rolls and ngoh hiang (meat rolls).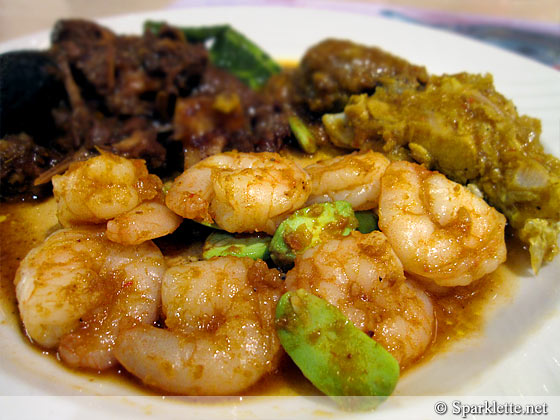 Amongst the hot dishes, I find myself getting second helpings of the petai prawns, assam fish and satay chicken. The satay chicken, a sweeter rendition of the peanut gravy in satay beehoon (rice vermicelli), is superb.
For the dinner buffet, crayfish is also available.
Desserts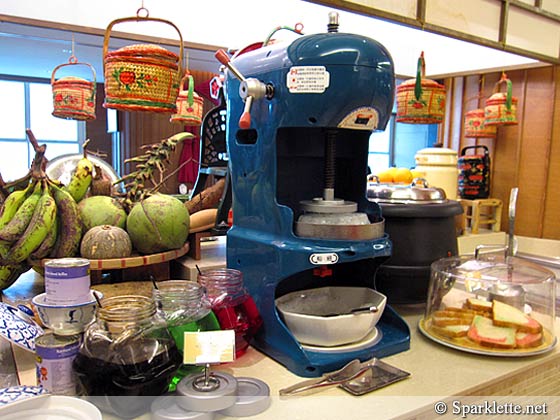 To complete the retro dining experience, try your hand at making your own ice kacang (shaved ice dessert) with the classic ice grinding machine, then top it up with the coloured syrups.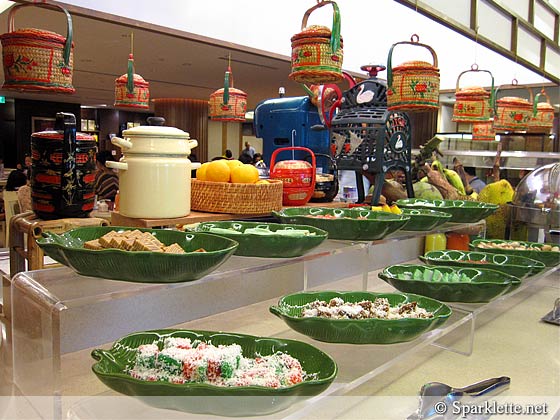 As for me, I prefer to save room for the dazzling range of cakes and Nonya kueh.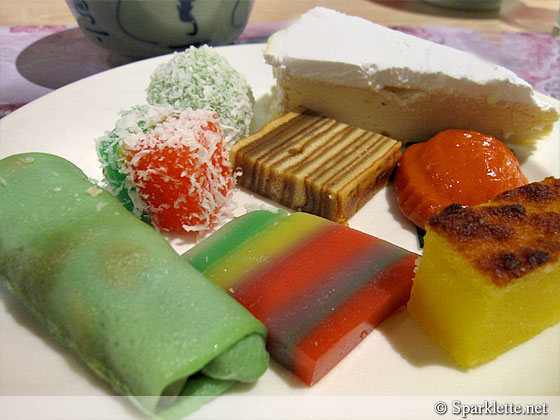 There are the ubiquitous ang ku kueh, kueh dadar (rolled pancake with coconut filling), kueh lapis (multi-layered cake), onde-onde (cake with brown sugar filling), and more. Durian fans can tuck into the durian cake.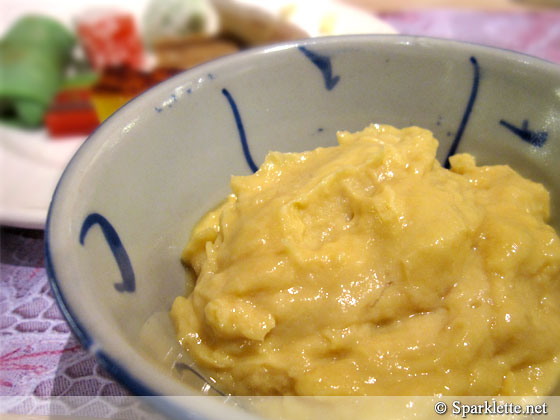 While the aforementioned are good, it is hard to beat the luscious durian paste. How good is it? Well, let's just say that of all the desserts here, this one is presidential.
The Grand Mercure Roxy Hotel buffet affords an extremely welcome alternative to the run-of-the-mill hotel seafood and international buffets. The cooking is impeccably good, the atmosphere is relaxed and the service is quick and efficient.
Have Your Say!
Where can you find the best Peranakan food in Singapore? Share with us in the comments!
[email protected] Buffet Restaurant
Grand Mercure Roxy Hotel, Level 3
50 East Coast Road
Singapore 428769
Tel: +65 6340 5665 |
Website
Service:





Opening hours:
Lunch: Mon – Sat 12noon – 2:30pm
Dinner: Mon – Sun 6pm – 9:30pm
Brunch: Sun 11am – 3pm