Splash! Giant Rubber Ducky!
This bright yellow rubber ducky is irresistibly cute! It has been created by dutch artist florentijn hofman.
Photo by Florentijn Hofman
Canard de bain (Rubber Duck)
Artist:
Florentijn Hofman
Year: 2007
Location: Loire River, France
Dimensions: 26 X 20 X 32 meters
Materials: Inflatable, rubber coated PVC, pontoon and generator
Compare the rubber ducky with the group of people standing beside it and you can see how massive it is! Look carefully, there is a faint curvy line beneath the duck's neck. Yep, this inflatable duck can even nod its head!
Here are more cute pictures!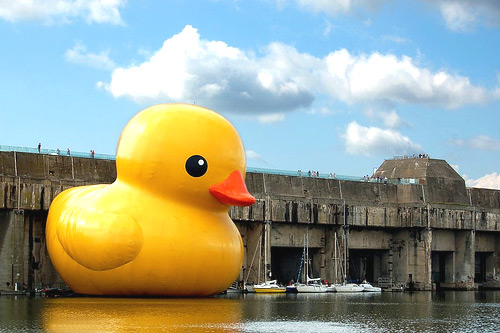 Photo by yannkan
Look! The ducky towers over all the surrounding boats!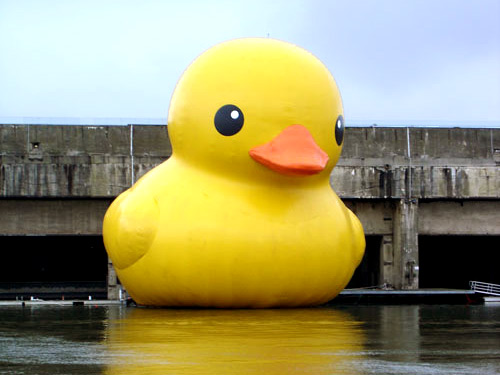 Photo by Florentijn Hofman
Hofman created this ducky for loire estuary 2007, an outdoor contemporary-art exhibition in France. Opened on June 1, this art exhibition features works of 30 artists from around the world. All art creations have been installed along a 40-mile stretch at the mouth of the loire river in France, from saint-nazaire to nantes.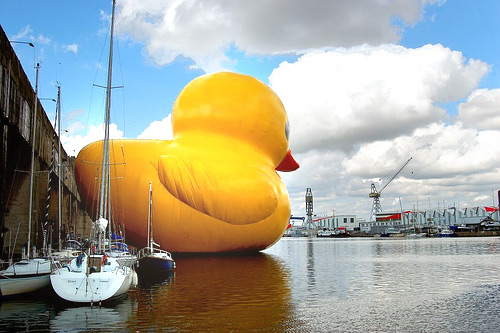 Photo by yannkan
This is how hofman describes his cute creation:
A yellow spot on the horizon slowly approaches the coast. People have gatherd and watch in amazement as a giant yellow Rubber Duck approaches. The spectators are greeted by the duck, which slowly nods its head. The Rubber Duck knows no frontiers, it doesn't discriminate people and doesn't have a political connotation. The friendly, floating Rubber Duck has healing properties: it can relieve mondial tensions as well as define them. The rubber duck is soft, friendly and suitable for all ages!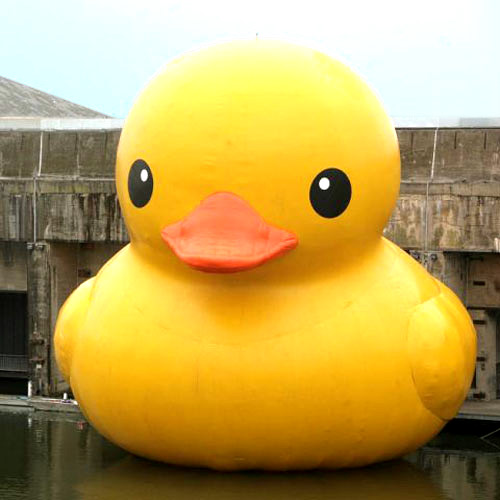 Photo by Florentijn Hofman
Speaking of rubber ducks, the splash-rific great Singapore duck race is back!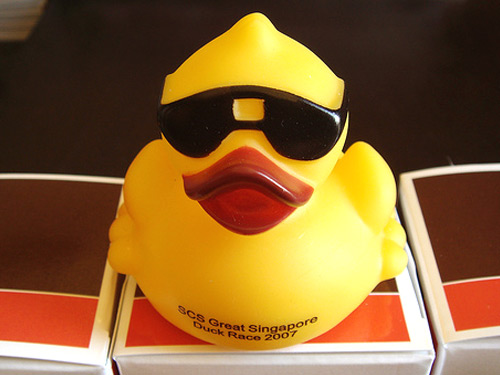 Photo by Frederick Khong
Adopt a funky rubber duck for $10 and send it to race with other funky rubber ducks on the Singapore river! All ducks wear their own shades. If I'm not wrong, you can also adopt the duck for $5 and keep it as a souvenir.
Have a splashing weekend!