Thanks to paddy of bak2u, a group of us geeks and bloggers were treated to an exclusive private viewing of the Apple iPhone recently.
Currently, the iPhone is only available to the US market. Bak2u develops anti-theft software for various laptops and mobile phones. So in order to have the software ready for the iPhone before it hits the Asian market next year, paddy paid a bomb to import a few sets to Singapore!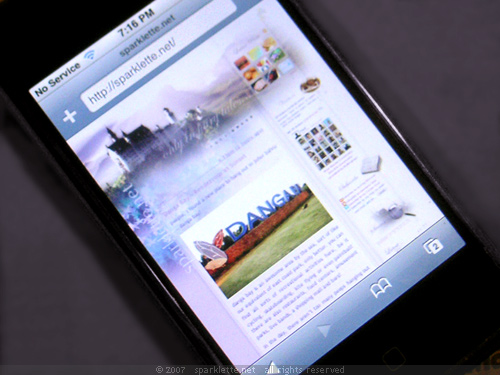 Here's a video of what this blog looks like on an iPhone, along with all the awesome motion-sensor functionality!
Credits to Adrian for being my hand model in the video
Like the LG Shine, the iPhone also has a full-panel shiny surface (although it isn't a mirror). It's said to be highly scratch-resistant too, which is very important since navigation would be done solely on fingers.
What really struck me was how slim and lightweight it was. Although of a much larger form factor, the iPhone was distinctly lighter than my LG Shine.
Despite this being my first time handling an iPhone, I found myself navigating the phone functions with much ease and familiarity. All those iPhone videos floating around the internet over the past few months really helped!
Thanks so much, paddy, for generously and graciously offering us a sneak preview of the Apple iPhone!
Oh, if you're interested, here's a post I did earlier this month on another mobile phone with awesome motion-sensor features too!