For the regular visitors to Sparklette, you may have noticed something new on the sidebar. I added a little panel that displays my latest updates on Twitter.
What is Twitter? It is a social networking tool that allows you to quickly post messages (limited to 140 characters) through the website, your mobile phone and various social networking software. Your updates would be seen by all those people who have added you to their list.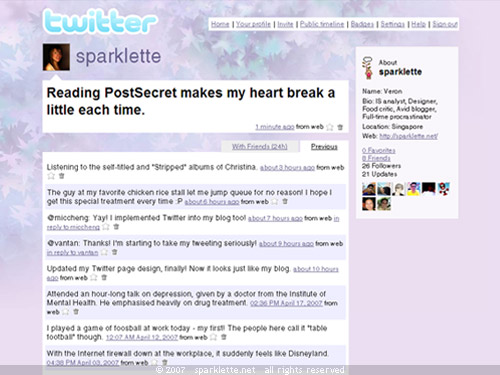 There is huge potential in the use of this social networking software. Because people have the option of sending updates, as well as receiving their friends' updates right from their mobile phone, it essentially means that any two people can keep each other updated on the go from anywhere in the world!
And it's entirely free! Well, except that when you send a message from your mobile phone, you would be sending it to a UK number. So you may incur charges for sending an international SMS.
Of course, my explanation sucks. So you can read the official FAQ for more information!
For now, I would be using Twitter mainly for social networking purposes. When I have an urge to blog but it doesn't quite quantify as a full length post, or when replying to followers on Twitter, I'll just drop in a couple of messages (called "tweets"). You guys would see the relevant tweets on the sidebar, or receive them on your mobile phone. Pretty cool huh!
Feel free to follow me on Twitter!
News updates
May 20, 2007: I was interviewed for my views on Twitter. My words were quoted in the Sunday Times.