LG Shine 3G Mobile Phone – My First Impression
A week ago I received an email from LG's public relations firm, asking if I would test-drive the new 3G mobile phone – LG Shine – for 3 months. It is part of the LG Shine Bloggers Relation Program. Do I want to own a gorgeous mobile phone for 3 months? Hell yeah! A week later, I am flaunting this shiny brand new mobile phone! Wow, blogging sure pays off!
I have used the mobile phone only since yesterday, so this post would still be largely based on my first impression. Note that LG doesn't require me to blog about the mobile phone. But really, why wouldn't I?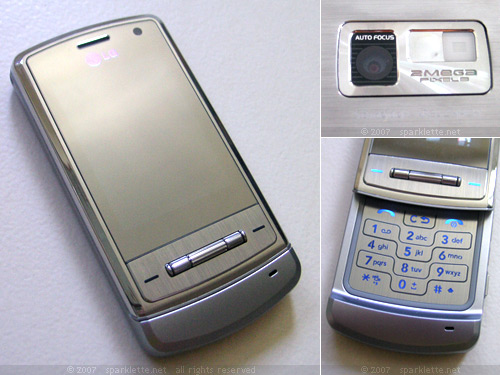 Features
2.2″ wide mirror LCD screen
Full metal stainless steel body
Multi-functional scroll key
Multimedia players (MP3, MP4, Document viewer)
USB and Bluetooth v1.2
2-megapixel auto-focus camera certified by Schneider-Kreuznach, a globally recognised Germany-based lens company
Video telephony with HSDPA capability
The main highlight of this LG phone, other than its 3G function and 2 megapixel camera (with Schneider-Kreuznach lens, auto-focus, flash), is its stunning form factor. What a gorgeous piece of gadget! Its mirror finish front panel would no doubt elicit many oohs and ahhs from strangers. My elder brother was certainly wowed by it!
Contrary to popular belief, fingerprint marks will not smudge that smooth and shiny surface. Or at least, mine didn't.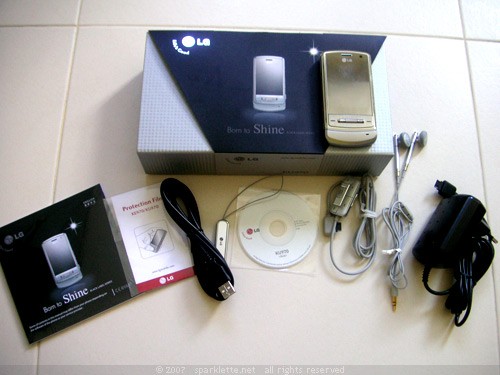 These are the things that came with the handset. From left: manual, screen protection film, usb connector, screen wiper, software disc, remote controller, headset, travel charger.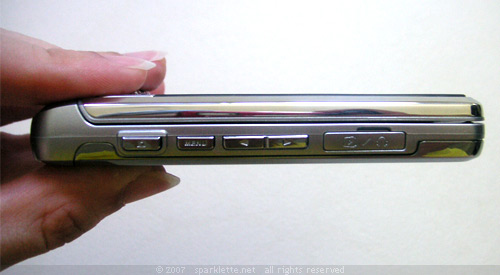 Like the popular LG chocolate phone, the LG Shine is also a slider phone. Sliding the front panel upwards reveals a surprisingly flat keypad with blue backlight and laser-etched buttons.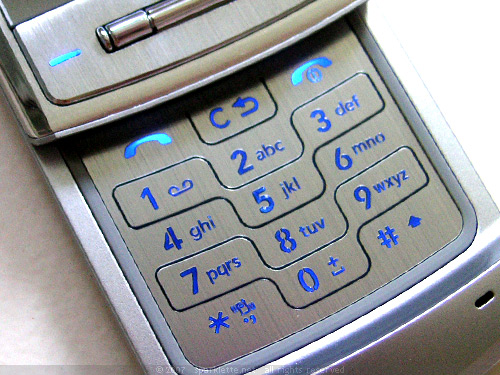 The brushed metal look spanning the keypad and the phone's entire back panel would probably appeal very much to men. The metal finishing makes it feel really solid in the hand. Overall, the LG Shine manages to look both classy and fashionable at the same time.
Size-wise, the handset measures 99.8 by 50.6 by 13.8 mm. In actual fact, it probably looks slimmer than it really is. This is how it compares with my O2 Atom and iPod Nano.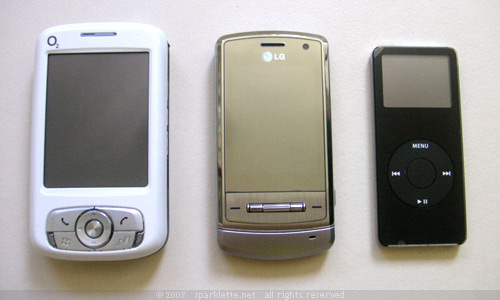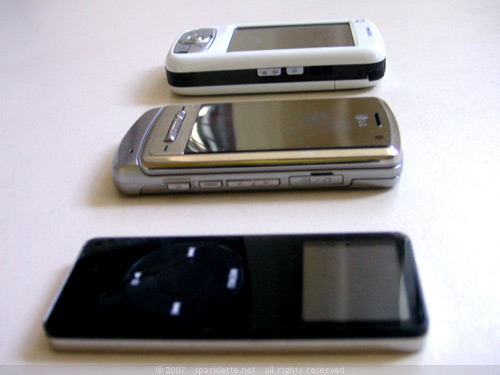 When I received the mobile phone, I was surprised that there were no terms and conditions involved (other than the fact that I have to return it 3 months later). I'm not even obligated to blog about it, even though the only reason why I'm getting the phone is that I'm a blogger.
All I got in the package were the silver box containing the handset and a letter acknowledging that I have received it!
I would blog more about it after I have played around with it for some time. This is the first time I'm using a LG phone and already, it is the most gorgeous phone, from any brand at all, that I have ever held in my hand!
Specifications
Memory: 512MB built-in
Type: Slider
Camera: 2-megapixel
Dimensions (mm): 99.8 X 50.6 X 13.8
Weight with battery (g): 118
Standard battery (mAh): 800 Li-ion
Standby time (h): 280
Talk time: Up to 2h 40min
External LCD (pixel): 240 X 300
Number of colours: 262 000, TFT
RF band: Quadband (900/1800/1900/2100)