Christmas Tree of the Day #12 (2011 Edition) – White Artsy Christmas at Esplanade
Keep an eye out for this unique Christmas tree when you visit Esplanade, a performing arts venue in Singapore. Comprising Japanese-style lanterns, this tree is illuminated with a beautiful glow from within. The lanterns have been given an extra Christmasy touch by their snowflake patterns, made of hologram aluminium foil.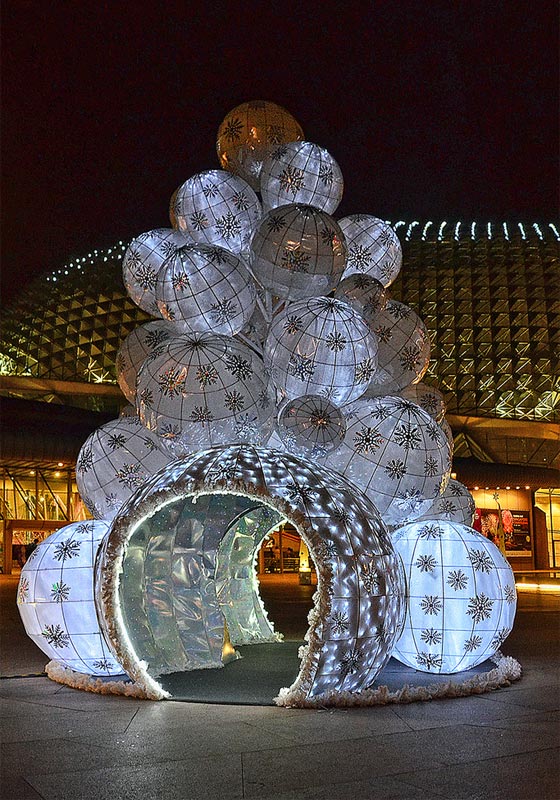 Credit
We like the way that the unusually shaped tree is juxtaposed with the eccentrically shaped building (like durians) in the background. If you like, you can even walk right through the tree via its walkway.

Credit
And that wraps up the Christmas Tree of the Day 2011 series! We hope you enjoyed this showcase of unique and beautiful Christmas trees in Singapore. Many thanks to Mr. Choo Yut Shing for letting us share his gorgeous pictures with the world.
And to you, Merry Christmas! Thanks for staying with us all year long through Christmas, and gracing Sparklette with your virtual presence. Have a blessed Christmas!
All photos here are taken by Mr. Choo Yut Shing and used with permission on Sparklette.
Have Your Say!
Have you seen any gorgeous Christmas trees this festive season? Share pictures with us in the comments!
For more Christmas trees, check out the Sparklette Christmas Tree of the Day series.