Okay this is a long belated entry. I have simply been too busy working, as well as giving this blog a facelift that I haven't been able to blog!
Last Sunday, my Dad and I celebrated mother's day with my Mom. It was just the three of us as my brother was away in Osaka, Japan during that period of time.
As mentioned in the previous entry, I got her one of those exquisite pop-up cards. This one has beautiful pop-up flowers!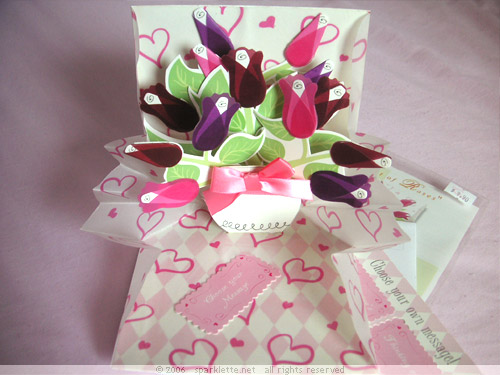 It's now being displayed on our living room cabinet. In the past I used to get her real flowers. But those wilted away far too quickly. At least the card would last a long time.
My Mom loves the cakes from bengawan solo. I get her one of these every single time. The cakes are always richly creamed, and not too sweet.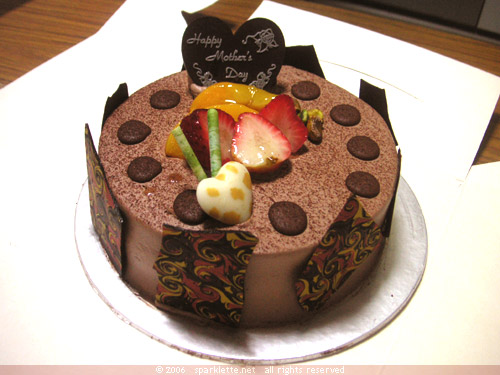 And it was good. All chocolatey goodness but light enough on the tongue. You can't go wrong with bengawan solo cakes.
So that's mother's day 2006 for you. My Mom is one busy woman, having to work all seven days in a week. And she still has to find time for housework. During special occasions like her birthday or mother's day, we can only have simple celebrations at home instead of going somewhere nice.
Nonetheless, it's always happy occasions. Short, but happy.