Christmas Tree of the Day #4 (2011 Edition) – Candylicious Christmas at Suntec City Mall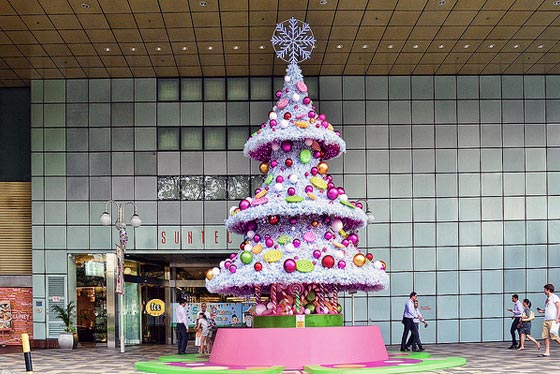 Credit
The sweetest Christmas tree for 2011 has to be the candylicious tree at Suntec City Mall. Topped with a snowflake, this three-tiered tree is all covered in colourful baubles, sweets and lollipops. Look closer and you would see that even its trunk is made up of candy canes!

Credit
Apart from the big candy tree at the mall's entrance near the underpass, smaller trees can be seen adding a dash of colour to various parts of the mall.

Credit
The pink and white colour scheme and bright candy colours sure add to the cheery spirit of Christmas.

Credit
That's Old Town White Coffee, a café chain from Malaysia that sells traditional coffee, toast and local dishes.

Credit
At night, the tree is lit in unconventional colours of magenta and blue, which aren't normally found on the traditional Christmas palette.
All photos here are taken by Mr. Choo Yut Shing and used with permission on Sparklette.
Have Your Say!
Have you seen any gorgeous Christmas trees this festive season? Share pictures with us in the comments!
For more Christmas trees, check out the Sparklette Christmas Tree of the Day series.