OffersnPals – A Great Social Shopping Experience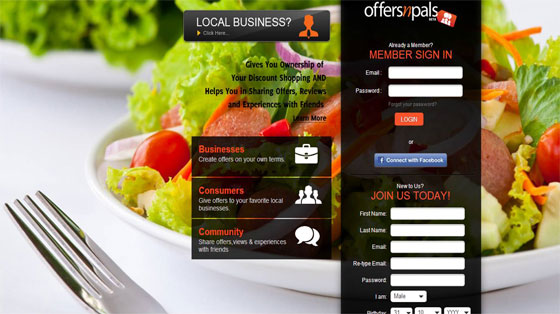 Have you ever spotted something you really like at your favourite store and thought to yourself, "I would definitely buy this if there was a discount"? Or wish you could proudly share your recent dining experience or your latest nail salon discovery with your friends? Perhaps you would like to see friends' reviews on a merchant before buying an offer? Of course you have.
That's where OffersnPals come in. OffersnPals is a social marketplace that has just come to town!
Get discounted buys!
On OffersnPals, businesses and customers are directly connected and each is free to give offers to the other party. Businesses can offer discounts to customers. What makes it quite different from daily deal sites is that there is no minimum number of purchases for the offer to be valid. And offers are highly personalized, as per choices by customers.
Here's the kicker: customers can also offer discounts to businesses. For example, you can get together a group of friends to offer a spa a spending of say, S$200, as long as the spa agrees to give you a 25% discount. Great idea, isn't it? It's win-win for everyone!
Share your shopping experience with friends
How many times have you bought a discount deal and then hated the experience? Maybe a tad too often. This is unlikely to happen at OffersnPals, thanks to its social element which is its most exciting aspect.
Merchant profiles show information about their businesses, including photos, menus, reviews and more. The reviews are not anonymous and hence are way more authentic. Some could even be written by your friends!
You can become fans of your favourite merchants and share reviews, offers and experiences with friends. Through your friends' recommendations and genuine reviews, you can discover great local businesses and cool offers. And we all know that word-of-mouth recommendations are the best kind!
Get rewarded when you shop
Each time you buy offers or write reviews, you also earn reward points. These points can be used to redeem discounts!
Awesome ease of use
You can use OffersnPals with your existing Facebook account. Reviews and purchases can be shared not just with your friends on OffersnPals, but also on Facebook as well.
So, why wait? Get started on this one-of-a-kind shopping experience at OffersnPals. To make it more fun and engaging, be sure to invite your friends to join in too!