Postcrossing: Finland, Germany & Holland
I joined the postcrossing community recently and have been loving it since. Everyone loves receiving mail right? Basically postcrossing does this: if you send out a postcard, you are guaranteed to receive one from anywhere in the world! And it doesn't even need to be postcards. People have been known to send candy, teabags, toys, accessories, etc.
Well so far I have sent out one postcard to marco in Mexico, and have received… Four! The first postcard came last week, sent by minna of finland. She writes about finnish cows in her postcard. The pictures are of the helsinki railway station (on the left) and the National Museum of finland (on the right).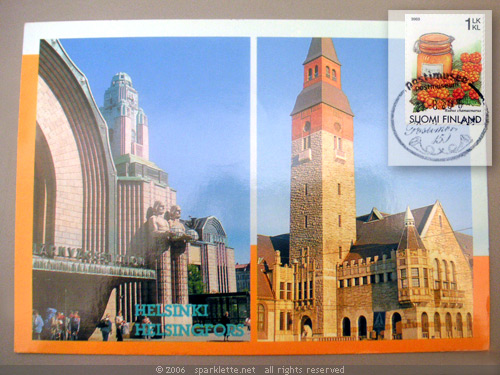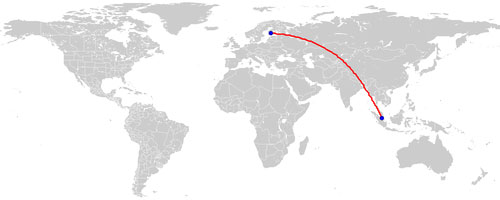 Helsinki, Finland
Sender: Minna
Distance travelled: 9252 kilometers
My second postcard was sent by paola, hailing from the netherlands (aka holland). Paolo lives in a small town that is close to the border of Germany and she loves the colour purple just like I do. One of the pictures in the postcard depicts men in huge wooden shoes (bottom left). They are actually farmers. In her town, there's a factory that makes these shoes.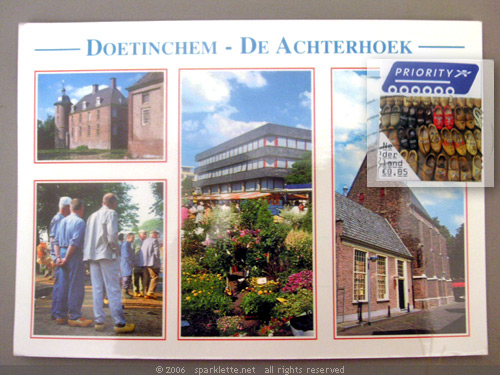 The Netherlands (a.k.a. Holland)
Sender: Paolo
Distance travelled: 10379 kilometers
The third postcard is a nice creation of ulrike, a classical musician from bonn, Germany. She made the whole postcard from scratch, complete with silver glitter, stencilled shapes and hand-drawn designs. You can check out more of her beautiful artwork at her blog. I like her short message in the postcard, where she says that beethoven was born in 1770 in the same place where she comes from.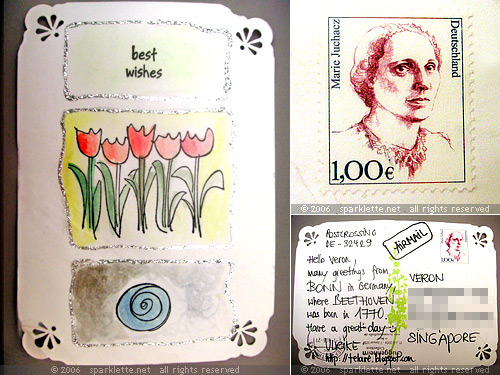 Bonn, Germany
Sender: Ulrike
Distance travelled: 10335 kilometers
I received a second card from finland, this time from heli-mari who's a mother of four. Her postcard is one of a finnish winterscape. She says that some people make holes in the ice and swim in the lakes during winter. Wow don't they get cold? I especially like the stamp she used. We don't get enough of kitty stamps around here, do we?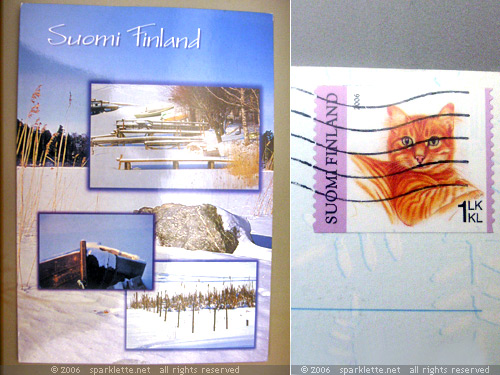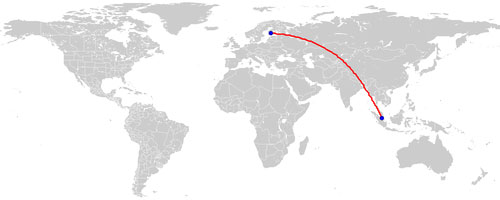 Finland
Sender: Heli-Mari
Distance travelled: 9162 kilometers
That's it folks. I can't wait to receive my next postcard. Gotta get cracking on the next batch of postcards to send out too! Join me will ya? Oh, and don't forget to check out bookcrossing too!