The Sparklette iPhone App is Here!
Over the past few months, we have been working very hard on the official Sparklette iPhone app. It has been a three-month labour of love and we're so happy that the app is finally launched! You can download it for free from the iTunes App Store.
Instead of creating a simple reader app, we wanted it to be a more powerful extension of the website. Not only can you view all the latest articles, you can also browse hundreds of Singapore restaurant and food reviews sorted by cuisine, dish, meal, ambience and even location in one handy little app. No more wondering where to go or what to eat when you have this app right in your pocket!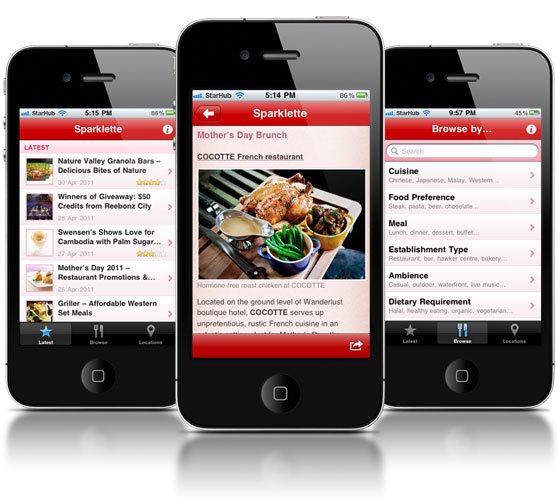 All the things you like about Sparklette dining reviews, such as photos and chicken drumstick ratings have been retained. Most of the reviews are loaded with the restaurant's phone number so that you can call them directly from your iPhone. Plus, the restaurant's location is also conveniently linked to the iPhone's built-in Maps application so you know how to get there.
Update: Apple has featured our app in the New & Noteworthy section!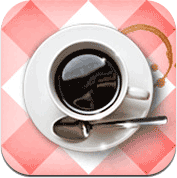 Features:
– Browse by cuisine, dish, meal, ambience and more
– Browse by location (Orchard, Jurong West…) and by shopping mall (ION Orchard, VivoCity…)
– View gorgeous photos, prices and star ratings loaded into each review
– Call the restaurant directly from your iPhone
– View the restaurant's location in Maps
– View latest article updates from Sparklette.net
– Search all articles
– Pull to refresh the screen
– Read later with Instapaper
Requirements:
Compatible with iPhone, iPod touch, and iPad. Requires iOS 4.0 or later.
Credits
This app was created with the help of my talented developer friend, Michael Cheng. While I designed most of it, it was Michael who painstakingly did all the coding, endured my nit-picky changes and built the entire app through many late nights and cups of coffee. Mad props to him!