Vote for sparklette.net at Ping.sg!
Dear guys and gals, I'm asking y'all for a teeny, tiny favour. Could you vote for me at Ping.sg please?
Popular community metablog Ping.sg (which I designed) is celebrating its first anniversary on 070707 (July 7, 2007). On that day, there would be a blog awards ceremony a la the oscars!
Sparklette has been nominated in 3 categories – "Best Blog Design", "Most Entertaining Post" and "Most Insightful Post"!
---
Best Blog Design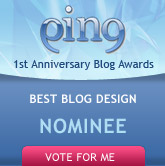 This is the award I'm gunning for the most! I'm up against blogging singer babe (or singing blogger babe) genie, industrial designer brian and fellow web designer aen.
My dear friends, I have always put a lot of time and effort into my blog layout. If you love me (as much as I love you), my purple blog design, flying maple leaves and all the nifty little details, please vote for me in the "best blog design" category!
---
Most Entertaining Post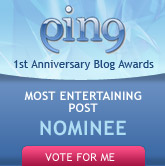 graze Anniversary Party Date – I was invited to the graze anniversary party last month. Graze is my most favourite restaurant and I wanted to share it with my blog readers. So I started a contest and invited all of you to win a date with me!
The contest attracted over 30 submissions from both guys and gals. Eventually, I picked DK to be my date! We had a fabulous time at the party! (ooh the taste of the champagne is still vivid!)
Of course, i blogged about the party and even rated DK as a date! That post drew more than 1500 reads as well as several positive online and offline comments from readers and friends alike. Yay!
If you enjoyed what you read, please vote for it in the "most entertaining post" category!
---
Most Insightful Post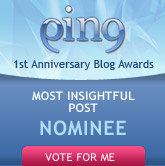 My $2 pledge – oh! I'm up for the "most insightful post" too!
Last December, I witnessed an elderly man drink from a dirty half-empty cup that he had found in a rubbish bin. He was too old to find work and had to collect used drink cans for a living. It was barely enough! He had to resort to drinking trash, literally.
That incident moved me so much, I started a pledge to give $2 to every elderly person that I see collecting used drink cans for a living. This is my most commented post to date.
For my pledge, I was also interviewed by the flying dutchman on channel newsasia's blogTV program during their Christmas special episode.
Please vote for this post in the "most insightful post" category!
---
So those are the 3 categories! To vote, please register at Ping.sg. Each member is allowed one vote in each category, but feel free to change your vote anytime before the deadline on July 4, 2007.
Here's what you would get if you become a member (registration is free):
for bloggers, your blog would be registered in this popular Singapore metablog. Each time you blog a new post, it would be automatically displayed at the top of the website. That means traffic, traffic, and more traffic to your blog!
join in our first anniversary party on 070707. There would be free cake, dinner and networking with like-minded people. Places are limited and more than 50 people have already registered! Hurry!
my eternal gratitude, obviously. We know that's priceless!
Many thanks to those of you who have already voted for me! Big hugs and wet kisses to you!
Much love,
Veron