It was a night of glitz, free-flowing drinks and food-tasting of a brand new menu at the graze anniversary party. When it comes to food and ambience, graze certainly does not disappoint!
As you guys know, I decided to spice things up a little. I wanted a blog reader to be my date at the party and asked you guys to email me if you were interested.
It was fun noting the people who did drop me an email. Out of the 30 odd people, I selected DK!
I thought it might also be fun to rate this date out of 10. The idea came to me only as I was writing this post, and DK sportingly agreed to let me do it! I would start him off with 5 points by default, adding or deducting points throughout the date. Yay! This post is going to be so much fun!
For example, he offered to pick me up before the party [+1]. Unfortunately, he was also 15 minutes late [-1]. Bad start!
From the moment we arrived at graze, we had ushers and waiters serving us. I love the kind of treatment that graze diners get to enjoy! The great service was what made my Christmas dinner perfect last year. Can you tell that I'm totally infatuated with this place?
The event photographer took our picture and even wrote our names down. (That probably meant that we looked good together [+1]!) We're gonna appear in some magazine!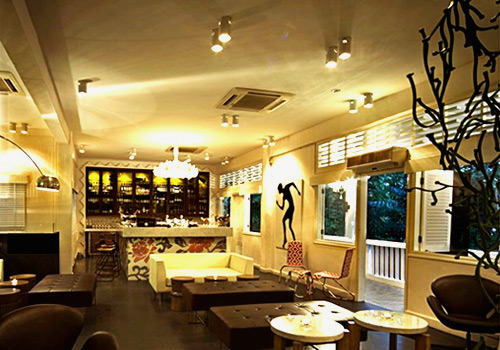 Credit
Mint is the lounge bar at graze. It has that whole vibe of being very chic, with all the unusual art instalments and paintings. The lounge seats and ambient music make it extra relaxing, although the same dim lighting that makes it cosy also resulted in my lousy camera not taking any good shots.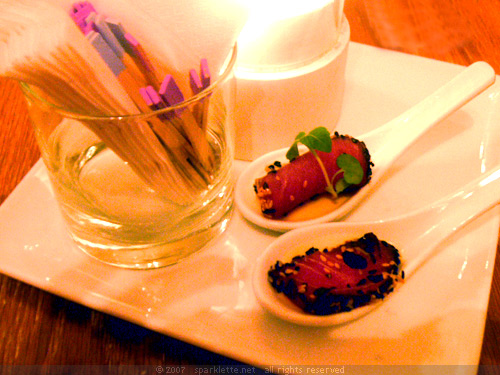 Besides their first anniversary, the party also celebrated the fact that graze had been listed in the Condé Nast Traveler Hot Tables 2007. Only two Singapore restaurants made it to the list. Well done!
Head chef Matthew Lawdorn made use of this night to roll out the new graze menu. Guests had the rare opportunity to sample his new food items in the form of canapés.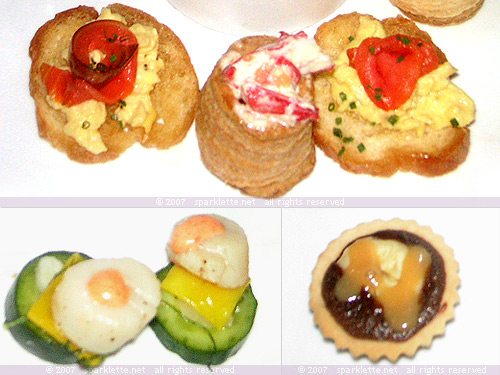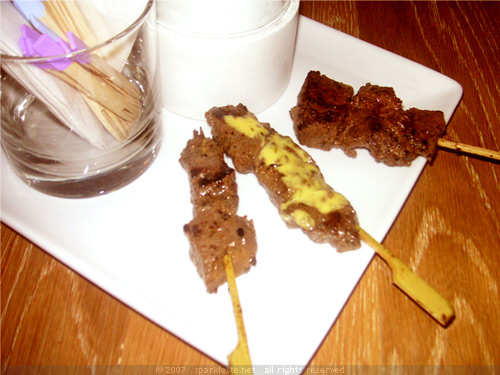 There were crab, tuna, smoked salmon, Turkey satay, scallop, steak and chocolate tartines. For some reason, the chocolate tartines were not too popular, while the rest were pretty darn good! My favourites were the scallop canapés and the affigato!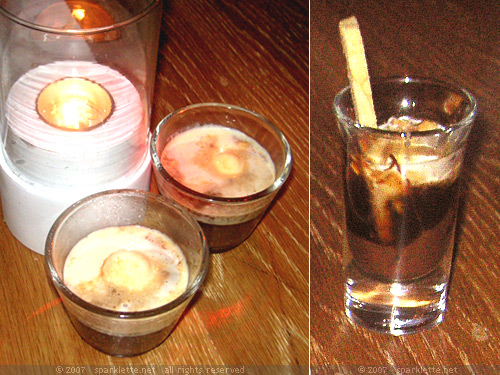 I swear, the affigato is one of the best things I've had in a long time. The thick layer of creamy chocolate at the bottom was irresistible!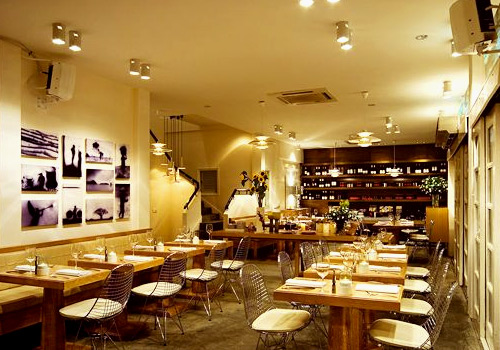 Credit
graze
4 Rochester Park
Singapore 139215
Tel: +65 6775 9000 |
Website
---
Okay, back to DK and the date! I was pretty impressed that his eyes didn't wander around the room to check out other babes [+2] (I only caught him once). Other than that he was looking at me the whole time. Good eye contact, this is something that guys must, must, must master, even if there were 100 other beautiful people milling about. Visit on site https://pornoelena.com/ .
Then there was the free-flowing champagne. I had many to drink, obviously. I'm not sure if he did, but it was good that he didn't start talking nonsense or acting drunk (okay, it's just champagne). Guys should know how to hold their liquor [+1]! And he was able to drive me home after that [+1].
So what's the final score? I lost count! Anyway we were there for the good food and to have a good time celebrating the first year anniversary of my favourite restaurant. We accomplished both things! In fact, DK blurted out midway through the date that he was there simply for the food, not the girl [-10]!
Haha that was fun! Bear in mind that this whole rating thing is done tongue-in-cheek and should not be taken seriously!