On my Cathay Pacific flight to Hong Kong, the flight attendant made sure I got my low-calorie meal. I had specified it as a meal preference when booking the flight. It turns out to be a meal with egg white, eggplant, and asparagus.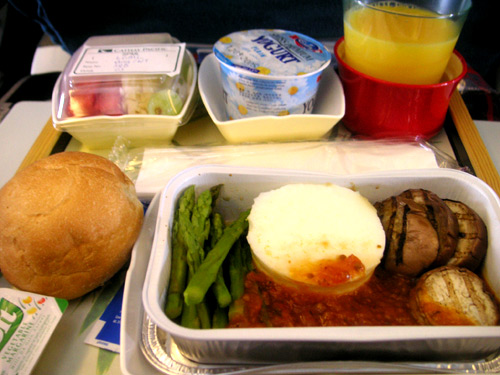 When we arrived in Hong Kong, it was raining! I was quite disappointed. Somehow the summer season of Hong Kong I had pictured in my mind was all sunny and dry. And it continued to rain for the rest of the day. It would rain for ten minutes, then stop for ten minutes, and rain for another ten minutes, and the cycle repeats itself. My plan was to go visit the Peak, and that had to be scrapped.
My hotel room at Le Meridien is awesome. It is super clean and I don't think I would have any trouble falling asleep at night.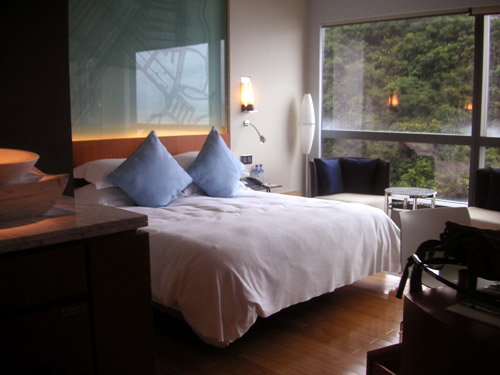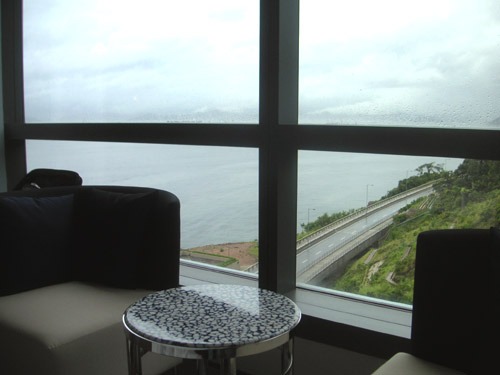 The coolest part of the room has got to be the shower. It's all glass so people in the room would be able to see you showering. How kinky! Of course, I'm staying here alone. I like it because when I'm showering, I can look at my laptop from where I am, and see if anyone has sent me a message.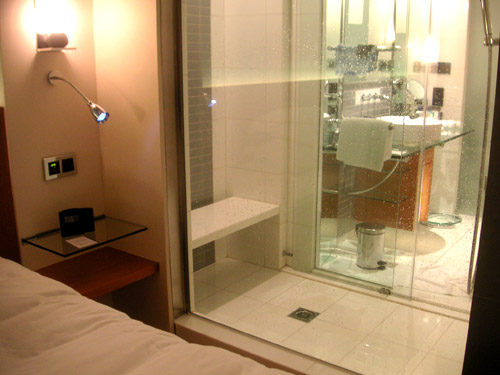 And of course, there's the plasma TV and free internet access. I flew into frenzy this afternoon when I couldn't get connected. But managed to fix it in the end.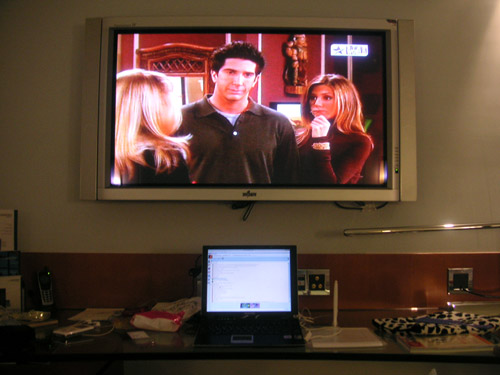 Strawberries and tea…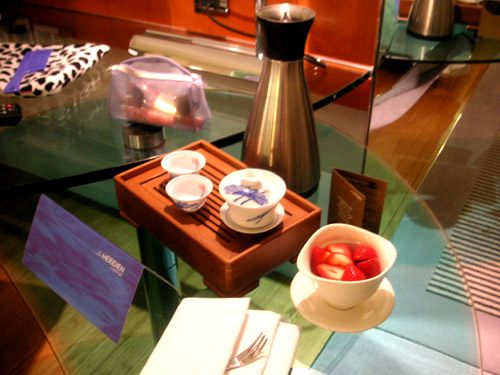 That's about it. I decided to go check out Causeway Bay and do some shopping. It was Friday evening so the area was very crowded. And yeah Hong Kongers walk fast all right. They also tend to be attractive and well-dressed.
So it was street after street of shopping centres and I couldn't even keep track of all their names. Most of the smaller ones looked similar. Many neon signs and colourful signboards too.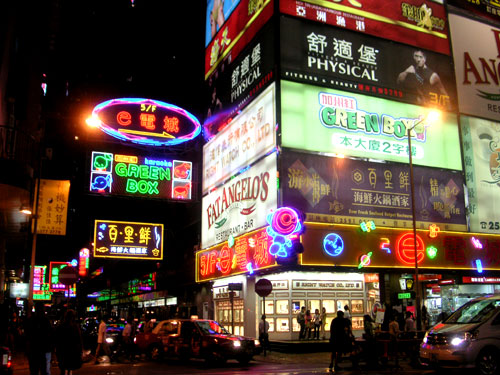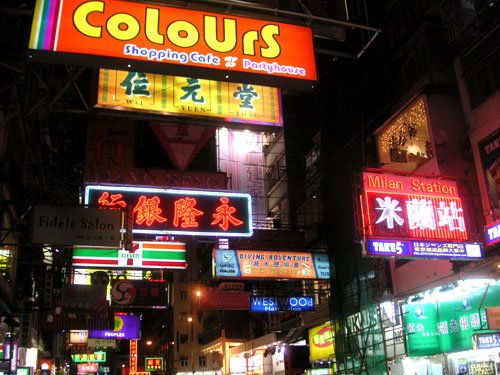 And there's World Trade Centre which looked quite striking.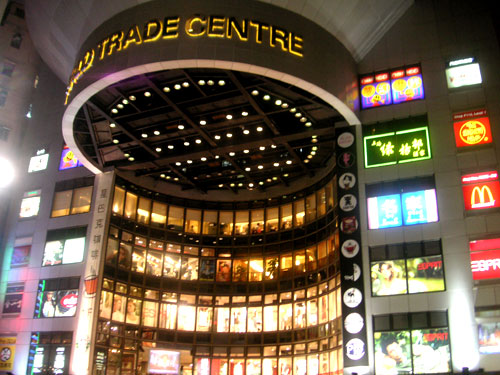 There were also a lot of people crowding around this pet shop in a street corner that sold puppies. It was the only pet shop I had seen so far.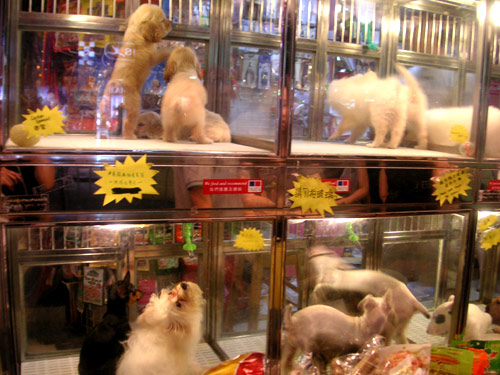 For dinner I didn't have much of a choice since every other place was super crowded and people were forming long queues everywhere. I ate at this UCC coffee place inside sogo. Coffee plus chocolate French toast.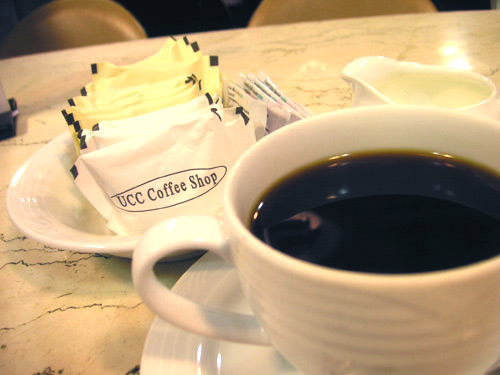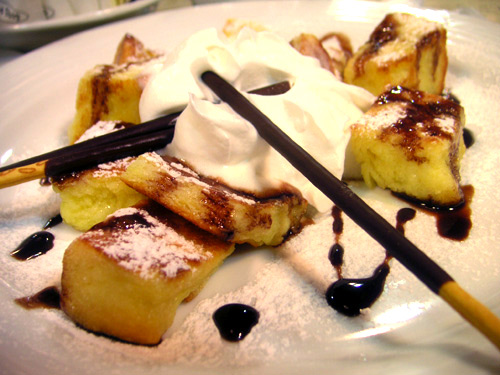 Then the rain came AGAIN when I was hitting the streets. I noticed Hong Kongers all carry umbrellas with them. I had to seek shelter at Timesquare. It's a huge shopping mall with pretty much the exact same brands you find in Singapore at the same prices. Anyway there was a denim jeans exhibition going on at Timesquare which I thought was quite cool. They had faces of famous people painted on the jeans.
Here's Leonardo da Vinci.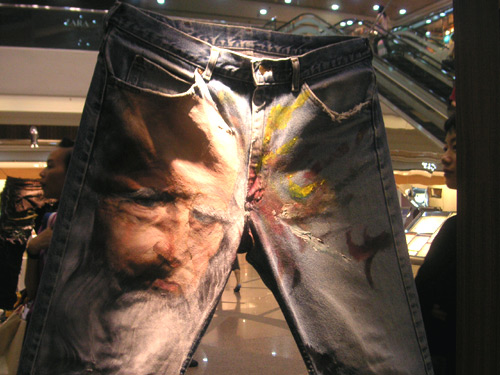 Sun Yat-Sen
Bruce Lee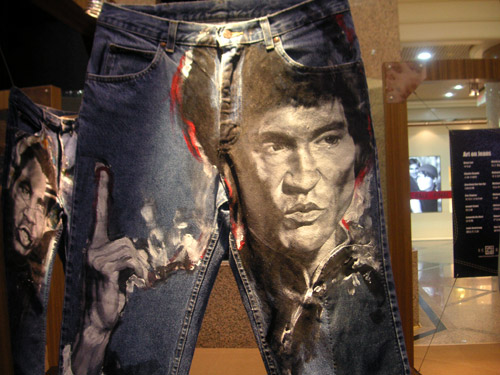 At the end of the shopping trip I got this Precious Moment musical ornament for my room…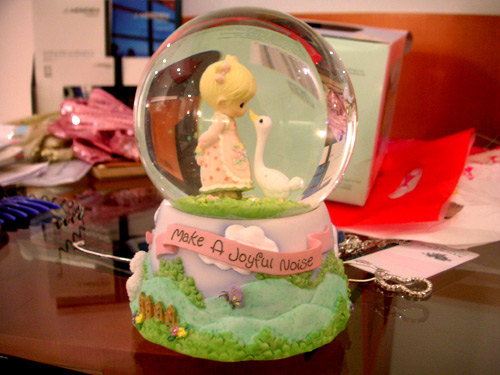 …and this diamante gourd pendant I had always wanted.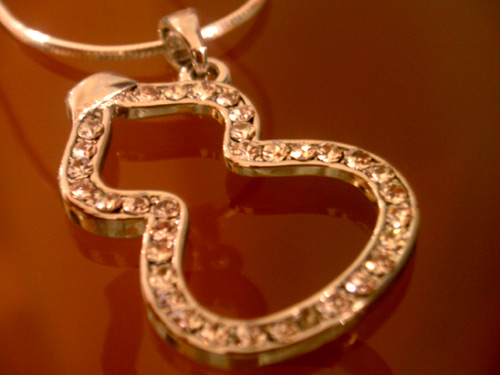 Let's pray that it doesn't rain anymore and it'll be a more fruitful day tomorrow. Wish me luck!