Day 2 in Hong Kong kicked off with a bad start. I went to the tram terminal to catch a ride to the Peak. The tram had moved about thirty metres away from the terminal before it stalled completely. After about half an hour of fiddling with this and that, the drivers decided they had engine problems. They somehow managed to move it back to the terminal where everyone had to get off.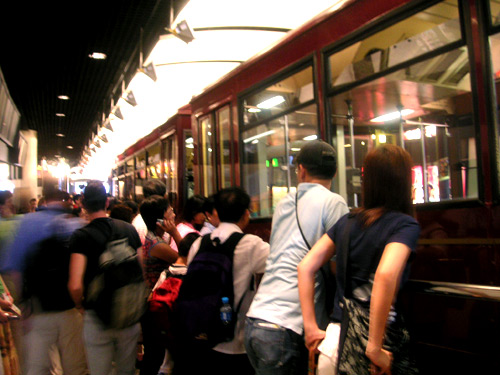 In my mind I was thinking how ridiculously unlucky this was. The first day I couldn't go to the Peak because it was raining. The second day when I made it this far, got onto the tram, and it had engine problems! I had no choice but to give the Peak a complete miss.
At the tram terminal, I ran into Henry, a South American dude from Venezuela where they have all the gorgeous beauty queens. He was also a solo traveller and didn't know what to do in Hong Kong. So I said, let's go take the Star Ferry to Kowloon!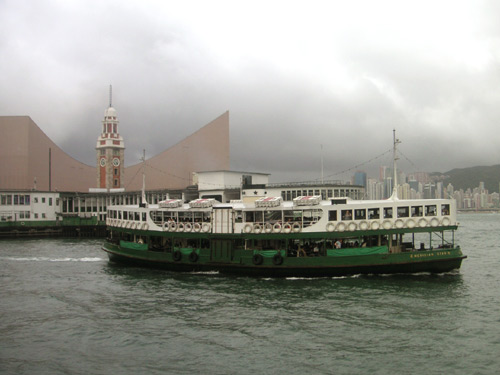 The ferry ride was extremely cheap at 2.20 HKD. We got some good views of the Hong Kong skyline onboard. There's the Hong Kong convention and exhibition centre.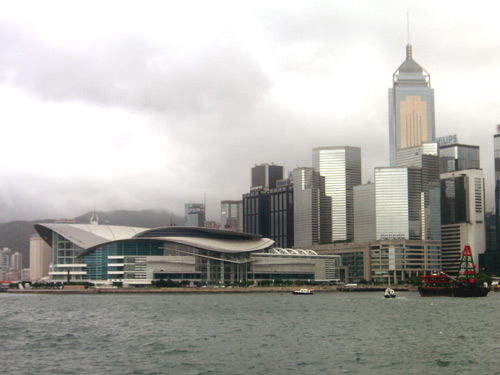 And my favourite, the Bank of China tower. It's the one with the diagonal lines and a pair of chopsticks on top.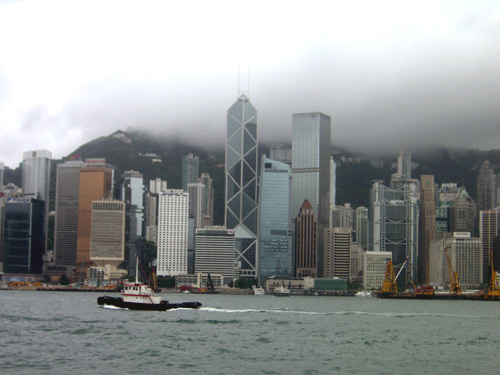 When the ferry arrived at the Kowloon pier, I was quite amused to see that the pier had been built to look like the ferries themselves. How cute!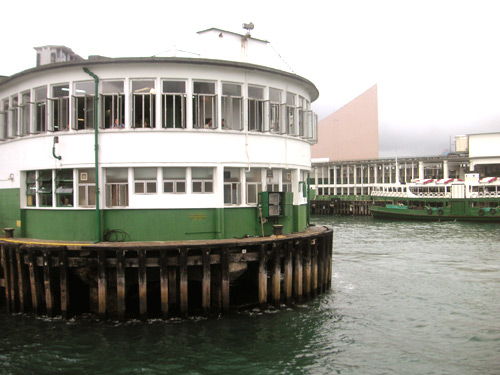 There was a whole bunch of shops near the pier and everywhere we went, Indians would approach and try to get henry to make suits with them. They probably saw all caucasian-looking guys as walking dollar bills.
We went to the Peninsula Hotel to take pictures, where some of the James Bond movies had been filmed. It looked really grand.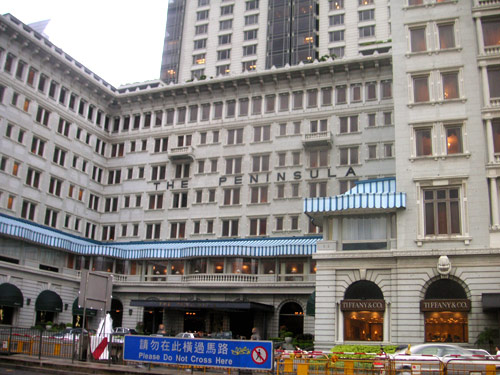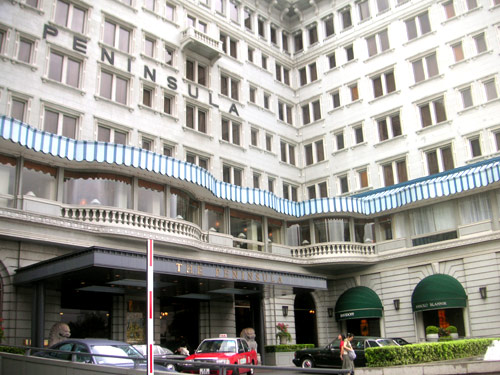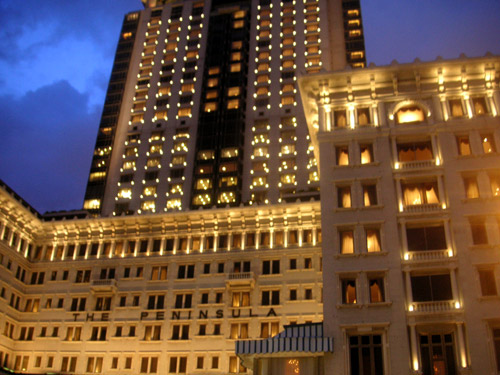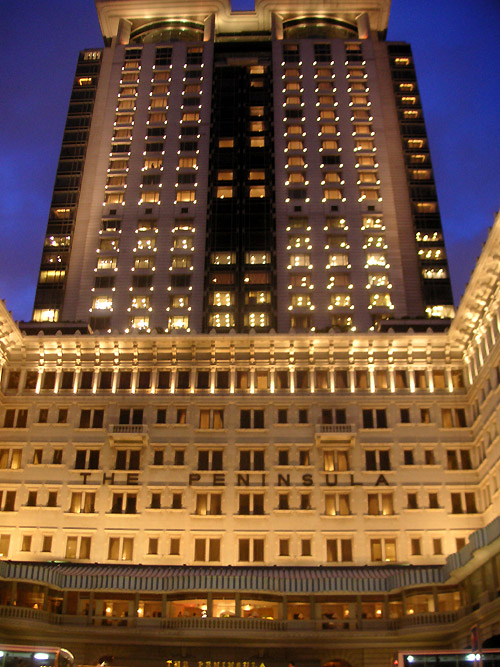 Then Henry and I parted ways as I wanted to do some shopping, while he was off to check out the Hong Kong Museum of Art. Bad move! It started raining shortly after, and he had an umbrella! I went to the Hong Kong Cultural Centre anyway. Here's a view of the clock tower taken from the cultural centre.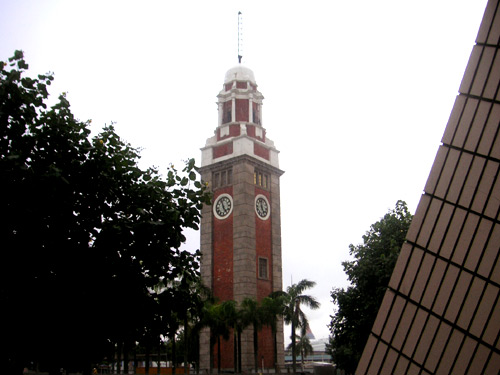 There's also a model of miniature buildings around. The cute dome shape in the bottom left is the Hong Kong space museum.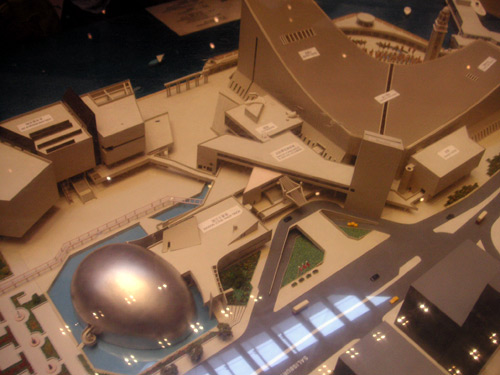 See?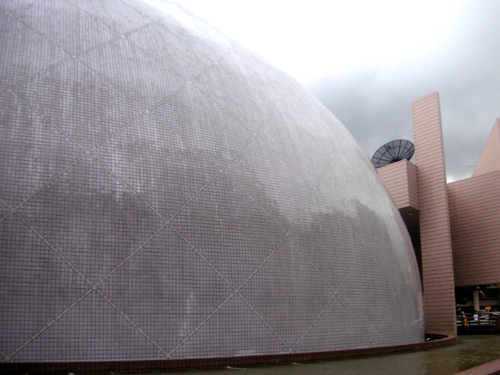 I happened to pass by the Avenue of Stars then. It didn't occur to me it was THAT nearby.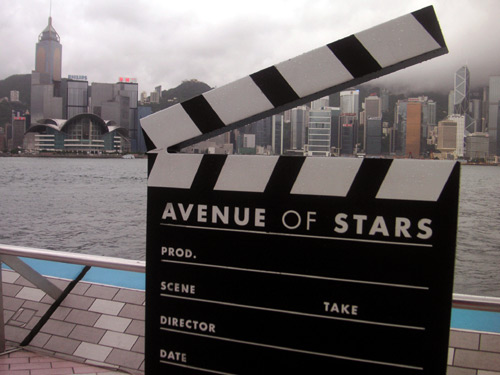 Most of the tiles on the ground didn't have handprints on them, although they had names of famous people such as Jackie Chan.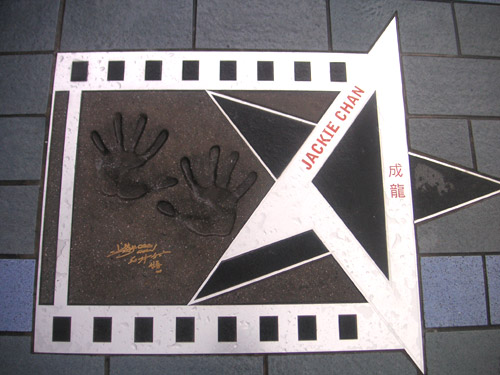 Andy Lau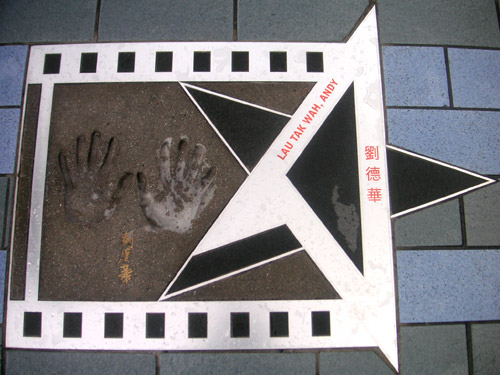 Jet Li has freakishly small hands!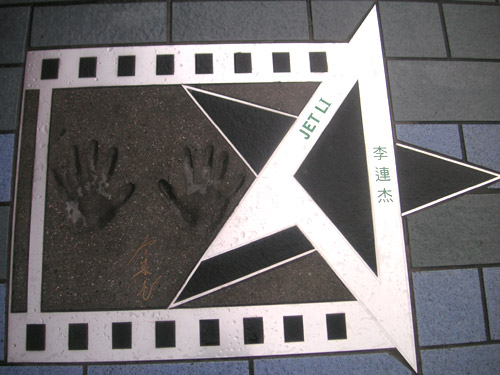 Then there's Bruce Lee who had been honoured with a star.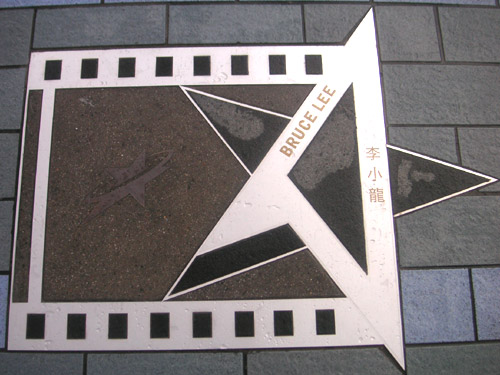 These placeholder tiles were reserved for Chow Yun Fat and Stephen Chow.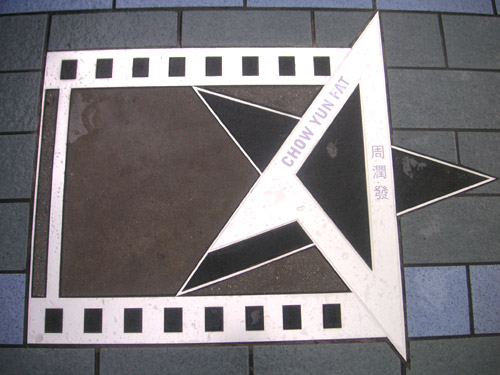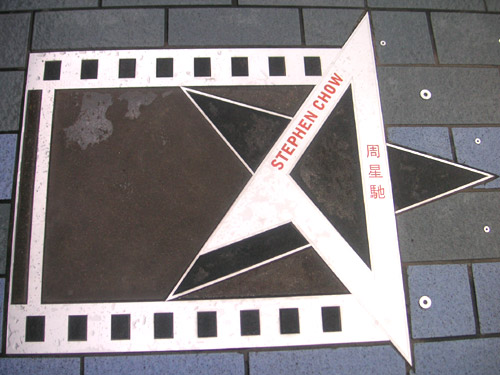 It was quite fun spotting those tiles. There were also these cute looking stalls selling snacks and drinks.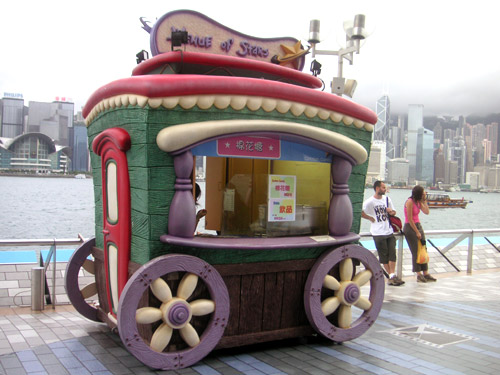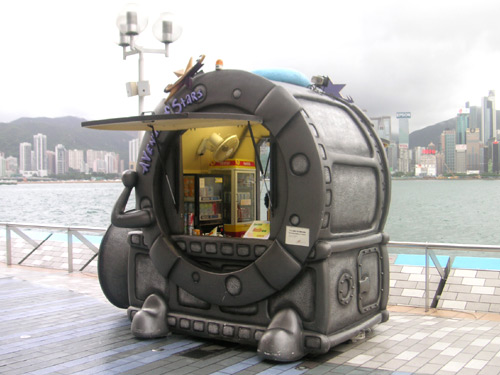 Views of the Hong Kong skyline from the Avenue of Stars.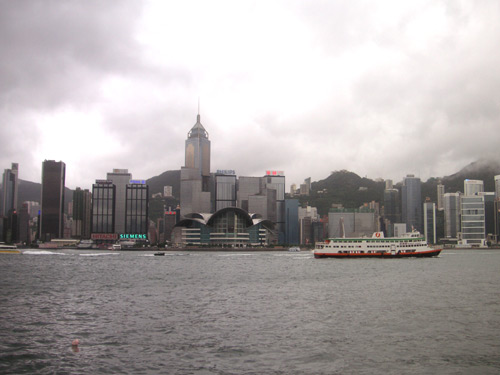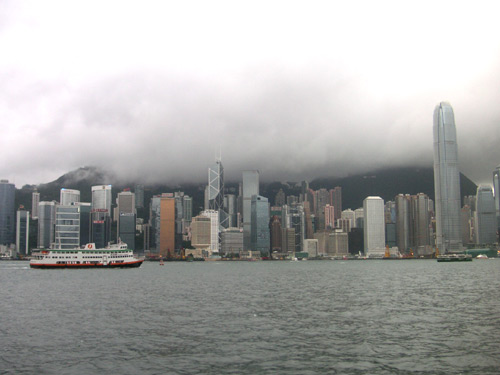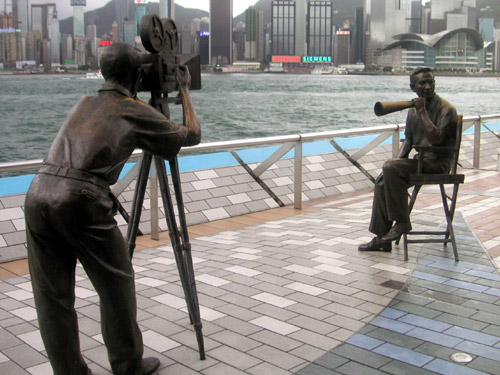 Engrish! Sounded like "kill the lovely plants" to me.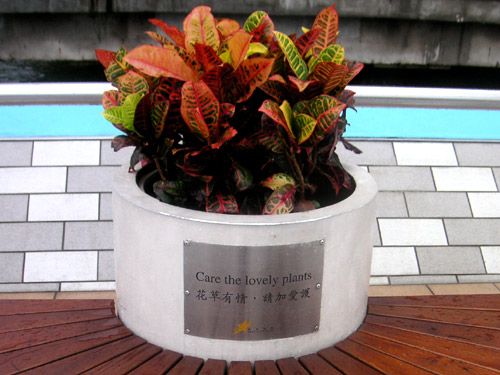 I had a meal at the nearby New World Centre.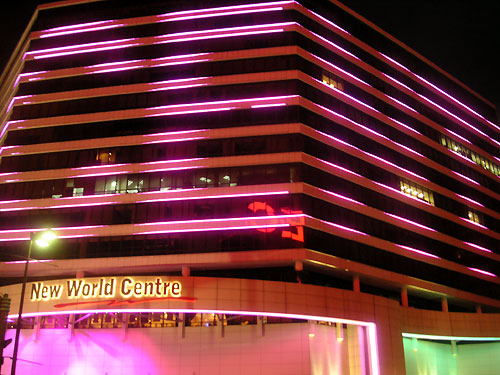 Loved the ceiling lights that kept changing colours!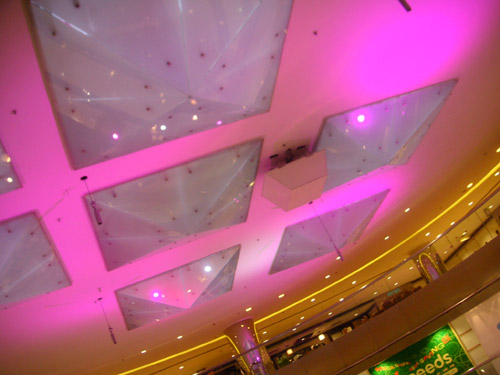 I had unagi rice at a Japanese restaurant. It was yummy!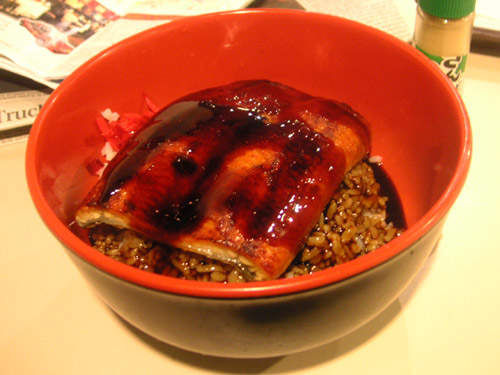 There were some interesting things on display inside New World Centre, such as live parrots and a rather adorable toucan. There were some cool vehicles too.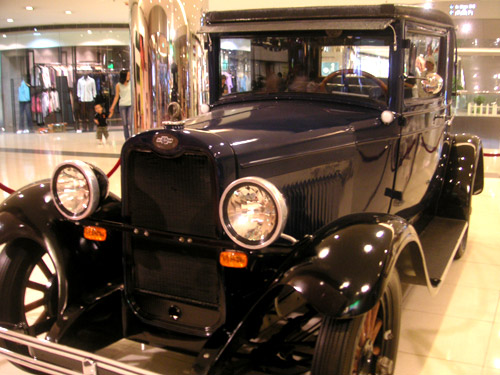 An old timer. Pass with care!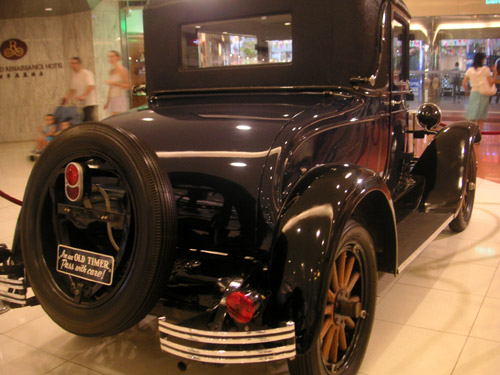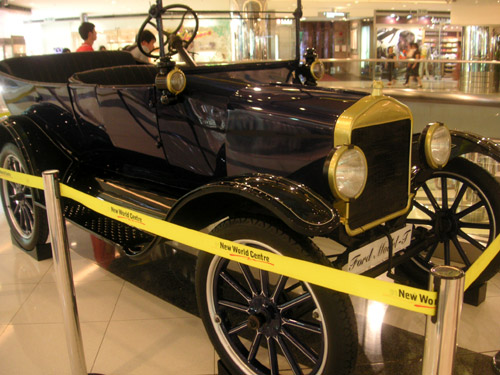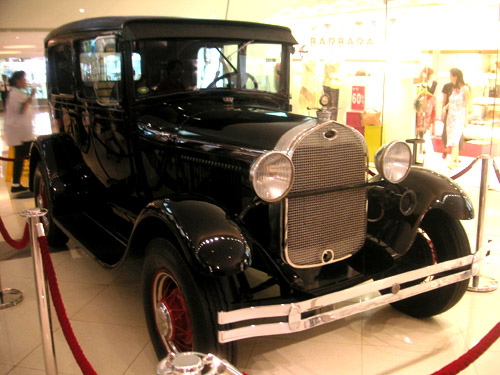 After that I went back to the Avenue of Stars to catch the nightly Symphony of Lights at 8pm. For that night, they had special fireworks as well. Throngs of people, Hong Kongers and tourists alike, were waiting there for it to start. The Hong Kong skyline at night was truly spectacular.
And then it rained!!! Bloody hell. Everyone had umbrellas except for me. But luckily I found shelter pretty quickly. The symphony of lights was amazing! It lasted about half an hour with plenty of fireworks bursting from all the towers, and lights dancing and everything. I don't know how to describe it! Nor could my camera capture anything decently. But nonetheless, I'm really glad I got to witness it.
I went back to Hong Kong island and headed for Lan Kwai Fong. It's Hong Kong's equivalent of our Mohammad Sultan. I had some trouble finding it at first until I stumbled across a staircase with a sign that read "this way to Lan Kwai Fong – 24 hours access". Yahoo!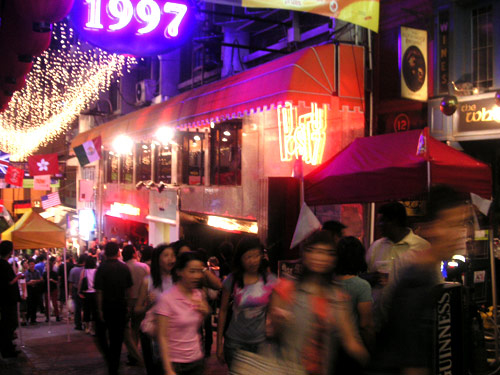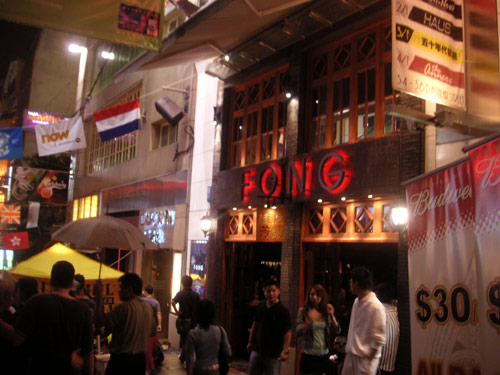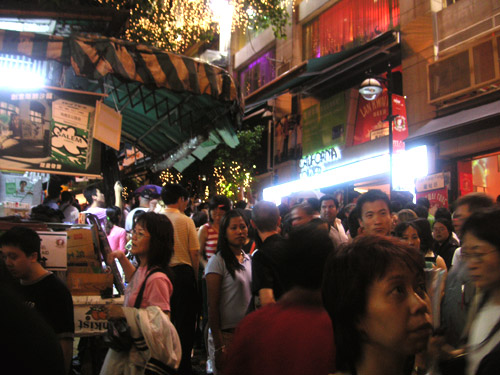 I liked this "LOST" signboard because it reminded me of the TV series.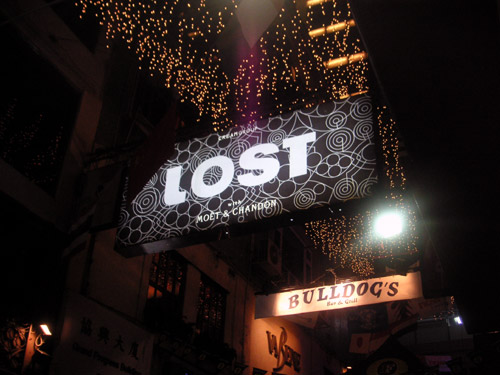 Lan Kwai Fong was crowded with people looking for a good time, mostly caucasians. There were pubs and restaurants and cafés and on the streets, there were a lot of foodstalls and mainly beer stalls. It was very cool. They sold beer cheaply and people could just grab one and go. And there was a long queue forming at this lan kwai fong beer stall. Everyone was aiming for this!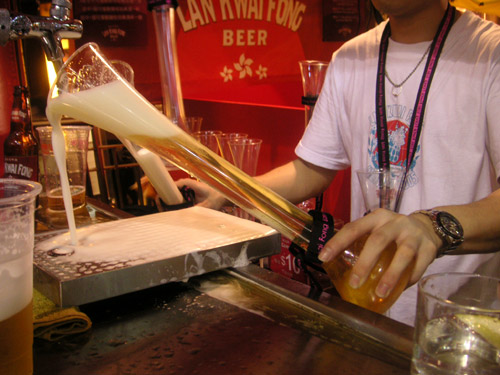 It's a long tube container with a velcro strap around it so that people could just wear it around their neck and go. And sure enough, everyone had at least one of those around their necks. And the best thing was that it cost only 45 Hong Kong bucks. That's less than ten Singapore dollars – very cheap for that much beer! I was queuing for it when I saw a familiar face. Henry! What are the odds man?
It was really happening there. But I couldn't drink that much because I still needed to get back to the hotel on my own. So I hit the Starbucks for some hot mocha. The drinks here are pricier than Singapore's.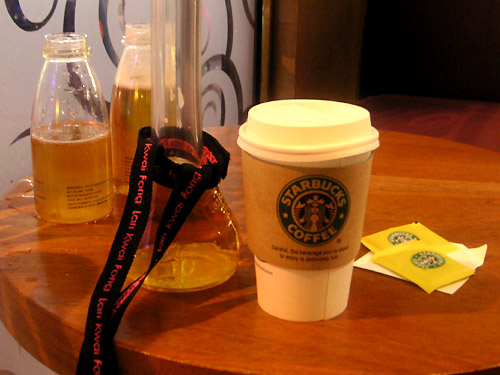 The moment I entered Starbucks with all my beer, everyone turned to look and ask me how much it cost. I made it back to the hotel after that, with the nice beer tube container to keep as a souvenir. What a good day!
Back in my room, I found that the nice hotel people had provided weather forecast slips on my bed. Rain again for the following day. Argh!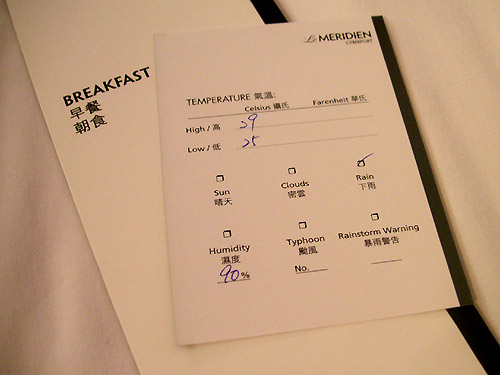 Then, I hit the gym for an hour! How very sporty of me after all that beer and coffee. Then I realised what the true purpose of the glass shower room is. I could shower inside and watch TV at the same time. It took me more than an hour to shower because Jerry Maguire was showing. I love this room!