I vaguely remember waking up at 10am before deciding to snooze for a couple more minutes. The next thing I know, it's 11:40am! And I have to get my butt out of the hotel by 12! Fortunately when I call up the hotel reception, they agree to give me an additional hour to pack.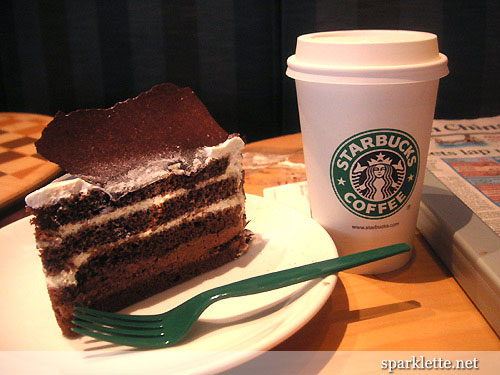 That's my brunch at Starbucks before leaving Hong Kong. At the airport, I realise I still have a thick wad of Hong Kong currency, so I go around looking for ways to spend it.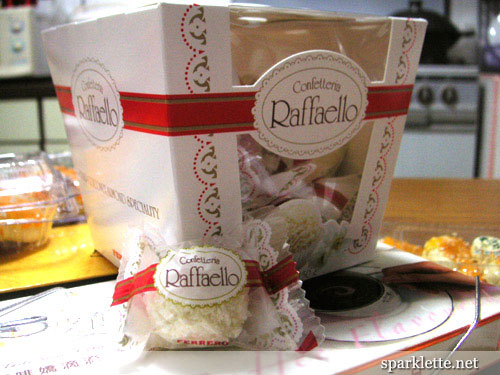 This pretty box of special Ferrero Raffaello is a perfect buy!
Of course, you can never leave Hong Kong without these wife's biscuits: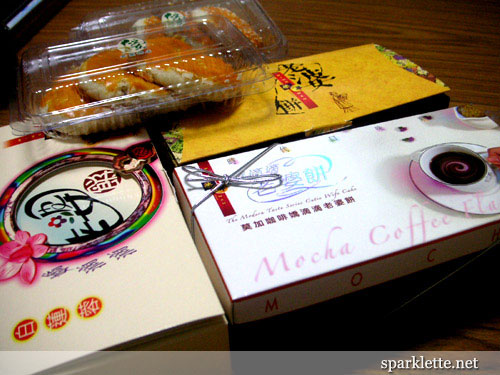 Then, it's time to say goodbye to Hong Kong. Let's look at my economy-class food!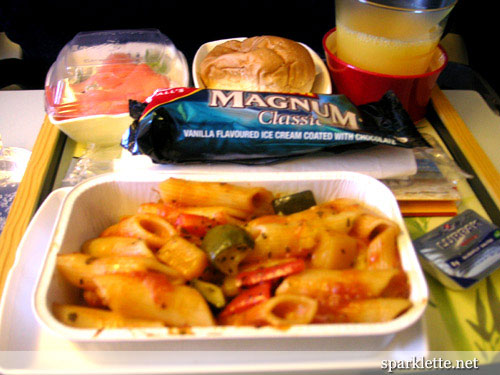 Instead of a low-calorie meal, I ask for regular food this time round. There's pasta and ice cream and all. I gotta say, it's very good!
So, my thoughts on Hong Kong?
The best times I've had over the four days were at Lan Kwai Fong, Lantau island and the neighbouring Macau.
The nightlife at Lan Kwai Fong, where you can buy a drink from one place and bar hop to another, is simply fantastic. My only regret is not having paid it a second visit, or seen anyone famous there since it's a popular spot for stars.
Lantau island and Macau provide several eye-opening experiences, beautiful scenery and architecture, and interesting cultural sights. Visitors that haven't ventured to Lantau island have definitely missed the most beautiful part of Hong Kong.
When it comes to food, I really love the desserts. What a wide plethora of choices from fruits, cakes, puddings, breads, pastries, bubble teas, and so much more! panel upgrade electrical specialists in Corona CA
Frankly, I find that shopping in Hong Kong is overrated. Their famous shopping malls like Timesquare and Harbour City are somewhat similar to what we have in Singapore. The prices and brand names they carry are almost exactly the same as what we have here.
Ladies' Market fares better, but I definitely had a better time at the chatuchak market in Bangkok.
Would I go travelling alone again? Yes! And for my next destination, I would like it to be completely different from Singapore and Hong Kong, with a rich culture and more diversity.