early in the morning, I went down to the Contiki office at Suntec to collect my air tickets and hotel voucher. The office is located on the 41st level, with an excellent view through the full length glass windows. Geraldine and nicholas gave me a briefing on what to expect over at Contiki Resort Bali, and the assurance that I would be well taken care of over there.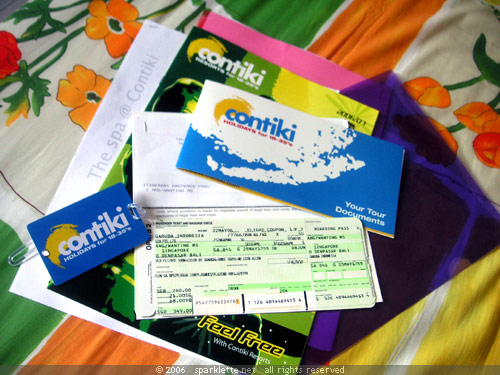 after going through the brochures, I kinda knew there wouldn't be sufficient time to do all the things I would like to do. I did hope to go for a spa treatment and a tour at the very least. So I got home, packed, and was checking in at the Changi Airport within the next few hours.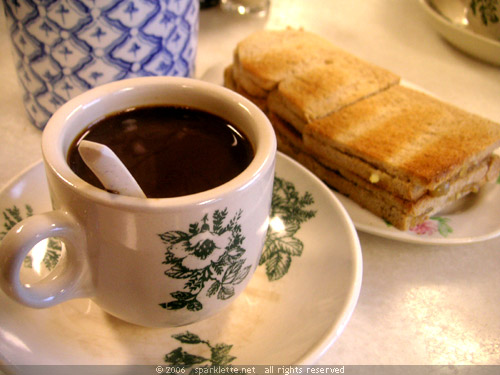 over at the airport, chup gave me a surprise send-off. We had coffee and kaya toast at Changi kopitiam before I left. As per every solo overseas trip, I would bring along a teddy bear as a "bodyguard". But in my haste to pack I had forgotten to bring one along! Luckily, chup didn't forget and sent me off with a teddy bear. It would be my beary own body guard during the plane rides and nights spent at the resort.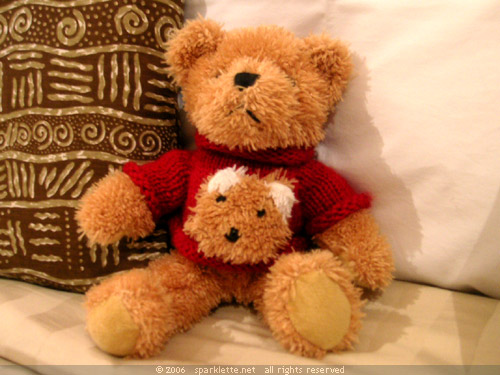 before boarding the plane, I went on a shopping rampage at the duty-free origins store. I stocked up enough face and eye masks for half a year at least. The best part of the deal was that with a purchase of over $120, I got a free toiletries bag, bath loofah and brightening face wash!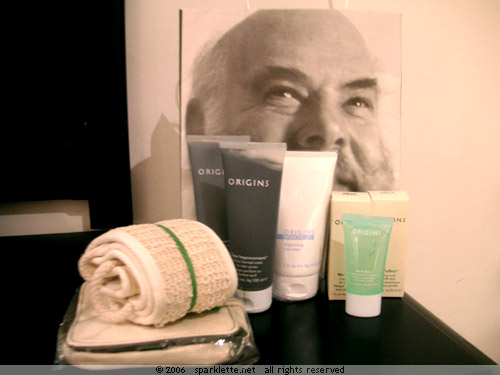 finally, it was time to board the plane.
it was my first time on the garuda Indonesia airline. They start off the flight by offering orange juice.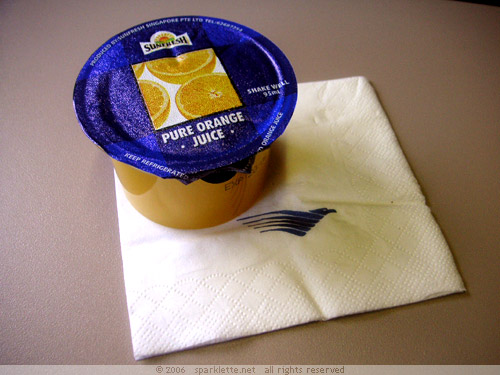 and we were on our way!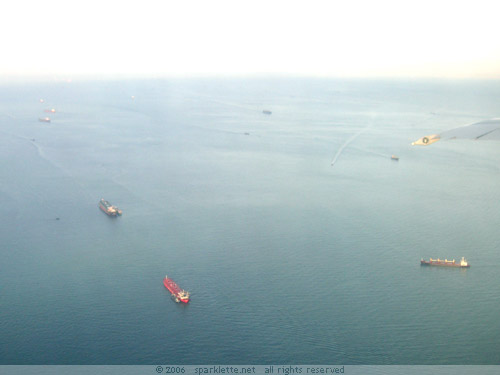 the in-flight dinner was not good at all. There was a choice between fish or chicken and I picked chicken.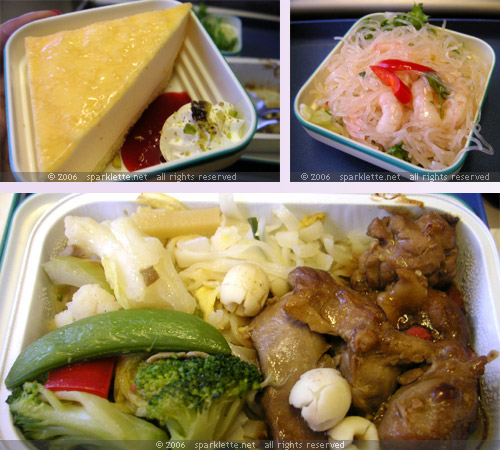 i had half the mind to let my beary bodyguard finish it for me!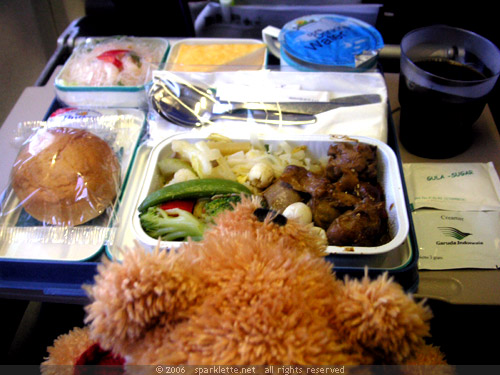 i wish it wasn't an evening flight because that meant I would be arriving in Bali at night. But at the very least I got to see a rather nice sunset onboard.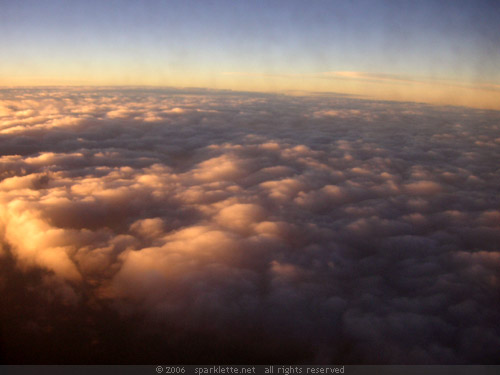 after two and a half hours, the plane touched down at denpasar Bali airport.

the passengers had to take a bus to reach the arrival hall.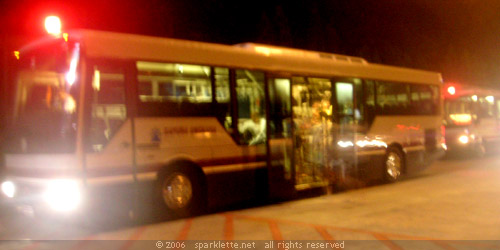 i didn't have any trouble locating the Contiki crew. They were holding up a colourfully worded Contiki sign which was the first thing I saw. Bala the Contiki action planner (CAP) and suria the driver sent me to the resort in their mini-van. Even before this trip, I had already heard of bala from the positive reviews left by Contiki guests on the Contiki web forums. I was given mineral water and wet towels for the 20-minute journey, during which bala was very helpful, friendly and chatty.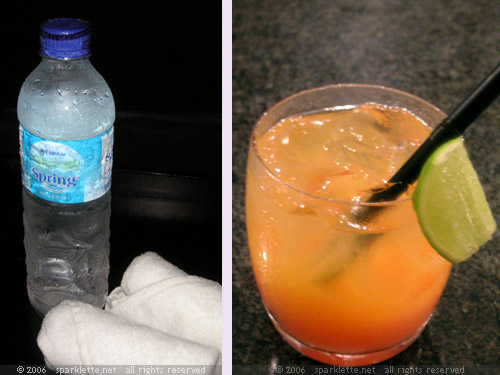 the Contiki Resorts all over the world are essentially targeted at people aged between 18 and 35. They are designed to be hip party pads for young people. Upon arrival at Contiki Resort Bali, I was given a nice welcome cocktail (the first of many to come) and my room keycard. The resort uses a cashless payment system where the keycard also doubles as a smartcard to pay for food, drinks, facilities, etc.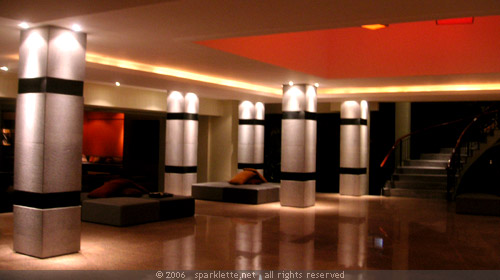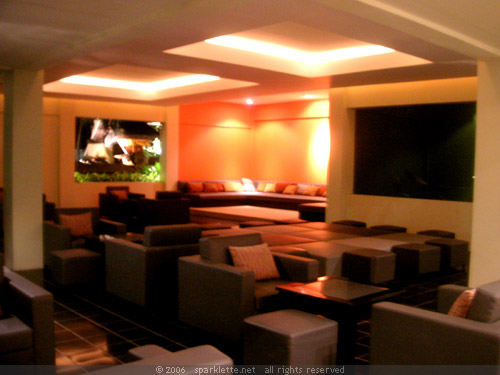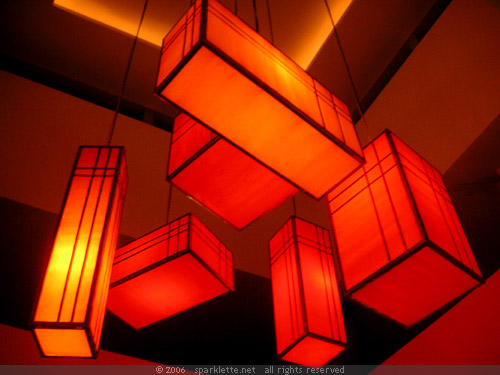 after the swift check-in, bala escorted me to my room. It was a pool terrace room, one of the only four within the resort! I was indeed well taken care of!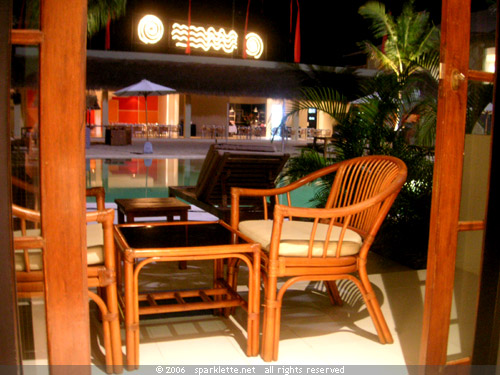 the room opens out directly onto the beach pool. It was freaking awesome.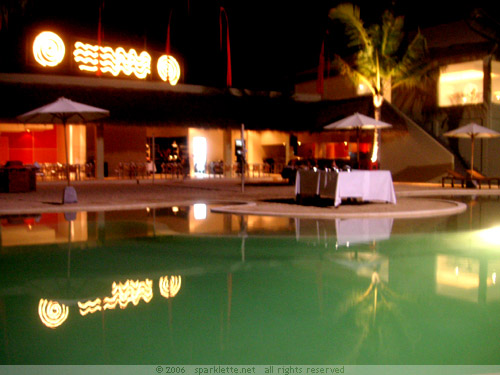 my king size bed.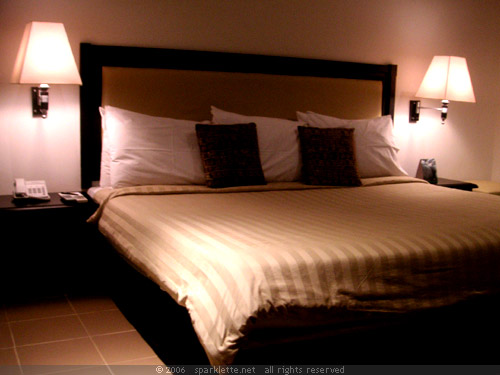 snacks, coffee, tea, and water heater.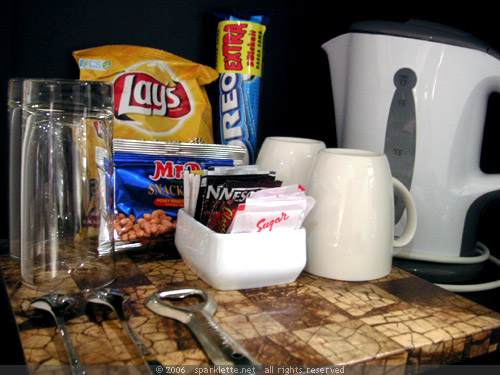 toiletries found in the marble bathroom.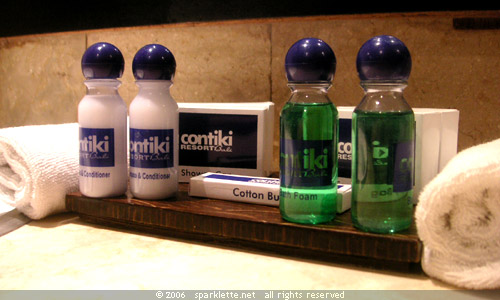 my principle purpose in the trip was to review the resort. I knew I didn't have much time so I scurried around checking out their facilities. There are a few bars, swimming pools, a gym and other sports facilities, a spa (woohoo!) and a mini movie theatre, where daily movie screenings are lined up for guests.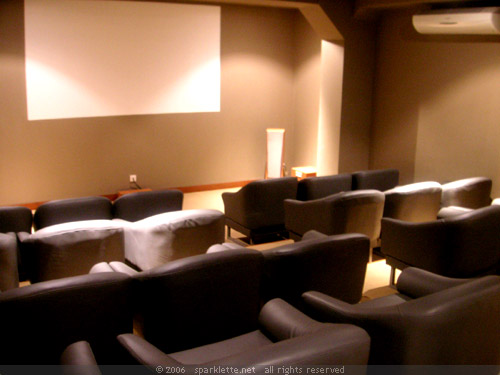 over at the CAPs central, there are computers where guests could use the internet for a fee.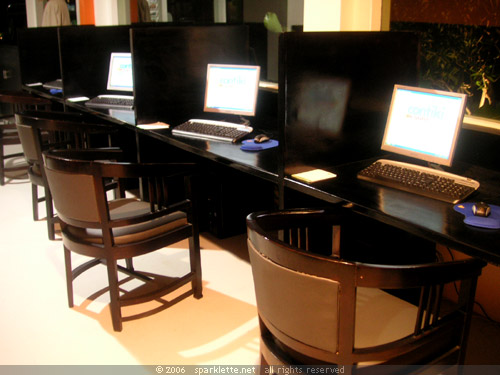 the CAPs are always stationed at the CAPs central. Over here, you could get all the information you need regarding the resort, and sign up for tours around Bali. I would have loved to go on a half-day tour around Bali, but there just wasn't enough time!
the most happening part of the resort was the sports bar, so called because the giant screen shows two matches at the same time that include European soccer, Australian football and rugby. I had my second cocktail of the night. Over the next couple of days and nights, I was downing cocktails and beer like water. I don't think I touched a single non-alcoholic beverage!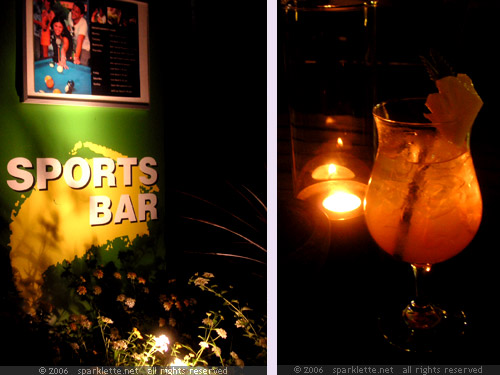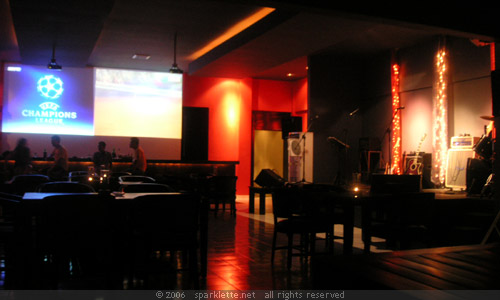 the sports bar is where resort guests mingle and a live band performs every night. Gus the bartender is extremely friendly and chatty.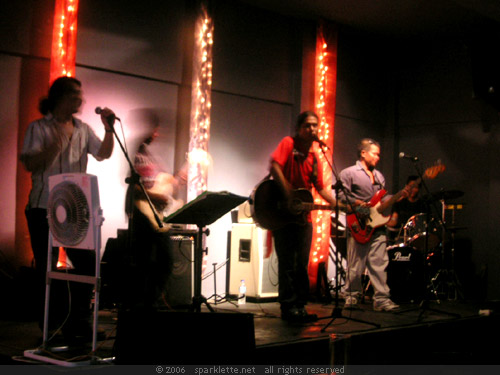 supper was nasi goreng that came with satay, chicken, egg, crackers and pickles. It was terrible by the way. The satay was the stiffest I had ever eaten in my entire life. The cocktail I had was called the oreo glamour, a sweet blend of arak (an Indonesian rice wine), creme de cacao brown, coconut liqueur, coconut cream, milk and the best part – oreo cookies!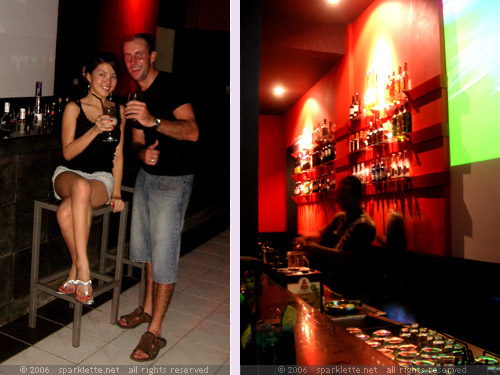 here at the sports bar, I realised that almost every guest staying at the resort was Australian! I met damien, an Australian dude who gave me some money and his address and number so that I could mail him my finished article later on.
we left the sports bar when it closed at 1am. Back in my room, I took a shower and watched some tv. A couple of Aussie guys who were swimming at the pool right outside my room started waving and calling out to me. Like I said, my room opens out to the pool directly, so swimmers and my next-door neighbours could pretty much walk onto my patio anytime and into my room if I forgot to lock the patio door. Luke and heath, their names were, they swam up and invited me to go along with them to kuta. I was surprised because it was already 2am! But they were like "oh that's when the action starts over here".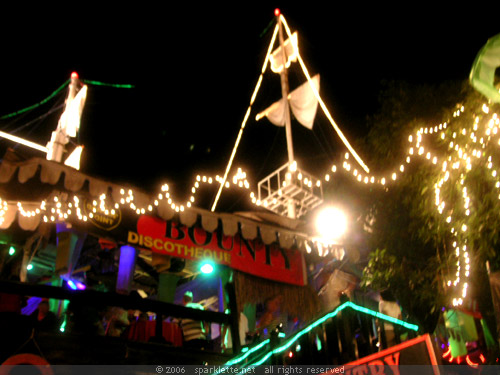 so we took a cab to kuta. The club scene here was buzzing with activity and every club and bar was teeming with people, both foreigners and locals alike. We went to the bounty discotheque which was huge and had different levels with a common marine theme. The staff were all dressed in sailor costumes. Over at the dancefloor was a giant screen that showed surfers. This place was pretty crazy.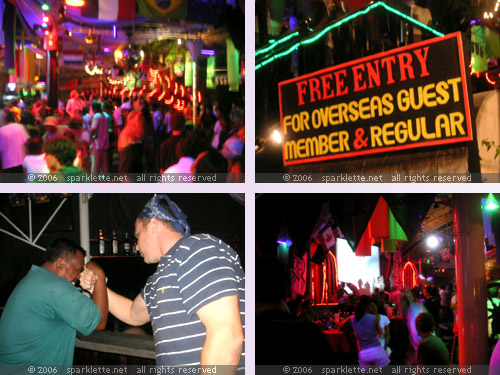 luke was arm wrestling with a local and somehow lost to the man half his size! It was hilarious. I think he was pretty drunk already and it kinda scared me a little. Fortunately heath was there as well. We had some drinks and I had a few tequila shots. Eventually, we came back to our resort without luke!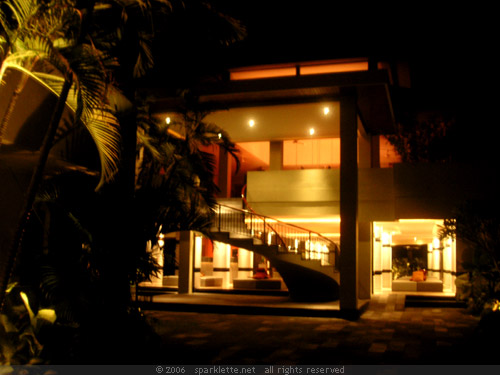 didn't do much for the first night. But I'm glad I got a taste of the night life in Bali.