Day 2 starts off with breakfast by the pool.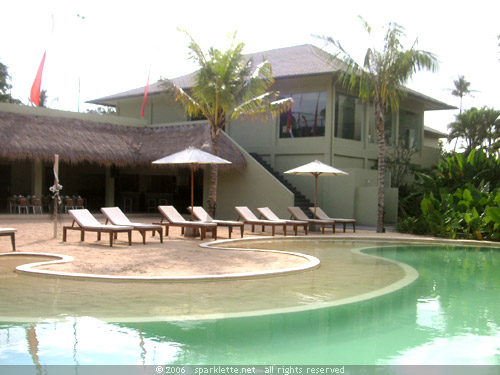 The buffet spread wasn't good as the food variety was rather limited. There was the usual bacon, omelette, sausages, bread, etc.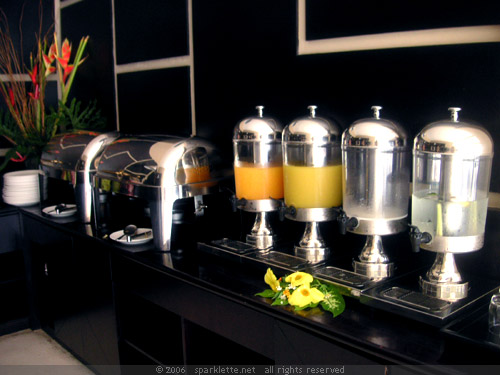 Had myself an omelette with onion and tomato.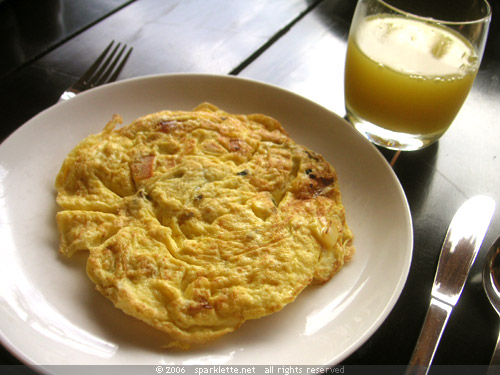 For the first time, I had a good view of the resort in daylight. My room is the first one from the left, on the ground level.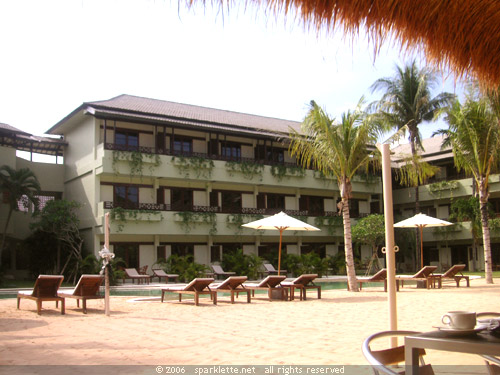 After breakfast, I went to the CAPs central to register for a bungy jump in the evening. Then I decided to try out the Aussie lifestyle. Well you know what they say about Aussies – they drink all the time! They drink in the morning, in the afternoon and at night.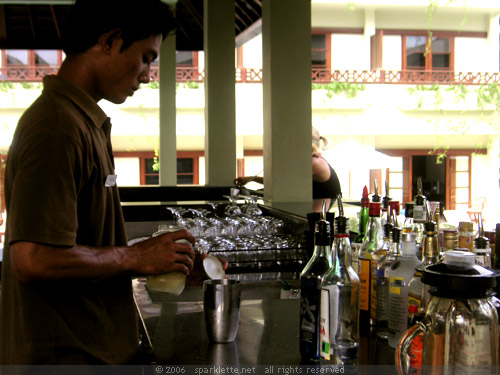 The pool bar is really cool. People can simply swim up and get themselves a cocktail without ever getting out of the water! I had a lychee martini which was blue and tasted quite bad! Natalie, the assistant manager of the resort came over and said hello. She is also Australian! It seems everyone at the resort was Australian.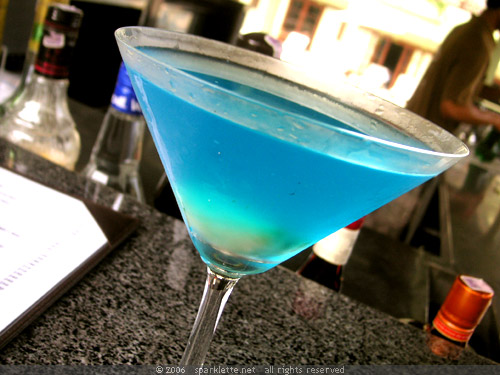 There was nothing left to do early in the morning so I came back to my room to plan my itinerary for the day. Relaxed by the pool at my patio. Life is good!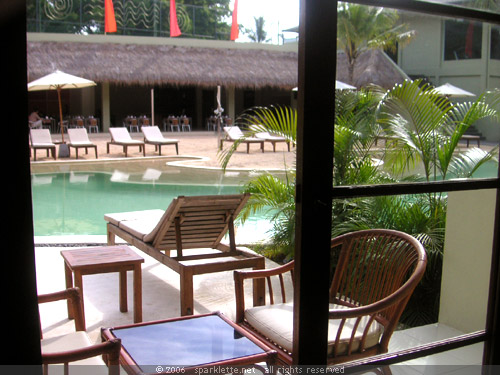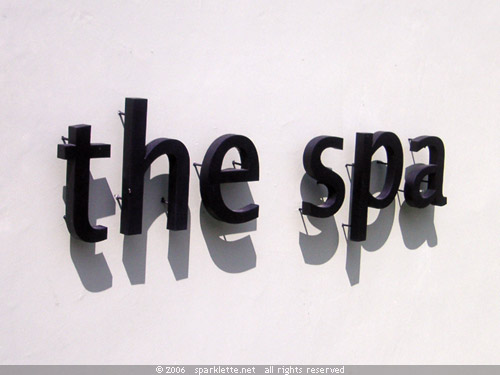 Then I managed to call up the spa and booked a spa and facial treatment. Fantastic! The spa at Contiki Resort Bali is reputed to be one of the best on the island.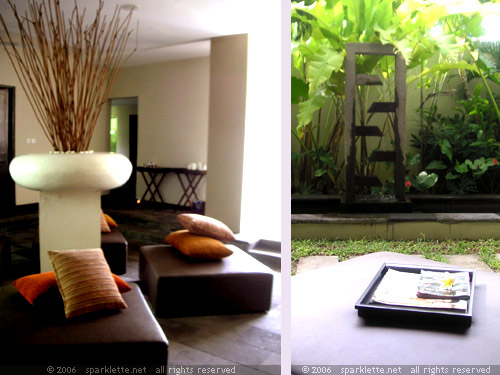 For my spa treatment, I decided to indulge in a two-hour-long chocolate obsession. Everything used in the spa was chocolate! Chocolate butter, chocolate scrub, chocolate shower gel, chocolate moisturiser, etc.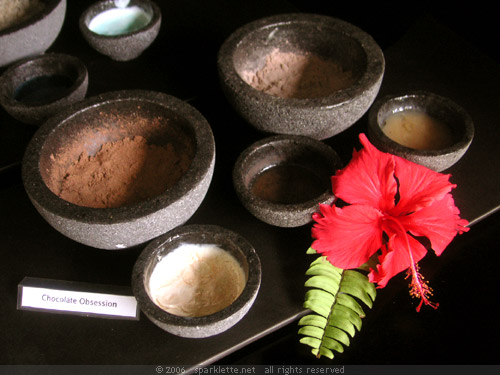 I changed into a Balinese bathrobe in the locker room, before going for the sinful treatment.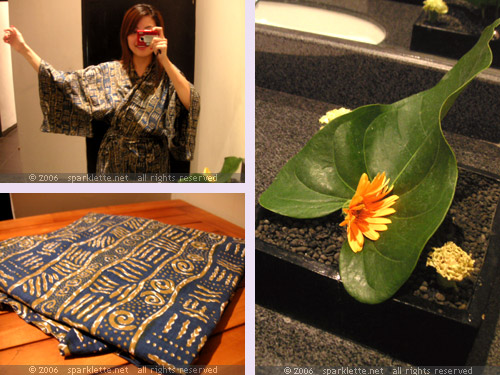 The spa treatment started off with my feet being massaged and washed gently in scented water. Then, the real chocolate obsession began! I took off my bathrobe, and was given a traditional lomi lomi Balinese full body massage with chocolate butter. Every part of my body was massaged, from my head, to my fingers, right down to my toes. I'm not someone who is used to being touched, so at some point I felt real ticklish and had to hold my laughter in.
After that, a chocolate almond scrub was used to exfoliate my skin. My whole body was then spread with real thick chocolate, ginger and cinnamon. It got a little cold at that moment because I was basically all naked in an air-conditioned room, and covered in wet chocolate. Luckily, I was soon wrapped in a thick and comforting cocoon of blanket. The masseuse then left me alone for a while. I fell asleep. When she came back, it was time for the most enjoyable shower of my life.
I washed myself with chocolate shower gel and tried to make it last as long as possible; it simply smelled so good! I also felt a little bad because the whole shower floor was now filled with brown thick chocolate and I wondered if it would drain away by itself eventually. When I finally finished my shower, I moisturised my skin with a delicious chocolate lotion. I liked the lotion so much I bought three bottles of it right there and then.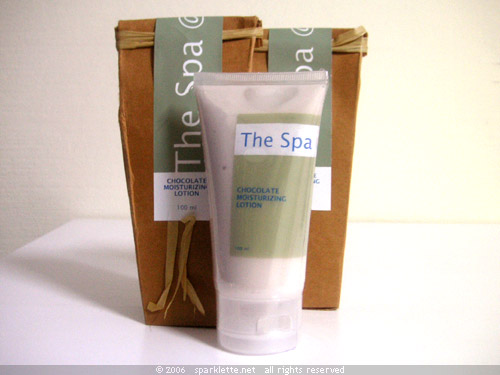 That wasn't the end of my heavenly treatment. After the spa treatment, I went to another room, a brighter room this time, for a facial.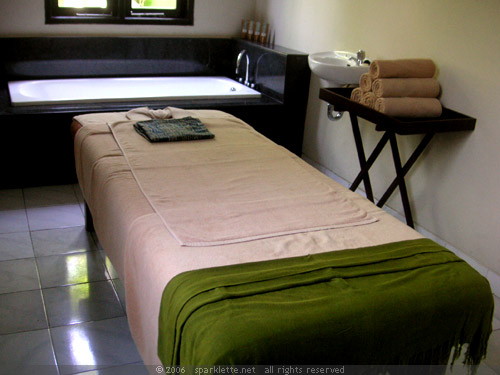 I'm not too sure what went on this time because I basically fell asleep during the entire hour-long treatment. It was 3pm by the time I left the spa. I realised my treatments had actually been prolonged by an hour! On paper they were only supposed to have lasted three hours, but I had spent a total of four hours in there! The best part? It was all free. Free, free, free, free free!
There was some time left before the bungy jump crew came to pick me up at 4:30pm, so I went for some lunch. Actually I couldn't decide whether or not to have lunch, since there was the possibility I might puke everything out during the jump.
I had a hard time finding a place to eat. I didn't want to go back to the pool side restaurant where I had breakfast, so I checked out the one outside and opposite the resort. There was completely no customer around. In the end I came back to the sports bar for lunch, which was a real mistake.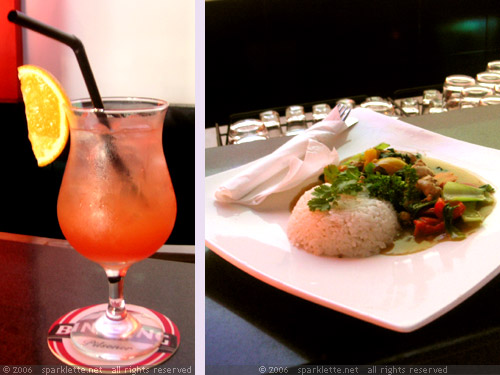 I ordered the chicken cashew, which was supposed to come with cashew nuts obviously, vegetables, lemongrass, coriander and rice. The order was made at 3:45, but the food didn't arrive until 4:25! Ridiculous! The bungy van was supposed to pick me up at 4:30! Even more ridiculous was when gus served me the chicken cashew and said "enjoy your chicken cashew!" when there was just chicken and rice and vegetables – no cashews! At least the sunsplash cocktail was good. It was a mix of vodka, cranberry, orange and lime juice. I reckoned I needed some alcohol before my big once-in-a-lifetime jump.
the bungy van picked me up at the resort. After a bumpy ride, we arrived at the aj hackett bungy site at the double six club. It was right by the beach at sunset.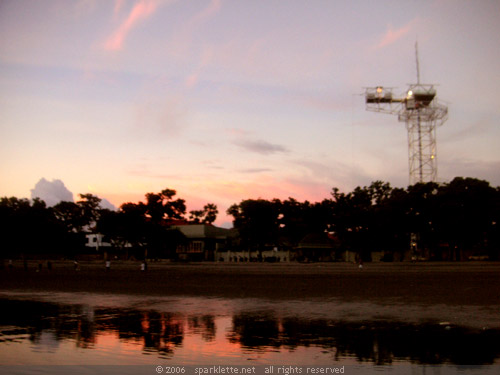 The first thing I did before the jump was to sign a disclaimer form. It basically frees aj hackett of any responsibility should my death result from the jump.
Next, my weight was taken to decide the bungy cord I would use. When I got onto the weighing machine, I was alarmed to see that my weight was over 60 kilograms! I immediately knew that the machine wasn't working correctly; it looked pretty old and all. The guys asked me to get onto it again, and it still showed 60 kilograms! Finally on my third attempt, it showed my true weight. One of the guys probably had his foot on the machine!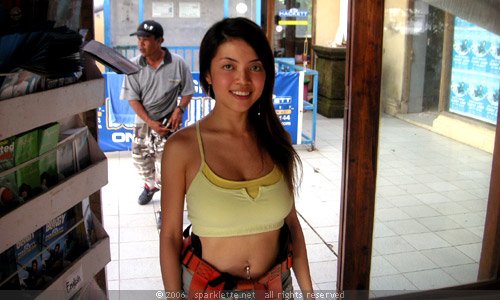 I put on the harness and emptied my pockets of everything. Took a photograph that might well be my last! Finally, I went up to the top of the tower along with four of the crew. The elevator ride was a long one, during which I got an incredibly beautiful view of Bali at sunset.
Up there, everything in the surrounding looks so tiny. The 45-metre tower definitely seems taller when you get up there. I sat on top of a platform while one of the guys wrapped my legs in a towel. Yeah, a towel! It looks exactly like the one I have at home. I had some serious douBTS about this whole thing when I saw the towel. A leather cord was tied around the towel. A metal contraption then linked this leather cord and my harness to the real bungy cord that would plunge me down to earth. Should the towel or the leather cord come free, I would die an instant death!
By then I was seriously freaked and almost chickened out. But the guys were egging me on to jump when two of them hadn't even bungy jumped before!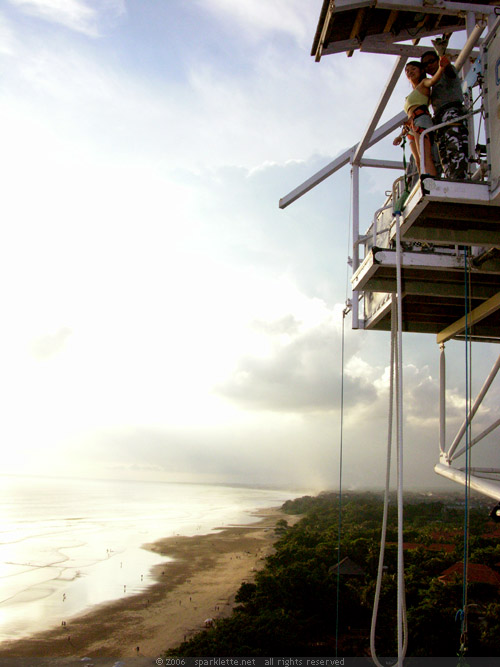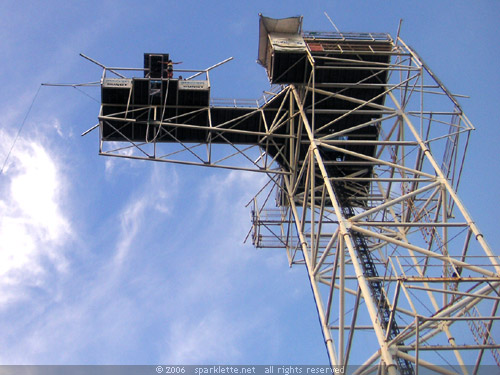 I had to stand right on the edge of the ledge. Right beneath my toes I could feel cold air.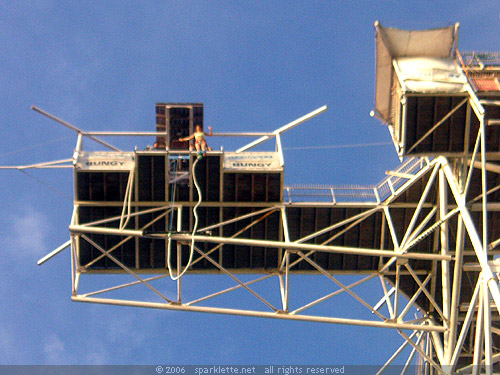 Everything looked so small! My heart was pumping real fast. I said a silent prayer, took a giant leap, and left it all to fate.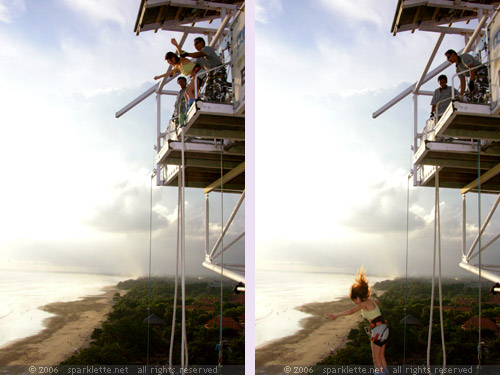 During the first few seconds of the jump I was in total free fall. It felt ten times more freakish than any thrill ride I had been on at any amusement park! Total free fall! Totally free! When the bungy cord finally extended to its full length, I felt a series of rapid violent tugs which I feared would break the cord free. Thank god nothing of that sort happened.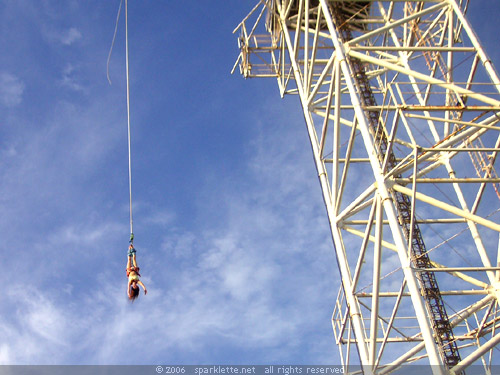 I don't know how long I was in the air for, but up there, I managed to get a good dizzy view of everything around. I was spinned in circles so many times! Up there in the air, all I had was a sense of exhilaration I had never felt before. It was a mixture of incredible adrenalin rush, total freedom, and outright fear.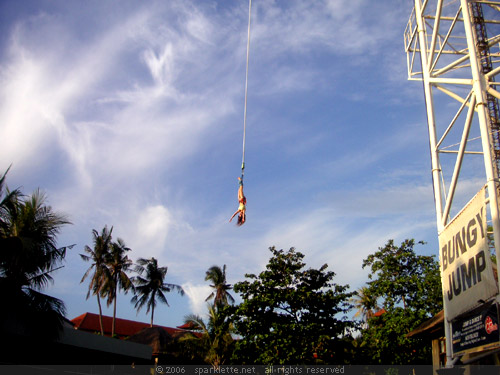 Eventually I was slowly lowered to the ground. I had survived the first bungy jump in my life! Back on the ground, they asked me if I was ready for my second jump. Second jump? Did I even sign up for that? I then realised that the bungy package included two jumps, one forward, one backward.
The first jump really freaked me and I thought I would never do it again! But it also gave me more confidence. I deliberated for quite a while before deciding that yeah, I was game for my second jump!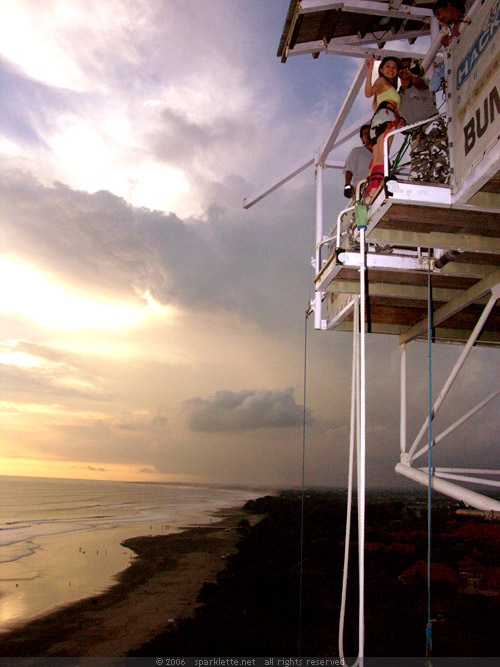 The backward jump was even freakier than the first! You have to stand with your back facing outwards, and lean backward with the guy holding on to your harness. On the count 5-4-3-2-1, the guy lets go and you are on your way down! This time I very nearly chickened out. It is a lot harder and scarier jumping off backward, because your eyes don't see where you are jumping off to.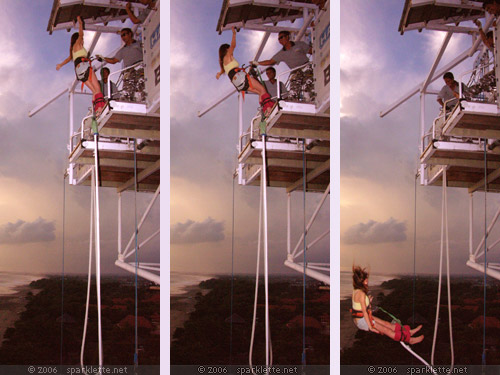 I did it anyway!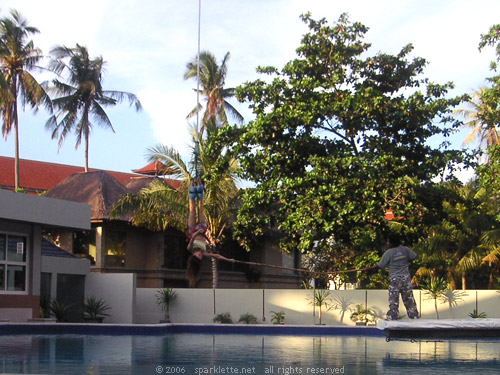 Many people would be curious how they get you down after the jump. You are lowered down far enough where there would be a guy on the ground holding on to a long pole. You try your best to reach the pole and the guy pulls you onto the ground.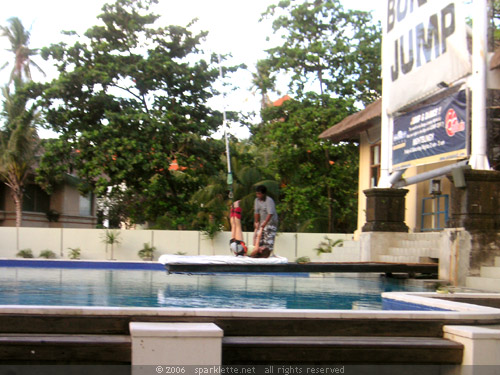 There. I have survived two bungy jumps, and lived to talk about it!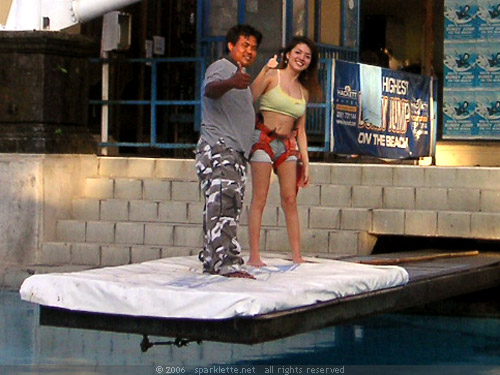 For my bravery, I received a certificate. I have joined the worldwide bungy fellowship and confronted the natural fear of heights!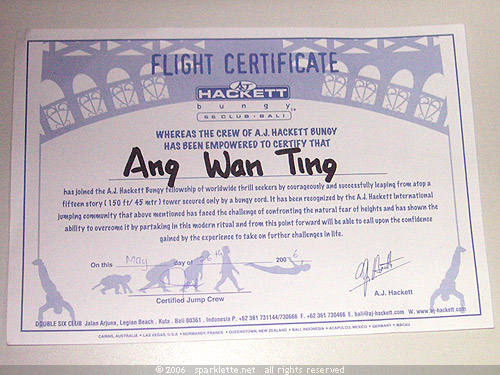 I also paid for some photos taken of my bungy jumps, burnt onto a disc.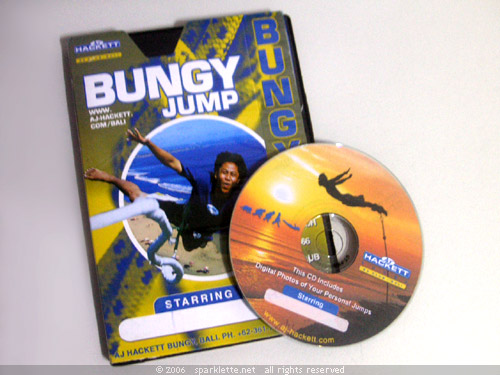 T-shirts to remember my first bungy experience!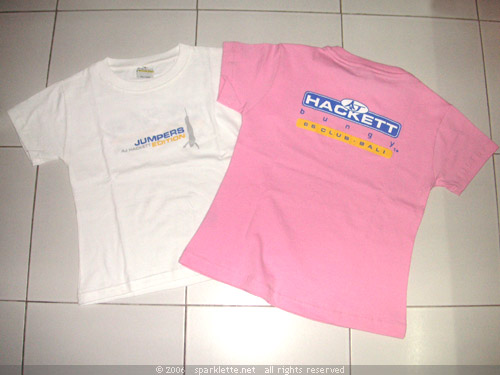 After the jump, I had the luxury to see Bali's sunset on the beach. Beach sunsets are always beautiful and magnificent.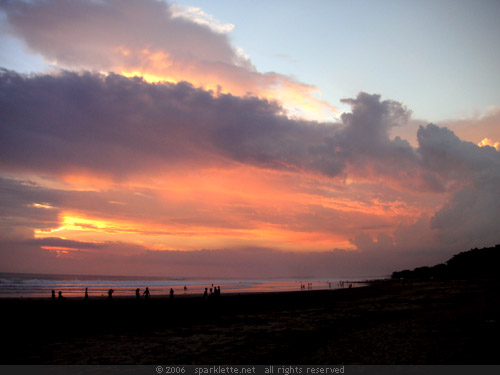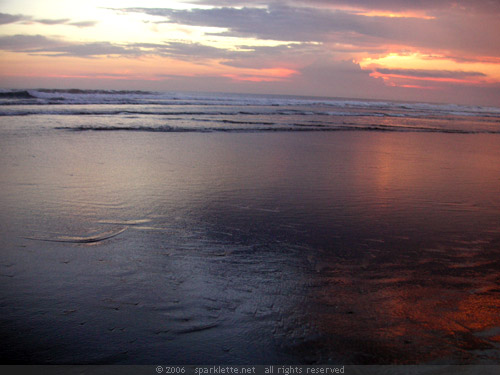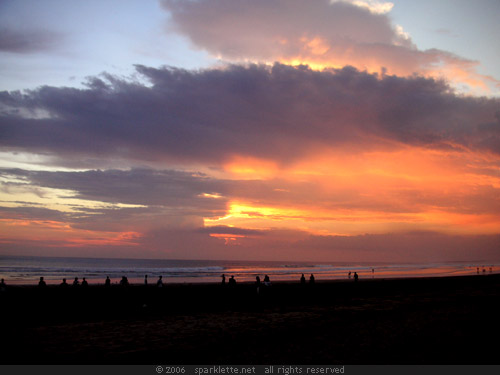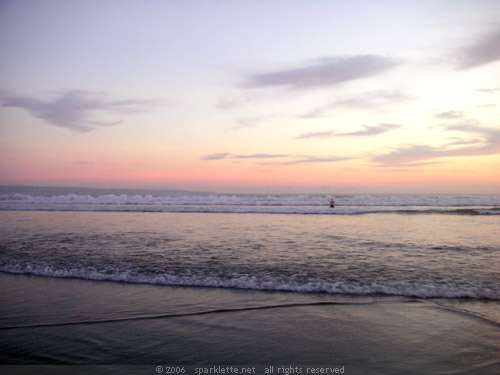 On the wet sand, there were so many crab holes. And for the first time, I could actually see a couple of crabs scurrying into their holes.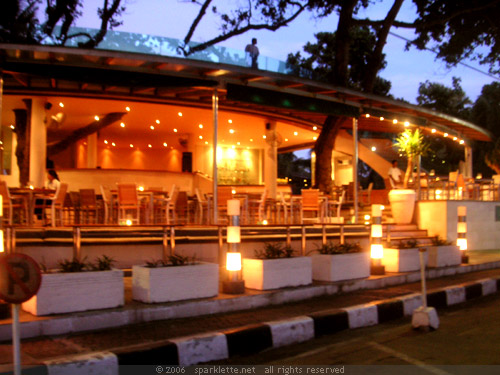 I had wanted to get back to the resort for the theme dinner. But along the way I saw so many nice-looking beach restaurants that I decided to have our dinner there instead. Dinner was at café the sand. Competition seemed stiff as they let me in even though I wasn't dressed very appropriately.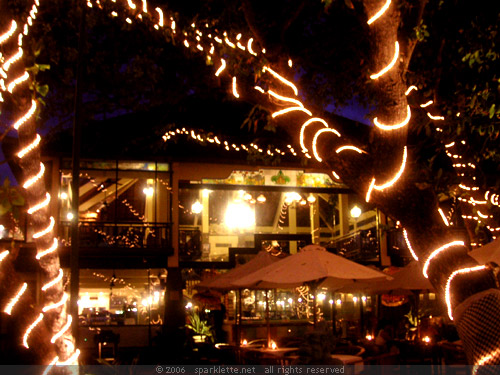 I had a blue lagoon cocktail and grilled seafood platter.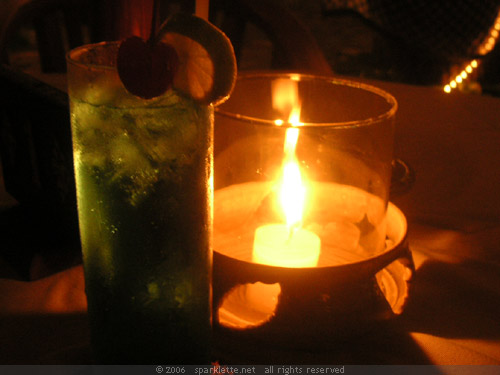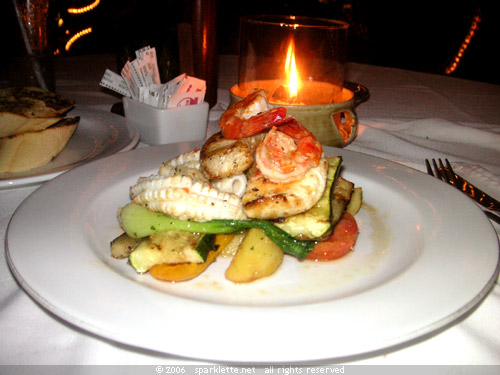 The seafood platter was not good. The squid, the prawns, even the fish fillet was so stiff I had trouble chewing. What's up with Balinese food? I haven't had any decent food so far!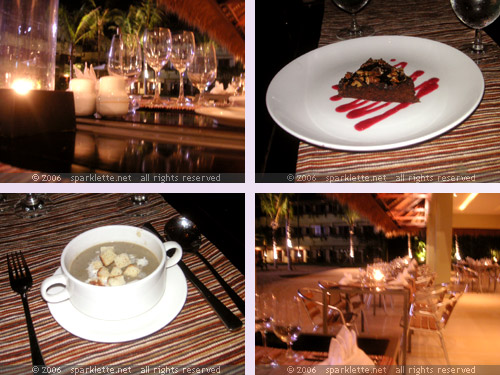 The dinner setting was pretty nice. I had creamed mushroom soup, grilled fish and finished off with a chocolate brownie dessert.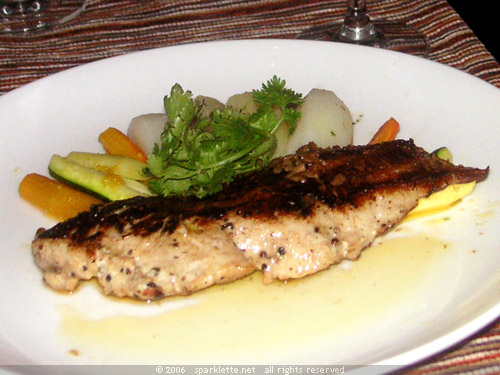 Later on, I spotted a couple of Singaporeans at the CAPs central. Finally, the first non-indonesian, non-australian, non-german, and non-korean people in Contiki! I then came back to my room, wondering what to do for my last night. We decided to go to the hard rock hotel at kuta beach.
So yeah we went on our way – without helmets on! We stopped by ground zero, the site of the 2002 Bali bombing. There is now a memorial erected in place with the names of all the victims from 22 countries.
Went into a surf shop that had brands like roxy and billabong, but prices weren't necessarily cheaper than in Singapore. Then later on we got pulled over by the corrupt traffic policeman who demanded money for us for not wearing helmets, even though many others were doing the same thing.
Well so that was my last night in Bali, but at least it was an exciting one. I did the things I wanted to do – spa and bungy jump, and I had just witnessed police corruption at its best!
I felt quite sad as it was too short a trip. I had enjoyed it immensely, and I had to leave the following morning.