Rise and shine! We started our second day at Bintan Lagoon Resort with buffet breakfast at kopi-o restaurant. When I'm having a buffet breakfast it's almost always when I'm on vacation. That's why buffet breakfasts make me happy :)
Anyways, the spread here consists of both Asian and Western food. We wasted no time in filling our plates.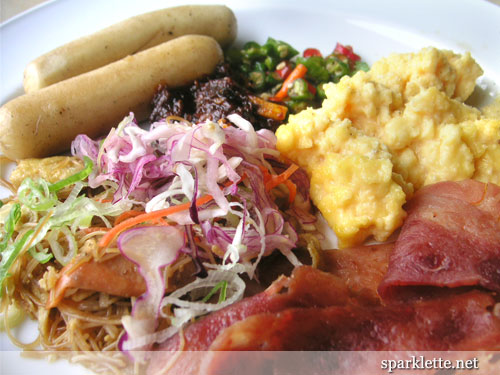 East meets West when you have fried bee hoon (rice vermicelli), sambal belachan (fermented shrimp paste) and Turkey bacon all on the same plate. Colourful huh?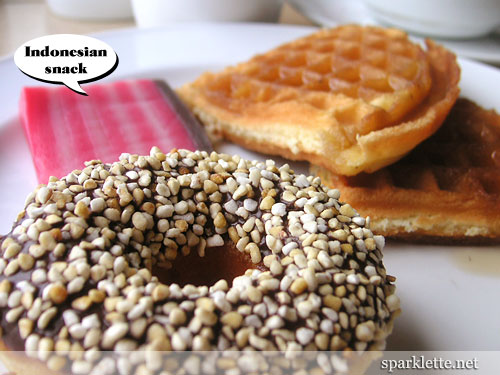 Those with a sweet tooth would probably prefer the pastries and snacks. The kueh lapis (layer cake) here is pretty in pink, similar in taste and texture to our colourful 9-layered version. As a huge fan of waffles, I was ecstatic to have them here too. Unfortunately they were pretty thin and lacked flavour.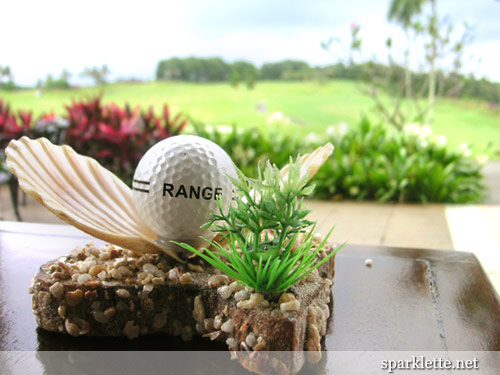 Following a sumptuous breakfast, it's tee off time! We headed to the golf clubhouse (in our buggy of course) with its glorious 18-hole golf courses. There were a few early birds who beat us there in the morning.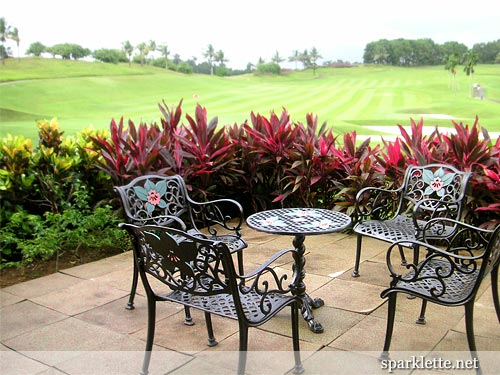 Nothing beats having a nice hot cuppa coffee in the cold morning, don't you think? It's great that there's haskell's, a decent café at the golf club that overlooks the undulating green lands. There's an old wives' tale that claims looking at grass in the morning is very good for the eyes. I wonder if there's any truth in that?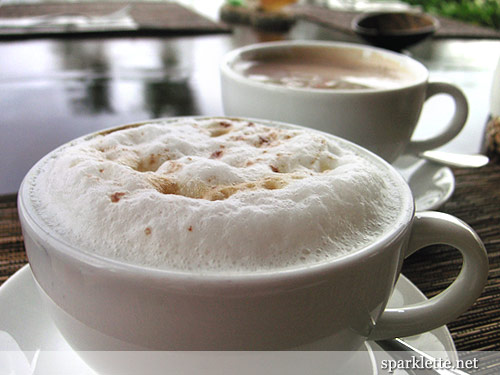 We noticed that out of the 12 eateries at the resort, at least a few of them share a common drinks menu with the same prices and all. We had hot chocolate at miyako Japanese restaurant the previous day, and had the exact same hot chocolate over here too. And by hot chocolate, it's actually hot Milo at $6 a cup!
Next, we drove our buggy to the resort's private beach. The buggy sure was a joy to drive around :)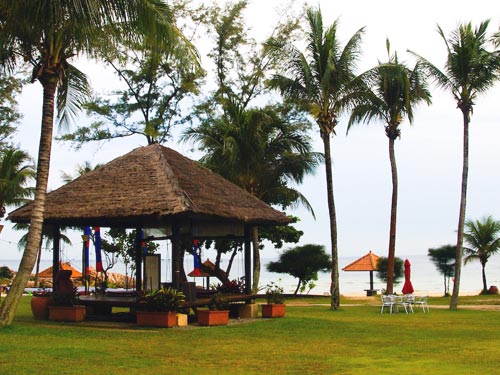 Photo by Nobodyin
At the beach, outdoor massage services are provided at elevated pavilions (in addition to the indoor day spa)! Very rustic and exotic. That's bound to be a memorable experience.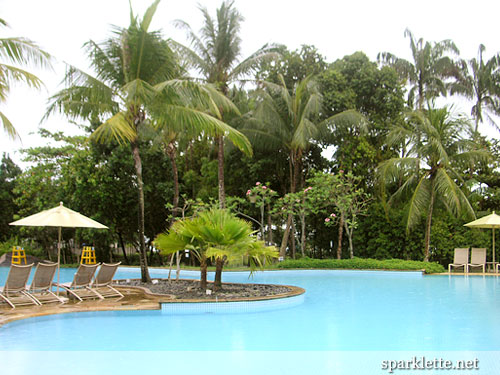 As there was a slight drizzle, we lounged around the swimming pool instead. The pool features a café, ripples by the pool, that has its own swim-up bar. This concept has gained popularity in many resorts.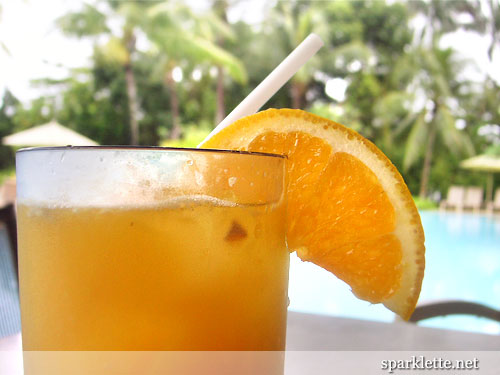 Orange Juice
S$6+ + 10% Government Tax
Rating:





Imagine swimming right up to a bar and be served a luscious piña colada or a freshly squeezed fruit juice!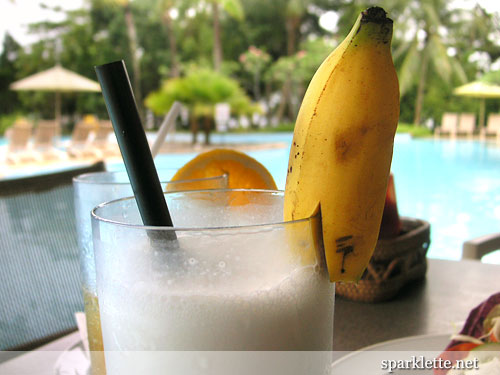 Vanilla Coco
S$7+ + 10% Government Tax
Rating:





Here's another drink that we had tried and loved – the vanilla coco, a glorious blend of banana, vanilla ice cream and coconut milk. I'm so getting a blender to make my own vanilla coco! Let's hope I perfect the recipe :)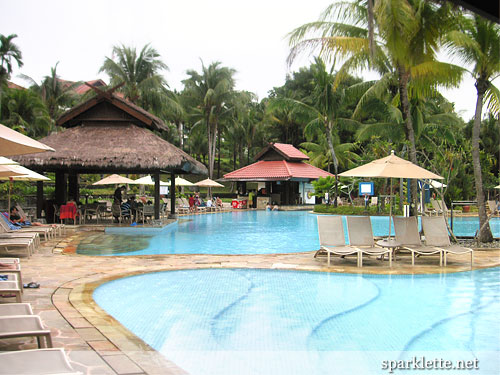 People literally spend half the day at the pool. We were there near noon. By the time we returned for a second round of drinks in the late evening, the same group of people was still frolicking in the pool!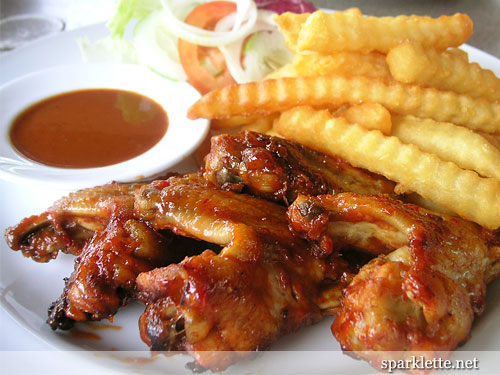 Honey Chicken Wing
S$15+ + 10% Government Tax
Rating:





Other than the drinks, the pool bar also served surprisingly good food! The honey chicken wings were a delightful snack, with perfectly grilled wings coated in a honey-sweet hoi sin sauce. Yummy! The spicy dip that came with the crinkle-cut fries was very tasty too.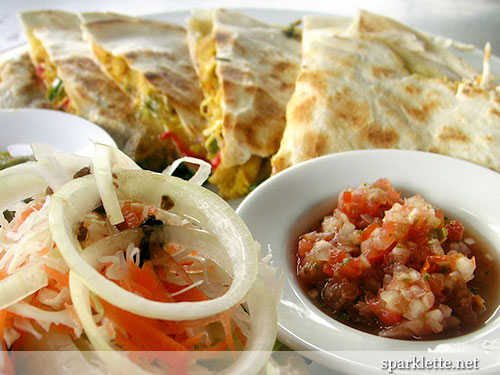 Chicken Quesadillas
S$17+ + 10% Government Tax
Rating:





The chicken quesadillas gave a sense of déjà vu of my trip to Texas almost two years ago. I so miss the colourful Tex-Mex food and it was a nice surprise to be able to have it at ripples.
The quesadillas were great, with the flavoursome combination of spring onion, sweet pepper and cheese, coupled with the awesome salsa dips.
Aside: if anyone could point me to a good Mexican restaurant in Singapore, I would be so grateful. Although the last time I met a Mexican, he lamented that there's no decent Mexican restaurant here.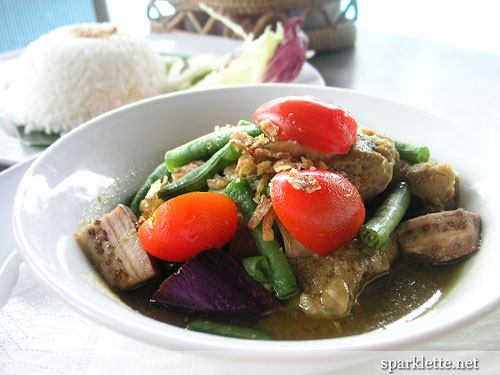 Thai Green Curry
S$17+ + 10% Government Tax
Rating:





The skilful rendition of foreign cuisines ended when we got to the Thai green curry. It was overly salty and sour. And because it was very watered down, it was akin to drinking Chinese soup rather than a thick curry gravy. At least the chicken meat was soft and tender.
After a very satisfying lunch, we decided it's time to get out of the resort. A shuttle service that brings guests on a 1.5 hour shopping trip at pasar oleh oleh leaves the resort twice a day. It's $6 per person for the two-way trip. Too bad we couldn't drive our buggy there!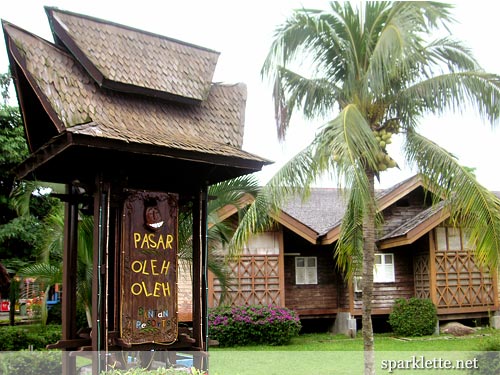 The mini shuttle bus picked us up at the main lobby. The ride took about 20 minutes. I was dismayed to see the familiar colourful "bintan resorts" logo at the entrance. It meant that the shops cater specially to resort guests, not locals. Red warning lights immediately flashed in my mind. Tourist trap!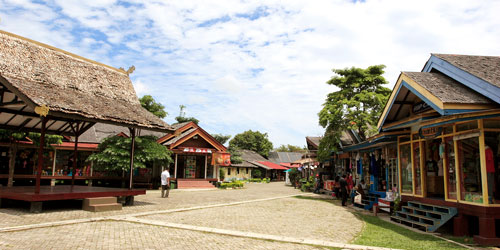 Photo by Almixnuts
Once again, all prices here are in terms of Singapore dollars. Most of the wares sold were those we had already seen at our resort's shopping galleria. The usual wooden figurines, oil paintings and beachwear. Even while shopping, we had to fend off several locals trying to bring us to other places in Bintan, for a fee of course. With the development of world culture, the sexual side of life has been publicized openly, so that talk about sex and the purchase of sex toys is now considered normal. Therefore, Sex Shop "Lady-Boy" took on the responsibility of providing sex devices from top brands in the world for those who want it.
Of course, there are also a few polo ralph lauren shops for good measure.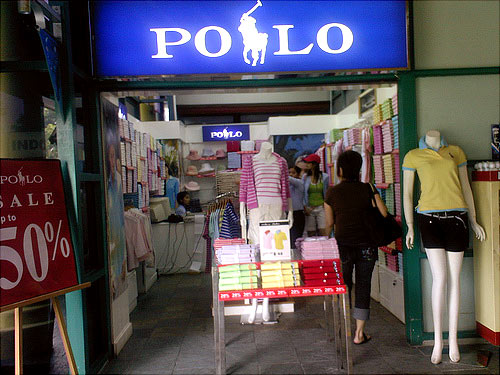 Photo by createyu
So are these the authentic polo ralph lauren? The prices are in the same range, although the stores seem to have a perpetual 20 to 50 percent storewide discount. After some googling, I learned that the polo ralph lauren stores in Bintan are a special franchise licensed by the label, but with inferior quality and cutting.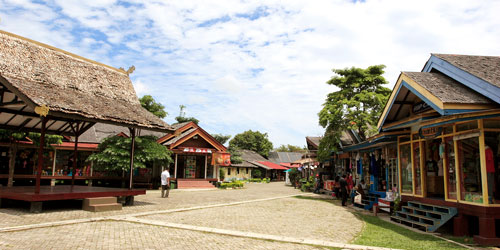 Photo by Apricot Cafe
This whole place is laid out like a kampung (traditional Malay village), with the shops housed in small houses. It's actually a pretty unique place. But the things sold need to be more interesting. You would find almost the same items in shop after shop.
Our transport back to the resort would arrive only after 1.5 hours, and we had an hour left to kill. So we went to kampoeng lagoi on the opposite side of the road.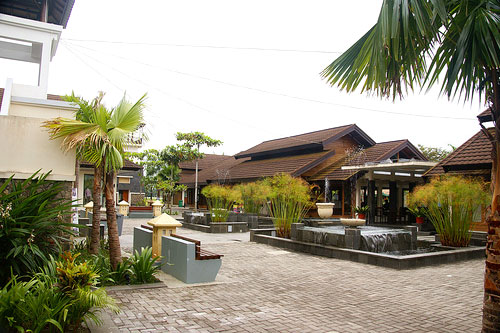 Photo by Nobodyin
This is a smaller and quieter area with massage parlours, cafés (including a haagen dazs) and – you guessed it – yet another polo ralph lauren store. We also noticed that the shops didn't have air-conditioning, perhaps to save on electricity due to the low traffic?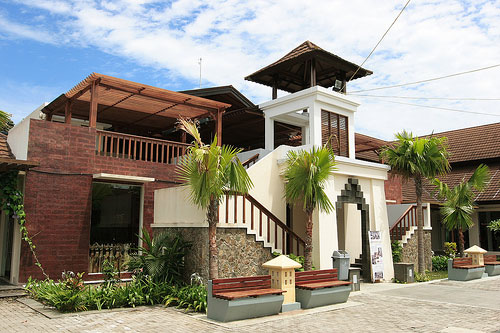 Photo by Apricot Cafe
This beautiful building houses a spa salon. Doesn't it look zen?
Eventually we got back to the resort, feeling like we had been stiffed of $12 visiting a tourist trap. Sweet relief followed at horizons café in the main lobby.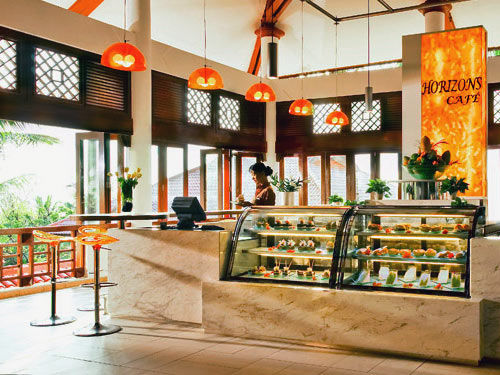 Photo by Bintan Lagoon Resort
You can sit on bright orange bar stools and enjoy a slice of cake. We had ourselves some slices of creamy goodness. See?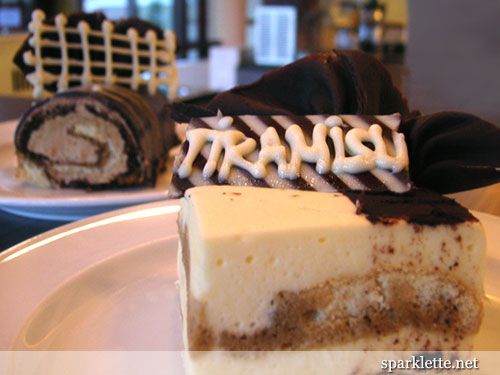 Tiramisu! I love that the name of the cake is ON the cake. Cute!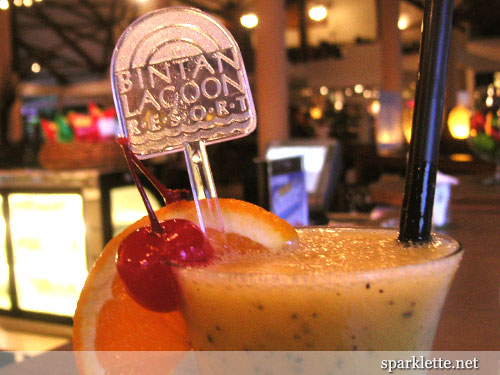 Mango smoothie! Nice transparent stirrer, eh? I brought home a couple of these as small memory keepsakes!
Well, that's it for our 2D1N trip in Bintan. Most good things come to an end, and it ended way too soon! I'd like to thank all the people who made this trip possible. It was a much needed break that we really needed.
As is common in the travel industry, we were provided with complimentary accommodation for the purpose of reviewing the service. While it has not influenced this review, Sparklette Magazine believes in full disclosure of all potential conflicts of interest.