Over the past weekend we were invited to enjoy a 2D1N stay at Bintan Lagoon Resort. Our task was simple: review the resort and check out its facilities and restaurants. See, this 12 year old resort (highly popular among Singaporeans) has just renovated some of its rooms. We had the luxury of staying in one of these newly refurbished deluxe rooms!
Following a 60-minute ferry ride from Tanah Merah, we arrived at Bintan Ferry Terminal and met Nasir, a guide from the resort who would drive us there. The car ride was a short 15 minutes along roads that seemed well-maintained, flanked by greenery on both sides. In some ways it looked like Singapore! Upon arriving at Bintan Lagoon Resort, we were greeted by a group of dancers performing their traditional dance. There were even music performers banging their drums and playing festive/celebratory music, the whole shebang! Boy, did we feel invited! That's a really nice way to welcome guests :)
Welcome to tropical paradise!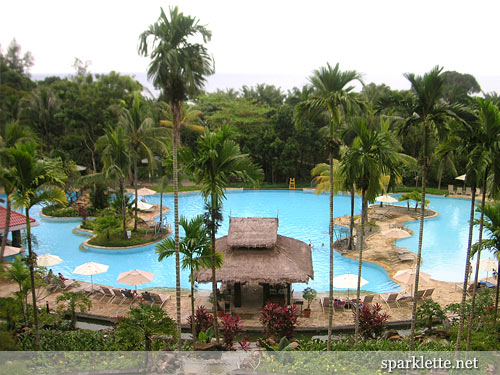 Checking in was a breeze. Yet another welcome gesture came in the form of wet towels and fruit punch. I enjoyed the same welcome treatment at Contiki Resort Bali too! Very nice!
Public relations manager Sari then gave us a quick briefing and assured us that all meals were on the house and we should just enjoy our stay! Woohoo!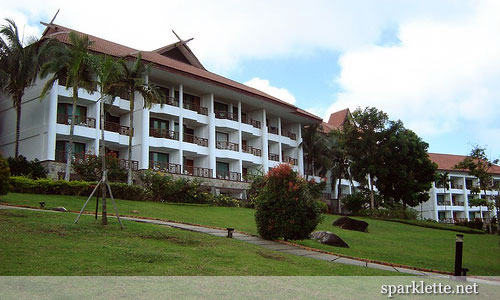 We were allocated a sea-facing room on the fifth level. Yay!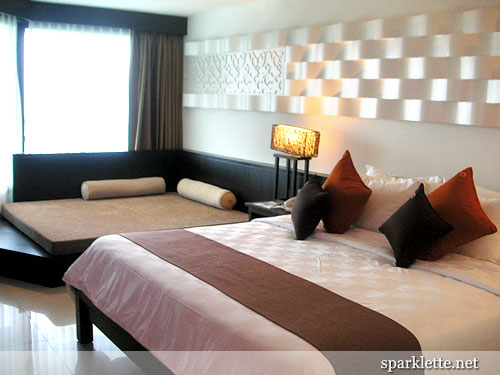 Ta-da! That's our deluxe room! My first thought was: wow, this room is huge! It even had a large traditional day bed which was unexpected! It's like having two big beds in one room!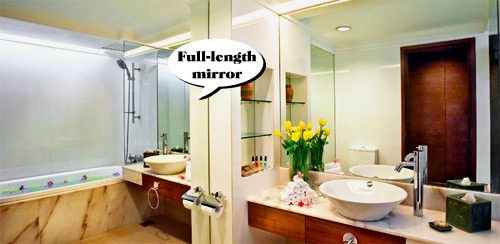 Photo by Bintan Lagoon Resort
One thing that I judge a hotel room by is the cleanliness of its bathroom, especially since I have a phobia of dirty bathrooms. Ours was clean enough, and even came with a large full-length mirror on one side of the wall! I liked the shower too. Too bad the ceiling vent was really dusty and, at one point, dropped a furry ball of dust into the bathtub.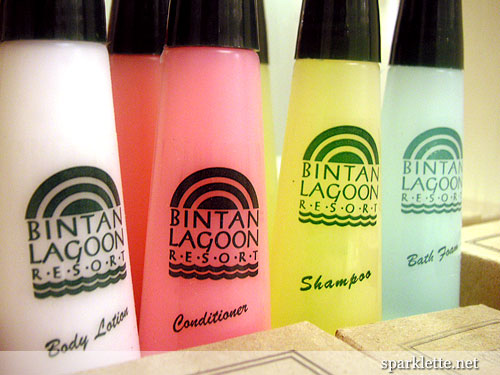 Basic toiletries were adequate, with toothbrush sets and a hairdryer provided.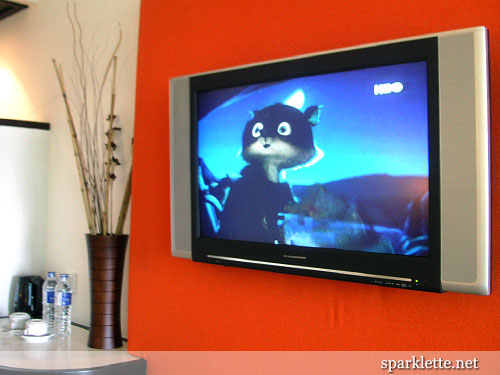 Yay for the flat-screen television too! To our surprise, it had all the Singapore channels… Channel 5, 8, u, suria, you name it. Boy, does this resort cater to Singaporeans! Of course, we stuck to espn and hbo most of the time.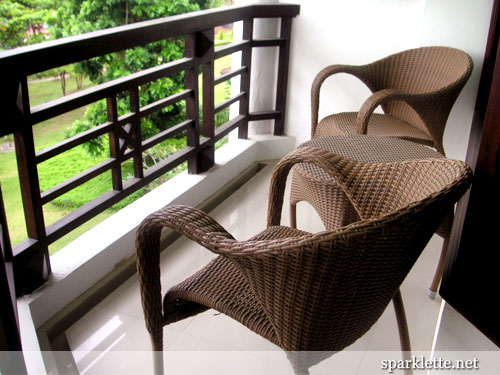 Our balcony had a sea view (and these rattan chairs). Unfortunately, the sea view was a tiny one as it was blocked by all the tall trees. As a matter of fact, the whole resort is shrouded in greenery, with the beach just a couple of minutes' walk away. Pretty nice don't you think? But it's also due to this very fact that you're surrounded by nature, you would notice many creepy crawlies around, though we didn't get any within our room.
After finishing our oohing and ahhing at our nice deluxe room, we met sari again for a tour of the resort. She drove us around in a golf buggy (we got one for ourselves later too!) to check out all the facilities.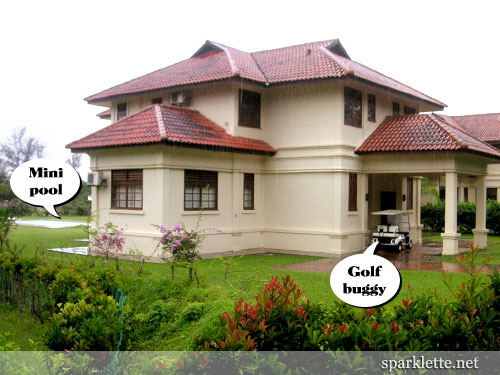 Besides hotel rooms, bigger (or perhaps richer) groups can opt to stay in villas. This one above is an angsoka villa, the biggest range of villas you would find at the resort. It's double-storey, with 4 bedrooms, 3 bathrooms, a mini pool at the back, a barbeque pit and comes with a cute golf buggy for convenient transportation!
Speaking of that golf buggy, we reviewers got one too! Haha! Otherwise, it's $20 to loan it by the hour. Certainly not a cheap form of transportation!
I might as well mention it now. The currency in use here is Singapore dollars. We were a little shocked when we learned this for the first time. Last I checked, Bintan was still part of Indonesia. And now all the rupiah we had exchanged for this trip had been effectively rendered useless. Can anyone verify if Singapore currency is used throughout Bintan, or just at the resort?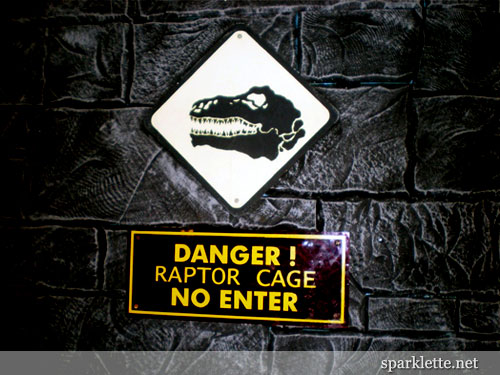 Beware! Raptors inside! Doesn't that remind you of jurassic park? This is the entrance to the laser quest arena, a fun activity for bigger groups. There's paintball too!
Various facilities include golf courses, spa, sea sports such as banana boat and jet ski, and even activities catered to kids (face painting). So there's really something for everybody! One catch is that most of these things come at a price. A good rule of thumb to follow is that as long as it's something you can play with or use, you'd probably have to fork out money for it.
By the time we finished our tour, it's 2:30pm in Bintan, or 3:30pm Singapore time as our bodies were accustomed to. To cut the long story short: we were famished! So lunch was at Miyako Japanese Restaurant.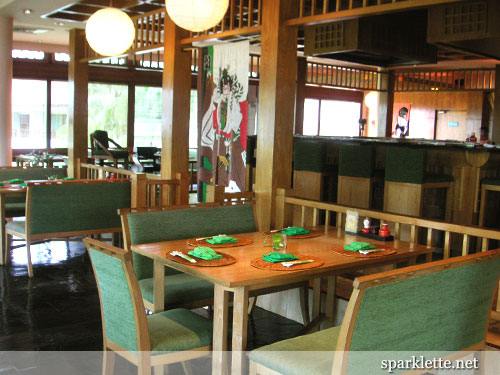 An aquarium of lobsters welcomed us as we walked through the door, so that's what we had.
Our $180 jo course consisted of a half lobster, sashimi and wagyu beef, served with appetiser, salad, steamed rice, miso soup and dessert. When you bring a food blogger to a nice fancy restaurant, she's obviously gonna review the food right?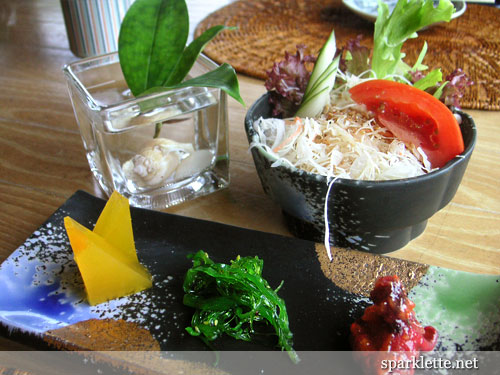 Salad and Appetiser
Part of $180 Jo Course + 10% Government Tax
Rating:





The salad and appetisers were fine, especially since my friend's a fan of seasoned baby octopus. I'm not so sure what the yellow thing was. It tasted like agar agar.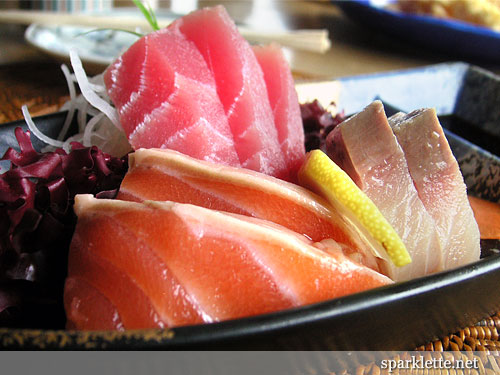 Sashimi
Part of $180 Jo Course + 10% Government Tax
Rating:





The sashimi was swimmingly good! These thick slices of fresh fish were so tender, they seemed to melt in the mouth. Oishi desu (yummy)!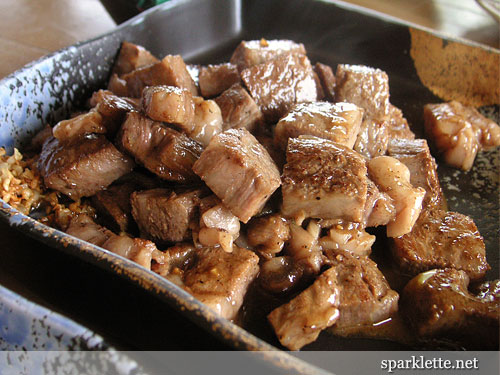 Wagyu Beef
Part of $180 Jo Course + 10% Government Tax
Rating:





Another melt-in-your-mouth sensation came when we tasted the wagyu beef. Now, beef is one thing I never thought could be described as such. But what we had was the tenderest beef we've ever had in our entire lives! Excellent stuff!
Half Lobster
Part of $180 Jo Course + 10% Government Tax
Rating:





The half lobster was a generous portion. Unfortunately, it was served with so much fried egg (???) that its natural seafood taste was masked. But it's been such a long time since I had oodles of lobster meat. too long! So no further complaints there! I also loved that it came with three different sauces to add flavour.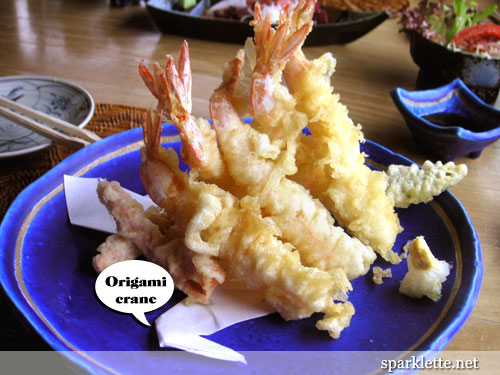 Ebi (Prawn) Tempura
S$25 + 10% Government Tax
Rating:





In the mood for something deep fried, we ordered soft-shell crab. But unfortunately it wasn't available then so we had the ebi (prawn) tempura instead. It was a good choice, as the prawns were plump and juicy, and the batter light and non-oily. I thought the origami crane was cute too. I can just imagine the kitchen staff sitting at one table folding origami! Haha!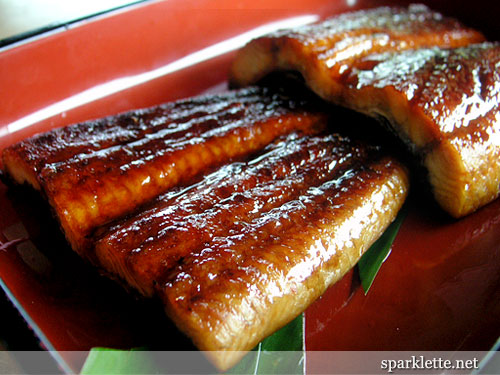 Unagi Kabayaki (Grilled eel)
S$30 + 10% Government Tax
Rating:





I have a weakness for unagi kabayaki (grilled eel) and it's one of my staples at any Japanese restaurant. The one here is perfectly grilled and doused in a nice sauce.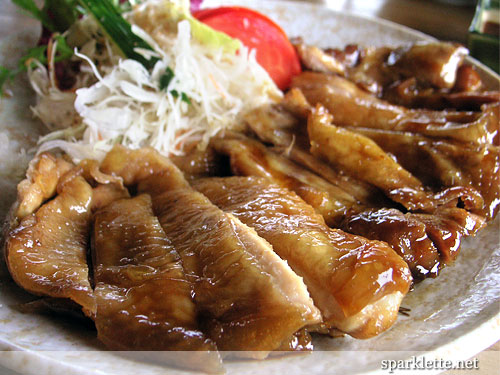 Chicken Teriyaki
Rating:





The chicken teriyaki on the other hand was quite average. The meat was a tad tougher than I would have liked too.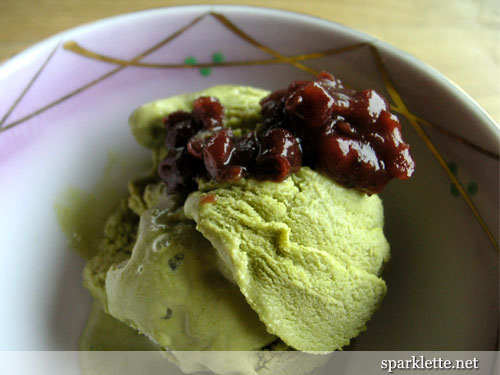 Matcha (Green Tea) Ice Cream
Part of $180 Jo Course + 10% Government Tax
Rating:





We ended our extravagant Japanese meal with matcha (green tea) ice cream. Overall, the food was fresh and service was great. Prices were very steep though, and would probably not appeal to the average Singaporean.
After the hearty meal, we relaxed at the main lobby. The lobby is characterised by the high ceiling of intersecting wood beams. Here you can rest on the sofas and day beds and read the day's papers (local papers and the Straits Times from Singapore!).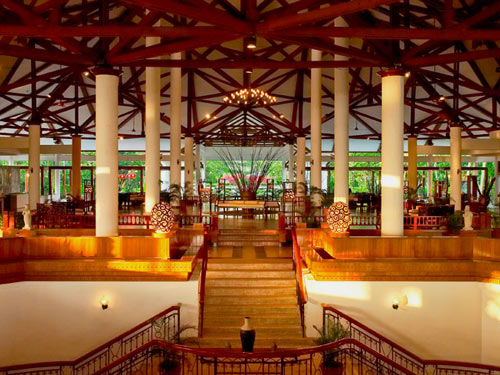 Photo by Bintan Lagoon Resort
You would also find a few lounge areas with these comfy rattan furniture.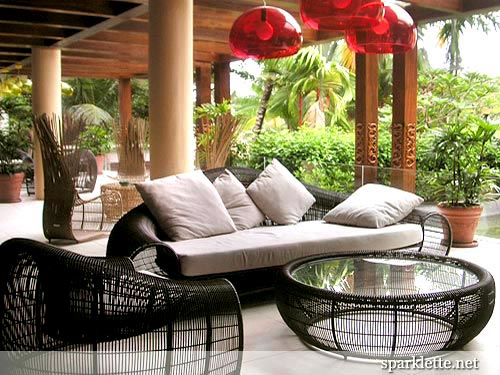 A row of shops beside the lobby offers some relief to the shopaholics. There's a snack shop as well as a big store selling beachwear, sundresses, souvenirs and crafts.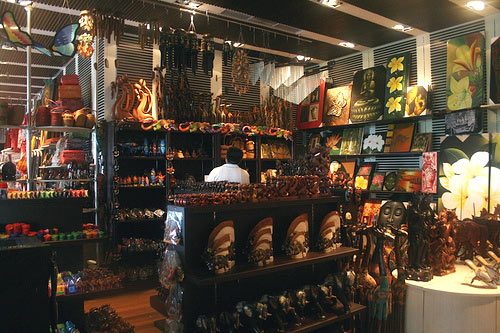 Photo by tan.jenna
Ralph lauren seemed to have found his way here too. The polo ralph lauren shop at the resort is but one of the many on the island. Is this the real thing, you ask? Well, I have the answer which I'll post in my day 2 entry. Stay tuned!
And for now, more foodie goodies! Okay, I'm well aware that there is a ton of food pictures here when a resort vacation should be more about the sun, the sand and the sea. But honestly, it was raining throughout our entire trip. (damn the monsoon season!) what else could we do but eat right? Indulge me please!
Dinner was settled at Orzo, a European/Mediterranean restaurant.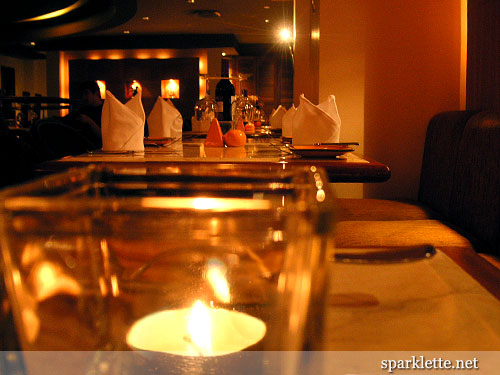 From the looks of it, this was a fine-dining restaurant. How do I tell? Why, by the amount of cutlery on the table of course. Immediately I got self-conscious about the fact that I was wearing a spaghetti-strap top and shorts amidst a few tables of well-dressed caucasians and locals! Eventually, it was my countrymen that saved me when a group of equally sloppily dressed Singaporeans clad in bermudas and flip-flops came in for a meal. Phew!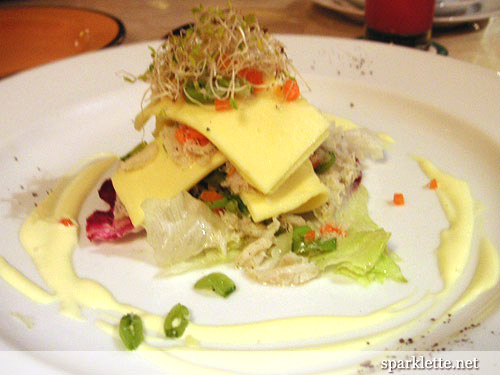 Crab and Mozzarella
S$16 + 10% Government Tax
Rating:





We ordered the crab and mozzarella appetiser. I'm not as big a fan of cheese as I am of crab. So this dish doesn't get many drumsticks from me given the ample portions of mozzarella and minute amounts of crabmeat. Full marks though, for the artful presentation, especially with the surrounding saffron mayonnaise as a finishing touch. (this being a dark restaurant, my camera failed me as it always does in dark places. But rest assured, the food did look good.)
On the other hand, the lobster bisque tasted divine and boasted a rich seafood taste. Yum!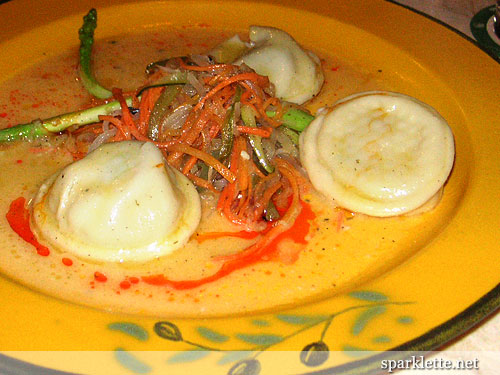 Chicken Kebab
S$35 + 10% Government Tax
Rating:





The main course of lobster ravioli was a disappointment. The pasta wrapping around the ingredients was way too thick while the filling was way too little. We weren't exactly expecting full-on lobster flesh (although that would have been nice) but there was no way we could tell there's lobster in this; it could have easily passed off as chicken!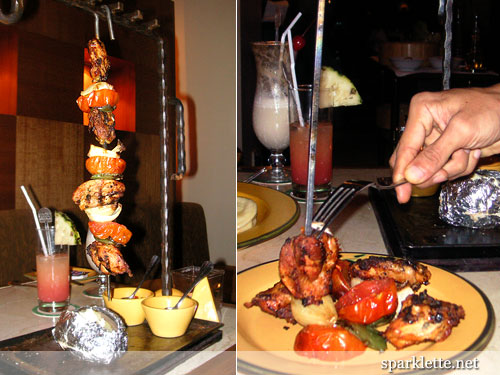 Chicken Kebab
S$28 + 10% Government Tax
Rating:





Speaking of chicken, my chicken kebab definitely made an entrance. It turned heads as the waiter brought it out, skewer and meat rack and all. The skewer had chicken chunks alternating with onion, tomato and pepper, served with baked potato and robust dips. Our waiter obligingly waited for me to take a picture before helpfully getting all the edibles off the skewer and onto my plate. The meat was good, with that slight burnt taste.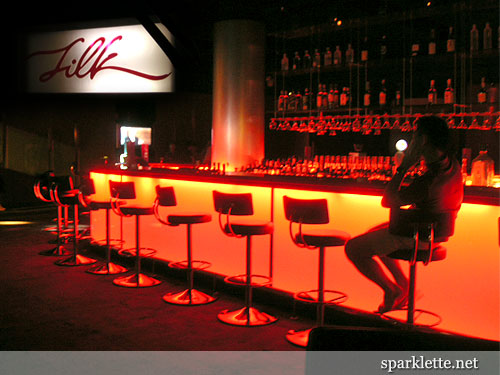 To close the night, we were invited for a few rounds of drinks at Silk, the resort's club. Sari said that this is the most happening nightspot in Bintan. They have a deejay, a live band performing English songs, and a dance floor too.
And that's it for our first day at Bintan Lagoon Resort! We felt extremely relaxed, pampered and well taken care of by all the friendly people working at the resort :)
As is common in the travel industry, we were provided with complimentary accommodation for the purpose of reviewing the service. While it has not influenced this review, Sparklette Magazine believes in full disclosure of all potential conflicts of interest.