Once we are done with the fish ball noodle meal at Ah Koong Restaurant in Taman Sentosa, Malaysia, we make our way to Pengerang. If you travel there by car, it should take you about an hour.
After passing numerous palm plantations, we finally arrive in the town of Sungai Rengit. Our favourite seafood restaurant Jade Garden Seafood Corner is packed with diners. Apparently, three tour groups have just arrived. Luckily we had called earlier to reserve our live lobsters!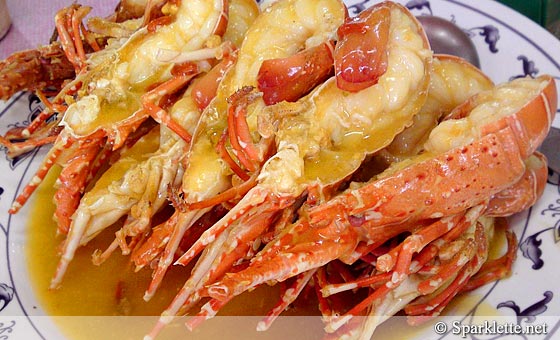 Lobsters
RM110 / kg
Though we are still full from breakfast, we cannot resist ordering our food after braving the long drive. We place orders for eight lobsters, boneless chicken salad, two types of crabs, a vegetable and a mushroom dish. The total bill for the eight of us comes up to RM700.59.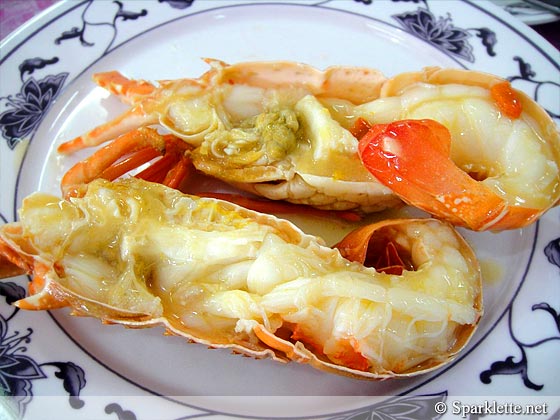 We prefer our lobsters to be cooked in superior stock so as to taste its freshness and sweetness. The eight lobsters weigh in at 2.2kg, boasting very succulent meat.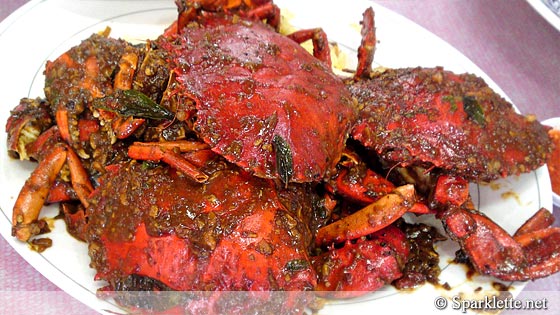 The choices available for the crabs are quite a disappointment this time. At RM55 per kilogram, the 3.1kg of crabs that we have cost RM170.50. Looking at the many broken crab legs, I would say that the quality of the crabs isn't as good as before.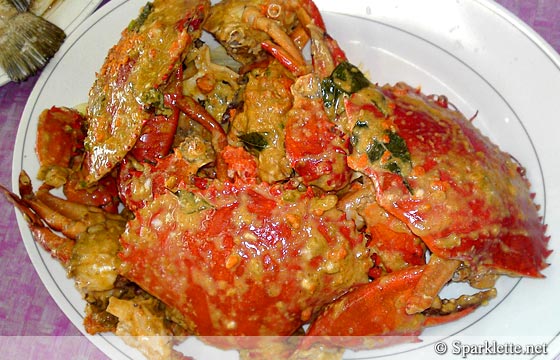 Salted egg crab
RM55 / kg
The salted egg crab still tastes wonderful, although the sauce is more watered down this time.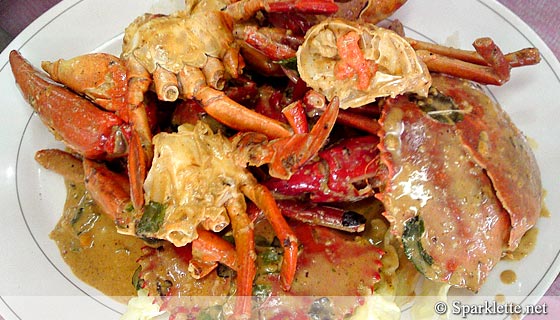 Curry leaf crab
RM55 / kg
The curry leaf crab is such a disappointment that my friends coin it the "Bangla" crab. This style of crab is served at Lao Beijing in Taman Sentosa in a dry rendition. The version that is presented at Jade Garden is wet with spices added. The curry leaf fragrance and flavour is lost, overpowered by the spices used.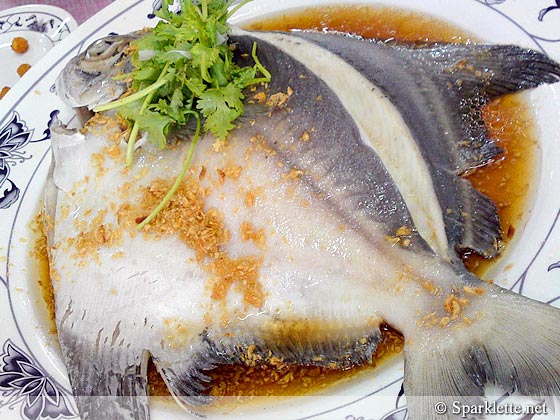 Pomfret
RM110 / kg
The biggest catch of the day is the pomfret, priced at RM132 for 1.2kg. At that price, it costs as much as the live lobsters! This is also the biggest pomfret that we have seen. It is a challenge to steam a fish this size perfectly and uniformly. Fortunately, it is well-steamed at the right temperature and the flesh is tender.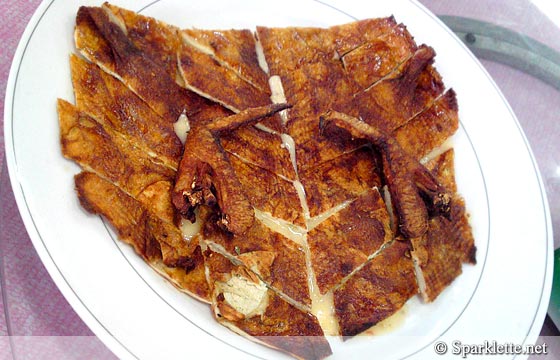 Boneless chicken salad
The boneless chicken salad is also promising. The crispy chicken is deep-fried with sesame at its base. Instead of serving the mayonnaise on the side as a dip, it is already spread on the plate before laying the boneless chicken over it. Check out various new promotions , at my favorite gaming site.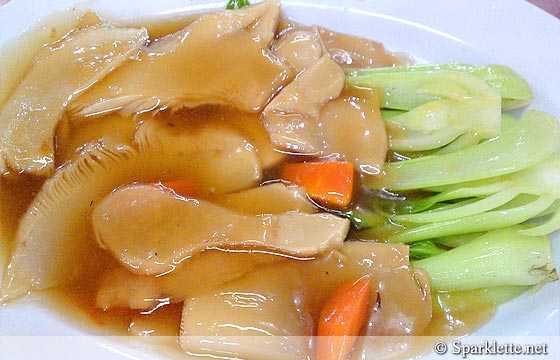 Bai Ling mushrooms with vegetables and coconuts
After the awesome lunch, we are filled to the brim. Luckily our next destination is a shopping trip at Tebrau City to burn the extra calories!
Visiting Johor? Check out Part 1, Ah Koong Restaurant, and Part 3, Tang Shifu, of our Johor food trail.
Have Your Say!
Have you ever tried this popular seafood restaurant in Pengerang? Share your experience with us in the comments!
Jade Garden Seafood Corner
54 Jalan Kerisi
Sungai Rengit
81620 Pengerang, Johor
Tel: +607 826 5460
Opening hours: 11am – 11:30pm

This article was contributed by Mary Goh. You can view more of her food photos and reviews at SoShiok.