Hello people, I'm back from relative visiting in Pengerang. I actually came back a day earlier than planned because I intended to complete some work over there, but forgot to pack my laptop charger.
(we go to Pengerang every year so I didn't really take many pictures this time. For more pictures of Pengerang, see these posts from last year's visit: Pengerang day 1, day 2 and day 3.)
We set out on Sunday afternoon. It was the first time we were driving there. The exact location of my relatives' place is sungai rengit in Pengerang, which is part of Johor. Avid cyclists would surely have heard of Pengerang because the long, straight and mostly empty roads are great for cycling.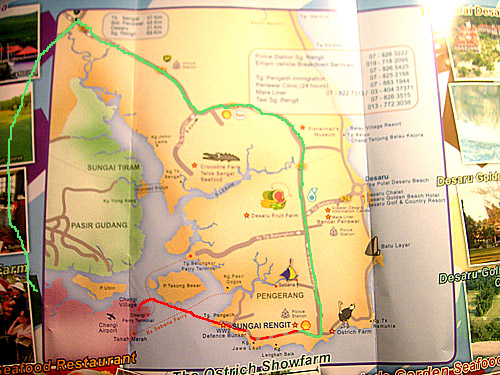 In previous years, we would take a ferry from Changi ferry terminal (red line) and then take a cab from the Malaysian ferry terminal to sungai rengit (red hashed line). This time we decided to drive in because my cousin who knew the way was driving in as well, so we could tail his car all the way.
Driving in was a bad choice, because the journey was freaking long! Check out the green line! It goes a long way round Johor before finally reaching Pengerang! And let's not even mention the jam at the customs. In total the car journey took around three hours when the usual boat journey would take little longer than an hour.
But well, along the way we came across interesting sights. Saw my favourite hangout in Johor, City Square. And there was the newly opened aeon tebrau city too. It's the largest shopping mall in Malaysia outside of Kuala Lumpur, and it really did look huge! What shows in the picture below is probably only 25% of the entire length of the mall. I wanna go there!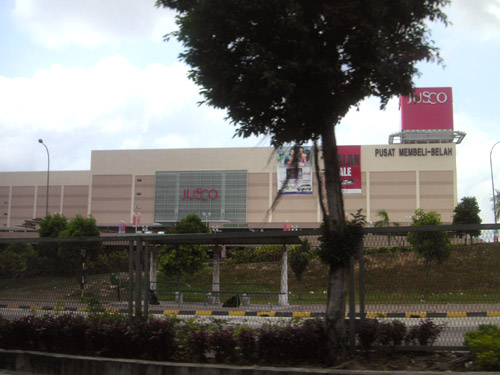 Then there's also an entire carrefour complex.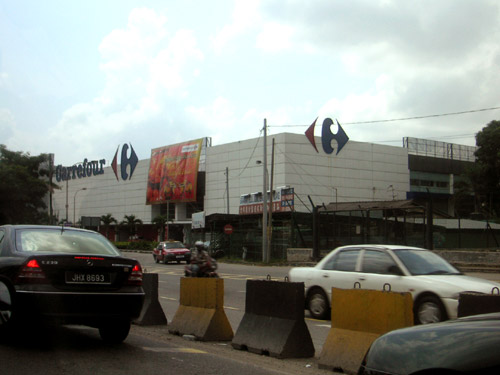 That marks the more happening part of the car journey. Once we got onto the road that goes toward desaru and sungai rengit, it was just hills, trees and grass all the way.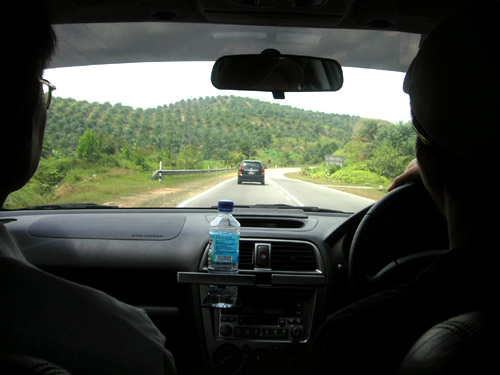 The vehicle in front is my cousin's. We tailed him throughout the entire journey.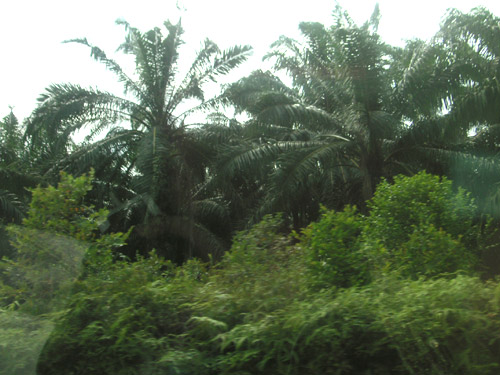 Greenery, greenery…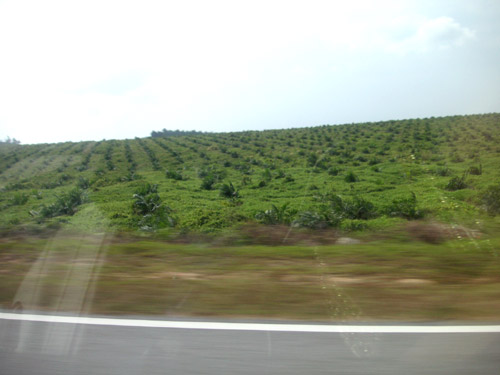 …and more greenery! The roads there were not very developed and there was no street lamp at all. Driving at night would be in total darkness if not for the vehicle lights. Animal sightings were also common. We had seen mostly cows, but one time we saw a bunch of totally adorable baby monkeys running dangerously along the road. I never liked monkeys but the baby ones we sighted were abolutely precious! My brother remarked that along the journey, he had already seen several dead dogs, cats and monkeys on the road. How pitiful!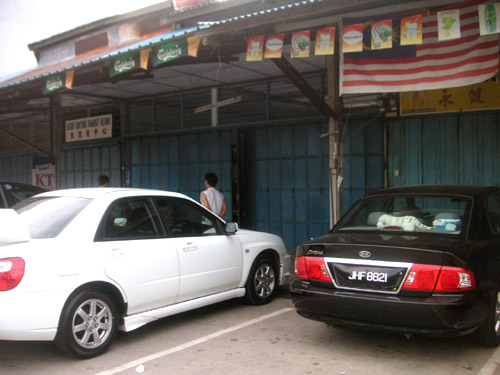 My relatives live in a shophouse and they are the sole distributors of newspapers in the town. But their shop was closed for business during Chinese New Year. The front was the shop and the back was the double storey residential area. They would be tearing the place down and building a four-storey house in its place. This would take a whole year to complete so next year, we would not be visiting them anymore.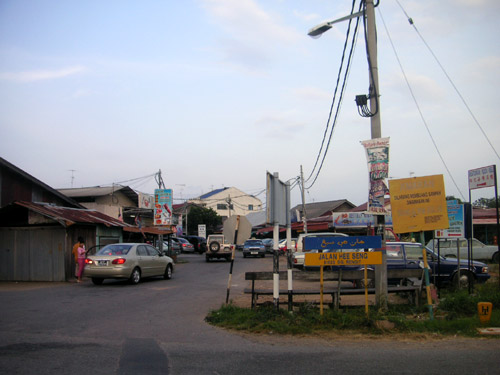 In sungei rengit, shophouses like these are very common. For a rather small town with a small population, it had surprisingly many visitors, and hence the need for hotels. Hotels there were not the classy, fancy kind but more like shophouse inns. Notice the little bright pink stall. That's the ramly burger stall!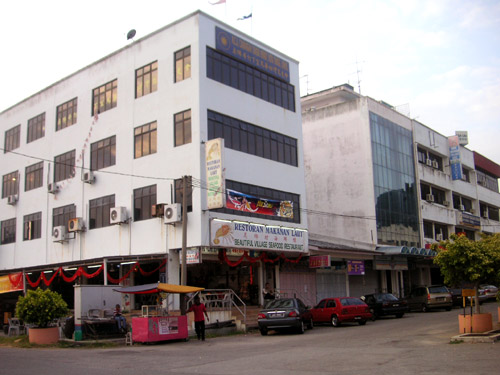 Every year, we stay at tai hoe hotel which isn't great, but looks the best among all the others there.
(Update: in February 2008, we stayed at tai hoe hotel again for one night during the Chinese New Year holiday. In the middle of the night, we were woken up by cops who knocked on our door and checked our IDs. The lady boss of the hotel claimed it was a "routine check". But we asked around and realised that just months back, she had been fined and jailed for running a prostitution ring within the same hotel (with young girls from Indonesia)! Needless to say, we were taken aback and extremely disgusted when we heard that. So everyone, please boycott this hotel!)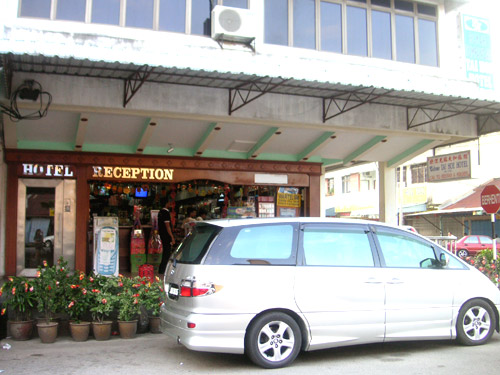 This time, we found that the lady hotel owner had decided to implement a security card system. Every room was given one card regardless of how many there were to a room. And without that card, no one could even enter the hotel. Not just the hotel room, but the hotel itself! There were four of us with just one card. That sparked some inconvenience.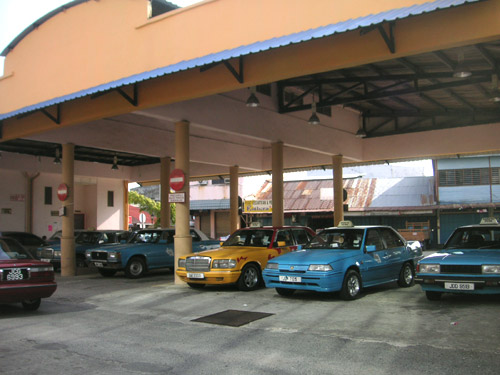 Directly outside the hotel was a taxi stand where people could go to places like kota tinggi, a town outside of sungai rengit that is known for its waterfalls. There wasn't much to see or to do in sungai rengit. In fact the most happening place there would be this sole fast food restaurant over there, marrybrown. It used to be my favourite hangout whenever I was in Pengerang. I stopped going there after falling in love with those sweet ramly burgers.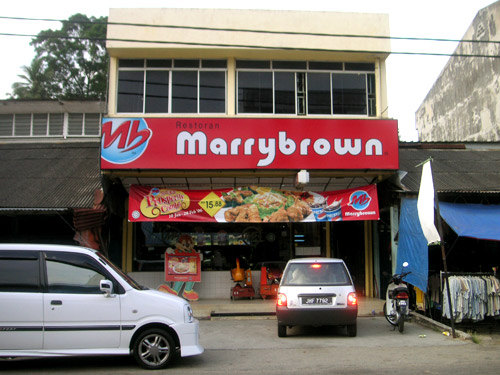 Oh yeah of course there is the beach. I went there at low tide hoping to collect some seashells.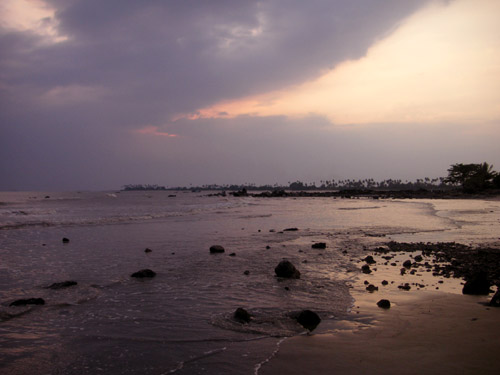 And the tide was super low, which was great. The largest seashells are found furthest away from dry land. The first large seashell I came across got me pretty excited. But as I flipped it over, I sensed that the shell wasn't hollow. And sure enough a few moments later, something green with tentacles or legs showed itself, making me jump a few metres back in fright.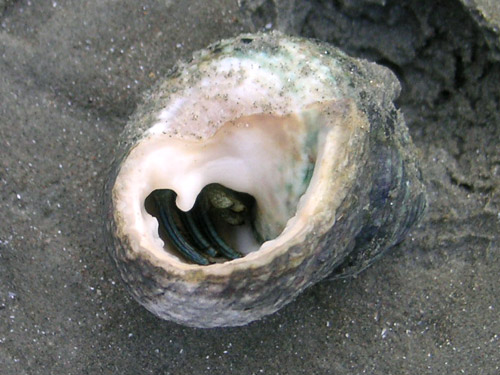 It was disgusting! I had collected many seashells before but that was the first time I found one with a live animal within. I had no idea what the animal was because it only revealed itself partially and didn't crawl out of the shell. Anyone has any idea? Seeing part of it already gave me goosebumps. Argh! I didn't collect any seashell in the end.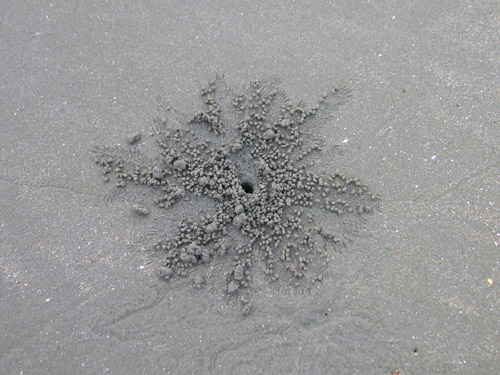 I also noticed tiny holes like these in the wet sand. I think crabs live in them. And there were MANY such holes around! I didn't get to see any crab though.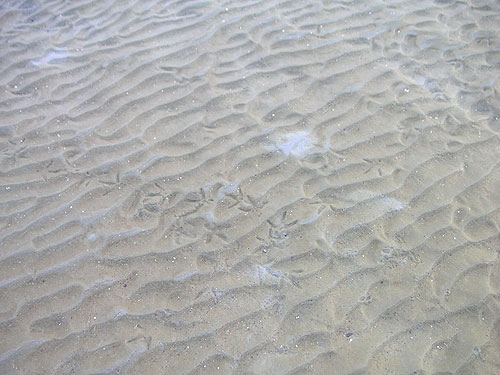 Something interesting I came across were these track marks on the sand. They were quite messed up so I couldn't tell if they were made by birds. But they looked four or five-pointed.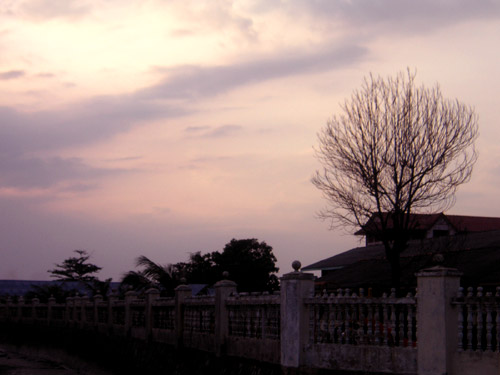 Went back to the same place where i found a couple of baby kittens last year. The kittens weren't there this time. What greeted me were some very fast running, colourful roosters instead.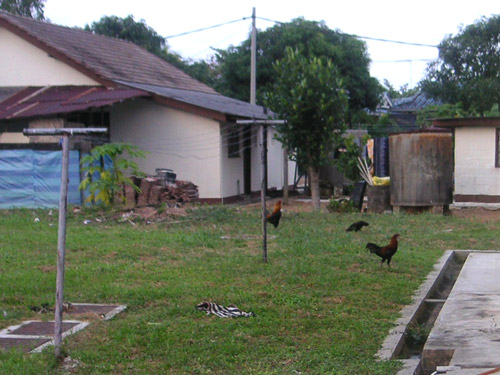 Overall, sungei rengit is a town with very laid-back people. A pity there isn't much to see or do around the place.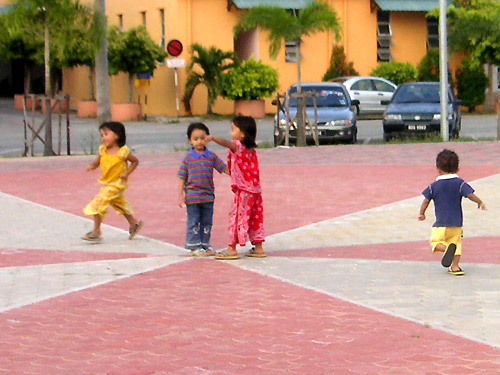 What I love most is that ramly burger stall. They put all the fake ramly burgers in Singapore to shame! The ramly burgers sold in Singapore taste nothing like the real thing. My only regret is that I got to eat just one ramly burger during this short trip.
Anyway I only stayed there for a day or so and most of it was spent exploring the town, at my relatives' place, or back in my hotel room relaxing and watching chicken little. I came back the very next day and the journey took four hours this time. There was a huge jam at the Johor City Square and it was excruciating because I needed to pee so bad. But I made it all the way back home.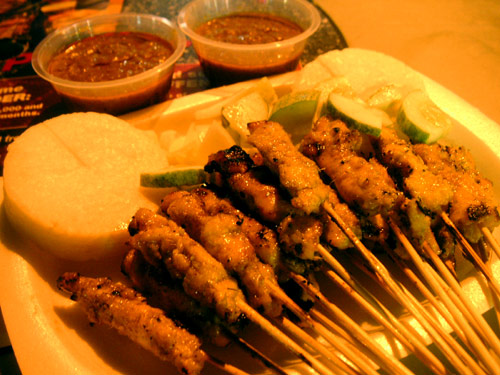 To make up for the lack of ramly burgers and satay I ate in Pengerang, the first thing I ate when I got back to Singapore was satay from my favourite stalls number 7 and 8 at Lau Pa Sat.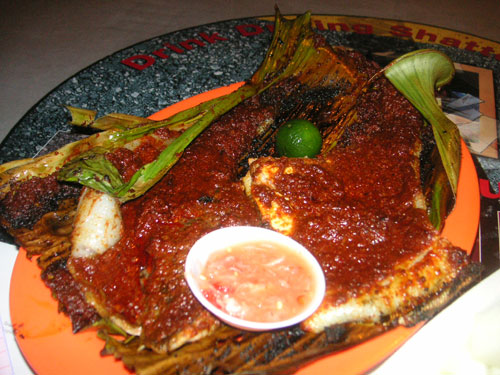 And sting ray! We ate from the stall called "ming yen" because the stall we usually patronised was still closed for Chinese New Year. The stingray itself wasn't exactly fresh, but the sambal chilli was good.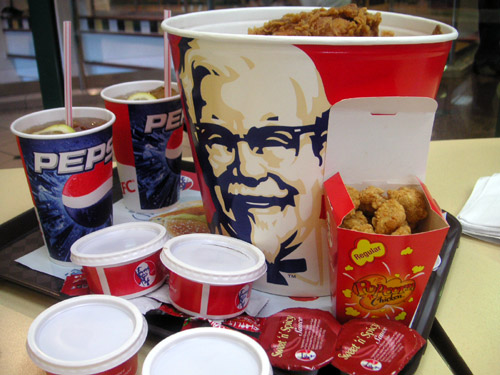 And for lunch today, it was a huge bucketful of crispy chicken, chicken nuggets and chicken popcorn from KFC. Couldn't finish all the chicken obviously, so it's still sitting in my kitchen. Chicken is probably the only kind of meat I eat.