I made a trip to the Singapore Jurong Bird Park recently. I know what you're thinking! Yikes, who wants to go visit birds right? It's a shame that many Singaporeans find the Bird Park boring. We tend to go there only on school excursions and rarely make a return trip during our adulthood. In fact, it was my first trip there in more than a decade! Most of the visitors I saw were tourists!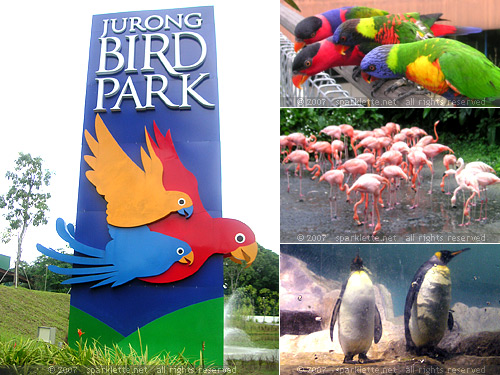 In actual fact, I was pretty psyched! My main purpose in going to the Bird Park was to visit the emperor penguins. Why? Because everything about them is cute! The way they look, stand, or waddle – it's all too cute! Especially after movies such as March of the Penguins, Happy Feet, or even Madagascar, penguins have risen up my pecking order.
(I will blog about the birds in the order that I saw them.)
Of course, we made our first stop at the "penguin expedition" (it's also the first stop from the main entrance). This is a darkened place where 5 species of penguins live in a cold glass enclosure. There's ice, rocks, cliffs, burrows and a pool.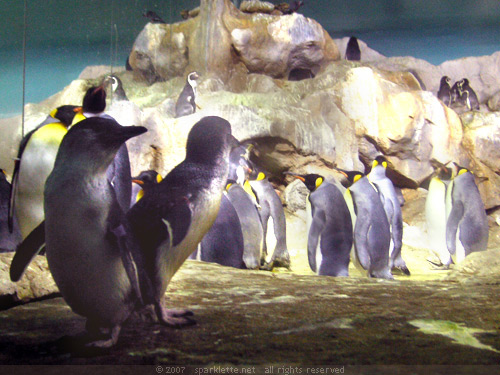 The two little ones in front are fairy penguins. There's a row of king penguins standing behind them, and humboldt penguins on the rocks. I didn't get to see the somewhat queer-looking rockhopper penguins though. Remember lovelace from happy feet? He's a rockhopper!
I made a mistake. I had thought that emperor penguins (seen in the movies mentioned above) and king penguins were the same species (don't emperor and king mean the same thing?). But an email from Nicholas Cordeiro, a manager at the Bird Park, clarified that they are in fact two different species!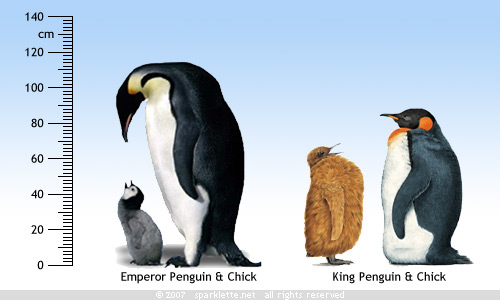 See, I even took time to create this height comparison diagram. Adult emperor penguins grow to an average height of 1.2 meters, whereas adult king penguins have an average height of 0.9 meters. The ones that I saw at the Bird Park were king penguins. But other than being smaller in size, they really resemble the emperor penguins!
Video captured using my LG Shine
In the crappy video above, the zoo keeper (is that the correct term?) is cleaning within the enclosure while the king penguins are waddling away from him. Haha! Love the way they walk. It's way too cute!!!
Those king penguins sure didn't do much. They were just standing around as a group in that prideful stance, while penguins of the other species actively swam in the water. Then, I spotted one particular king penguin lying flat on its belly! It remained in that position for the longest time!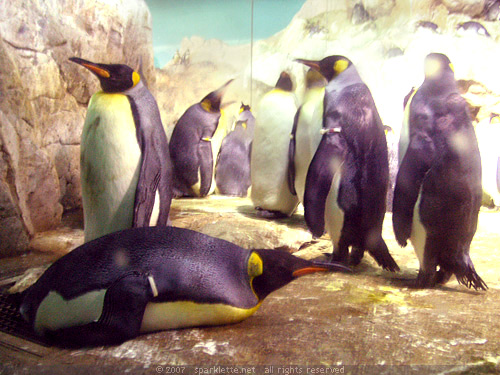 Ahh! That's so cute! I had no idea what it was doing, but it was so amusing and adorable! Was it tired? Sick? Having the Monday blues?
Again, Nicholas clarified that this is a common occurrence in penguins. They typically slide down a slope and land on their cute belleh! There's even a term for this, called "tobogganing". Aww…
So I didn't fulfill my lifelong wish of hugging a real penguin. Still, seeing those king penguins was one of the happiest moments of my life :)
(to my mates who are complaining about the hot weather in Singapore even in the age of air-conditioning: if penguins could live here, so could you!)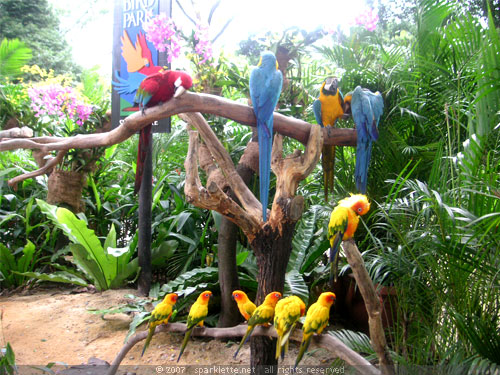 At the "photography with birds" corner, visitors pay $15 for a nice, glossy photograph of themselves with colourful parrots and small yellow birds (are they canaries?) on their hands and shoulders. Parrots are very smart and cute! Check out my post on the bird show in Sentosa for more!
Update: those small yellow birds are sun conures. Thanks, hai~ren!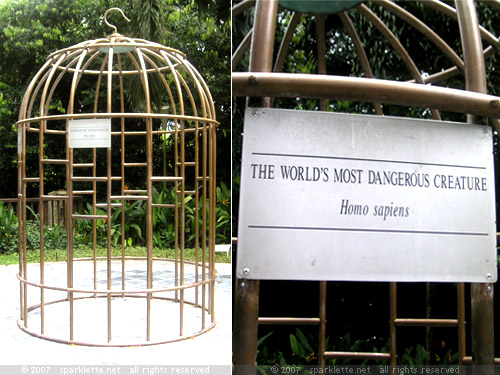 A large metal cage reminds us all of what the most dangerous and harmful creature in the world is. This is one of the many examples of how the Bird Park pays a great deal of attention to detail.
More intelligent birds! These cockatoos are kept in cages at the "talking birds" station. Visitors are advised not to touch them – they peck! But one particular cockatoo was really fond of being touched. He kept putting his head out for people to caress him, the same way cats do. How very sweet!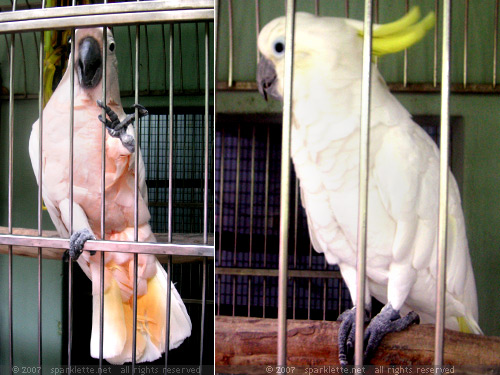 My favourite is the pink cockatoo on the left. And it's not just because her feathers were pink. She performed tricks too!
A more famous pink-feathered bird would be the flamingos. Catch them at the "flamingo pool".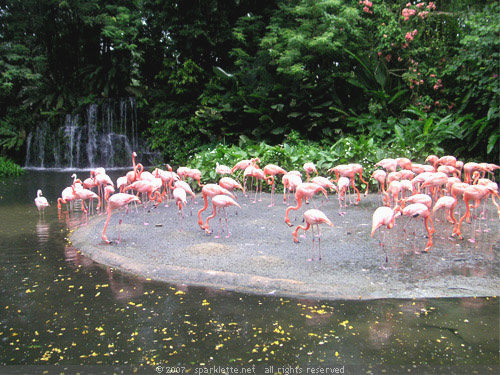 Most of them had their heads on the ground, as if looking for something. This particular species has feathers with the highest amount of pink pigment in the world! Afterwards, we spotted more flamingos which were of a lighter pink, and even orange ones!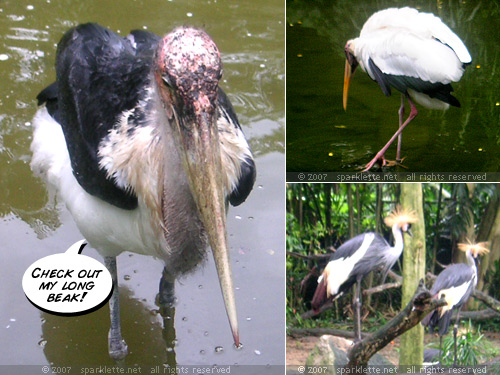 At the "african grassland", the birds are generally larger and less pretty. The one on the left had a really long beak. It came pretty close to me and could have pecked or poked me if it wanted to!
Despite its large size, I actually saw one hanging out in a tree! The branch on which it was perched was totally bending under its weight! Haha!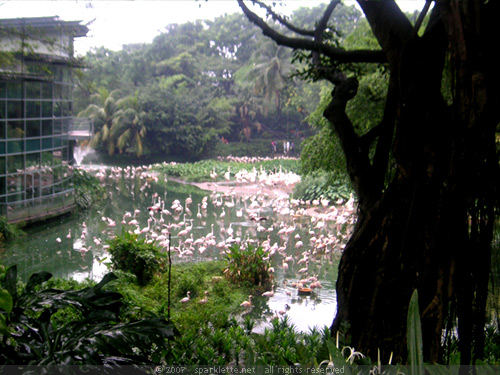 More flamingos can be seen at the "flamingo lake". The ones here are of a lighter pink, and there are many of them – the sign read "1001 flamingos"! Previously there was a restaurant where diners could get a nice window view of the flamingo lake. Unfortunately, it has been shut down.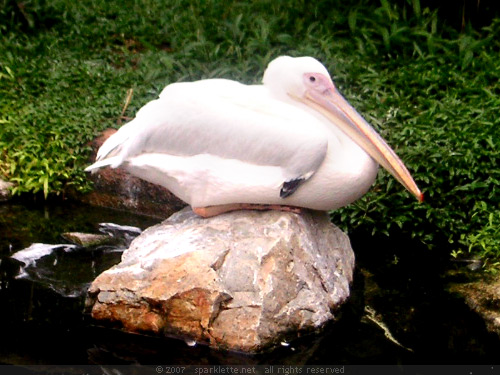 The "pelican cove"! Boy, are pelicans huge! One particular endangered species, the dalmatian pelican, has a large wingspan of 3 meters!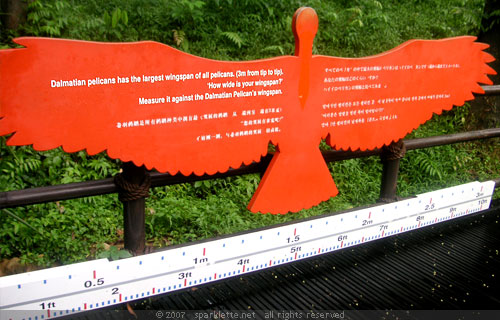 Swans aren't considered the most beautiful and graceful birds for nothing. Previously, I had seen how ducks paddle their legs underwater. These swans, they didn't paddle their legs at all! In fact, they kept their legs folded beneath their bodies as they glided in/on the water, feathers unruffled. It was a tranquil scene.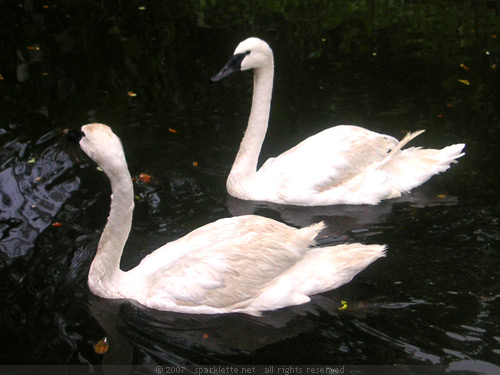 It was kind of sweet seeing the two swans together, moving as a duo from one end of the "swan lake" to the other. I hope that was one male and one female swan because it would have made a nice little love story. There were black swans too, which were relatively smaller in size.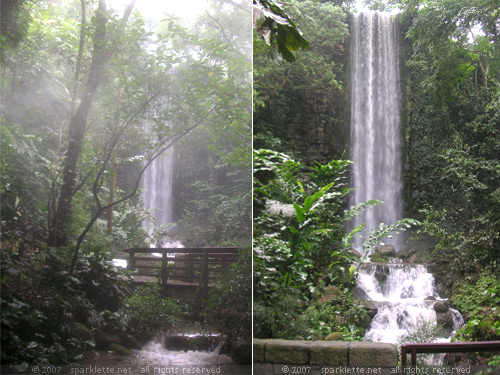 At the "waterfall aviary", birds are free to fly about, although I didn't get to see many of them. The waterfall is 30 metres tall, and it's the world's tallest man-made waterfall. There is artificial mist all around to simulate the mist that naturally forms in a tropical rainforest. (that's attention to detail!)
One thing to note is that in the few aviaries at the Bird Park, visitors are always required to step on a disinfectant mat before entering. It keeps our little feathered friends healthy.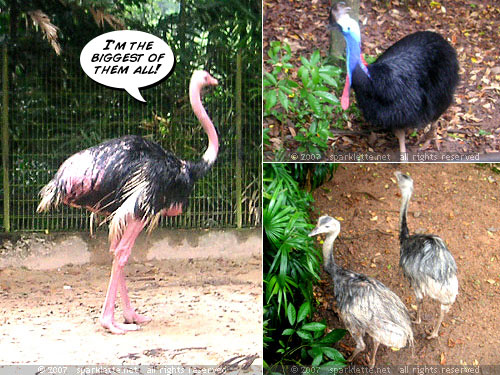 Flightless birds, clockwise from left: ostrich, cassowary, emu. The ostrich was tall! The one in the photo is a male ostrich. I learned that the male ostrich has a pink neck and legs, while the female one's are light brown.
The blue-headed cassowary is one fierce creature with a body of black feathers that resemble human hair. It is one of the few birds in the park that live alone in its enclosure.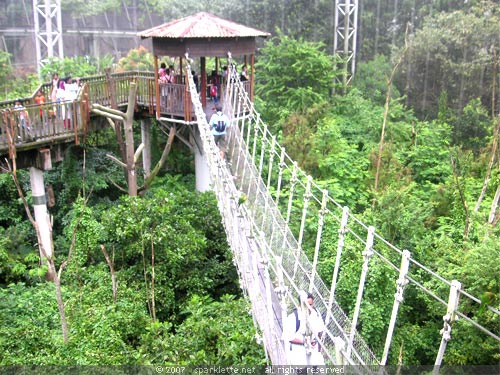 The "lory loft" was pretty exciting. It is 9 storeys high and spans an area of 3000 square meters. People can walk on high suspension bridges with the tree canopies beneath their feet, and a thousand colourful lories flying about! It resembles the treetop walk at macritchie reservoir.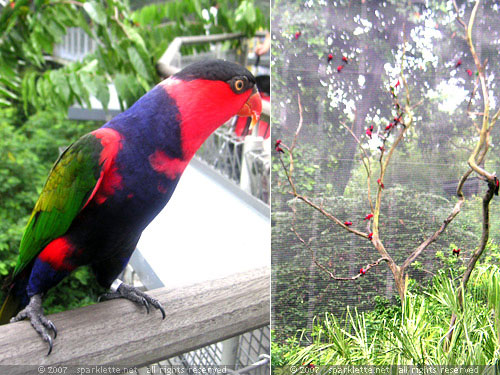 Visitors are encouraged to feed the lories with nectar mix, which they can buy at $2 per cup.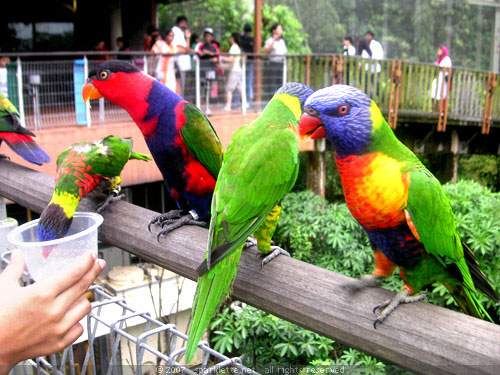 Those bright vivid colours on the rainbow lories look almost unreal! They were so, so pretty. I thought the lories looked cute!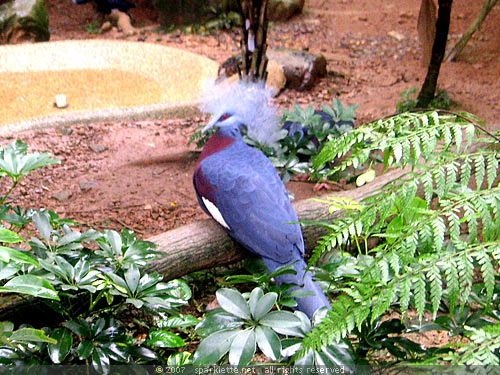 Another bird with unusual colours is the crowned pigeon, so named for its unique crowned head. Doesn't the blue make it look like some mystical creature? In this enclosure, visitors can walk around the crowned pigeons freely too.
Some other birds that we saw include riverines, mandarin ducks, toucans, hornbills, kingfishers (much smaller than I had expected. Love the blue!), eagles and vultures. The vultures really creeped me out. There was a (what I hope was) fake carcass of a dead animal in the cage to indicate that vultures are scavengers. (see? Attention to detail!)
In one of the last stops we made, we saw owls! The "world of darkness" showcased many different owl species. My favourite was the snowy owl. That's Harry potter's pet right? I should consider keeping one as a pet too. They are white, beautiful, quiet, mellow, and seemingly fuss-free. Perfect!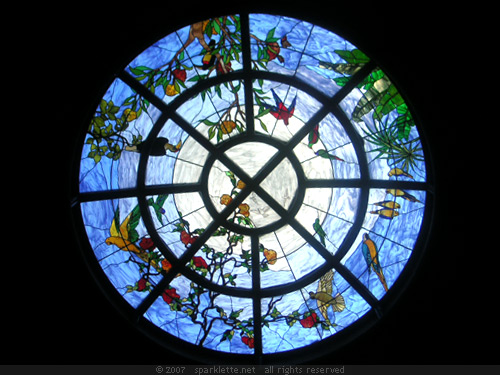 At the main entrance (also the exit) of the Bird Park, there is a colourful dome made out of stained glass at the ceiling, with pictures of birds and trees. It was very pretty, but not many people might have noticed it.
If you are interested in visiting the Bird Park, check out the colourful map where there are cute icons of the birds! It should give you a good picture on what to expect at the Bird Park. (as a designer, I thought the map was very well-done.)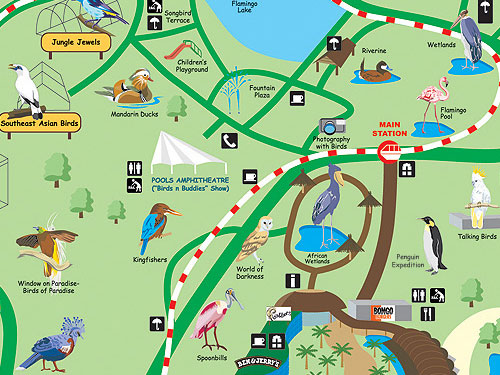 Click to enlarge
You can make your way around the place on foot or by panorail. Personally I would go on foot to get a closer view of the birds, and throw in a panorail ride afterwards only when there's time.
The Bird Park is set up in such a way that it's almost impossible to get lost (yet some people still do, judging from the ones that asked us for directions). There's just one single route to follow, in the shape of a loop so you can go clockwise or anti-clockwise. This way, you get to see everything!
I thoroughly enjoyed my visit to the Bird Park very much. For the following days, I kept watching and re-watching the videos I took, especially those of the penguins! I simply could not get over how adorable they were!
Dining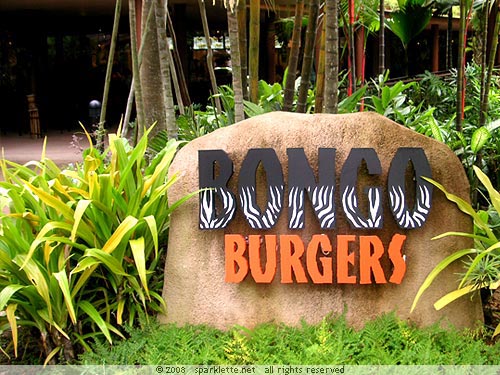 Feeling peckish after touring the bird park? Head to Bongo Burgers located at the park's entrance for some chow. Check out our review of Bongo Burgers.
Jurong Bird Park
2 Jurong Hill
Singapore 628925
Tel: +65 6265 0022 |
Website
Opening hours: 8:30am – 6pm
Admission: $18 per adult, $9 per child (3-12 years)
Panorail: $5 per adult, $2.50 per child
Bus services: 194, 251
Nearest MRT: Boon Lay