My love for the endearing king penguins drove me to visit the Singapore Jurong Bird Park again, almost exactly a year from the first time I met these adorable arctic birds. (I missed them so much!) this time round, I said hi not only to them, but their newborn chicks too! I also ended the trip with a hearty meal at the park's restaurant, Bongo Burgers.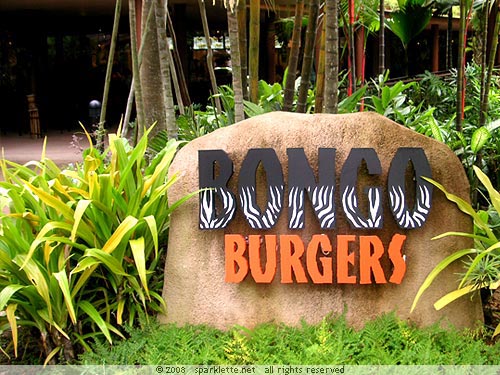 I like the way "Bongo Burgers" is written in big block letters, covered in zebra print and bold orange, bearing a hint of African wildlife. It's even cast on a big rock surrounded by bushes! Does this remind you of the Flintstones?
The restaurant features an African theme, with its interior decked out in varying hues of beige and brown. The walls are adorned with African artifacts and art pieces. Even the ceiling lamps blend in well with the theme! I can't remember if African music was playing in the background. If it was, it would certainly have lent an additional layer of African culture to the place!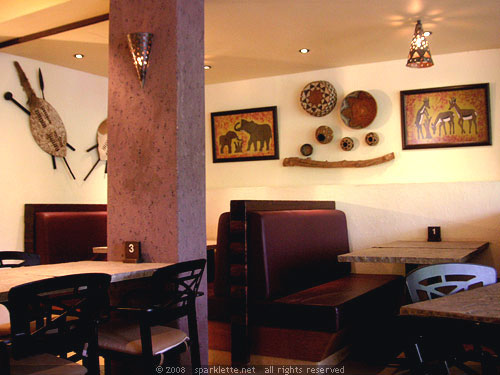 If you're wondering whether diners have to put up with the sweltering African heat too, the answer is, thankfully, no. The entire restaurant is air-conditioned, save for an alfresco area.
Dining outdoors amidst the greenery would no doubt be a unique experience. Imagine having the occasional swan or duck waddle by for a visit after its swim in the nearby (open and unbarred) pond. Ain't that great? Just make sure you're not having a Turkey pasta then!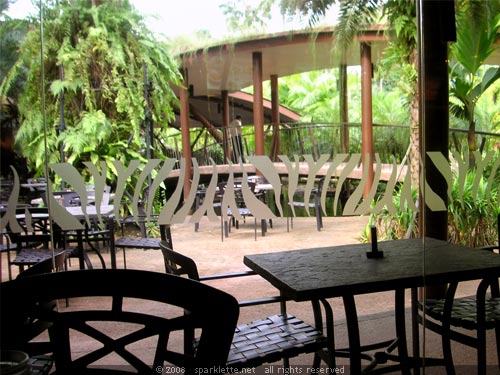 The zebra print is used repeatedly in the restaurant. Diners eat from plates that are lined with the pattern. Similarly, the glass windows are embellished with the same print. Further hints of wildlife can be seen in the choice of dining tables, whose surfaces have a rugged rock texture. How unique!
Customers would order and pay for their food at the counter, fast-food restaurant style. Waiters and waitresses, dressed like rangers with khaki safari caps no less, would serve the food once ready. (boy, looking at the extent of this African wildlife theme, I wouldn't be too alarmed if an ostrich came strutting in!)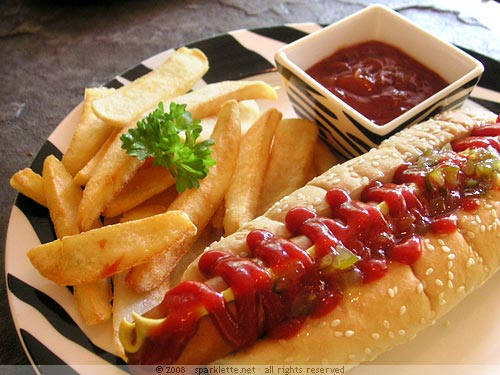 Jumbo Hot Dog with Fries
S$9.50
Rating:





Besides burgers, there are also pastas and other main courses available. My jumbo hot dog came in an American-sized portion, which was awesome! That's exactly what hungry visitors need after spending hours exploring the park.
Normally, I wouldn't care much for hot dogs. To me they are just… Nice. Ketchup is a big no-no too; there's only one way to eat a hot dog – with heaps of chilli sauce and mustard! But in this case, I absolutely loved the ketchup that came in the little container (also zebra-printed)! The sauce was made from scratch, complete with juicy chunks of tomato. It was a perfect match with the hot dog, making the dish extremely savoury and satisfying!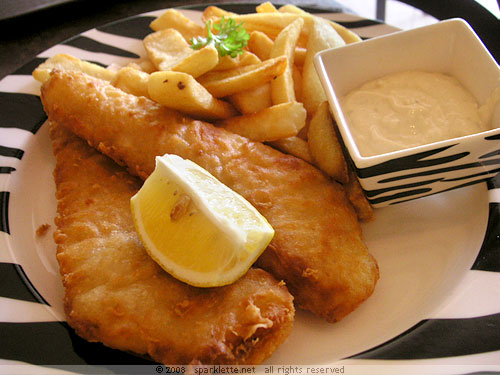 Fish & Chips
S$9.90
Rating:





As for the ever-popular fish and chips, it sure didn't disappoint. Both slabs of fish, covered in a golden coat of light, tasty batter, were deep-fried to perfection. There was no hint of the fishy stench. Nor was there any oil residue that remained on the plate after the meal.
The accompanying tartar sauce was very much worth every fattening calorie, as was the nest of fries. Fish and chips lovers would not be disappointed. Valentine's Day. Many people around the world celebrate Valentine's Day by showing appreciation for the people they love or adore. Some people take their loved ones for a romantic dinner in a restaurant, while others may choose this day to propose or marry. Shop Valentine's day gifts at http://onevalentinesday.com/ for best prices. Many people give out greeting cards, chocolates, jewelry or flowers, especially roses, to their partners or admirers on Valentine's Day. Shop online Valentines day gifts for sale prices at OneValentinesDay in United States. Valentine's Day.
Did I mention that besides being reasonably priced, each meal also comes with its own drink? Wow!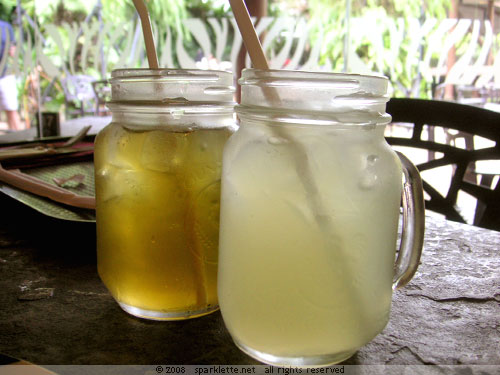 Green Tea & Lemonade
Rating:





It's pretty hard to find a good lemonade in Singapore, because most restaurants do not sell it anyway, preferring to offer lemon tea instead. I wonder why! The ones that do tend to serve lemonade that tastes too sour for my liking. But at bongo burgers, the lemonade is the best I've had since california lemon at Marina Square closed down.
I'm not sure if many people would actually make a trip to Jurong Bird Park and bongo burgers. Judging from what I saw on a Sunday afternoon, the crowd wasn't exactly bustling. That's a real shame, because the food here is actually good. If the restaurant was to be located at a less remote place, it would certainly fare much better.
So that's one more reason to make a trip to the Bird Park right?
Jurong Bird Park
2 Jurong Hill
Singapore 628925
Tel: +65 6775 0446 |
Website
Opening hours: 8:30am – 6:15pm
Bus services: 194, 251
Nearest MRT: Boon Lay
(Another outlet at Night Safari)