Hi people, it's me blogging from Bangkok! My blog entries done here would be extra detailed because my mum would be reading these to keep track of me. I didn't really get to do much today because it took quite a while to get settled down here, and by then it was already pretty late.
My bro and mum dropped me off at redhill MRT station today, where I made my own way to changi. Along the way, I chatted with jishun via sms. It was a pleasant surprise that he contacted me because I haven't heard from him in ages. Told him I was going to Bangkok alone and unlike most people, he actually agreed that it was a great idea.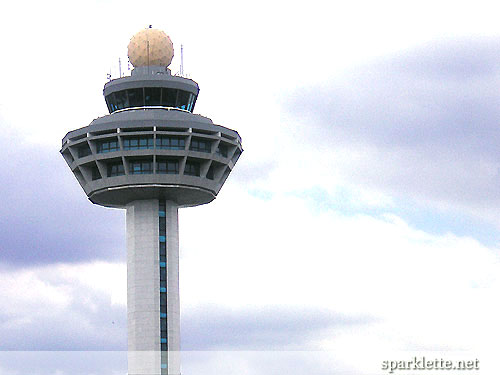 When I checked in to get my air ticket, the nice lady bumped me up to business class! Wow! The journey was off to a perfect start. Of the two times I flew with Cathay Pacific, both times they had generously given me business class seats even though I only paid for economy! From now on I'm going to be their most loyal customer. I think it's a little too much to ask, but I'm kinda hoping I get the same treatment for my return trip as well.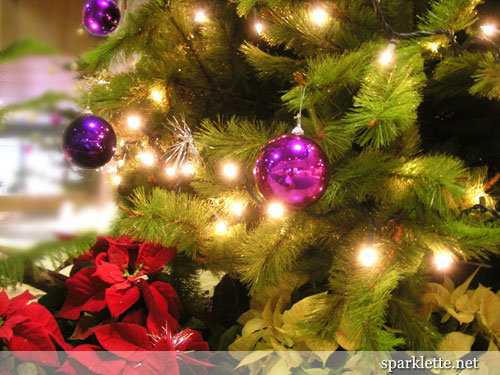 Due to my hectic schedule recently, I haven't really noticed that Christmas is just around the corner. Changi airport was nicely decorated with Christmas trees. Did I mention I love Christmas trees? When I was little, my Dad used to put up one in our house every Christmas. I really enjoyed making ornaments to hang on the tree and wrapping fake gifts to lay around it. But right now, I haven't really gotten into the festive spirit, especially since I had to work and plan for this trip at the same time.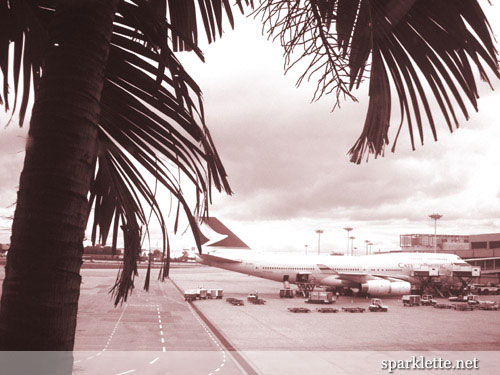 There was a half-hour flight delay. When the time came for me to board the plane, I felt a little homesick already, can you believe it? Well I have never been away from home for seven days in a row, so it's no surprise that I felt that way. It would have been great if I had sat beside another solo traveller on the plane so that we could chat, but noooo, it was an Indian couple who kept strictly to themselves.
The food on Cathay Pacific flights is always good. We had prosciutto ham with rock melon and bocconcini for the appetiser (which was yummy)…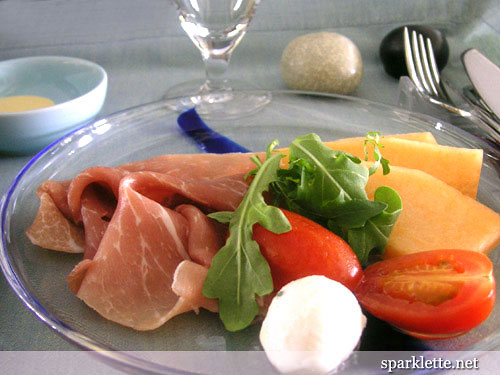 Followed by laksa noodles with prawns for the main course (which was not-so-yummy)…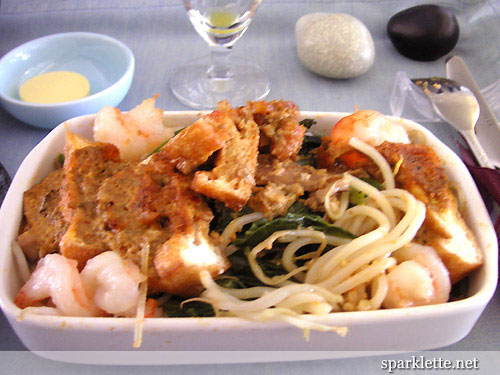 And finally the best part, panna cotta for dessert! I guess anything that's vanilla should taste good for me. Weirdly, the main course is the worst dish of the three. But anyway, the service was excellent, and that more than made up for it. It was a pleasant flight, and I had a good laugh watching friends and will & grace.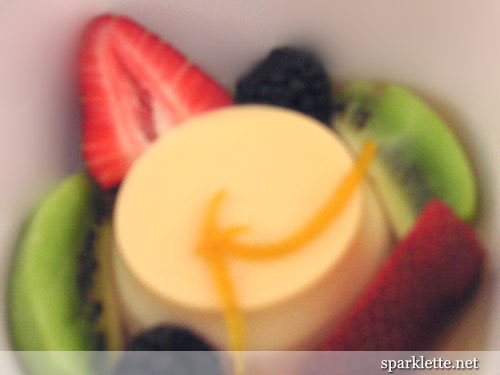 Oh yeah, I was browsing through the in-flight sales catalogue and bought The Cathay Pacific pilot bear for 20 bucks. I thought it would make a good souvenir but more importantly, a good bedtime buddy for my week-long hotel stay. I mentioned I was frightened of ghosts, remember? Initially I had actually thought of bringing my small pillow along for a sense of something familiar in a foreign land, but I decided that I'm not a baby anymore.
The plane touched down at about 4pm. As usual, the arrival hall at the Bangkok international airport was a mayhem. I wasted no time in getting out of there and hailed a cab to my hotel, Centre Point Petchburi, pre-booked online from Agoda. The trip was extremely long, no thanks to the traffic jams during the peak hour.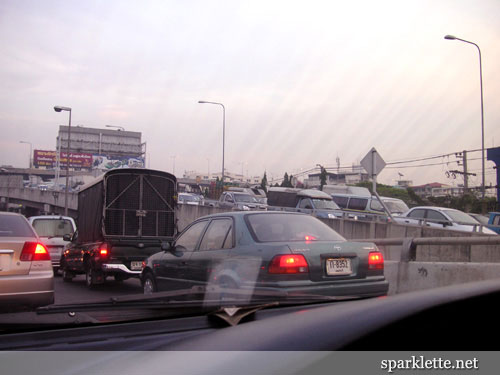 Thankfully, the driver was friendly and even though he spoke little English, he pointed out the interesting places in Bangkok for me to visit. We reached Centre Point Petchburi, and I didn't have a very good first impression of the place. It was quite a distance from the nearest skytrain station, and it wasn't along the main road. The lobby was also painfully tiny, but the service was again excellent. The gentlemen at the reception were very approachable and helpful, and they could speak and understand decent English. The bad thing was that I had to pay an additional 300 Singapore dollars as a "security deposit" which would be refunded when I check out next Wednesday. Didn't see that one coming, so it means I would really have to watch my budget for the next one week.
The porter walked me right to my doorstep. I think I was supposed to tip him but I didn't, since I was out 300 Singapore dollars, which is equivalent to 7000 Thai baht. I got the rather inauspicious room number of 911. But the room looked pretty nice, so I didn't get too fussy. Had some hiccups with the in-room internet connection initially, but now it's working as well as the one I have at home.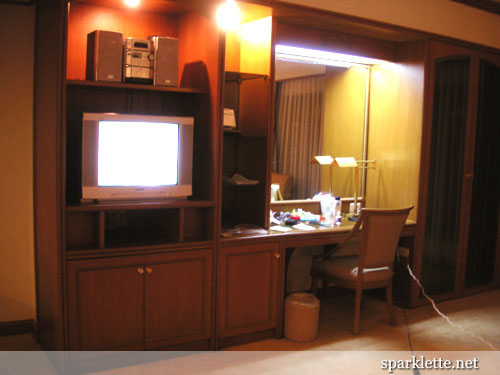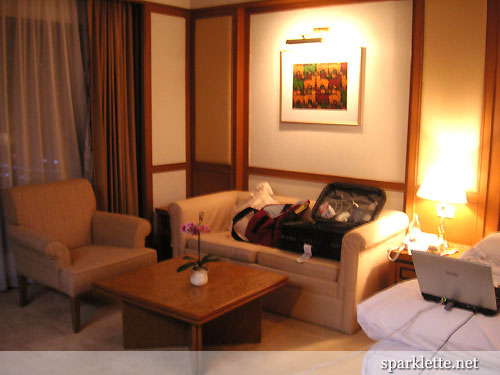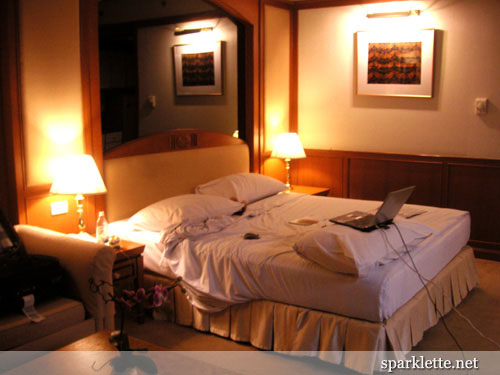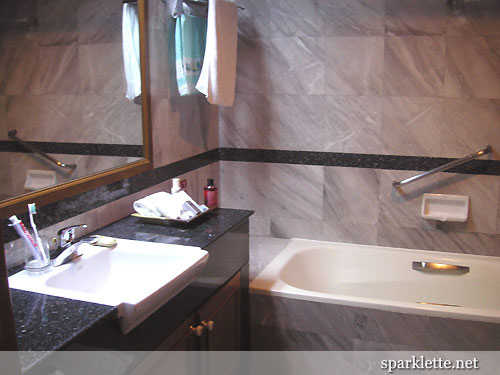 There you go. This is where I will call home for the next one week. Uh, if my bed looks messy, that's because I'm a messy person. By the time I got everything sorted out, it was already 6:30pm in Bangkok, which was 7:30pm in Singapore. To my horror, this is what 6:30pm in Bangkok looks like: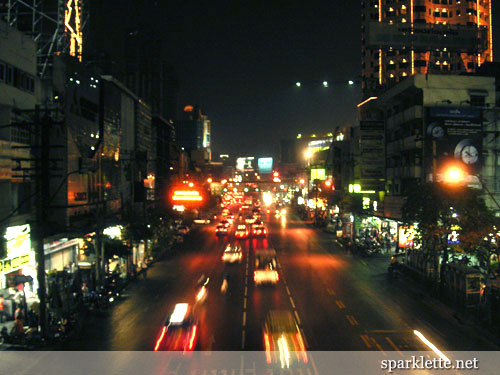 The sky is already pitch-black! Might I say, there doesn't seem to be any difference to Singapore except that instead of calling it 7:30pm, the Thais call it 6:30pm. Get what I mean? In fact, a long time ago there wasn't even this one-hour time difference between the two cities. But eventually the Singapore government increased the time difference from zero, to half an hour, to the current one hour. Someone once told me that this was because the government wanted people to work harder. By making the night start at a later time, people would tend to end work later and hence work longer hours. Wonder if that's true.
Since there wasn't much time left for the day, I just explored the area around my hotel. It's very near a Swensen's and burger king outlet, and there are a few 7-11's around. There's even a so-called computer city, Pantip Plaza, which is supposed to be like sim lim square or funan centre. But there weren't many interesting things there, although I did get a pair of shades and a hair brush (things I forgot to pack).
Right now, there are posters and signboards of the king all over the city. The king celebrated his birthday on December 5. I think the Thais must hold a great deal of respect for him. Other than the king's birthday, Bangkok has also gotten into the Christmas spirit. There are pretty lights in a lot of places, such as the nearby amari hotel.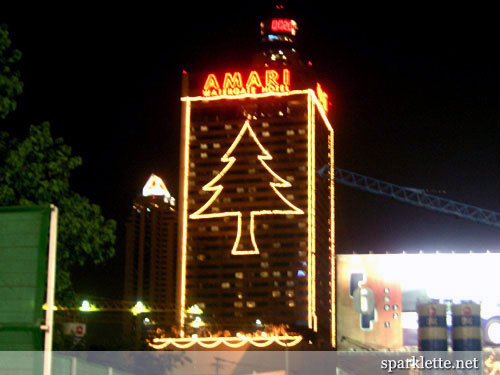 My camera can't handle night shots at all! But anyway, the hotel has the outline of a Christmas tree lit up on its surface. Very pretty and very unique! I don't think we can find that in Singapore because the government has some law that restricts the use of bright lights and bright signboards on buildings, for fear of distracting motorists.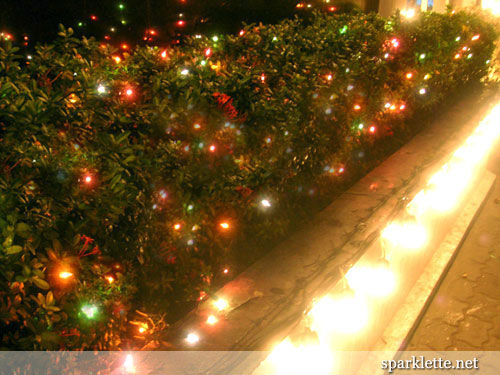 On my way to the skytrain BTS station, a Japanese tourist started talking to me. He was an old man who was wondering what pictures I was taking of. But he spoke very little English so we could hardly communicate. Later on I took the wrong skytrain that went the opposite direction. But thank goodness the station security officer was extremely friendly and helpful. I finally ended up at the correct station and went to MBK, the mega shopping mall.
There were a line of people peddling their wares at the station. And I bought this nice shawl for only 100 baht! That's just about 4 Singapore dollars! Gonna wear it as a belt.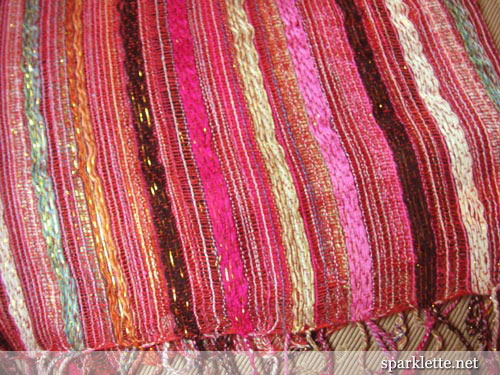 I didn't have much time to walk around MBK as it was getting really late. But I did have time to go to TOPS supermarket to get these little "fruits".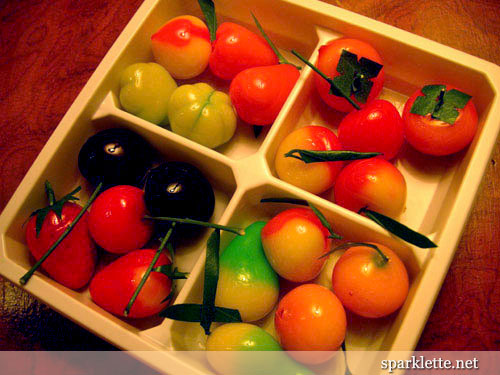 They measure about 2cm in diametre and taste sweet. Each one is delicately made to look like a miniature fruit, such as an apple, a strawberry, an orange, etc. Very cute looking. Too cute to be eaten actually.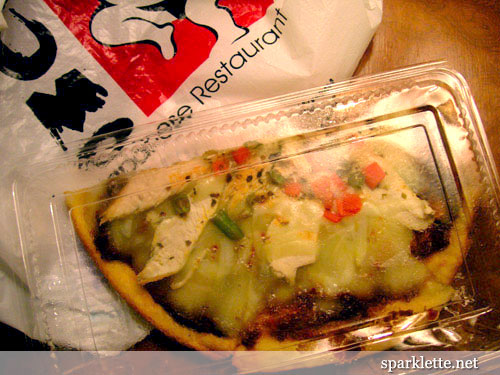 Bought a pizza takeover from a Japanese restaurant to bring back to the hotel. It's spicy chicken flavoured, and again cost only 100 baht with service charge included! So cheap! Okay the picture looks like crap, and it shows only half the pizza cos I ate the other half. The pizza itself was actually very yummy. It's the sauce I think. The Thais are great at concocting sauces.
Right now I'm waiting to watch the fenerbahce vs Manchester United champions league match in two hours' time. Luckily there's cable TV over here with espn. There's just no way I'm gonna miss watching a man u match, even when I'm abroad. After the match ends, I shall head for breakfast. Looks like I'm gonna have to forgo my sleep tonight.
So far I have been extremely lucky during this trip, with everything going smoothly, and running into people who have been extremely nice and helpful. I think it's really true that when you are alone, people would tend to be nicer to you. But this is only the first day. Hopefully the remaining days would be as smooth-sailing as this.