I barely got any sleep today. Found out that the buffet breakfast here is really sucky; I left within 15 minutes. There is startlingly little variety of food available for a nice 4-star place like this. In fact Narai Hotel, the 3-star hotel I stayed at the last time I came to Bangkok, offered a much better buffet breakfast. I'm thinking I should forgo breakfast altogether to have longer sleeping hours.
Realised I really should have done a more thorough research before embarking on this trip. Got too carried away about making the trip that I hadn't planned much on what to actually do during my trip. For the first couple of days, I revisited the places from my previous trip here as well as doing some research, so that I could spend the remaining days exploring new places.
This afternoon, I went to Pantip Plaza opposite my hotel to buy a longer LAN cable for my laptop, so that I may surf the net in bed. The sales staff there were extremely friendly to someone who was just buying a cheap 110-baht cable. This guy came over when he saw me looking at the cables. And when I couldn't decide whether to buy the 5-metre or 10-metre long cable, he opened up the package and got a second guy to come over so that they could stretch out the whole cable from end to end, and I would be able to see the entire length. When it came to payment, the second guy escorted me all the way to the counter, and the cashier was suddenly all smiles too. It was as though I was buying tens of thousands of baht worth of products. Excellent, excellent service. Two thumbs up definitely.
Not too sure whether they treat all customers with the same respect, or just tourists. But I have to commend that generally, most Thais have wonderful manners, and they are really helpful too. Yesterday, I was standing at the BTS skytrain interchange station looking lost, and this other guy immediately came up and directed me to the correct platform even without me asking.
After the lousy buffet breakfast, I decided to go to Siam Center for lunch at the shockingly cheap buffet place where my mum and I went to the last time. Made the mistake of WALKING there from Pantip Plaza in the hot afternoon sun. Didn't think it would be that far. See, the better way would be to walk to the Ratchathewi BTS station (it's the nearest BTS station to Centre Point Pratunam where I'm staying at), and take a skytrain to the next station at Siam. The little map looked deceiving, because I ended up making at least two kilometres on foot.
Speaking of Bangkok's BTS stations, I find it weird that the platforms are built at twice the length of the actual skytrain. People would have to know where to wait for the skytrain so that they need not run to board it when it arrives. For the regular passengers, they are quite familiar with this. But for tourists like me, I would just stick around in the middle of where everyone is waiting.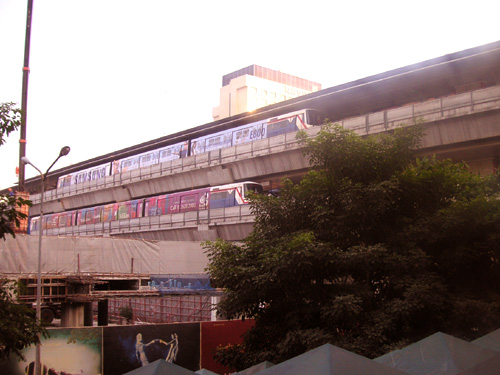 I reached Siam Discovery Centre first where I paid a visit to the Asia books bookstore. Asia books is a popular bookstore chain in Bangkok, and they stock plenty of English books. Read up a little on Muay Thai boxing since I would be watching a match the next evening, and I thought I should at least understand the rules. Finally, I got to Siam Center via the linked walkway, and sat down for cheap buffet.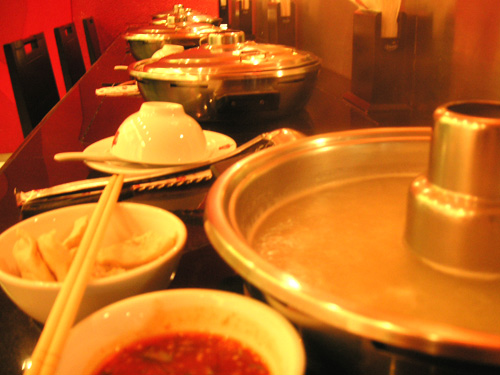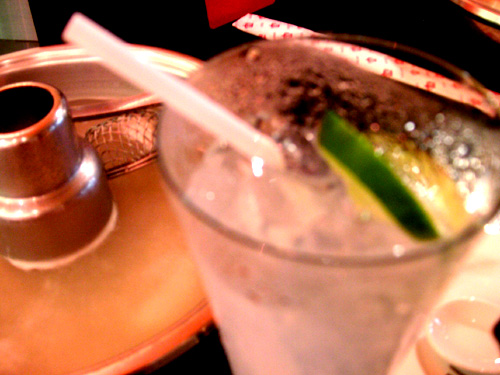 At 99 baht, it's seriously dirt cheap (use the conversion rate of 1 Singapore dollar = 24 Thai baht), but they restrict you to one hour. It's a steamboat buffet where you can ask for either chicken or tomyam soup or half of both in your steamboat. The dishes of food such as vegetables, crabsticks, squid, chicken, pork, etc come on a conveyor belt like those in sushi restaurants. Nothing special actually, but the chilli sauce makes it all good. As I said before, the Thais are skilled at concocting sauces, and the chilli sauce was marvellous.
Next, I checked out the stores in Siam Center. But for some reason, I wasn't that keen on shopping. So I ended up buying only a silver ring with sparkling diamantes for 150 baht. Passed by a Black Canyon Coffee branch, and imagine my delight when I found that they served the Blue Mountain coffee for only 55 baht! In Singapore, it costs about 12 dollars per cup!! Needless to say, I sat down for a drink immediately even though I didn't get a coffee craving then.
Black canyon has the creative idea of using a photo album for a menu. Diners may look at actual pictures of the dishes to have a clearer idea of what to order. A great idea actually.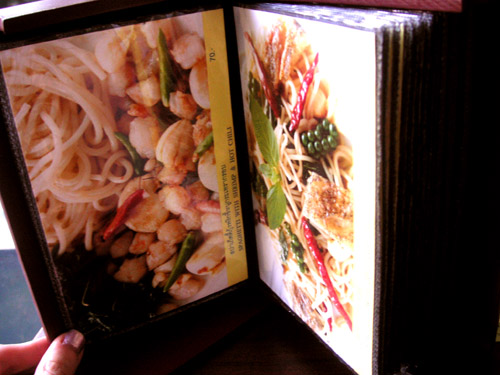 The coffee is black; it's the froth layer you're seeing. It all came in a very fancy manner, with biscuits in cute alphabet or numeric shapes contained in a small wicker basket. There's also a small glass containing a yellow quid which up 'til now, I still don't know what it is. It's tasteless. My guess is that it gives the coffee a sharp taste. For 55 baht, I was expecting nothing more than just a cup of coffee. In fact, I was so pleased that I paid 100 baht and got them to keep the change.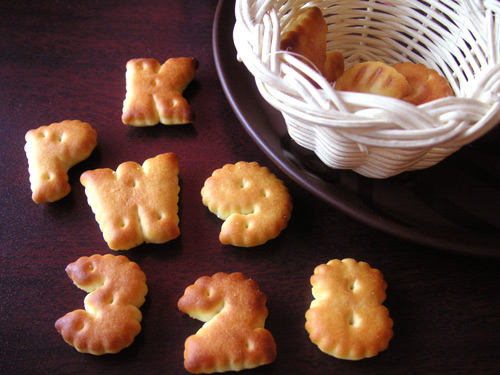 And if you're wondering if I ate the biscuits off the table later on, yeah I did. Hey I didn't notice this before, but there are 4 numbers there. You may use it to buy 4D.
Next stop: Siam Square.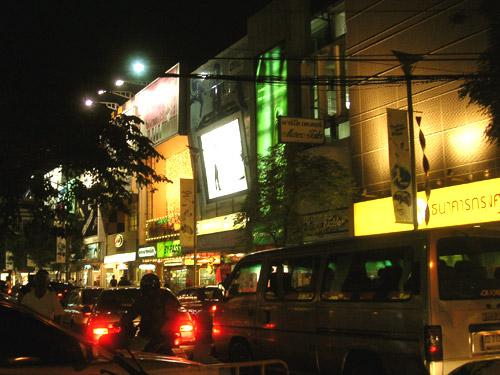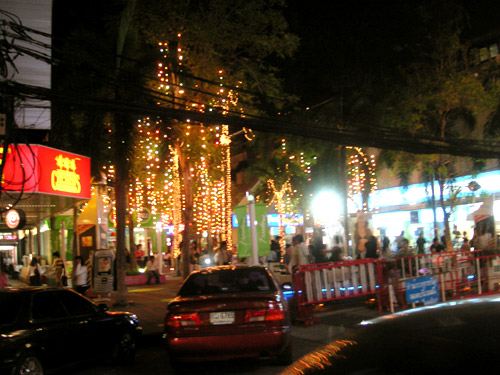 It's my first time there. It's a happening area with several shopping complexes. There's a cinema, many restaurants, and thousands of stalls selling mostly clothes and accessories. Definitely a girls' paradise. A lot of people were there because it's the eve of a public holiday in Thailand; December 10 is their constitution day. It was also then that I realised how good-looking the Thais are, much better-looking than Singaporeans. They may well be the best-looking people in Asia. Seriously I don't have to worry about getting raped in Thailand. The Thais are so gorgeous already. And besides, there are security or traffic wardens all over the place all the time.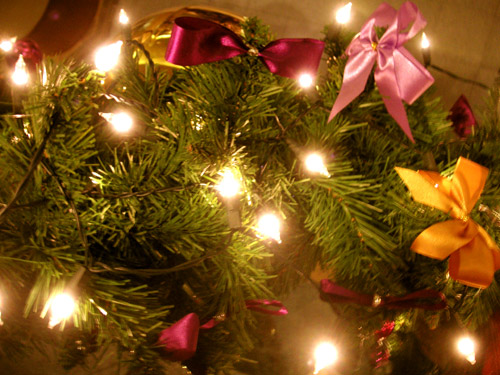 Despite trying to fit into the crowd, the Thais seem to be able to pick out tourists from the rest. They would start talking to you out of nowhere. I get a lot of questions like "are you Japanese" or "are you from the philippines". One guy even said that he was going to chiangmai next Monday and asked if I would like to join. Obviously I declined. But it is definitely true that people tend to be nicer when they see that you're alone.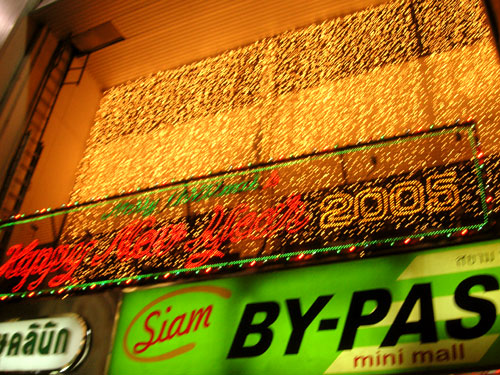 I bought a couple of tops from a stall there for 350 baht each. The tops were all hand-designed by the stall owner, so it's one-of-a-kind. At another accessories stall, I got a pretty necklace that has a pendant with colourful diamantes. At 170 baht, it was already very cheap. But the nice lady surprised me with a 20 baht discount!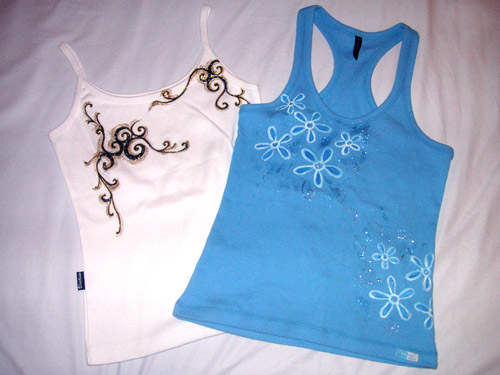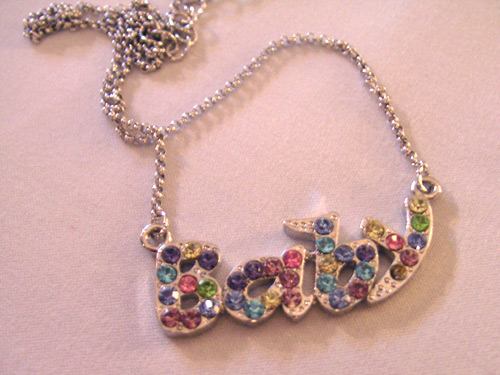 Look what I saw next!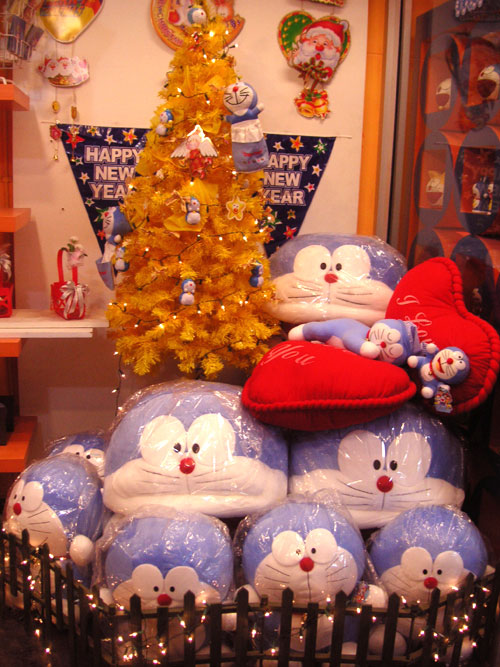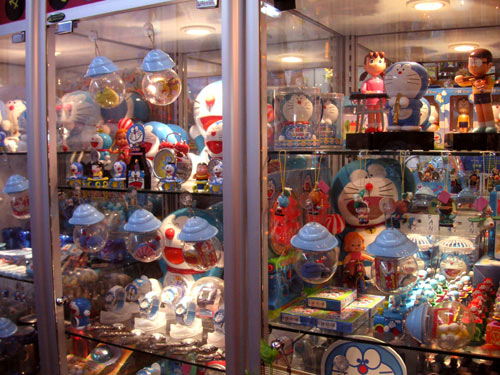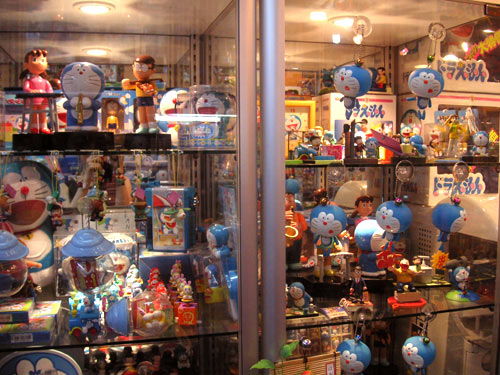 Smack down in the middle of Siam Square, a shop selling purely Doraemon merchandise! I was ecstatic because I LOVE Doraemon ever since I was little, but I had never seen a shop that's dedicated entirely to Doraemon. A pity nothing much caught my interest, except for this alarm clock.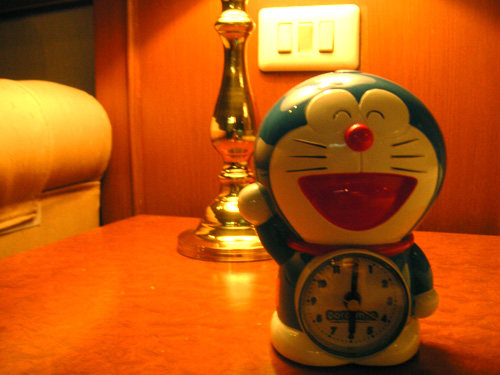 It plays the Doraemon theme song for its alarm, and says a chirpy "good morning!" when you press it to stop the alarm. It would be totally useful because I have to wake up early next Wednesday to catch my return flight.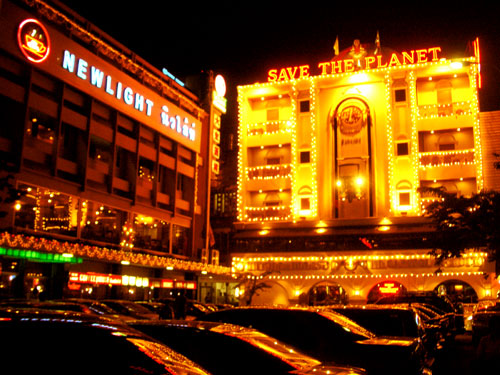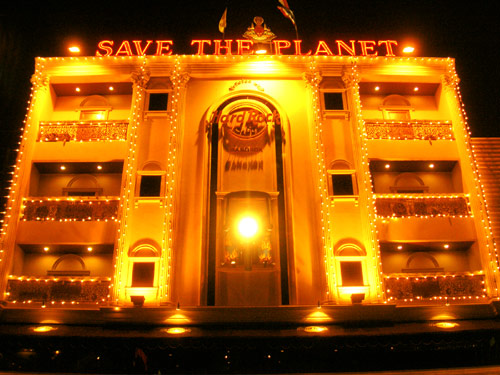 Also in Siam Square is Hard Rock Cafe! It's a golden building that looks magnificent at night. When I was standing there to get a picture, I didn't notice I was blocking somebody's path to her car. But she was so patient and nice that she waited until I was done. The people here don't really care what pictures you are taking of, even if it's of a nondescript Christmas tree. If you happen to be blocking their way, they would still patiently wait until you have got your picture. Anyway alwyn answered my question as to why my nightshots are all sucky. I totally forgot my mini tripod, so my pictures taken at night tend to be blurry.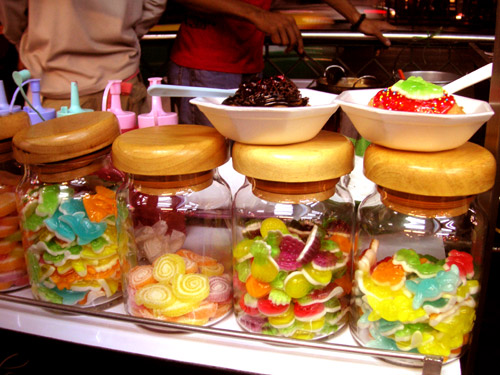 Decided to pop by MBK again. Having visited so many shops here in Bangkok, one thing I find is that the Thais seem to pay much attention to the aesthetic value of things. Even simple cakes like this look so nice!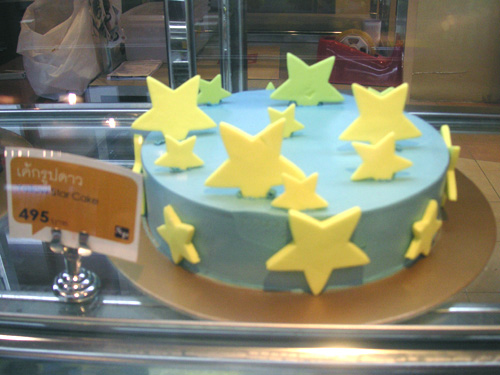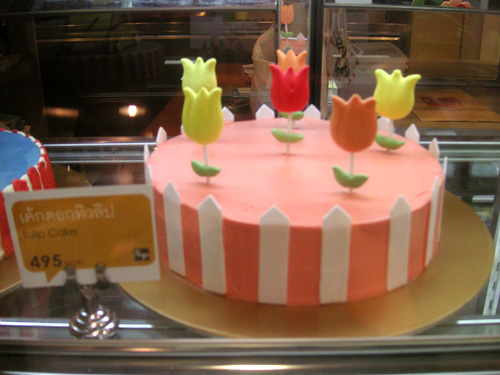 Surprisingly, there wasn't much to buy at MBK even though it's a giant shopping complex. Probably because most of the shops here sell pretty much the same stuff; if you've been to one, you've been to all. I bought an iced lemon tea from McDonalds, which was at least fifty percent cheaper than in Singapore, but the taste totally sucked.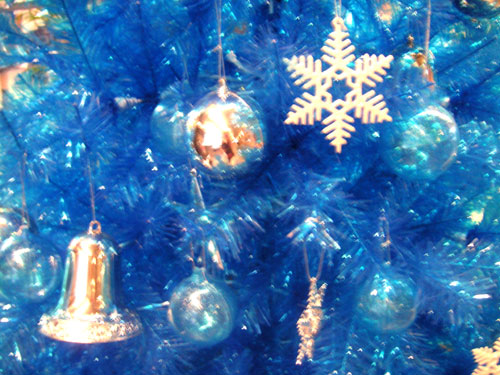 After all the walking that I had done all day, my feet were extremely tired, plus I was mentally tired too. So I made for an early night back to the hotel at 9pm. I forgot all about dinner and by 12am, my stomach was rumbling. But all the food I had was this: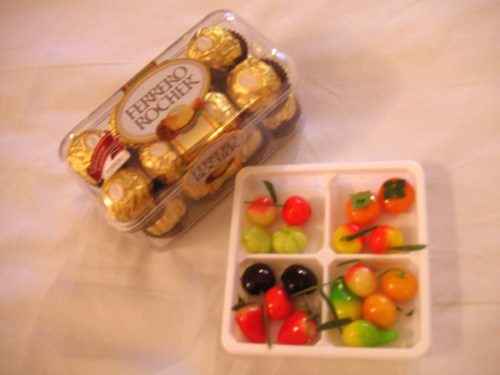 Ferrero rochers I brought from Singapore, and the louk-chup I bought yesterday. But I'll live. Alone in Bangkok, I'm really thankful that I got a room with high speed internet access. At least I can still chat with people back in Singapore, update my blog, download movies and mp3s. Ya know, just doing familiar things that I have always done back at home. It curbs the inevitable loneliness that comes occasionally. But if you're thinking, "ha! I told you so! Who ask you to go alone?" I would have to say that the benefits I get out of coming here alone far outweigh the occasional loneliness. So if nothing goes wrong, I should do this again in future.