The mornings in Bangkok are extremely cool and comfortable. When we stepped out of our hotel each morning, we would be like, whoa, chilly! Compared to the hot climate in Singapore, the 15C weather was pure bliss.
That's why shopping at Chatuchak Weekend Market in the morning feels a whole lot more bearable. Unfortunately by 10-ish, the weather gets pretty hot. So we did our last bit of shopping in a hurry and escaped the heat after buying gao sai (pork floss rolls).
Being the thrifty travellers that we were, we commuted on the skytrain and MRT (two separate lines) or walked whenever possible. At times we did wander around like lost souls, and depended on the helpful locals to point us in the right direction. While trying to locate Chokchai Prime Steak House, a place I came across online, we even mistakenly combed Soi Cowboy, a red-light district area!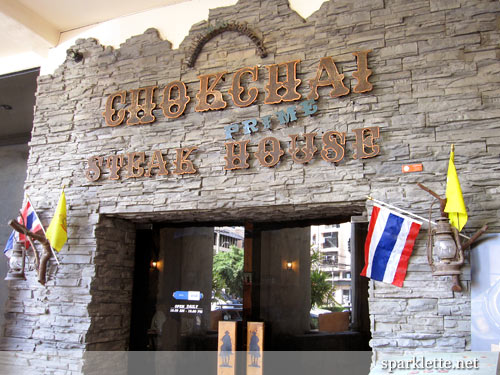 Once we found Prasanmit Plaza, identifying the steakhouse with its prominent rock exterior was a breeze. The waiters wore suits, although the restaurant did not appear to be particularly posh. There was even a wild wild west theme in place.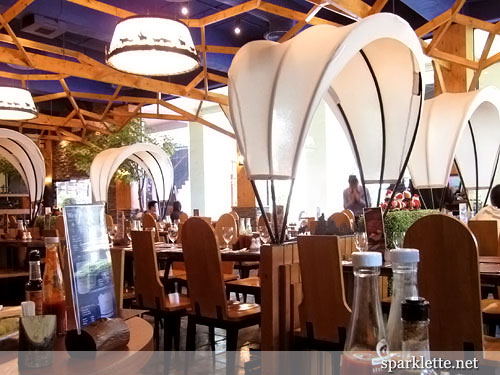 Carnivores can indulge in stuff like buffalo wings and various kinds of meats. We were rather disappointed by the sight of the plain wings that arrived at our table.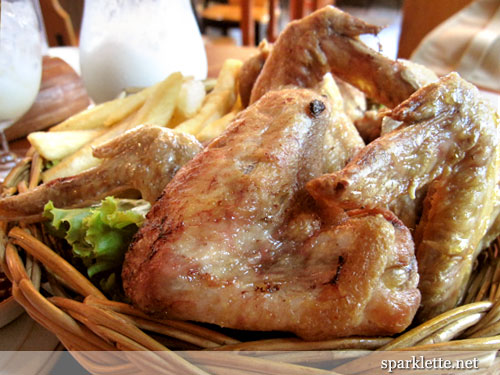 I guess not everyone can do wings like Jerry's! This was considered a main course rather than a side dish, and came with fries.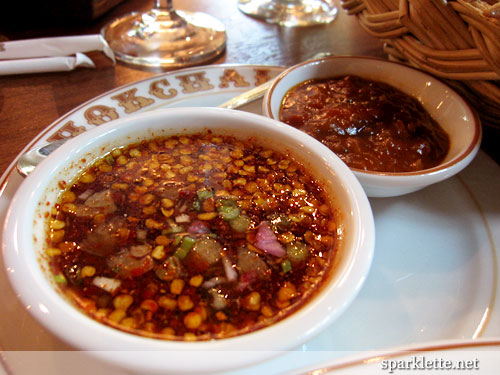 On their own, the wings tasted every bit as bland as they looked. But the two different spicy dips served alongside totally saved the day! One was the traditional sweet Thai chilli sauce. The other was a thick sourish chilli paste. The Thais really know their spices, and we love to eat them just as much!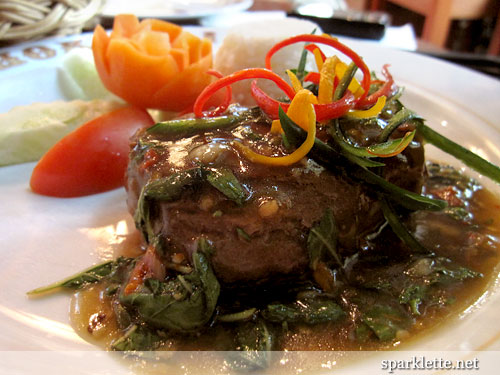 The beef steaks came in either the usual plain slabs or cooked in a sauce, like the hot and spicy one we had. It's pretty good, and was beautifully garnished and served with rice, strangely.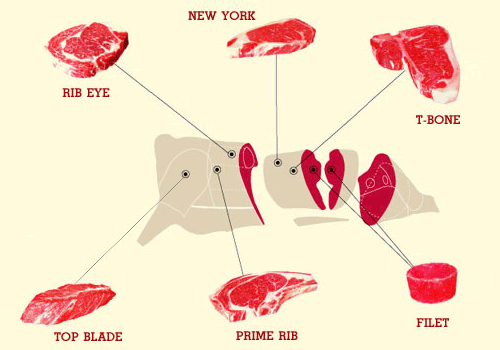 There's even a whole page on the menu that gives diners a crash course on the various types of steak and the pros and cons of each. Perfect for a steak idiot like me!
I'm not sure about the other meats, but the beef here actually came from their very own farm, Farm Chokchai! It's pretty cool – you can go there for a farm stay and learn to make ice cream, presumably with milk from their cows! That's going straight into the itinerary for my next Bangkok trip!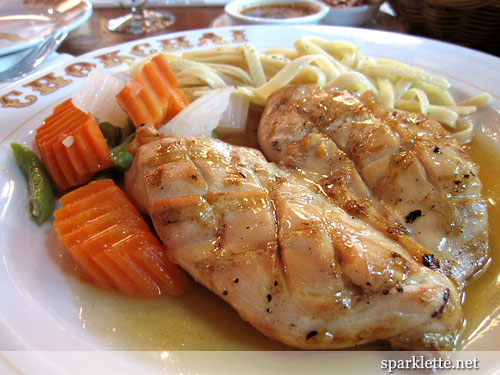 As I was nursing a sore throat at that time, I ordered a chicken steak with honey. The portion was ample and the chicken was just okay, mostly because I'm no big fan of honey. The checkered pattern on it was a nice touch though :) and that's that for our meal at Chokchai Steakhouse.
Chokchai Prime Steak House
Prasanmit Plaza
45 Sukhumvit Soi 23
Bangkok 10110
Thailand

Tel: +66 0 2259 9596
Service:





www.farmchokchai.com
Our next stop was the new Manchester United Restaurant and Bar in Bangkok. (There's one in Singapore, too.) We are both die-hard fans. So when we first knew of this restaurant, we couldn't wait to check it out. It would be so, so awesome to catch a game there!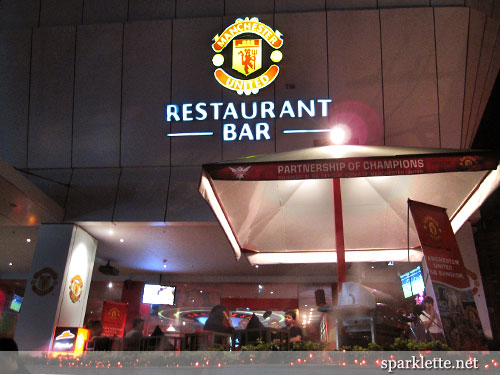 The place is located on the ground floor of the President Palace Hotel. As the hotel has yet to open for now, some taxi drivers may not know the place. A good tip is to print out the address, preferably have it in Thai script as well, and show that to the driver. We adopted this practice for all the not-so-famous places that we wanted to go.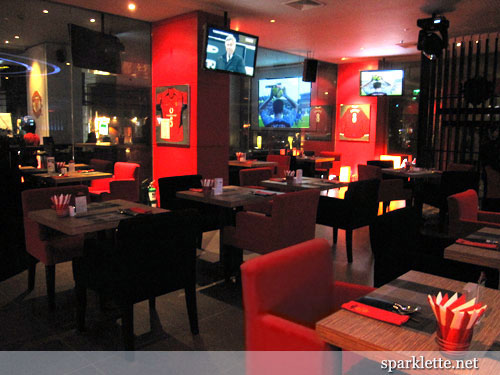 The restaurant is rather big, decked out in the club colours of red and black.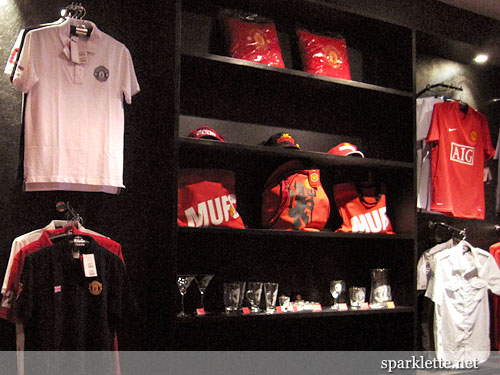 Near the entrance is where you'll find the merchandise section. There are jerseys, t-shirts, bags, caps and scarves. Some other items such as glasses, coasters and cushions that are in use within the restaurant are sold here too. We bought a t-shirt with a silver crest that we had never seen in Singapore! I would have gotten a tote bag too if it wasn't so darn expensive.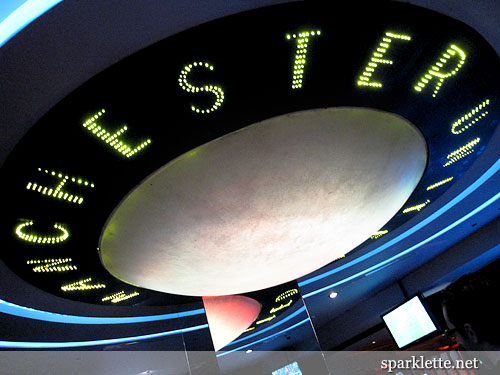 The ceiling at the bar counter has the club's name in changing colours.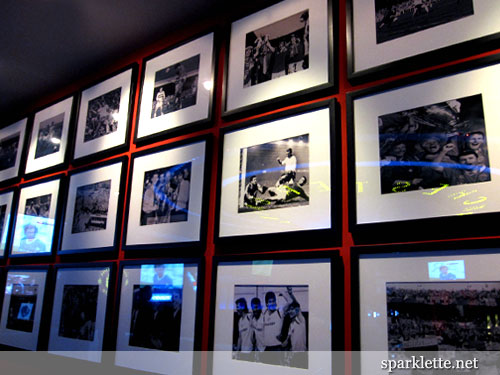 On one side of the wall fans can admire the black and white photos of players from past to present.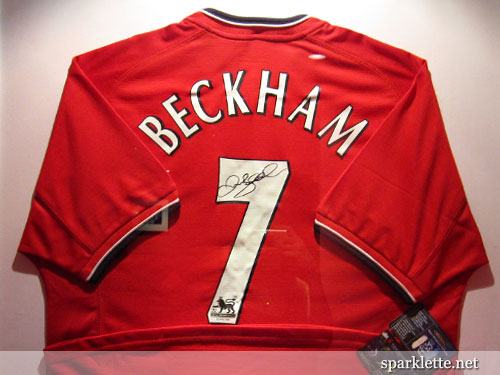 I also spotted a couple of signed jerseys that were framed and displayed proudly. One was of David Beckham, the other, Ruud van Nistelrooy, both who were once great united players.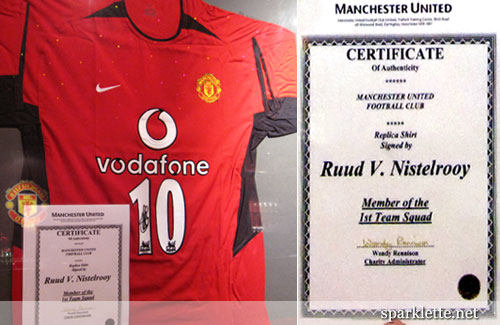 Wish I had gotten a picture of the Rooney jersey too!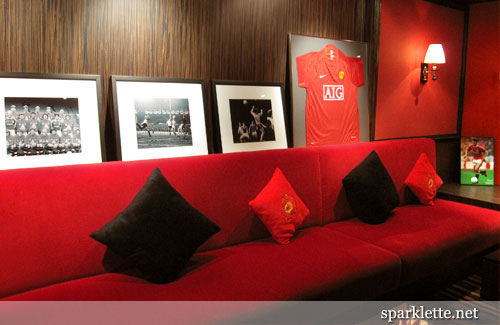 The private VIP room can accommodate larger groups, with karaoke facilities and its own washroom.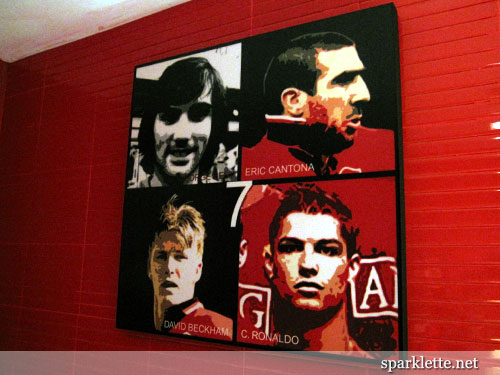 In that washroom I spy this framed montage picture of the four great #7's – George Best, Eric Cantona, David Beckham and Cristiano Ronaldo! In the past four decades, has there ever been a united player that wore the #7 jersey and wasn't spectacular?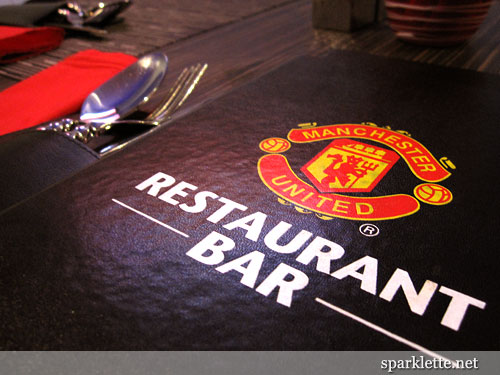 The menu consists of a variety of Asian and Western dishes. There's even nasi lemak! That's probably because the owner is Singaporean.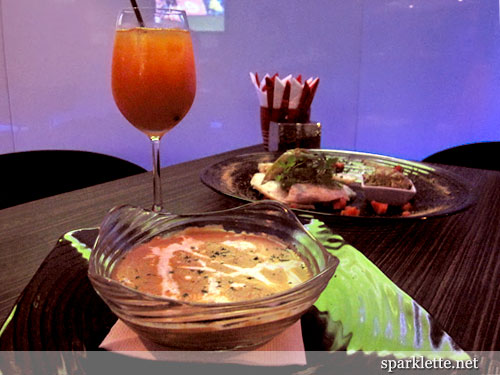 We ordered crab and lobster bisque, quesadillas and a couple of pasta dishes. With the exception of the seafood bisque, the food was pretty much abysmal (a word I first learned from playing Championship Manager football).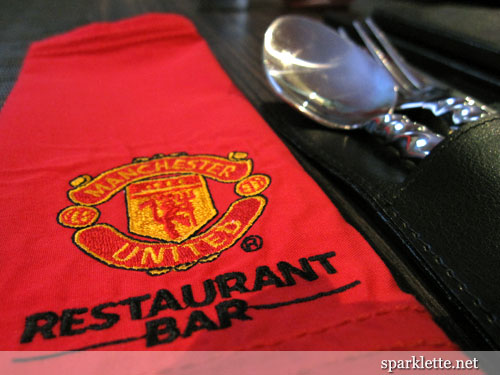 But that's okay. We weren't there for the food anyway. But it definitely was a delight to use the fancy United napkins and coasters, and serviettes in red and white!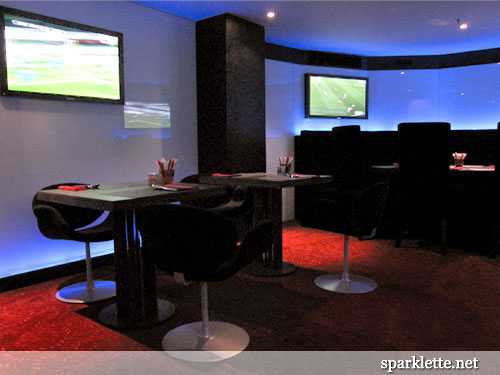 Besides the giant projector screen in the alfresco dining area, the restaurant also has multiple LCD screens. And when the game started, that's when our (and many other fans') nightmare began.
We soon realised that despite the many screens available, only a handful of these were hooked up to show live matches. The rest were simply replaying past matches. That's not a big issue, although it sure would be nice if all the screens were tuned in to the game.
But here comes the real nightmare. The live feed is streamed directly from the – get this – internet! For a place that claims to be an official sports bar of Manchester United, can't they at least subscribe to a decent cable channel?
Imagine watching a stretched and disproportionate youtube video on a large widescreen LCD. That's exactly what it's like. The video was so horribly pixelated that you can't even see the jersey numbers, and the right portion was cropped off. The worst thing is that the streaming lagged horrendously, paused frequently and even stopped for MINUTES at certain points. When Ronaldo took his direct free kick, the video stopped at the precise moment where his foot touched the ball! We never got to see how that played out. You could hear all the boos in the room.
We left barely 20 minutes into the game. It was an utter disappointment and calling this place a disgrace to Manchester United wouldn't be too harsh a word. The feeling of being in a United-themed restaurant was nice. But the experience of catching the game there completely sucked.
Manchester United Restaurant and Bar
President Palace Hotel
Sukhumvit Soi 11
Bangkok 10110
Thailand

Tel: +66 0 2651 2933
Service:





www.mufbthai.com
Has any of you been to the United bar in Singapore? I would love to hear your feedback!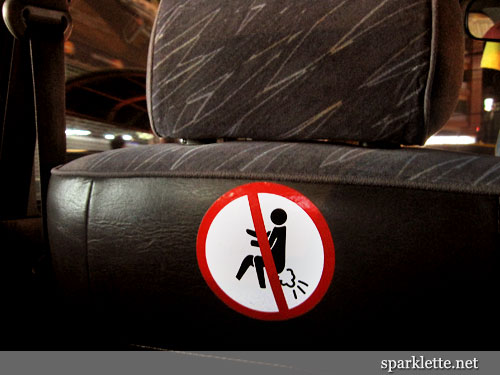 We did find some funny moments in the taxi ride on our way back to our hotel. This sign was pasted prominently at the back of the two front seats. It's so in your face you can't even ignore it! Is it just us or does it really mean "no farting"? Lol!