A trip to Bangkok would not be complete without a visit to Chatuchak Weekend Market. There are over 15,000 stalls packed closely together, rendering it almost impossible to comb every single one. Nonetheless, we were determined to spend not just one but both days here! This is the place where the locals shop as well. In other words, it's where you can buy things at a steal!
The variety of stalls sure is dazzling. Things you would find include food, fashion, footwear, furniture, floral and fauna, and furry animals. Do you see a common theme here? Well, I spotted this interesting sign at a shop selling street-wear.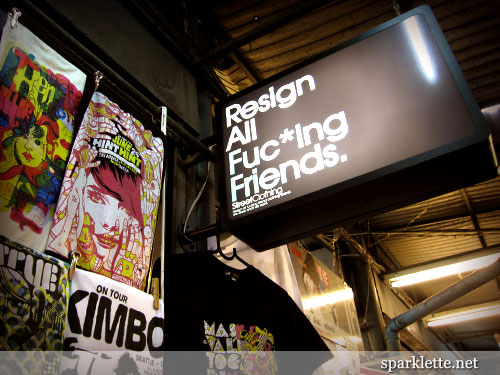 Sure, it doesn't make one bit of sense. The dirty word seems to have been thrown in there for the sake of having it. But the grunge designs of the t-shirts were pretty cool!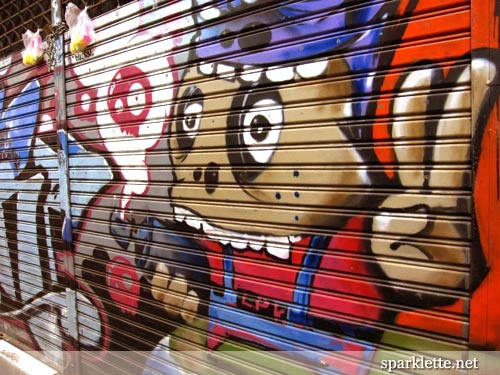 We were there around 9am, when the stalls were just getting ready for business and the crowd was thinner. Some shops had yet to open, so we got to see some of the cool graffiti art on their shutters.
Yet another big name has fallen victim to imitation products. This time, it's our favourite blue – Tiffany & Co.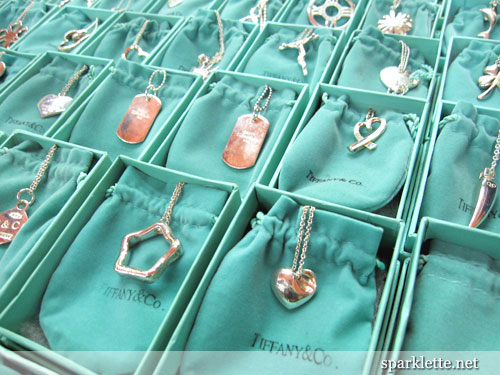 There were a number of stalls selling these silver pendants. One particular seller quoted 400 baht for each. The moment I walked away, she slashed the price to 200 baht. I didn't bite. But this is a good example of why we can be daring when haggling. A good rule of thumb is to start haggling from 30 percent.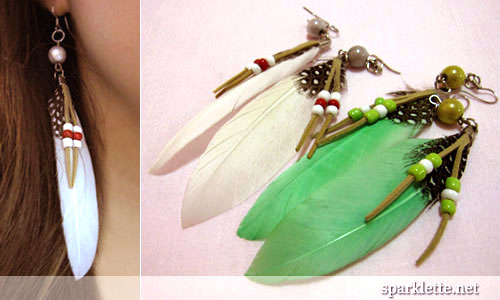 My favourite purchases are the Pocahontas feather earrings, and the purple racer-back top. It's a gorgeous shade of deep purple, and features a phoenix in brilliant blue at the back!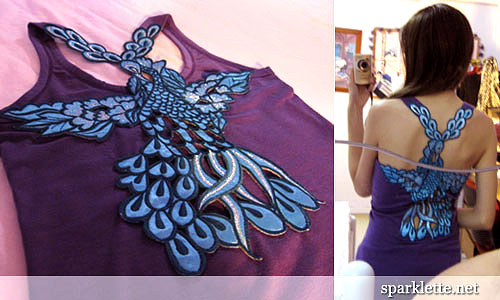 I also got these pretty rose flip-flops for just 99 baht (less than 5 Singapore dollars)! I adore them so much! And at that price it's a real bargain!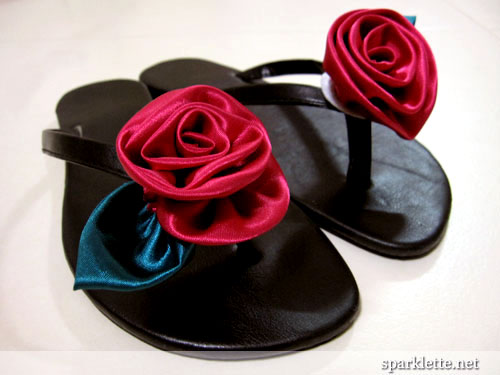 Besides the clothing and accessories section, which is the biggest section by the way, my favourite is the pets section. It's where you can see cute animals such as puppies, kittens and bunnies. We even saw some bunnies in little t-shirts! Too cute!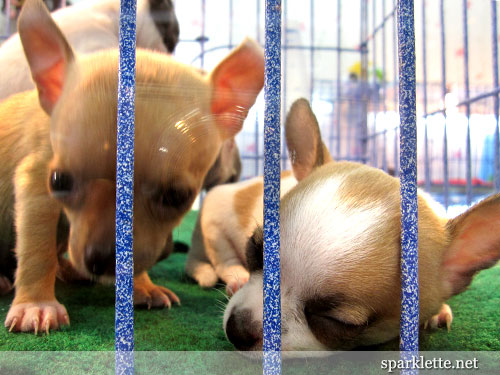 I never thought chihuahuas were adorable, until I saw these puppies. They're so small and precious!
The brown and white one is my favourite! He's so playful and adorable! Yup, definitely a "he" :)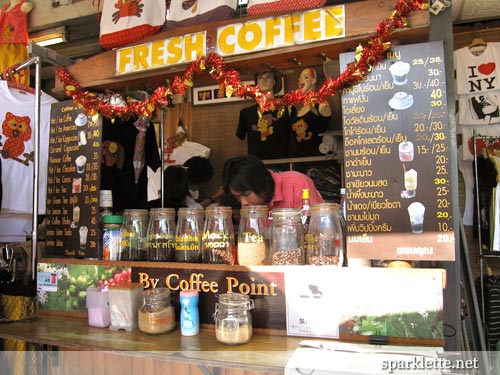 One of my favourite things about Bangkok is that the coffee is really cheap. There are many such coffee joints scattered around the city, selling all kinds of coffee at low prices. This particular Fresh Coffee stall at Chatuchak even packages the drinks in nice cups!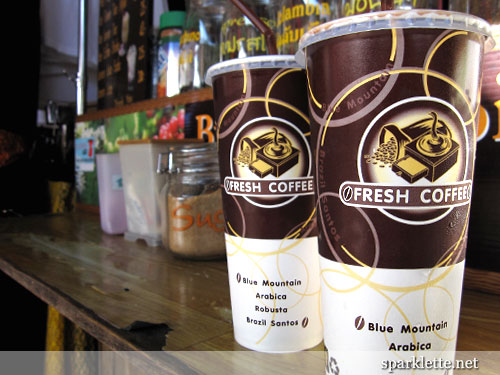 A tall cup of Blue Mountain coffee and hot chocolate cost under 2 bucks each! We could just sit there, sip on our drinks and people-watch…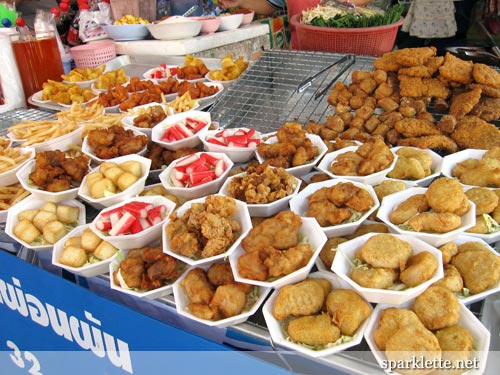 …or grab a snack from one of the many food stalls. I was trying hard to find one selling mango sticky rice, but was disappointed :(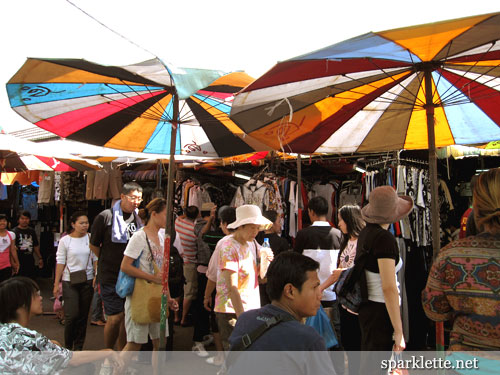 It hardly rains in Bangkok during the December-January period, but the sun really kills. Boy, does it get sweltering hot in the afternoons! At that temperature it's no fun when you're walking body to body in the crowd at a snail's pace. So we got out of Chatuchak before the heat baked us good and vowed to return the following morning.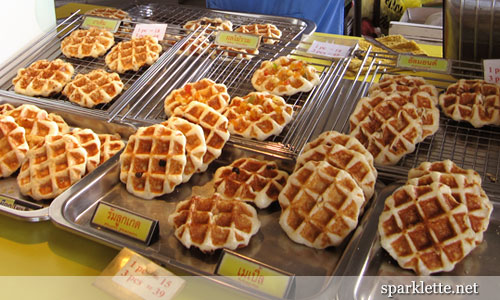 Waffle (my favourite!) stalls like these were quite common. The difference between these and the usual waffles I'm accustomed to is that they were smaller, thicker, fluffier and had fillings! Chocolate, vanilla, fruit, you name it. They were very yummy and we had a number of these during our trip. There's one such stall at Mo Chit skytrain station, the one at Chatuchak.
Back in our hotel, we set down our shopping bags as we jetted off to our next location: Kaiton along Petchaburi Road. That's where you would find the best chicken rice in Bangkok.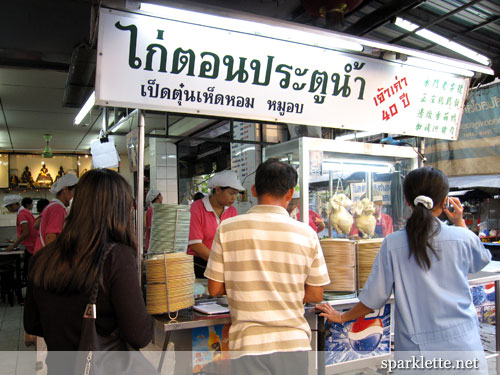 Initially, our taxi driver had no idea where to drop us off along Petchaburi road, but the moment I mentioned khao mun kai (chicken rice in Thai), he understood immediately and drove us right to the shop entrance!
Here's my detailed review of Kaiton chicken rice.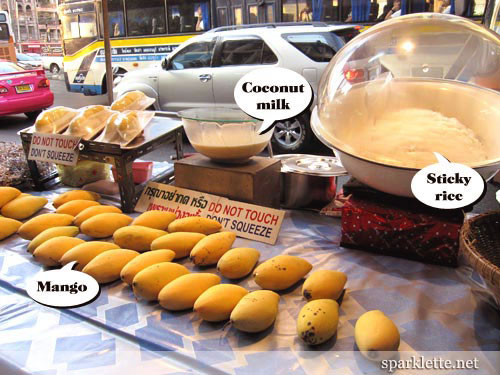 A few stalls down from Kaiton is where I found what I've been craving for – mango sticky rice! At 80 baht, it wasn't exactly cheap. I had the feeling I was overcharged for being a tourist. Can anyone verify if this is in the standard price range for mango rice?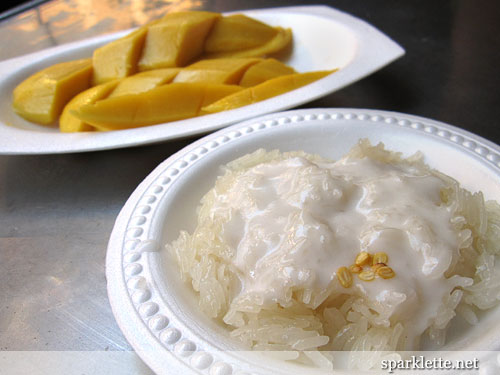 Ooh la la! Overcharged or not, I couldn't really care anymore because the food was what I had wanted for a long time. It tastes sweet, which is why it falls under the desserts category on most menus. The coconut milk is drizzled over the sticky rice, making this a rather sinful dish too. leak detection sunshine coast by specialized firm, Sunshine Coast Plumbing Co.
The streets of Bangkok are filled with many interesting sights and landmarks. That's Gaysorn Plaza Big C Pratunam, with a very eye-catching conical roof.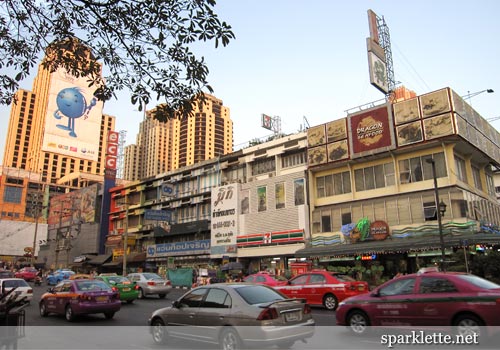 How many different coloured taxis can you spot? My favourites are the rare purple ones. The pink taxis were the commonest and seemed pretty reliable. Reminder: Always insist on using the meter!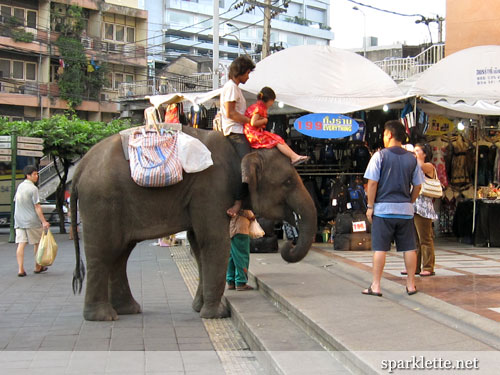 A huge elephant led by a couple of locals caught our attention. They were offering rides to passers-by, for a fee of course. I noticed one of them was holding a bag of fruits. I had once bought the fruit to feed a baby elephant. The poor little chap was starving! I suspect that these elephants plying the streets are probably undernourished, and depended on people buying fruits to feed them. This particular elephant looked tired, and reminded me of a weary old man. Sigh.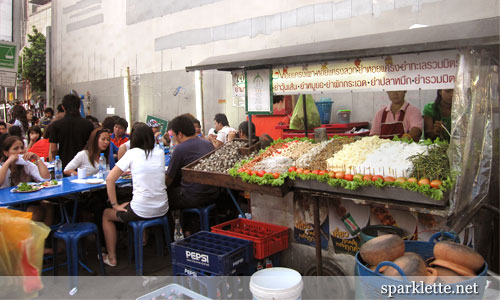 The experience of dining right along the busy traffic is one you would hardly find in Singapore. But roadside hawkers in Thailand are pretty ubiquitous. Many of them are makeshift stalls. Surprisingly, some of them even sold fresh seafood!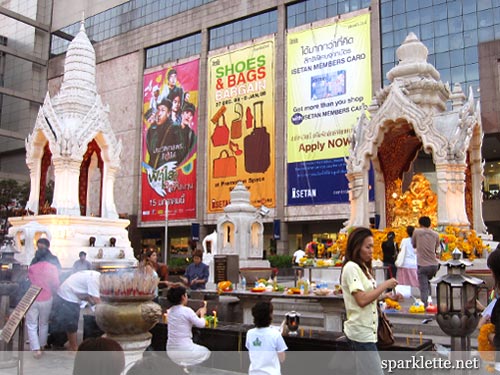 Shrines can be found outside every major shopping mall where devotees would pray. The two shrines at Central World are dedicated to Phra Trimurti, the god of love, on the left and Ganesh, the Hindu elephant god, on the right.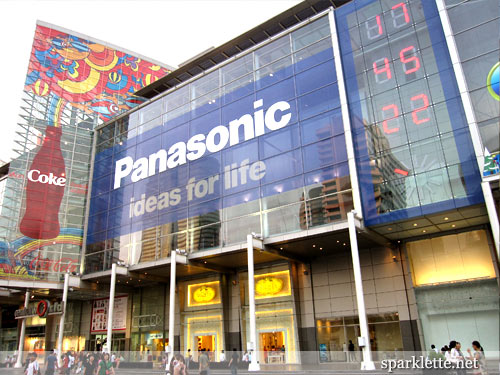 Central World is one cool-looking mall with glass facades. Many giant billboard advertisements can be seen on it.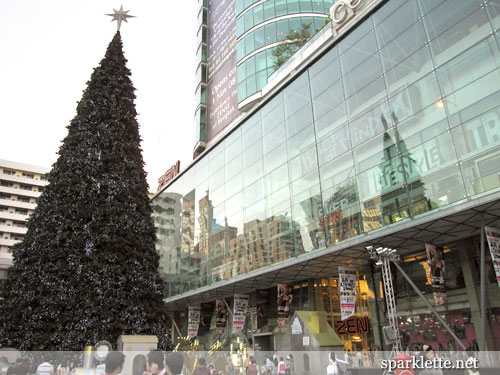 Even more gigantic is the Christmas tree! But it's really this smaller one that I like.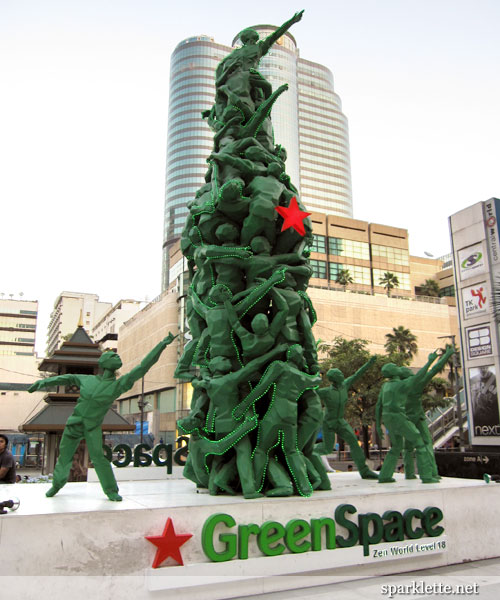 Green men huddled together to form this beer bottle tree. With that distinctive red star, make no mistake that this is a Heineken! Notice that their outstretched arms are all pointing to somewhere in the distance. It's a clever way of letting people know of GreenSpace, a Heineken bar on the 18th storey of the Zen World building.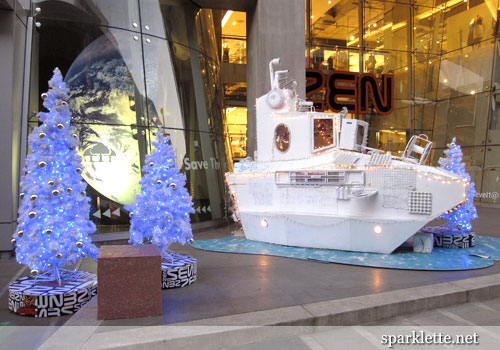 The Christmas decor outside Zen World was a little bizarre. The blue Christmas trees were fine, but there were all these ships and military tanks. Not very Christmasy!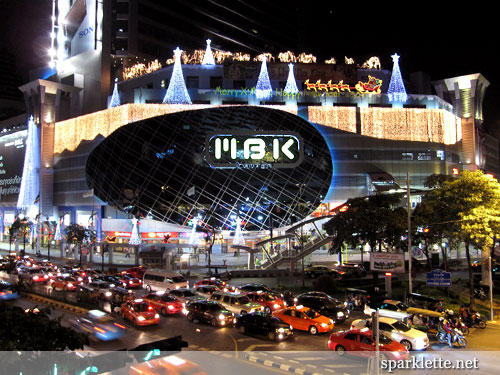 We did more shopping at MBK Center, and ended the night with a budget meal at a fast-food place called Santa's.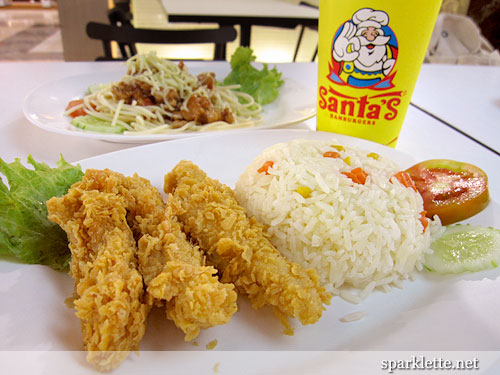 Who says Santa only lives in the North pole? Here at MBK, you can visit Santa anytime!