It was our last day in Dallas, and my most favourite day of the entire trip. Firstly, it was the day that we wrapped up work. Secondly, we got to do some sightseeing! Damn, some touristy stuff finally!
Dallas is the city where john f. Kennedy was assassinated. In fact, the building from which the sniper, lee harvey oswald fired his shots is still around. It has since been converted into a museum dedicated to JFK. Knowing this, I simply had to pay it a visit. It is called the sixth floor museum, as it was from the sixth floor of this building where oswald shot the president in November 1963.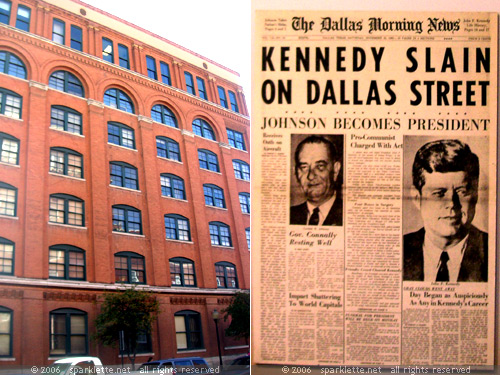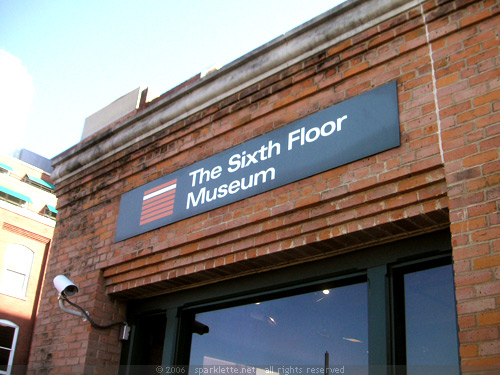 The building used to be the Texas school book depository where oswald worked. The information presented in the museum was extremely detailed. Photographs had been painstakingly collected from eye-witnesses and arranged to form a time-line of the shooting, down to the very minute!
That spot by the sixth floor window where oswald perched was fully visible behind glass. It was the spot where he lay waiting for the president's motorcade to pass by. The area had been arranged exactly the way oswald left it, with cardboard boxes and all.
A few points to note:
oswald killed another police officer within hours of shooting the president.
the day after the assassination, oswald himself was shot and killed while in custody. The museum even had a video screening of that shooting!
most Americans did/do not believe that oswald acted alone or that he in fact was the sniper. There are several conspiracy theories floating around.
the rifle that oswald used to kill the president cost just $12.87.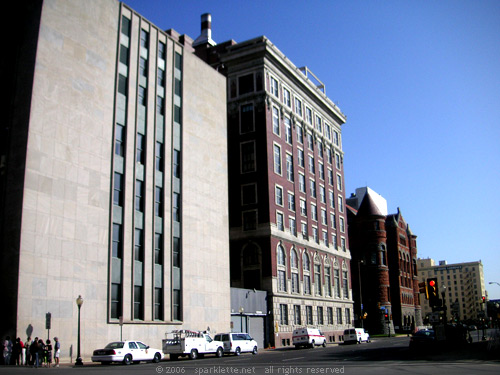 Interestingly, a white "X" has been marked at the exact spot on the road where jfk was shot in his car. Many of the buildings that were around at that time are still standing today. Notice the building third from the left, coloured in red? That's the "old red" courthouse I mentioned a few days earlier. It was built in the 1890s to replace the previous courthouse that had burned down. The courthouse before that also suffered the same fate, and so did the one before… In total, five ill-fated courthouses had been destroyed in fire before "old red" was built and became the only one that lasted.
I learned a lot from this museum trip. The atmosphere there was really solemn the entire time. At the end of it I even left a message on the visitors' logbook.
Moving on, I happened to pass by an interesting store that calls itself "wild bill's Western store". Hah! A supplier for cowboy wear! Cool!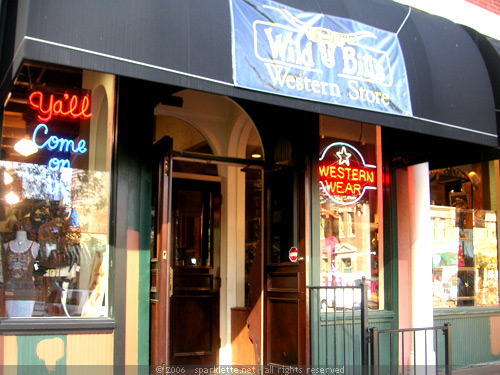 I was most amazed by the huge range of boots. I had never seen so many different kinds of boots in one place before! These were cowgirl boots, which explains why there are colours like pink.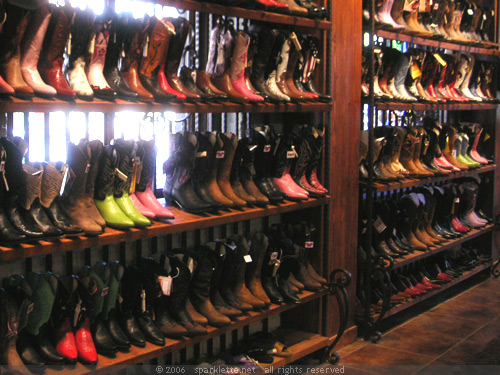 There was another huge section dedicated to cowboy boots and I saw some guy trying on some. Could he be a real texan cowboy?
No time to ponder! I wanted to go to the Dallas museum of art and time was seriously running out! Museums tend to close early so I had to skip lunch just to make it.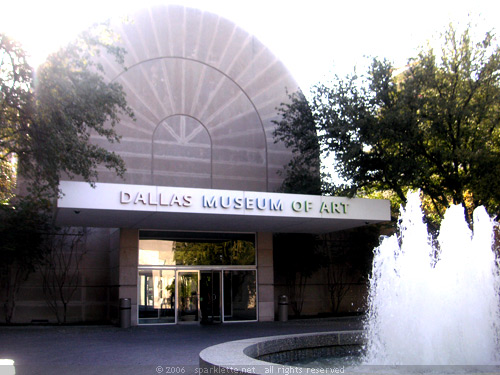 One thing that both museums had in common was this audio device that you wear around your neck. Many exhibits had a number that you would use to press into the device. A voice would then start telling you more about that exhibit through your headphones. How neat! None of the museums I have visited in Singapore has the same thing.
It just so happens that there was a van gogh exhibition at that time. How lucky was i? Although strictly speaking, most of the exhibits were not of his works but rather of the artists that inspired him.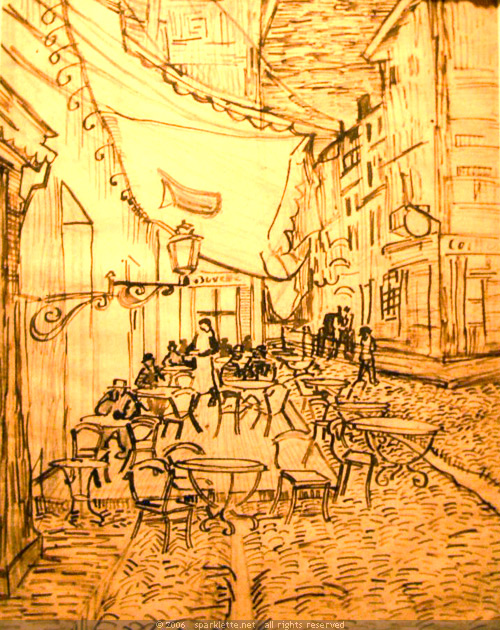 Van gogh's famous "café terrace at night" (1888), drawn with reed pen and ink over pencil on laid paper. Noticed something? The museum allowed photography as long as the camera didn't emit any flash or light. Awesome!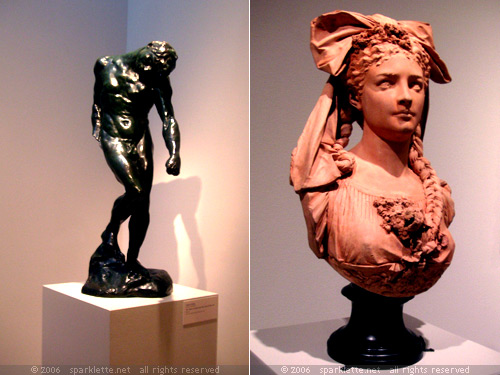 A couple of my favourite sculptures…
Left: "Adam from The Gates of Hell", Auguste Rodin, 1880
Right: "L'Alsace", Albert-Ernest Carrier Belleuse, before 1883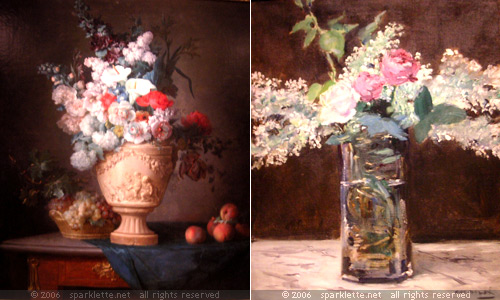 Left: "Bouquet of Flowers in a Terracotta Vase with Peaches and Grapes", Anne Vallayer-Coster, 1776
Right: "Vase of White Lilacs and Roses", Edouard Manet, 1883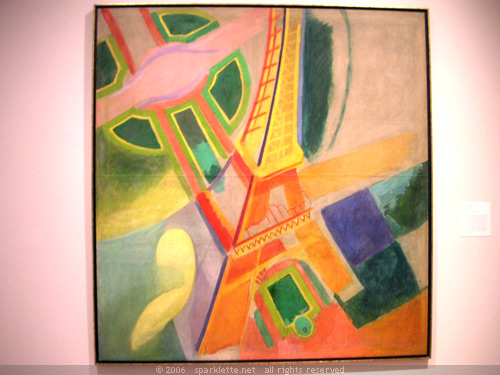 A personal favourite… "Eiffel Tower", Robert Delaunay, 1924. Very vivid and daring colours used at such a conservative age! ccshop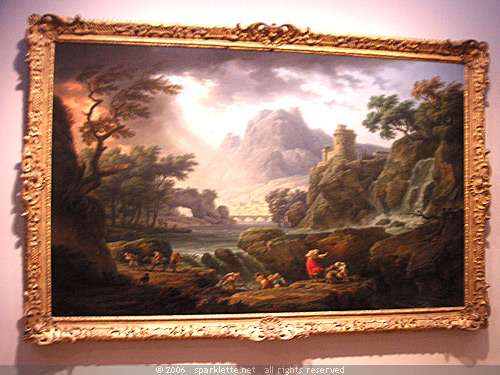 "Mountain Landscape with Approaching Storm", Claude-Joseph Vernet, 1775. This is my most favourite painting in the museum. It was huge, very detailed, and it took up most of the wall. I'm suddenly reminded of what Mr. Bean said in his movie. When asked to comment on a famous painting without knowing anything about it, he said, "well, firstly, it's quite big, which is excellent. If it were very small, microscopic, then hardly anyone would be able to see it. Which would be a shame." everyone lapped it up because they thought he was a real art expert!
Haha I'm a fan of Mr. Bean and each time I watched that movie, I thought he didn't make any sense. Until now. Because of how large the painting was, I could see its fine details. There's an impending storm and the villagers had to stop working. You could see fishermen packing their stuff and mothers rounding up their children to leave. I especially liked the village set in the distance. Here's a close-up of the different parts of the painting.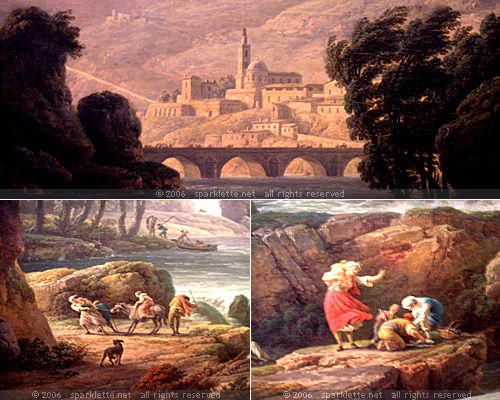 The museum also had certain rooms to showcase antique furniture and works of art. I thought it adopted a rather interesting concept. This is a dining room.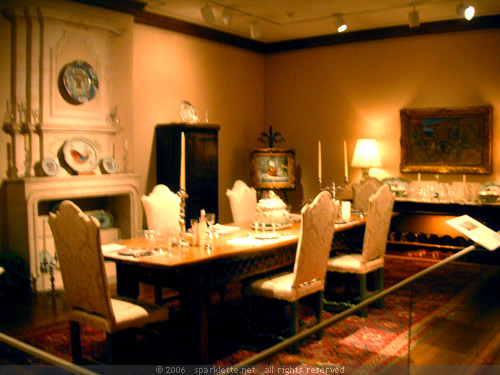 And a bedroom, which I thought was royally gorgeous! Very befitting of a princess!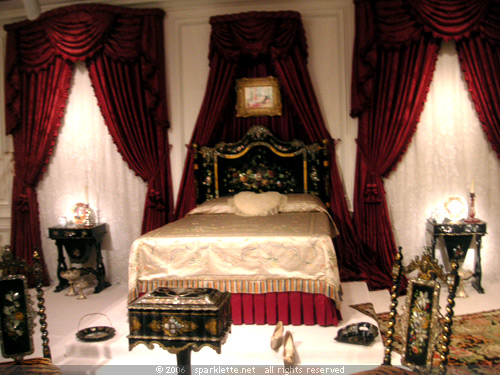 That was it. The museum had to close at that time. But it was a very enriching experience to see so many works of art over the ages. There were many ancient artifacts too from various civilisations spanning all parts of the world. Damn, I would so kill to go to the met in New York.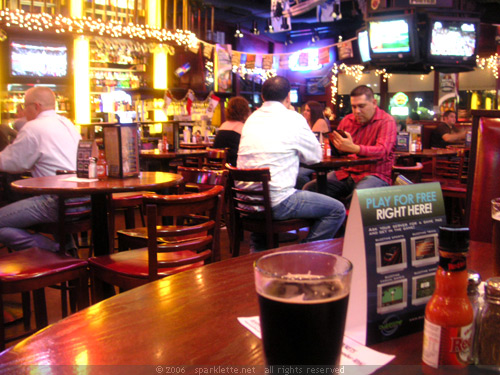 Dinner was at a nice sports restaurant called humperdink's. Interesting, isn't it? Do we have sports restaurants in Singapore? The closest I can think of is blooie's roadhouse, where half the time the waitresses are from China and don't speak any English.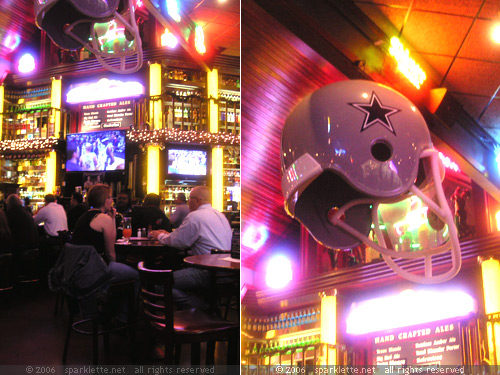 The atmosphere at humperdink's was certainly a much more lively and "happening" one. For one the place was huge, had a high ceiling and all, and multiple TV screens playing NBA or NFL matches. No EPL, of course.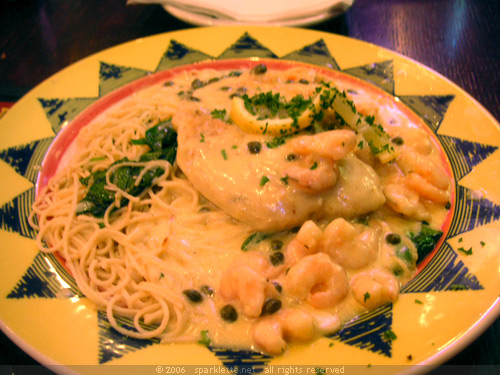 I had some form of prawn pasta and drank stout like a man. It was our last night in Dallas!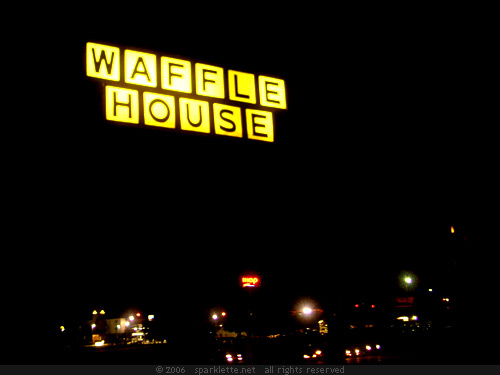 We decided to drop by waffle house too, despite the fact that we had been eating waffles every morning since arriving in Dallas. But when we were on the road the bright yellow sign of waffle house had beckoned to us no less than ten times, so we just had to eat there for once!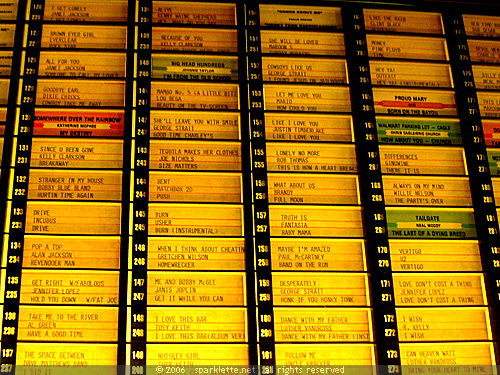 There was even an old jukebox at the place. How very American! The big surprise was that it actually had some of the current hits. I thought they would never update that thing! And it was cheap too. A dollar plays six songs. Wow!
So we grooved on the music while eating chocolate chip waffles. It was some sort of a last supper. And then I ordered hot chocolate, which came in this form: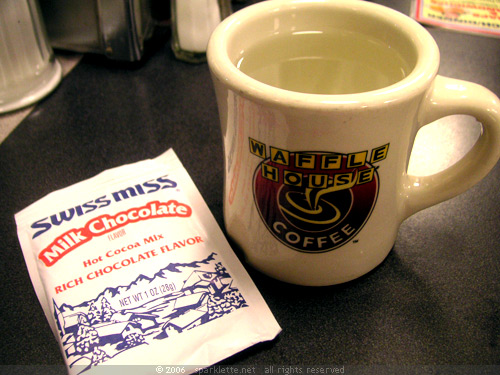 A cup of hot water and a packet of hot chocolate mix! It was the weirdest thing! Couldn't the waitress even bother to mix it before serving? At least it was good though. And that was the last thing I had in Dallas.
Back at the hotel, I packed my stuff and tried to squeeze all the shopping bags into my small luggage case, along with the three laptops I was to bring back to Singapore. I even resolved to stay awake the entire night just so I could sleep during the 13-hour flight on a very crappy airline that's coming up. Watched hours of TV (I remember seeing the movie scream) and took a bubble bath while surfing wirelessly on my PDA phone. In my opinion, you haven't truly gone wireless until you have done it in a bubble bath!
And that was how I spent my last day in Dallas. It was a busy and productive day. Rushed, but productive. I enjoyed it!