It was rather tiring after spending most of the day working. This was a business trip after all so there wasn't much time to go sight-seeing. We were in the car pretty much most of the time which explains why my pictures are mostly of food and shopping, and rarely of the unique buildings and sights.
America is clearly a country that's designed for driving. It looks as though everyone owns a car and those mammoth roads are eight lanes wide in each direction. People don't really seem to take public transport. In fact, this trip made me realise that I really need to get off my lazy ass and start learning how to drive. If I ever want to get out of Singapore, that is.
No prizes for guessing what food we had for dinner. Yes, it was Mexican food again! This time we dropped by la palma veracruzana, a casual little place that prides itself as being an authentic seafood restaurant.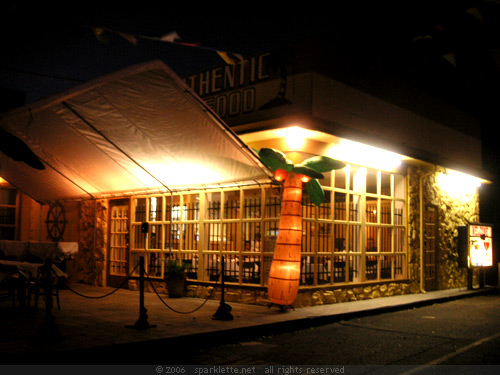 The place was by the river and it was extremely breezy and beach-like. It kind of reminded me of the o.c… I watch way too many TV shows, don't i? We even spotted some geese or swans swimming at the river! The people working at the restaurant were all Mexicans who spoke little English, so I guess the food must be pretty authentic!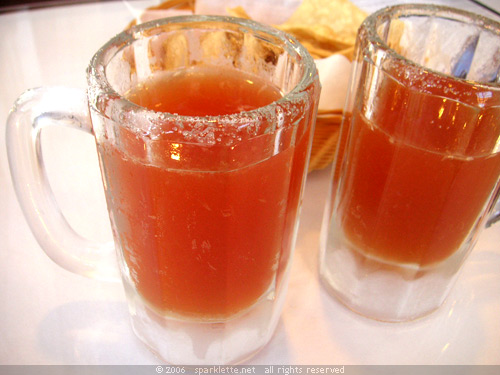 I must spend some time talking about the drinks we had. They were called micheladas, a popular Mexican alcoholic beverage that our hostess recommended. It was the most interesting drink I ever had! Spicy, sour, and alcoholic all at once! I tasted tomato sauce and some form of hot sauce within the concoction.
The thing is that it was so spicy I couldn't stop drinking it, if you get what I mean. But the more I drank the more it burned my tongue. It was strangely addictive though and I even got a second helping of it! If anyone knows where I can find this in Singapore, let me know!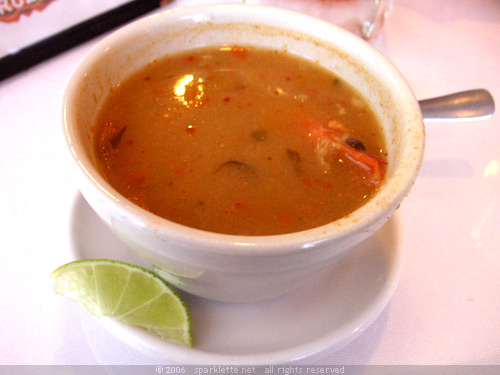 Our soup appetiser was pretty awesome. The prawn that came along was huge! But best of all the soup itself was bursting with flavour and had the rich taste of crab. Damn!
Remember how I said Mexican food has a whole array of colours? Check these out!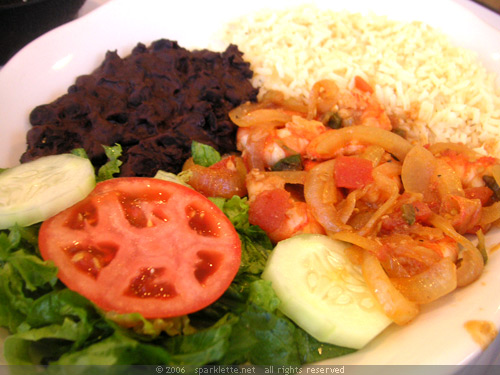 How colourful! Such bright and vivid colours on our plates!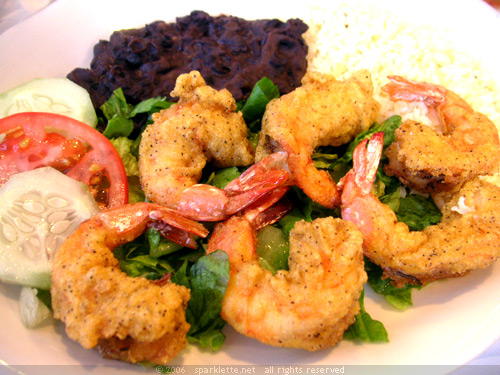 Look at those fat prawns! The portion was just so huge! I got full from eating the prawns alone. I had some mixed feelings about the dark purple lumpy paste so I left that one untouched. But overall it was a really sumptuous meal.
After a few consecutive days of working and jet lag, we decided to call it a night. Just one more day in Dallas, and I was to leave America. I wonder when I would ever return!