Version 1.10: How Far is Heaven?
Having procrastinated for so long, I finally decided to upload this new layout. I finished this over a month ago but had been too lazy and tied up with work to get it up. But anyway here it is – version 10 of Sparklette, titled "how far is heaven?".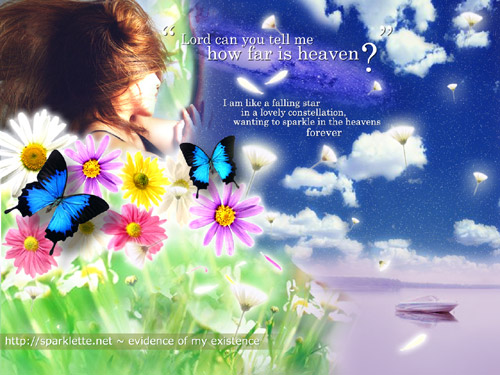 Some lyrics featured come from the song "heaven" by the los lonely boys. I love that song a lot. It's sad, yet joyful at the same time. The person lying down on the meadow is yours truly. This picture was taken from one of my modelling shoots by photographer, adam.
The colourful flowers up there are daisies. They are my second most favourite flowers (after the oriental lily of course, which has already been used in the previous layout).
I hope you guys like this layout. I used more colours in this than any of my previous layouts, so it's something a little different.
Much love,
Veron