ECOYA – Home Fragrance, Bath and Body
A range of products that I recently fell in love with is ECOYA, the Australian home fragrance, bath and body brand.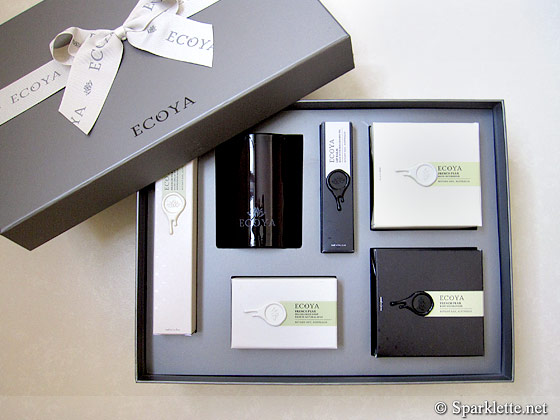 These eco-luxe products are environmentally friendly and add a touch of delicious fragrance and class to any home. No wonder they are favoured by celebrities!
Having used the ECOYA Metro Jar candle, I can attest that the quality is really really good, leaving a heavenly scent in the home for many hours.
Apart from the scented candles, there are also various natural body products, all boasting the same decadent fragrances. While the items are available individually, some of you may find it more worthwhile to get the ECOYA Gift Box, which has items packaged in a beautiful gift box wrapped in large ribbon.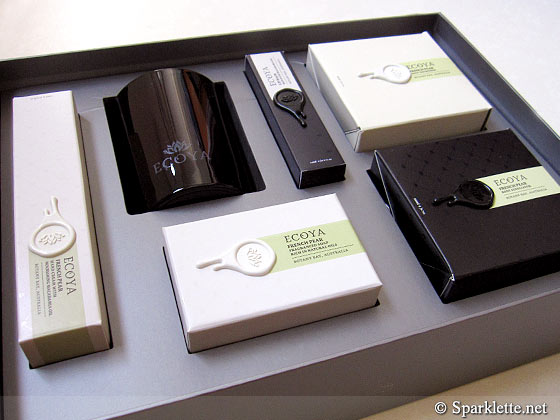 ECOYA Gift Box
S$199
The 6 goodies included are:
Hand cream (75ml)
Lip balm (15ml)
Soap (150g)
Body nourisher (200ml)
Body exfoliator (200ml)
Sorrento candle (60 hours burn time)
As with all ECOYA products, the gift boxes are available in these fragrances:
Sweet Pea & Jasmine – Refreshing watermelon, cucumber and lavender tones revitalize and reinvigorate all the senses.
Lotus Flower – The comforting warmth of pineapple, sweet cotton candy, light floral notes and lavender soothe an anxious mind.
French Pear – Spicy cinnamon, star anise, all spice, juniper berries, cranberries, nutmeg and tropical fruits brings to mind apples and crumble.
Lemongrass & Ginger – A clean, captivating blend of citrus, lemon thyme, lime and African mint, all ingredients known to fight fatigue.
Vanilla Bean – Promotes happiness and a calm sense of well-being. Rich, layered hints of caramel, toffee, butterscotch and vanilla tones will take you to a haven of pure bliss.
Wild Frangipani – A voluptuous, buttery scent coupled with the headiness of rose, projecting pure romance with a hint of the exotic.
The gift set that I got is French Pear, which smells decadently sweet and rich with the comforting hint of vanilla and essence of a crisp, tree ripened pear. These hypo-allergenic products are all free from parabens, sulphates, propylene glycol, silicone and artificial colours.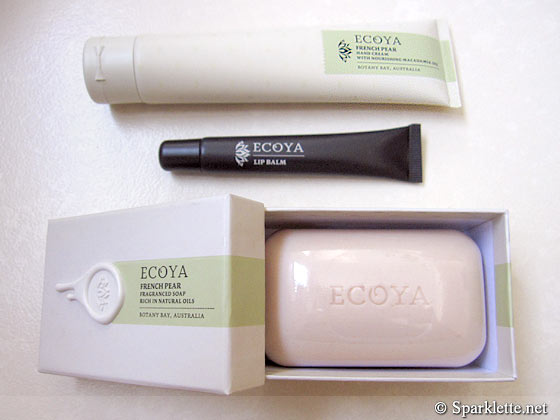 Hand cream, lip balm and soap
The hand cream is a delicate cream that protects, nourishes and moisturises for softer, smoother skin. The soothing non-greasy formula also works as a barrier to protect your hands from harmful elements.
The lip balm is a soothing balm enriched with macadamia oil and manuka honey to moisturise and replenish dry, cracked lips. The unique hypo-allergenic formula seals in moisture to protect lips from harsh environmental factors, keeping them consistently soft and supple.
Made from a delicately blended base of natural oils, the soap will cleanse, moisturise and fragrance your skin.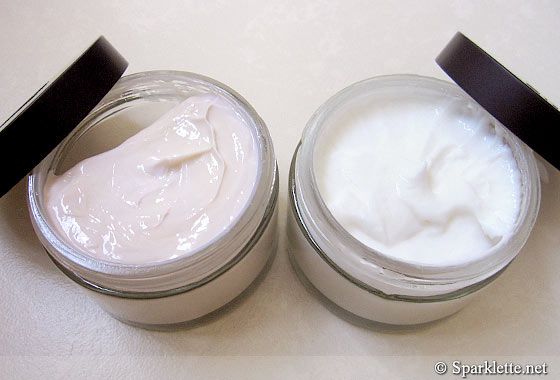 Nourisher and exfoliator
The body nourisher is a rich moisturising cream that locks in moisture for soft, radiant skin. This indulgent cream can be used on the whole body.
The body exfoliator is a gentle exfoliant for the whole body that helps remove dull, dead and damaged skin cells for smoother and more radiant skin.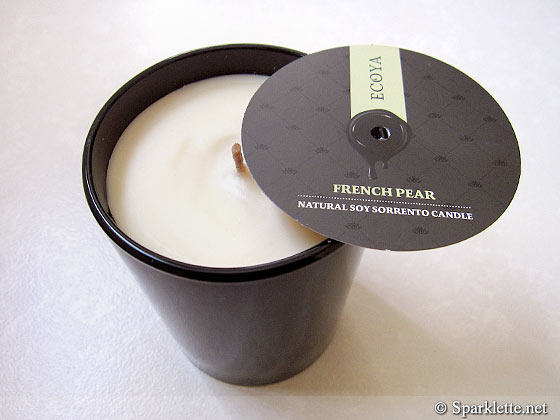 Sorrento candle
Of course, there's something for your home as well! The Sorrento candle boasts a 60 hour burn time.
If you are willing to splurge on yourself or a loved one, or are looking to impress an important female client, this luxury gift set may be just the thing to pamper her.
ECOYA is available at Takashimaya Department Store B1, Tangs, VivoCity Beauty Hall and lifestyle retailers Verandah Living and Ana Boutique.