Gelish French Manicure, Pedicure and OPI Hand & Foot Spa by Ms ZS Studio
I just did my first manicure and pedicure with gelish rather than conventional nail polish and I am beyond happy with it. For this nail grooming experience, I went to Ms ZS Studio.
Ms ZS Studio is run by the very friendly Zima and her team of nail therapists. She operates out of Hair on Erskine, a hair salon along Erskine Road directly opposite the Maxwell Food Centre carpark. Customers have the convenience of enjoying both hair and nail services at the same time. In addition, the team also does house calls if you prefer to get your nails done in the comfort of your own home.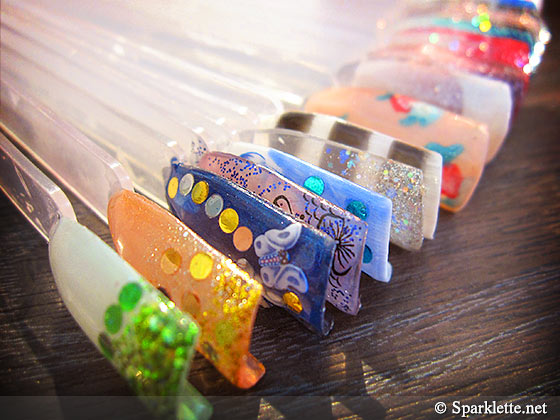 Read on to find out how you can treat your nails to a gelish manicure and pedicure, plus an OPI treatment at a great price just for Sparklette readers!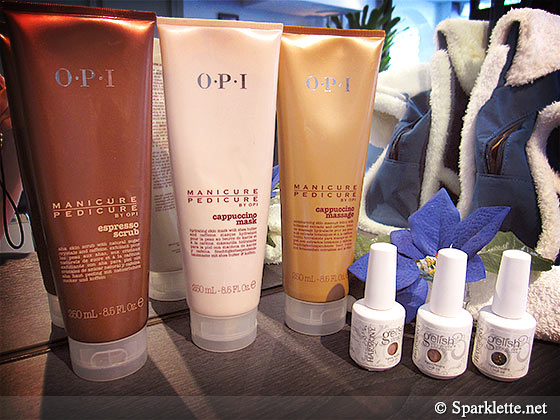 As I have an upcoming photo shoot (and it HAS been a while since my last manicure and pedicure), I pampered myself with the OPI treatment. This hand and foot spa treatment comprises an exfoliating scrub, followed by a massage, and finally a leave-on mask – all using OPI products in delicious coffee flavours!
Ever since trekking through the mountain trails of Taiwan wearing tight boots in winter, my feet have suffered some dryness and blisters. Zima rescued my feet with the treatment and some use of antiseptic cream. Talk about good service! I also notice that she uses only fresh disposables, such as the mats and toe separators, due to hygiene purposes.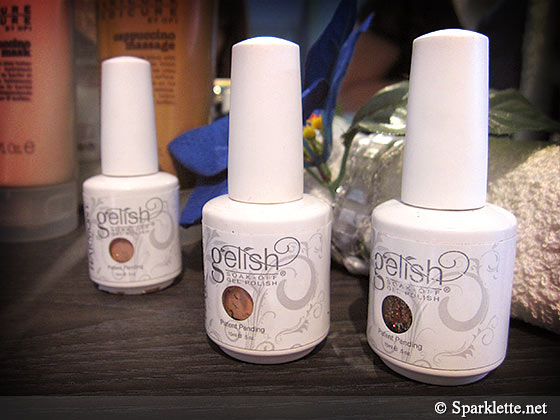 During the 2 hours of dedicated service, Zima is friendly and patient throughout the entire duration. An experienced nail therapist herself, she explains every step of the nail grooming in great detail.
For instance, I learn that gelish is best used after a manicure so that it has better "grip" and a longer lasting effect. She shows me her 3-week-old gelish manicure, which amazingly shows no sign of chipping at all!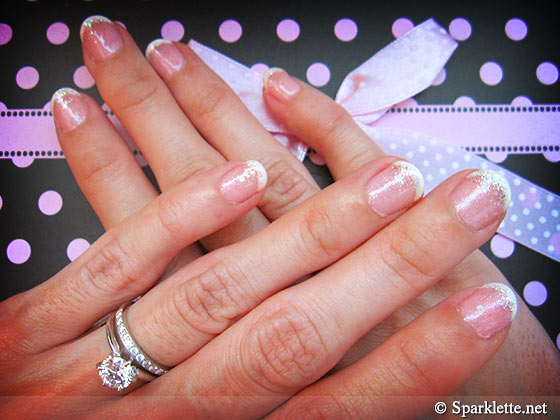 For the gelish, there is a wide range of colours and nail art to choose from. I opted for the classic French manicure, added with a touch of glitter. All the colours used – pink, white and even the glitter – are gelish. I really love the end-result. It's young, classy, sparkly and looks beautiful for any occasion!
These photos of my nails are taken a day later, and you can see that there is no sign of wear or chipping at all even after a hefty amount of driving and dish washing. That's what I really love about gelish; it dries almost instantly and lasts for weeks. After this great experience at Ms ZS Studio, I may just swear off using conventional nail polish!
Special Deal for Sparklette Readers!
Just for Sparklette readers, Ms ZS Studio put together a very special deal for you ladies.
Classic manicure – S$35
Classic pedicure – S$55
Hand gelish – S$50
Foot gelish – S$50
OPI hand spa – S$35
OPI foot spa – S$55
Total price for this package = S$280 S$88 exclusively for Sparklette readers!
Unlike other nail salons, there is no surcharge for Chinese New Year. Take advantage of this unbeatable promotion for your festive celebration and Valentine's Day!
Terms & Conditions:
– Only applicable for first-time customers. Ladies only.
– Please call Zima at +65 9868 6859 to make an appointment.
– Please identify yourself as a Sparklette reader to enjoy this special deal.
– This promotion is available until February 28, 2013.
– Closed on Sundays and February 10-13, 2013.
Ms ZS Studio
33 Erskine Road #01-08 (inside Hair on Erskine)
Singapore 069333
Tel: +65 9868 6859 (Ask for Zima)
Service:





Opening hours:
Mon to Fri: 10:30am – 7:30pm
Sat & Eve of Public Holiday: 10:30am – 5:30pm
Closed on Sundays and Public Holidays